A Holistic Tool Kit To Make Your Hair Grow Faster
mbg Contributor
By Lindsay Cohn
mbg Contributor
Lindsay Cohn is a freelance writer based in New York City. Her writing focuses on wellness, beauty, travel and design and has been featured in USA Today, Martha Stewart, Domino and several other publications.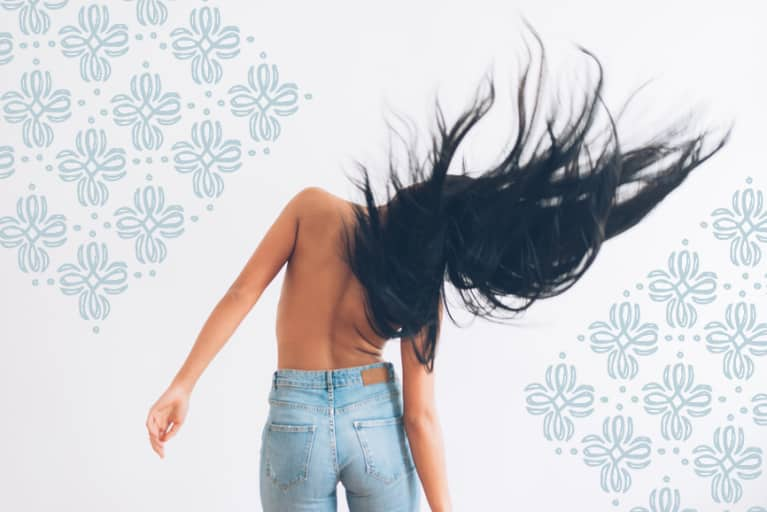 Our editors have independently chosen the products listed on this page. If you purchase something mentioned in this article, we may
earn a small commission
.
Did you know that many cultures—including Native Americans and Indian—consider hair an extension of the self? Ever since donating my hair (14 inches, to be exact) to Locks of Love, I've been willing it to grow. Of course, over the past 15 years, my mane has lengthened—and you wouldn't know that I rocked an unfortunate iteration of a bob in the ninth grade—but nonetheless, my pursuit of healthy, shiny hair continues.
Everything we do to our body (including what we put in and on it) matters. While nourishing oils are amazing, they aren't a miracle and can't single-handedly fix months of water damage. The same rule applies if you are taking a vitamin but also flat-ironing your hair on high heat every day...they're just going to cancel each other out. Everything we do works together; if we're good to ourselves inside and out, we reap the benefits (and vice versa). And in case you were curious, I bought a shower-head filter and noticed a difference after the first wash!
Consider this your holistic tool kit for hair growth:
Watch out for hard water.
Hard water—which contains calcium and magnesium—can leave hair with that strawlike texture. Even if you're using the best shampoos, conditioners, masks, and other natural treatments your tresses can still feel dry. If you start noticing a marked change in your hair, pick up a shower-head filter.
Earlier this year, L.A. hairstylist Stefani Padilla (aka the Hair Shaman), shared her divine wisdom for creating a healing hair ritual. This can be very nurturing for both your strands and your spirit. "You can tailor the practice to what you feel is necessary for your hair—whether it be strength, length, or shine—just so long as there's consciousness behind the action."
The art of head massage with oils has been practiced in Ayurveda for thousands of years to promote healthy, shiny hair. "I often recommend that my clients do this with an oil of their choice at least once a week. La Tierra Sagrada Hair Treatment is my go-to, since it's packed with mega-moisturizing oils, like babassu and meadowfoam seed. Its base is coconut oil, which is best for balancing out and soothing any scalp irritations," explains Padilla. Added bonus: Head massage also helps with headaches, sleep, and relaxation.
Using an all-natural shampoo to wash the oil out from the scalp massage is extremely important. You don't want to go and suffocate it with toxic chemicals. This can cause more imbalance! Instead, use an all-natural shampoo with healing plants that continue to cleanse and nourish the scalp.
Opt for a moisturizing conditioner.
Conditioner seals the moisture into the hair and helps protect the hair from the harsh elements that we face on the daily, including weather, environmental aggressors, and pollution. Padilla suggests La Tierra Sagrada Conditioner because it's made with the same organic ingredients as the Treatment—including sunflower seed oil (improves scalp health; stimulates hair growth; adds softness, shine, and moisture), rosemary leaf extract (stimulates the scalp and aids in hair growth), and honey (moisturizes, protects, and thickens)—but is a lighter version that can be used daily.
Be diligent about brushing.
Brushing is an amazing way to stimulate the hair follicle. You can do it with or without oil. But with oil helps to break up scalp buildup and also pulls nourishment through the ends. Padilla's favorite? How To Hair Girl, made with natural bristles.
If you have to heat style, do it carefully.
It's essential to protect hair from heat styling and to use quality tools that have an overriding of heat settings. Dermatologist Dr. Debra Jaliman recommends using hair dryers with the nozzle attachment to target airflow or a diffuser to help distribute heat more evenly. She also advises using a heat protectant before blow drying—and using a flat iron as infrequently as possible (or never).
"Hair is made of protein, so ensuring you have enough protein in your diet is crucial. Besides the usual meat suspects, try nuts, seeds, lentils, and beans. In addition to protein, lentils and beans contain iron, which can offset hair loss," says HUM head nutritionist Alex Caspero, M.A., R.D. Vitamin E helps to promote faster hair growth. Natural sources include sunflower seeds, almonds, avocados, and green veggies, such as broccoli and spinach. Did you know our bodies can't make omega-3 fatty acids? Therefore, they must be found in the diet (think hemp seeds). Omega-3s help provide the oils that keep your scalp and hair hydrated, which helps promote growth. Zinc deficiencies can lead to hair loss and poor scalp health, both of which hinder hair growth. Caspero suggests loading up on kidney beansand pumpkin seeds.
While eating a balanced diet helps, you may not be getting the proper amount of hair-building nutrients. That's where supplements come in. There's a lot of buzz lately about women taking prenatal vitamins to promote hair growth (even when they aren't pregnant and trying). Our best bet? Supplement with ingredients that promote hair growth: biotin, keratin, vitamin E, and omegas. Biotin is an essential vitamin for body tissue. Symptoms of a deficiency are thinning or loss of hair. Keratin is a protein that makes up the structure of hair, skin, and nails—and promotes thick and strong strands throughout the growth cycle. Caspero's go-to: HUM Runway Ready. It's loaded with vegan biotin, plant-based omegas (ALA and GLA) from black currant seed oil. and vitamin E from sunflower seed oil!
Keep on reading: