Found: 11 Best Hair Ties To Keep Your Style Secure Without Causing Breakage

Beauty & Health Editor
By Jamie Schneider
Beauty & Health Editor
Jamie Schneider is the Beauty Editor at mindbodygreen. She has a B.A. in Organizational Studies and English from the University of Michigan, and her work has appeared in Coveteur, The Chill Times, and Wyld Skincare.
March 24, 2022
We carefully vet all products and services featured on mindbodygreen using our
commerce guidelines.
Our selections are never influenced by the commissions earned from our links.
You may not think twice about your trusty hair tie. Maybe you keep one handy on your wrist or stow an elastic in your bag at all times. You fish it out, gather your hair away from your face, and you're all set—right?
Well, not exactly. Take a longer look at your secure style: If you're noticing more breakage than usual—say, frequent flyaways at your hairline or strands that seem shorter than the rest—you may be causing some physical stress to your hair.
And guess what? That trusty hair tie is one of the biggest culprits.
How hair ties can damage your hair
"People will use elastic and then keep on pulling [the hair] tighter and tighter," hairstylist Levi Monarch once told us about the best hairstyles for working out. "This causes friction on the hair and is the main reason you see so much breakage with ponytails."
It's a delicate dance: You want your strands held snug, but you don't want them wrapped so tight that they face physical damage. Of course, achieving that balance requires looser styles and gentle hair maintenance—but the accessories you use matter just as much.
That said, check out our list of the best hair ties for every strand pattern and texture. Each of these soft and stretchy bands won't cause breakage, and some even double as wrist candy.
Best hair ties:
invisibobble SLIM The Elegant Hair Ring
When it comes to gentle elastics that won't leave a crease, coils reign supreme. They lock in your strands and keep them nice and snug, but they won't pull like traditional options. And because they're less likely to leave a dent, you may not even have to restyle post-pony.
SLIM The Elegant Hair Ring, invisibobble ($8)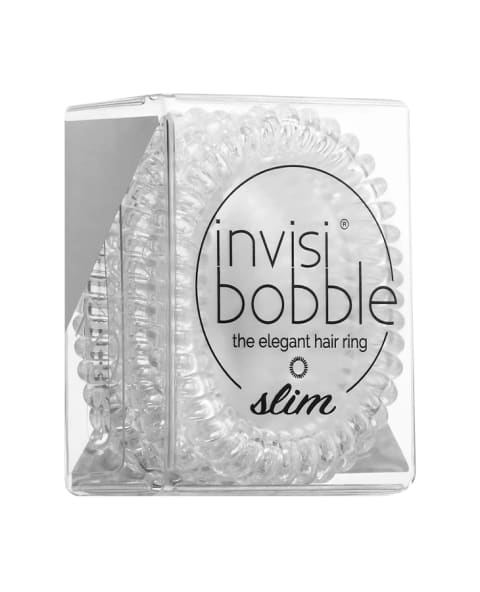 invisibobble
BinaryABC Ponytail Hooks Holder Bungee Bands
For ponytails, Monarch is a huge fan of bungee cords. "It saves so much wear and tear on your hair, but it's still really tight," he told us. While they may look complicated, you can secure them in a pinch: Pull your hair into a pony, hook one end in, wrap it around the hair a few times, and complete the tie by hooking the other end.
Ponytail Hooks Holder Bungee Bands, BinaryABC ($6.99)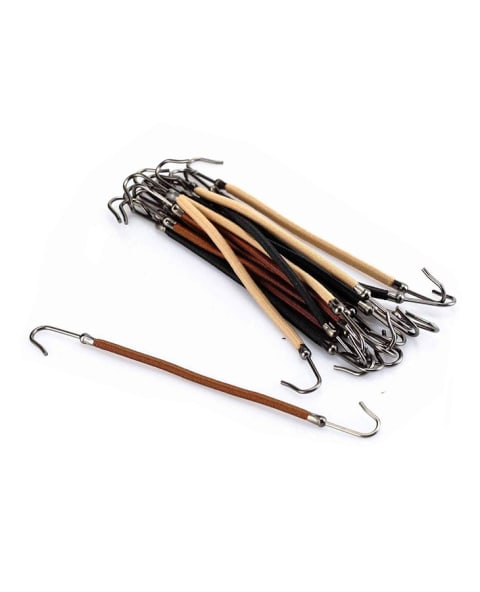 BinaryABC
Slip Small Slipsilk Scrunchies
Silk prevents friction on the hair, unlike other fabrics that can cause tugging and breaking. (That's why many experts recommend you sleep on a silk or satin pillowcase.) When you take out the band, your strands will gently glide against the fabric without snagging.
Small Slipsilk Scrunchies, Slip ($39)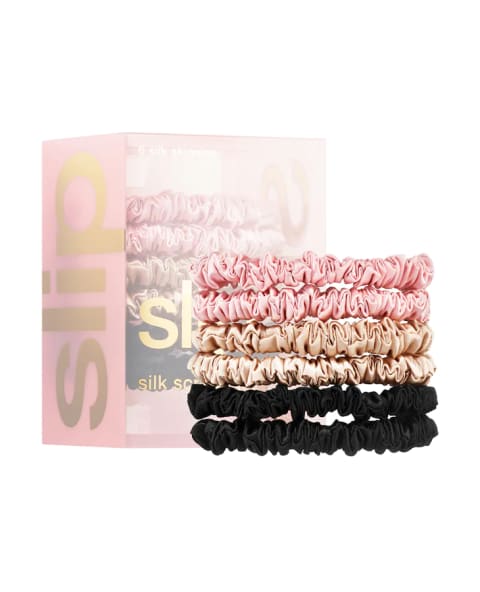 Slip
Kitsch Microfiber Towel Scrunchies
If you're one to tie up your hair while it's damp—like if you're trying your hand at heatless curls—this microfiber scrunchie can soak up excess water without roughening up the cuticle. Traditional fabrics have raised fibers that can be quite abrasive on vulnerable wet strands, and they also typically take out too much moisture—which can cause frizz.
Microfiber Towel Scrunchies, Kitsch ($18)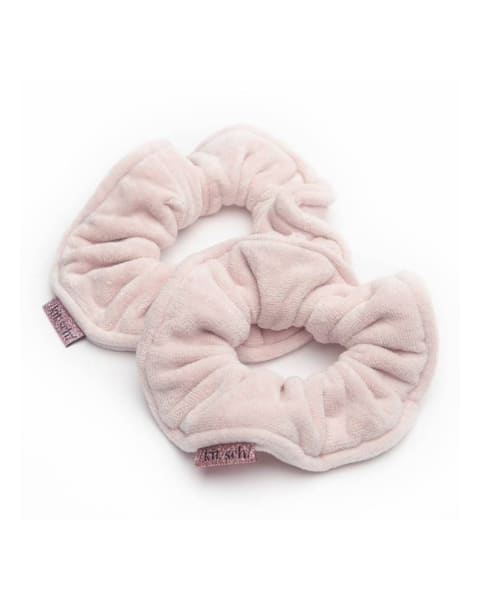 Kitsch
SwirlyCurly Snappee Hair Ties
These stretchy, snap-on ties are perfect for curls and coils, which are especially delicate and prone to breakage. They're adjustable, too: Depending on how much hair you have, you can snap multiple hair ties together to create your perfect, customizable band. Best part? They're painless to remove—simply unsnap the clasp and weave the tie out of your strands. No pulling or tugging necessary.
Snappee Hair Ties, SwirlyCurly ($19.99)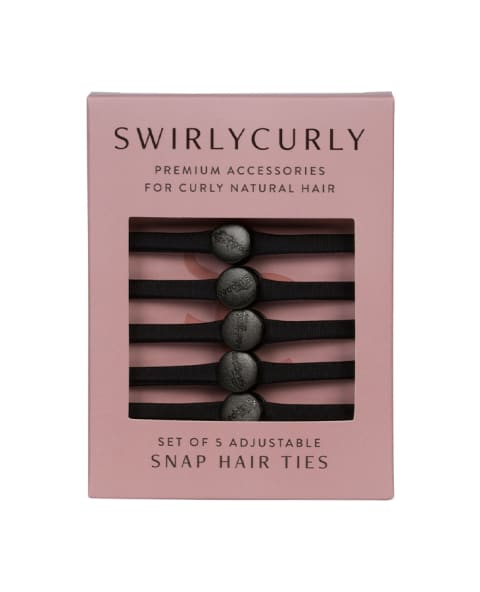 SwirlyCurly
GIMME Beauty Fine Hair Brown Bands
For fine hair, you'll want a tie that's gentle on fragile strands yet secure enough that it won't slide out. Enter, these firm, seamless hair bands: Designed specifically for fine, brittle, or heavily processed tresses, they'll provide a strong hold without breaking off any hairs.
Fine Hair Brown Bands, GIMME Beauty ($10)
GIMME Beauty
Mia Beauty Silkies
These silicone-coated ties last much longer than your traditional fabric band—you can easily clean them (yes, you do need to clean your hair ties, unless you replace them regularly), and you don't have to worry about the cloth wearing off over time.
Silkies, Mia Beauty ($7.99)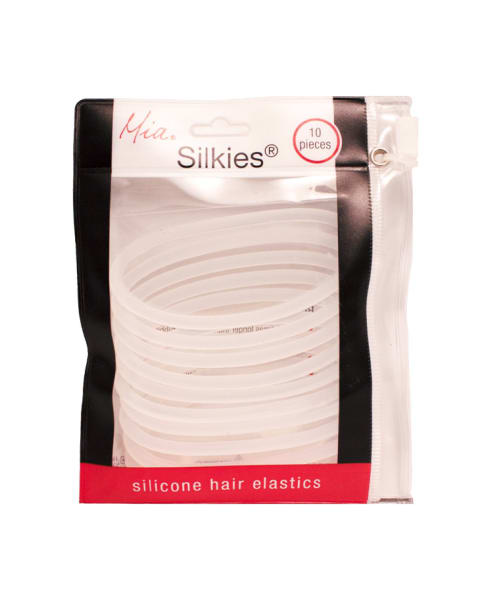 Mia Beauty
Anthropologie Coiled Hair Tie Set
This set of desert-hued coils toes the line between pretty and practical—they look (and feel) just as great on your strands as they do on your wrist.
Coiled Hair Tie Set, Anthropologie ($12)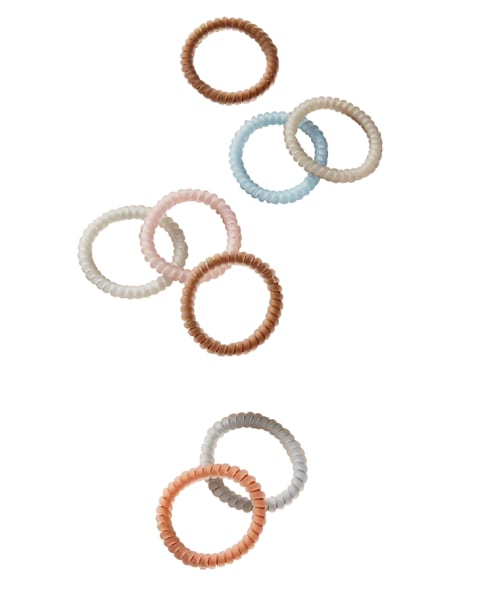 Anthropologie
Burlybands Large Hair Ties
If you have densely thick hair, you likely know the struggle with thin elastics: They either snap right apart as you're wrapping, or they're impossible to remove without knots and snarls. Well, these no-slip, seamless bands are your answer: Made specifically for thicker locks, they're flexible enough to wrap around the strands without stretching or breaking.
Large Hair Ties, Burlybands ($11.29)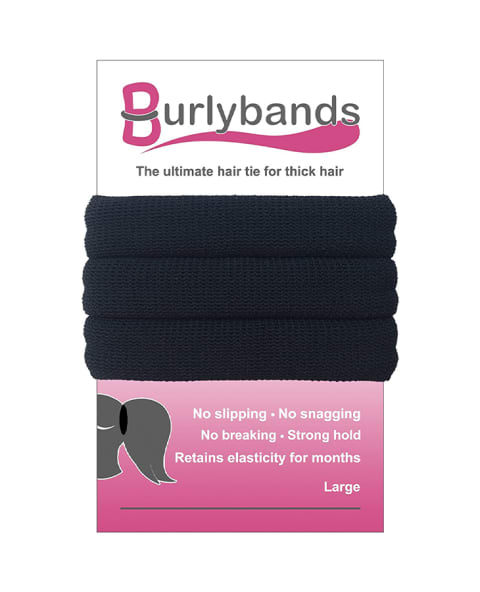 Burlybands
Soulvation Hair Tie Bracelets
Hair ties that double as bracelets are always fun, no? The soft, stretchy fabric will secure your strands tight and offer tons of volume, but they're soft and lightweight—so they won't give you a headache.
Hair Tie Bracelets, Soulvation ($24.95)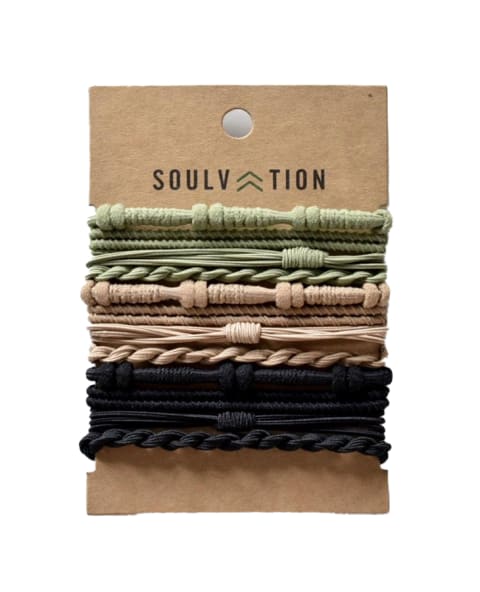 Soulvation
KOOSHOO Plastic-Free Hair Ties
Not only is this stretchy tie entirely plastic-free, but it's made from 100% biodegradable materials and hand-dyed using certified organic pigments. Feel free to match a set to your hair color (like these red-haired bands), or opt for the bright rainbow ties—we love them all.
Plastic-Free Hair Ties, KOOSHOO ($15)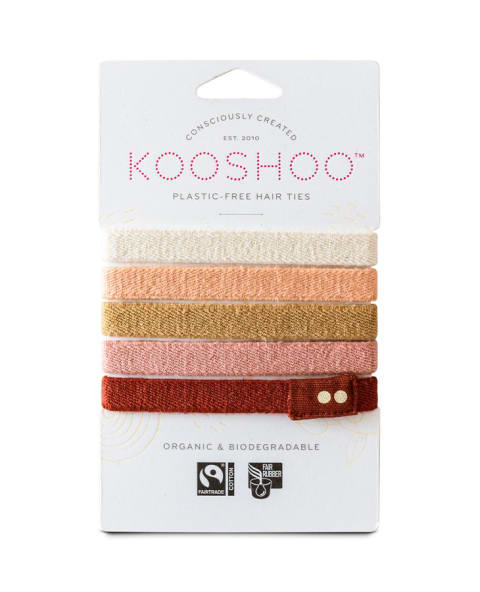 KOOSHOO
mbg review process 
At mbg, high standards are earned—and there are no shortcuts. Our beauty editors stay up to date on the latest ingredient research and innovation. It's a dynamic, continuously evolving space, and it's important we look into the science so we can make informed choices about which formulas earn our stamp of approval (figuratively speaking).
Our high standards also come from testing products—many, many products. Our editors and writers rigorously test and research the products featured in our roundups to offer you the best, most informed recommendations. When we write reviews, you can trust we spend quality time with the formulas: We don't simply rave about products we've slathered on the back of our hands. We endorse products we've tried and loved.
Learn more about our testing process and clean beauty standards here.

Jamie Schneider
Beauty & Health Editor
Jamie Schneider is the Beauty Editor at mindbodygreen. She has a B.A. in Organizational Studies and English from the University of Michigan, and her work has appeared in Coveteur, The Chill Times, and more. In her role at mbg, she reports on everything from the top beauty industry trends, to the gut-skin connection and the microbiome, to the latest expert makeup hacks. She currently lives in Brooklyn, New York.