A Trichologist Shares An Easy Scalp Massage Tutorial For Healthy Hair Growth

mbg Beauty & Wellness Editor
By Jamie Schneider
mbg Beauty & Wellness Editor
Jamie Schneider is the Beauty & Wellness Editor at mindbodygreen. She has a B.A. in Organizational Studies and English from the University of Michigan, and her work has appeared in Coveteur, The Chill Times, and Wyld Skincare.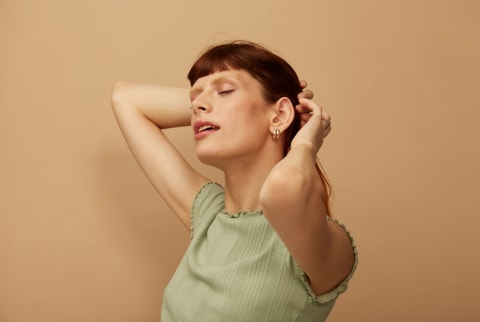 Image by Ohlamour Studio / Stocksy
May 31, 2022
Our editors have independently chosen the products listed on this page. If you purchase something mentioned in this article, we may
earn a small commission
.
Scalp massage is one of those simple pleasures that come loaded with beauty benefits—similar to sliding on a hand cream or carving your cheekbones with a facial roller, it's both a dreamy and entirely functional experience. Read: Just a few presses of your fingertips or rounds with a scalp brush can help release tension, loosen buildup, and encourage healthy hair growth. Not bad for a five-minute practice.
"We know stress tightens the scalp and impedes circulation and hair growth," says Bridgette Hill, certified trichologist and founder of Root Cause Scalp Analysis. With regular massage, you can release that tension and encourage blood flow to the area—which, in turn, delivers oxygen and hair-healthy nutrients to the follicle. Researchers have even associated the practice with increased hair thickness1—but you can read more about that here.
Advertisement
This ad is displayed using third party content and we do not control its accessibility features.
If you'd like to incorporate scalp massage into your hair care routine, you're in luck: Below, Hill shares her go-to method.
A trichologist's pre-shampoo scalp massage tutorial. 
Before we begin, you should know that this tutorial includes a scalp brush, which has its own laundry list of benefits to note. Some prefer to use it in the shower to help deposit shampoo and work up a lather; others rake it through their strands post-conditioner to help detangle. And some prefer a relaxing pre-shampoo treatment to help promote circulation and aid hair growth—that's what Hill demonstrates here:
"I personally begin my scalp massages by giving some attention to my shoulders and neck, working my way up to the base of my head," notes Hill. That said, she recommends making sure your neck and shoulders are free of any restrictive clothing. Then start your massage at the nape of your neck, working your fingers up the head to the crown with both hands.
Grab your oil of choice and massage it into the scalp with your fingers for 3 to 5 minutes. (We suggest selecting one of these oils, which each have properties to support hair growth.) If you have a curly, tightly coiled hair type, Hill recommends sectioning your hair into quadrants and applying your oil section by section, gently massaging each region lightly with your fingertips until your entire scalp is generously coated.
As you massage in the oil, feel free to use different movements: "The fingertips can be used to apply direct pressure to pressure points. The base of the wrist can be used to loosen and roll out the muscles around the temples," offers Hill.
Once your scalp and hair are coated in oil, "use the scalp brush for another 3 to 5 minutes throughout the scalp," says Hill. "Starting at the nape, use the scalp brush and make semicircle motions moving up and around the head."
"Repeat that action working around the entire head," she says. "There's a lot of area to cover, so take your time."
After repeating for two to three rounds, shampoo and condition as usual. If you shampoo less frequently and have very thick, dense curls, you could add another round of scalp brushing as you work in the shampoo, says Hill. "If you do not, it is not necessary to overstimulate," she notes.
We should also note that hair growth is a very complex topic, and while regular scalp massages have been shown to help, it's not the only avenue worth looking into. For example, you can also look into collagen and biotin supplements. They have high amounts of many of the amino acids that make up keratin2, meaning the supplements provide the body with the building blocks of hair.* Research backs this up, too, as studies show taking these supplements can support hair growth3.*
Additionally, these supplements can support scalp health and buffer against follicle irritation.* If you're looking for a one-stop shop that contains both collagen and biotin, feel free to grab mbg's beauty & gut collagen+. It also contains vitamins C and E for enhanced collagen production and antioxidant support, as well as hyaluronic acid for skin hydration. In short: It's a skin- and hair-supporting powerhouse.*
Advertisement
This ad is displayed using third party content and we do not control its accessibility features.
The takeaway.
A scalp massage is one of the simplest techniques to encourage healthy hair growth. Not to mention, it provides a moment of pause and a sense of calm as you knead the tight muscles. Feel free to use any movements that feel good to you in that moment, but Hill's expert tutorial is especially dreamy.
If you are pregnant, breastfeeding, or taking medications, consult with your doctor before starting a supplement routine. It is always optimal to consult with a health care provider when considering what supplements are right for you.