Found: 11 Best Scalp Massagers To Lift Buildup & Encourage Hair Growth

Beauty & Health Editor
By Jamie Schneider
Beauty & Health Editor
Jamie Schneider is the Beauty Editor at mindbodygreen. She has a B.A. in Organizational Studies and English from the University of Michigan, and her work has appeared in Coveteur, The Chill Times, and Wyld Skincare.
January 9, 2023
We carefully vet all products and services featured on mindbodygreen using our
commerce guidelines.
Our selections are never influenced by the commissions earned from our links.
There's nothing quite like having your hair washed. It's one of life's simplest pleasures: There's just something about a professional running their fingers through your sudsy strands that sparks a certain joy, no? So, what if we told you that you could recreate the sensation without enlisting the expert fingertips of a hairstylist?
Enter: scalp massagers, the handheld tools that make any hair care regimen feel salon-grade. Although, it's not just about the feel-good sensation. These brushes can also help lift scalp buildup, deposit your shampoo, and support circulation and kick-start healthy hair growth—the possibilities are truly endless (but more on that later).
Below, the best scalp massagers that do it all.
Jupiter Scalp Brush
This massager features thin, flexible bristles that gently remove any accumulated grime. Either massage in circular motions on dry hair, or use it to scrub in your shampoo with gentle strokes.
Scalp Brush, Jupiter ($15)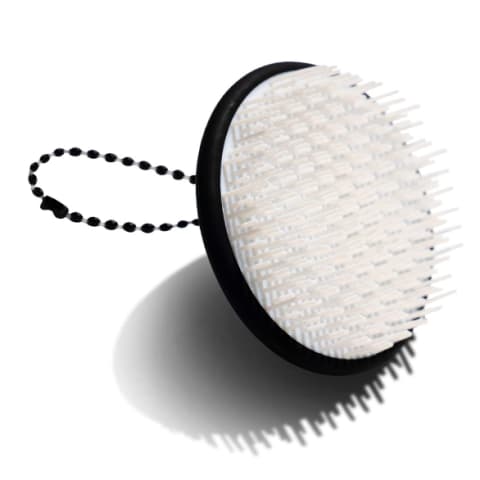 Jupiter
Mount Lai Jade Massaging Gua Sha Comb
A truly relaxing experience, as jade is touted in traditional Chinese medicine (TCM) for its ability to draw out negative energy. Although, you might want to save it for out-of-shower use: It's especially lovely after applying an oil treatment or hair mask—once your strands are coated, comb your roots in light, circular motions.
Jade Massaging Gua Sha Comb, Mount Lai ($52)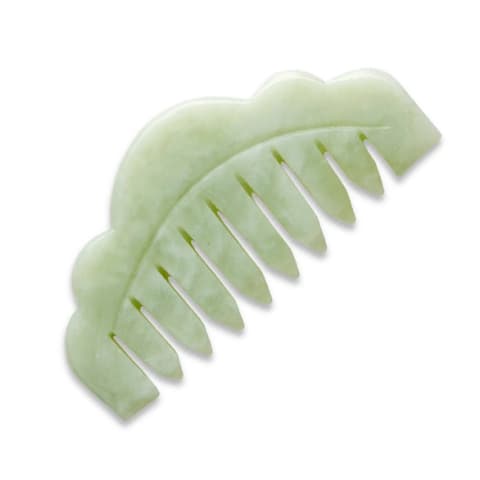 Mount Lai
Briogeo Scalp Revival Stimulating Therapy Massager
Briogeo's massager molds perfectly to the palm of your hand, and the rubber tips are gentle on the hair. With or without product, the bristles glide through your strands with ease. Just remember to use smaller circular motions (avoid large strokes), lest you create knots in your hair.
Scalp Revival Stimulating Therapy Massager, Briogeo ($18)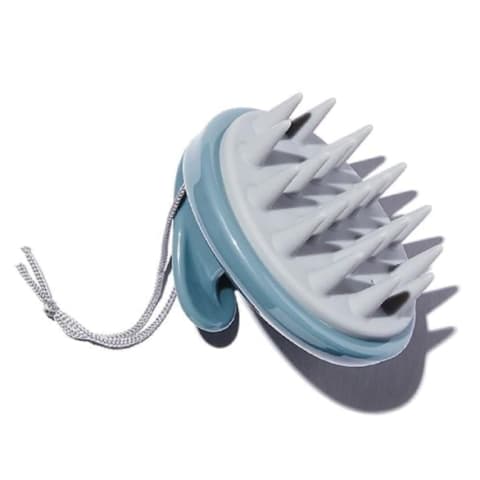 Briogeo
Manta Mirror Brush
This scalp brush is gentle enough for the thinnest, finest strands—hairstylist Tim Binnington created it with his wife in mind, who after losing her hair from a life-threatening illness, struggled with finding the right products for her delicate, new strands. That's why each bristle on the Manta brush has complete 360-degree motion, so it never reaches the stress point that causes breakage.
Mirror Brush, Manta ($32.28)
Manta
Curltastic Shampoo Massage Brush
Another contoured tool, this massager is perfect for thick curls and coils. The larger bristles on this number can easily penetrate denser strands and provide the loveliest massage your scalp can definitely feel.
Shampoo Massage Brush, Curltastic ($16.95)
Curltastic
Yeamon Electric Hair Shampoo Brush
Let this electric massager take all the work out for you; with three high-frequency vibration modes to gently stimulate the scalp, you won't have to worry about scrubbing too harshly. Plus, it's water resistant, so you can still use it under the spray.
Electric Hair Shampoo Brush, Yeamon ($15.99)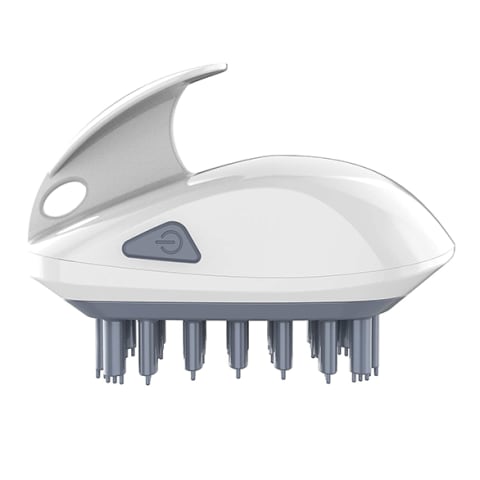 Yeamon
Vitagoods Scalp Massaging Shampoo Brush
Another electric-powered option. You don't have to use circular strokes to get the same scalp-tingling results. It's handheld, so you control the pressure, and it comes in three candy-shell colors.
Scalp Massaging Shampoo Brush, Vitagoods ($15.99)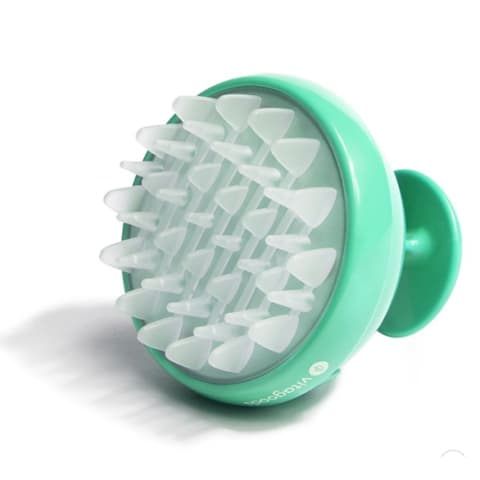 Vitagoods
Fuller Brush Scalp Massage & Shampoo Brush
Sometimes you need a little extra help getting those hard-to-reach places—you know, like the very back of the head or behind the ears. That's where this scalp brush comes in: The longer handle allows you to reach every nook and cranny, the thin teeth distributing your natural oils for all-over healthy hair.
Scalp Massage & Shampoo Brush, Fuller Brush ($19.99)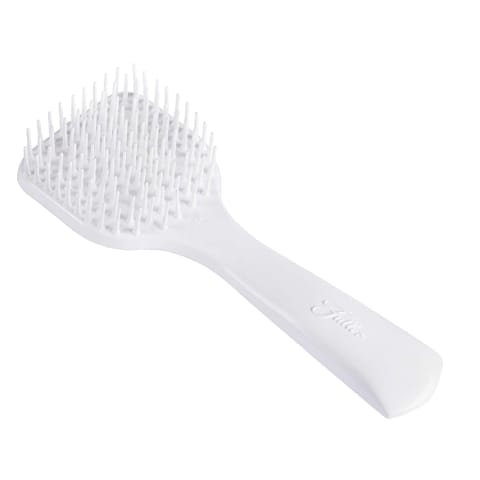 Fuller
GranNaturals Wooden Shampoo Brush
This wooden option certainly brings in the aesthetics—the minimal look is perfect for your shelf or vanity, but the thick, silicone spikes provide a deep massage (plus, the wood is solid, so it won't slip out of your hand when wet). A worthy scrubber, for sure.
Wooden Shampoo Brush, GranNaturals ($12.99)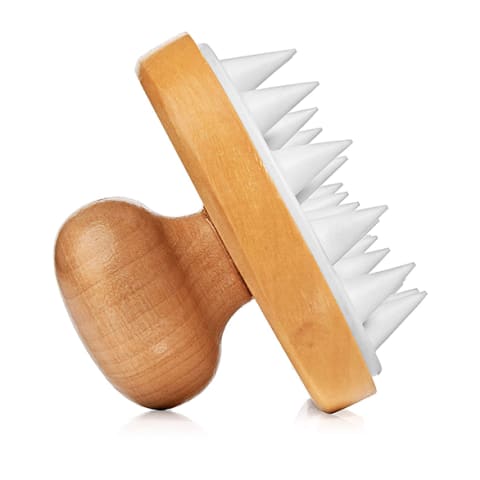 GranNaturals
Hairstory Scalp Brush
This scalp scrubber has soft, silicone bristles that are soft enough on the skin yet stiff enough to effectively lift buildup and grime. Meaning, your scalp will be left feeling invigorated and thoroughly cleansed, never stripped. After your lovely massage, you can even brush from root to tip to help guide excess product from your hair and down the drain.
Scalp Brush, Hairstory ($10)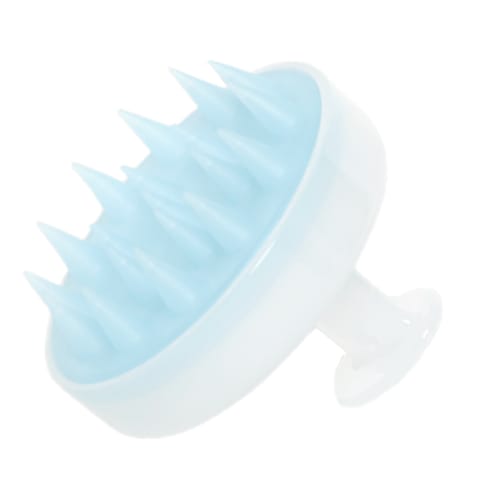 Hairstory
Ceremonia Scalp Masajeador
Do us a favor and use this brush to massage in the brand's Aceite de Moska scalp oil—you won't even believe your hair's healthy shine. One reviewer even details the experience as "more like a rub than a scratch," thanks to the extra-flexible bristles. It also comes with a handy strap—you know, in case things get slippery and you fumble the tool.
Scalp Masajeador, Ceremonia ($16)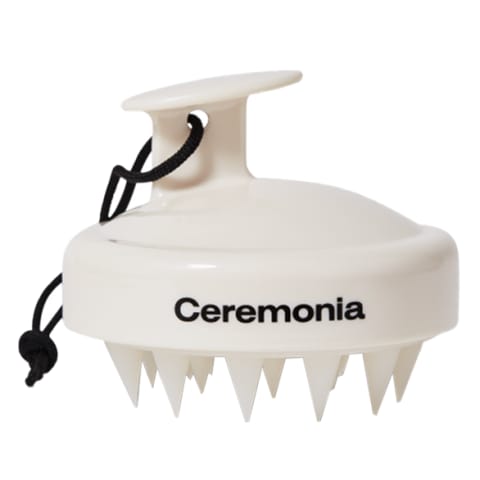 Ceremonia
Benefits of using a scalp brush.
By using a scalp brush, you reap all the unique benefits of a scalp massage along with a few shower-specific perks:
1.
Stimulates the scalp & encourages hair growth.
"Incorporating scalp brushes and massagers helps relax the scalp and increase suppleness," says Bridgette Hill, certified trichologist and founder of Root Cause Scalp Analysis. "We know stress tightens the scalp and impedes circulation and hair growth." With regular massage, you can release that tension and encourage blood flow to the area—which, in turn, delivers oxygen and hair-healthy nutrients to the follicles.
That's why regular scalp massages have been associated with hair growth: "Beautiful, strong hair depends on good blood circulation, proper nutrition, and a healthy and supple scalp," says board-certified dermatologist Raechele Cochran Gathers, M.D., who specializes in hair care and founded MDHairMixtress about scalp massages. In fact, in a 2016 study, a small number of men received a daily four-minute scalp massage. At the conclusion of the study, the investigators found an increase in hair thickness1. A more recent 2019 study found that of the 300 or so participants who followed a specific massage regimen, nearly 70% reported improved hair thickness at the end2.
These brushes can also help loosen scalp buildup, which makes it easier to rinse out all the gunk—just take a moment to massage your dry hair before your rinse. "Scalp brushes aid with exfoliation, removing dead skin cells and product buildup from the base of the hair follicle," notes Hill.
3.
Helps products penetrate the scalp.
In the shower, scalp brushes can also help deposit your shampoo and work up a lather. Of course, sulfate-free shampoos still won't foam up like their traditional counterparts, but the brush can help generate somewhat of a sudsy experience and provide a thorough cleanse.
And thanks to the soft, flexible bristles, scalp brushes can also help pre-shampoo treatments, oils, masks, etc., seep into those follicles: "When used with a pre-shampoo oil or serum-based scalp treatment, scalp brushes and massagers aid in assisting the active ingredients to penetrate deeper," notes Hill.
Some even use the tool post-conditioner to detangle their locks: The rubber teeth are especially soft on your strands, so they can glide through hair with ease.
How to use a scalp massager. 
Ultimately, it depends on the end result you're looking for. If you're using a scalp brush to scrub in a shampoo, simply massage in circular motions after you've deposited your product. If detangling is your main gig, just rake the brush through your strands after globbing on your conditioner.
But if you're looking for a relaxing pre-shampoo treatment (whether to help loosen buildup or promote circulation), find Hill's tutorial below:
"I personally begin my scalp massages by giving some attention to my shoulders and neck, working my way up to the base of my head," notes Hill. That said, she recommends making sure your neck and shoulders are free of any restrictive clothing. Then start your massage at the nape of your neck, working your fingers up the head to the crown with both hands.
Grab your oil of choice and massage it into the scalp with your fingers for three to five minutes. Feel free to use different movements and pressure: "The fingertips can be used to apply direct pressure to pressure points. The base of the wrist can be used to loosen and roll out the muscles around the temples," offers Hill.
Once your scalp and hair are coated in oil, "use the scalp brush for another three to five minutes throughout the scalp," says Hill. "Starting at the nape, use the scalp brush and make semicircle motions moving up and around the head."
"Repeat that action working around the entire head," she says. "There's a lot of area to cover, so take your time."
FAQs.
Still have questions? Here are the most common queries.
1.
How often should you use a scalp brush?
Again, this will depend on your own hair care regimen—including how often you shampoo your hair or perform scalp treatments—but you can really use a scalp massager as often as you like. "For those looking to introduce scalp massage, try doing them daily for about five minutes," says Cochran Gathers.
If that doesn't sound doable, Hill generally recommends a weekly or biweekly schedule: "Depending on your hair care regimen and scalp condition, weekly scalp massages with massagers are excellent for overall health and well-being," she says, especially if you're partial to weekly pre-shampoo treatments. Or you may pick up the scalp brush on less-frequent occasions, whenever you're looking to soothe and unwind—that's just fine, too.
2.
Should different hair types use different scalp brushes?
As a general rule of thumb: Larger bristles can penetrate denser strands, while thinner teeth might be best for finer hair. But according to Hill, you don't necessarily need to select a specific tool based on your hair texture, as many are quite versatile; it's much more important to think about how you plan to use it in your routine.
For example: "For curly, tightly coiled hair types, it's best to use a scalp brush as a pre-shampoo treatment step performed weekly, biweekly, or monthly," says Hill (or whenever you plan to have a wash day). She recommends sectioning the hair into quadrants and applying your scalp treatment section by section, gently massaging each region lightly with your fingertips until each is generously coated.
Then use the scalp brush in semicircle motions, moving up and around the head. Repeat for two to three rounds, then shampoo and condition as usual. If you shampoo less frequently and have very thick, dense curls, you could add another round of scalp brushing as you work in the shampoo, says Hill. "If you do not, it is not necessary to overstimulate," she notes.
3.
What are common mistakes people make with scalp brushes?
Don't drag the brush back and forth: Remember to actually pick up the massager each time you move to a new area, as dragging the tool across your scalp can easily create knots. "Put the brush down, massage a 1-inch surface area in circular motions, take it out, and put it down on a new spot," says NYC-based hairstylist Matt Newman. "Don't drag it back and forth—that is where you get into tangling."
Don't use harsh pressure: It may feel nice to scratch your skin with those bristles, but aggressively tugging at your strands can lead to tangles, shedding, and discomfort. A good scalp massager should release tension, not contribute to it.
Don't brush painful, scaly areas: And on that note, while scalp brushes are great for relieving tender, strained muscles, the massage should never feel painful. You should always consult a professional if you notice any areas of severe discomfort, itching, or flaking. "I do not recommend scalp brushes to any person that has any type of medical scalp condition," says Hill, and if you do, you should only incorporate one under the guidance of a certified trichologist or doctor.
The takeaway. 
Scalp brushes are an underrated hair care hero. Add one to your routine, and you can stimulate hair growth, lift buildup, ease tension, and detangle—all with one tool. Go ahead and grab one of the high-quality options above; we cannot recommend it enough.

Jamie Schneider
Beauty & Health Editor
Jamie Schneider is the Beauty Editor at mindbodygreen. She has a B.A. in Organizational Studies and English from the University of Michigan, and her work has appeared in Coveteur, The Chill Times, and more. In her role at mbg, she reports on everything from the top beauty industry trends, to the gut-skin connection and the microbiome, to the latest expert makeup hacks. She currently lives in Brooklyn, New York.