All The Face Rollers You Need To Know About (And Exactly What They Do)
Contributing Wellness & Beauty Editor
By Lindsay Kellner
Contributing Wellness & Beauty Editor
Lindsay is a freelance writer and certified yoga instructor based in Brooklyn, NY. She holds a journalism and psychology degree from New York University. Kellner is the co-author of "The Spirit Almanac: A Modern Guide to Ancient Self Care," with mbg Sustainability Editor Emma Loewe.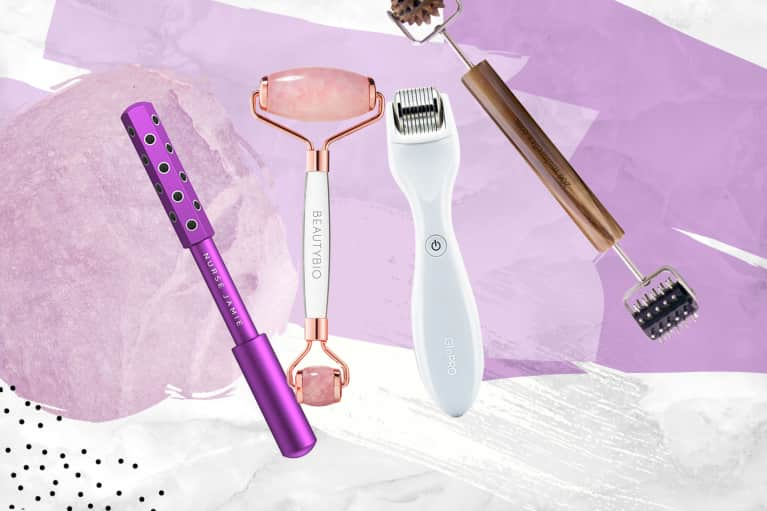 It's not just you—jade rolling has exploded in popularity this year. Brands and retailers everywhere, natural and conventional, started stocking them, making them more accessible than ever before. Our jade rolling tutorial went viral on Instagram, and it seems that the growing interest in jade rollers grew the spotlight large enough to share it with face rollers of all stripes. Finally, here's a comprehensive guide to the most popular face rollers on the internet and exactly what they do.
Beauty Bio Rose Quartz Roller
Does it matter what stone your roller is made from, or the quality of that stone? This is a question I hear all. the. time. Different stones contain different healing properties, yes, but I'm sure there isn't one that's bad for your face. When choosing a stone, go with whichever one you feel drawn to. The most important aspect is to check to see that it's fairly and ethically sourced. This rose quartz roller by BeautyBio is a favorite because it's sturdy, large (you can use it on your body, too), and high-quality—no squeaky rollers here—and has a second end that's ideal for the smaller contours of the face. Jade and quartz rollers feel good, move lymph, and help distribute product.
Rose Quartz Roller, Beauty Bio, $60
Banish Pore Smasher
Ever dunk your face in a bowl of ice water to reduce redness and inflammation? No? Now you'll never have to. The idea behind the pore smasher is that ice and blasts of cold have an anti-inflammatory effect on the body, including the skin. While pores can't technically change size, you may notice that they appear smaller after use, and that overall your skin is more glowy. The top detaches, so you can keep it in the freezer without the whole thing taking up room. This is a great, gentle roller to use with a redness-prone face.
Pore Smasher, Banish, $39
GloPRO Microneedling Regeneration Tool
The idea behind microneedling sounds sensible: Tiny needles create microscopic puncture wounds in the face, causing it to call on collagen and other skin cell building blocks to repair the wounds. In most cases, the result is smoother skin that looks more rested, youthful, and glowing because it's regenerating cells and absorbs products more effectively. But it's serious business. You want to make sure you keep rubbing alcohol on hand (a spray bottle tends to work well) to sanitize your tool, as infections can happen easily if you don't. Also, it's not a tool to use on skin that's already inflamed or compromised. Check with your dermatologist before starting to use a microneedling tool.
Microneedling Regeneration Tool, GloPRO, $199
Nurse Jamie Uplift Massaging Facial Roller
One of Jessica Alba's favorite facial tools, the Nurse Jamie uplift massaging facial wand has a roller end that's studded with 24 small stones to help rejuvenate, lift, and energize the skin. Jamie Sherrill, the founder of the skin care brand and celebrity favorite Los Angeles–and Abu Dhabi–based medispa, is a registered nurse and designed the tool to mimic the movements in one of her signature facials so her clients could continue care at home. It's similar to a jade roller but more portable—a perfect option for travel.
Uplift Massaging Facial Roller, Nurse Jamie, $69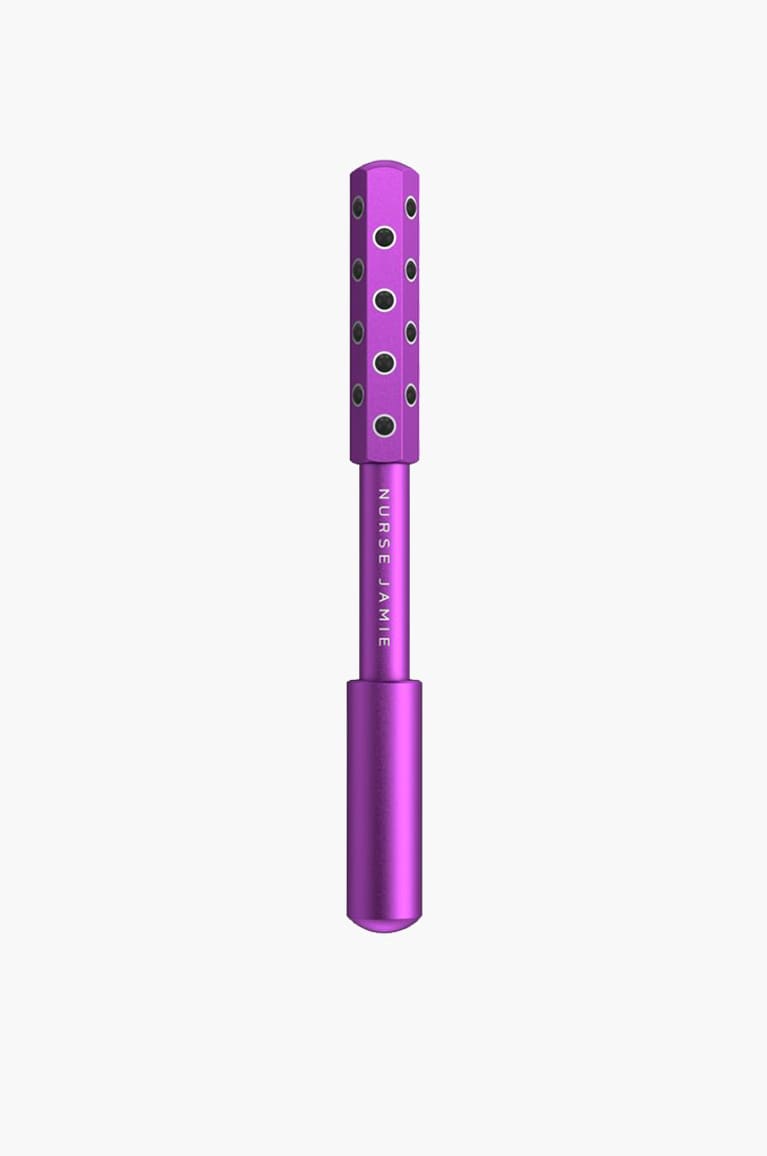 mbg creative x Nurse Jamie / Nurse Jamie
The Reflexology Shop Yin Yang Facial Reflexology Roller
Practitioners of facial reflexology have a special understanding of the face that draws on traditional Chinese medicine to create a mapping system. Certain areas of the face correspond to areas of the body and life, so in treating the face with the appropriate roller and energy, the idea is that corresponding body and energetic systems will receive love too. Turn to Hayley Wood for pointers on facial reflexology, and this piece she wrote for mbg offers simple balancing how-to's.
Yin Yang Facial Reflexology Roller, The Reflexology Shop, $48
ReFa Carat Face Roller
Like the Nurse Jamie facial roller, the ReFa was designed to mimic an esthetician's healing touch. Two large platinum-coated, multi-angular balls sit atop a handle, which may look like a disco-themed sex toy, but they feel heavenly when massaging the contours of your face, jawline, and my favorite, the neck and shoulders. A small solar panel powers the device, delivering a subtle microcurrent for an energizing boost to the skin. It's a great option for someone looking to level up from their jade roller.
Refa Carat Face, Refa, $220