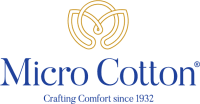 Micro Cotton
Micro Cotton® is a luxury textile brand focused on producing the best quality bed and bath linens. These linens have been crafted using the finest natural cotton that is OEKO-TEX® MADE IN GREEN certified, combined with expert craftsmanship and innovative and sustainable processes, creating a range of bed and bath products famous for their ultra-soft, plush and stylish features. Micro Cotton® creates the essential everyday products with precision and detail that make you look forward to the little everyday moments in life.
Fifteen years ago, Micro Cotton® recognized the global water shortage and decided to minimize its consumption by implementing a zero-liquid discharge technology. Micro Cotton® continues to innovate and break new barriers, which is why 90% of the energy used to produce Micro Cotton®'s towels is clean, green, and renewable—made possible with wind energy systems and the largest industrial solar rooftop establishment in India. Micro Cotton®'s long-term goal is to be carbon neutral; all the steps in its process are designed to achieve this goal in its lifetime as a company.
Retailer Sites: Macy's Hotel Collection and Dillard's Noble Excellence.
Micro Cotton Site: https://microcotton.com
Connect With Micro Cotton