paid content
 for

10 Amazing Gift Ideas That Also Support The Future Of Our Planet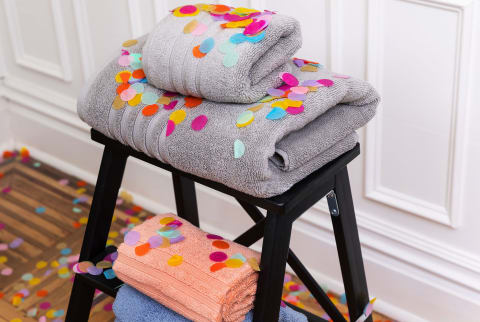 Image by Micro Cotton / mbg Contributor
November 18, 2022
This time of year, we're all looking for gift ideas that will put a smile on our loved ones' faces. After all, one of the best parts of the holiday season is watching someone open a gift they truly love. But it feels even better when you know it's a gift that also benefits the planet. Gifts that make people and the planet happy are exactly the kind of holiday magic we're after this year.
To help you in your green gifting search, we've rounded up some of our favorite eco-friendly products and brands, such as luxury textile brand Micro Cotton. In an effort to reduce the amount of water and energy used, Micro Cotton utilizes a zero-liquid discharge technology, which allows them to recover and reuse 98.5% of the water in their production process. That's 89 towels created with the same amount of water it takes a conventional towel manufacturer to create one. This level of sustainability deserves to be shared—and the holidays are a perfect time to do it! For more sustainable superstars, check out our shortlist below:
Macy's Ultimate Micro Cotton® Bath Towels
There's nothing better than a warm, plush towel after a rejuvenating bath or shower. And yet, quality towels are one of those things you never buy for yourself. That's why they make the perfect gift! Not only are these towels made using technology to achieve ultra-softness and 1.5x more absorbency, but they're also OEKOTEX® MADE IN GREEN certified, which means they're manufactured under environmentally friendly and socially responsible working conditions. Win, win!
KENGOS Lace-Up Shoes
These unique and versatile shoes are the perfect balance of comfort, style, and sustainability. Designed to be lightweight and breezy, they're bound to be a wardrobe staple. The best part? They're made entirely out of plant-based materials that can be recycled and reused into new shoes—that means no plastics, glues, or other environmentally harmful materials.
Stasher Bags On-the-Go 6-pack
Help your loved ones decrease waste and increase organization with these nontoxic silicone storage bags. Created with the intention of replacing single-use plastic, Stasher bags are so much more than that. Unlike other reusable bags and bowls, they're leak-free, microwaveable, dishwasher-safe, and freezer friendly. Trust us; they're a kitchen must-have.
Macy's Ethicot Oake Bath Towel
We weren't kidding—we've got our eyes on towels this year. With the same level of softness and absorbency as the previous two options, these Micro Cotton towels come in a muted color selection that we.are.loving. And we'll say it one more time: Sustainable production practices are essential when it comes to an industry that utilizes cotton. By using 3,000,000 pounds of recycled cotton each year, Micro Cotton is able to save annually a total of 3,030 million gallons of water.
TOMS x KROST Bellini Sunglasses
Send your loved one out into the world looking sleek in this pair of limited-edition sunglasses. With a vintage crystal frame and 100% UVA and UVB protection, these shades are a stylish and protective choice for any season. Well known for its environmental efforts and social change initiatives, TOMS is always high on our list.
Everlane Alpaca Beanie
We'd argue that the best part of cold weather is getting to rock your favorite beanie—and this one is sure to earn that title. Crafted with a cozy blend of airy alpaca and RWS-certified wool, it puts the fun in functional winter style. Plus Everlane takes proactive steps to reduce water, chemicals, and plastics in their production processes.
Dillards Noble Excellence Micro Cotton® Elite Bath Towels
Because we're all about towels this holiday season, we're giving you another high-quality, eco-friendly option to choose from. Made using a patented spinning process for exquisite softness and 50% more absorbency that doesn't wash off, these Micro Cotton bath towels take the post-shower experience to a whole new level. Same green production practices, different colors and designs, available in 20 colors—take your pick!
Bombas Gripper Slippers
Half slipper, half sock, these super-cozy Gripper Slippers will complete your loved one's loungewear uniform. Made with a soft brushed lining on the inside to keep you toasty and special grips on the outside to prevent slipping, they're perfect for relaxing at home—or on vacay thanks to the super-portable travel bag. With longer-lasting clothing, more responsible materials, and less waste through circularity, you can always count on Bombas to make better, more sustainable essentials.
Textured Rib Blanket Created for Macy's
Let's be honest—there's no such thing as too many blankets. And a blanket that's cozy, stylish, and kind to the planet? This Hotel Collection Textured Rib Blanket, made by the folks of Micro Cotton, is the gift that keeps on giving. It's made with 100% cotton, one of earth's friendliest fibers. Plus, it features a ribbed texture that feels snug and warm against your skin for all that lounge-time to come.
Nécessaire The Body Ritual
Give the gift of self-care with this five-item body care bundle. Made with clinical-grade ingredients for better results from the neck down, this ritual pack contains The Body Wash, The Body Exfoliator, The Body Serum, The Body Lotion, and The Deodorant Gel. And the fact that Nécessaire is Climate Neutral Certified and Plastic Neutral Certified is simply the cherry on top. Skin care with a side of sustainability!
Keap Wood Cabin Candle
This is the smoky candle of our dreams—literally. It's reminiscent of a fall night in the mountains, cozied up in front of a fire and surrounded by dried leaves, wet stones, moss, and colorful trees. Can you smell it yet? And as a proud B Corporation, Keap maintains a zero-waste approach from start to finish—earthy scents, earthy mission!

Ryan Brady
Ryan Brady is a Freelance Writer at mindbodygreen. She received her B.A. in Visual Arts from Yale University and her M.A. in Clinical Psychology with concentration in Spirituality and Mind-Body Practice, from Columbia University.
Ryan is passionate about holistic health, fitness, and spiritually-centered living. She loves using her knowledge and personal experience to help others improve their well-being. She brings this passion to her writing, as well as to her work at the wellness centers she owns in Atlanta, GA. When she's not working, Ryan can be found traveling, spoiling her dog, or experimenting with gluten free, dairy free baking.