The 6 Best Microcurrent Facial Devices Of 2023, Plus Pro Tips & More
mbg Beauty Director
By Alexandra Engler
mbg Beauty Director
Alexandra Engler is the beauty director at mindbodygreen and host of the beauty podcast Clean Beauty School. Previously, she's held beauty roles at Harper's Bazaar, Marie Claire, SELF, and Cosmopolitan; her byline has appeared in Esquire, Sports Illustrated, and Allure.com.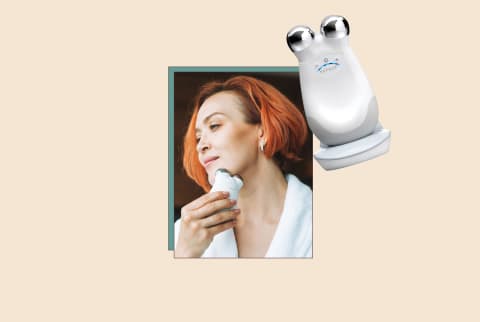 Image by Galina Zhigalova / mbg creative
August 4, 2023
We carefully vet all products and services featured on mindbodygreen using our
commerce guidelines.
Our selections are never influenced by the commissions earned from our links.
Microcurrent facials have grown in popularity at spas and dermatologists' offices as part of a growing assortment of noninvasive yet highly effective treatments for aging skin.
Those same tools that you used to have to wait for a coveted facial appointment are now available in hand-held devices you can use weekly. And with purported benefits like lifting, toning, and fine line reduction, any skin care devotee's interest would understandably be piqued.
But be warned: These pro-worthy tools come with a price tag to match. Any skin care item that will cost you hundreds of dollars is likely a serious investment for most folks, and you rightfully will want to pick the best microcurrent facial device that is easy to use and safe and that will give you visible results.
So before you make the purchase, read on for what you need to look for, what you can expect from these tools, and ultimately, our favorite options on the market.
A preview of the best microcurrent facial devices
What is a microcurrent facial device?
Microcurrent facial devices are essentially as the name suggests: tools that emit low (micro) levels of electrical currents. You may be thinking, what could that possibly do for my skin? Well, these currents are very similar to the ones your brain sends to your muscles.
"Microcurrent is a very tiny electrical current that mimics your body's own natural pulses. What that means is our brains use currents to communicate through our neurological pathways, where it's constantly sending signals. What we're doing with this technology is mimicking those currents and delivering them to our facial muscles," says biomedical engineer and holistic skin care expert Pooja Johari, M.S., founder of 7E Wellness. These pulses, she notes, stimulate our muscles to act younger. "The thing is, the facial muscles can't tell whether the signal is coming from the brain or this device."
Let's dive a bit deeper into the "act younger" part. On a cellular level, these work through the production of adenosine triphosphate (ATP), or a molecule that's naturally produced in the body and acts as an energy currency.
Essentially your body (skin and muscles included) uses it as part of its regenerative process, creating more collagen, elastin, and so on. Without it, our cells lose energy—and unfortunately, our natural production of these declines with age.
"[This loss] is the reason our skin is not able to hold up the structure," she says. "What we do with microcurrent is replenish and boost the ATP and therefore, the collagen and elastin."
It also works by stimulating and strengthening the muscles. "It stimulates the facial muscles underneath the skin, which will help to improve the facial contour, tone the skin, and reduce wrinkles," says celebrity esthetician Shani Darden about microcurrent facials.
See, many signs of aging aren't just due to collagen decline; they can also be attributed to the fact that our facial muscles weaken as we get older. When the muscles sag underneath the skin, so does the skin on top of it. So by building them back up through microcurrents, your entire face will appear more toned and lifted.
Finally, these tools can also help by driving products deeper into the skin and boosting circulation. Both of these can improve skin's overall appearance and health.
Summary
A microcurrent facial device is a tool used for non-invasive facial treatments. It utilizes low-level electrical currents to stimulate the muscles and tissues of the face.
How we picked
Reputable brands: Unfortunately, the rise in popularity of at-home facial tools has spurred lots of knock-offs. We are only recommending brands and products that are backed by science and have integrity—which means FDA clearance for most.
Educational factor: There's a learning curve with microcurrent devices, so we looked for brands that prioritized educating the consumer with tutorials, apps, and resources.
Price: The hard truth is that quality microcurrents are expensive. However, we tried to include lower price points (without sacrificing quality) for those who want an entry option.
Tested & reviewed: Everything on this list comes recommended and tested by trusted professionals and our beauty team. Additionally, we utilized user reviews to inform our choices.
Here, the best microcurrent devices, all backed by derms.
Advertisement
This ad is displayed using third party content and we do not control its accessibility features.
Advertisement
This ad is displayed using third party content and we do not control its accessibility features.
Advertisement
This ad is displayed using third party content and we do not control its accessibility features.
Comparing the best microcurrent facial devices
| Product | Price | Installment Pay | FDA Cleared | Gel Included | Features | Use |
| --- | --- | --- | --- | --- | --- | --- |
| Solawave | $149 | Yes | No | No | LED light therapy/ Facial massage/ Therapeutic warmth | 3x per week |
| NuFace Trinity Set | $525 | Yes | Yes | Yes | LED light therapy/ Infrared technology | 5x per week |
| ZIIP Beauty GX Series Microcurrent Device | $495 | Yes | Yes | Yes | Nanocurrent | 3x per week |
| Foreo Bear | $329 | Yes | Yes | No | N/A | Daily |
| FaceGym Pure Life Face | $520 | Yes | Yes | Yes | N/A | 3x per week |
| 7E Wellness Myolift™ Mini Microcurrent Device | $239 | Yes | Yes | Yes | N/A | 3x per week |
What are the benefits of a microcurrent facial device?
While it's important to know the "how" behind any tool you use, most folks are interested in the "why"—essentially, what changes can you expect to see from using your microcurrent device? While we hinted at several in the section above, here's the full list of presumed skin-enhancing benefits:
Muscle toning: The microcurrents engage the facial muscles, helping them to become stronger and more lifted, as Darden noted above. Essentially, these are like a workout for your face.
ATP production: ATP is a naturally occurring molecule in the body that's vital for cellular energy (it's like an "energy currency"). It naturally declines with age, but microcurrents can stimulate the muscles to enhance production, as Johari tells us.
Collagen and elastin production: Increased ATP production supports collagen and elastin in the skin, says Johari.
Increased product efficacy: Microcurrents can help enhance product absorption.
Wrinkle reduction: Likely due to a combination of the factors above, research shows that microcurrents can contribute to wrinkle reduction. One clinical study with 30 women under the age of 45 found that with 30 consecutive sessions (each session being 20 minutes), participants reported improved skin appearance and reduced wrinkle depth.
While many skin care professionals support using microcurrent devices, we should note that at this time there isn't a huge body of research behind their use. It's a growing, and promising, area of study, but certainly more research is needed to make definitive claims.
Are at-home microcurrent devices safe?
While microcurrent facial devices are generally considered safe for most, these are professional-grade products and should be treated with care.
First and foremost: "It's important to check with your doctor before using microcurrent if you have epilepsy, heart conditions, or you're pregnant," Darden previously told us.
Tips for using an at-home microcurrent facial device:
Here's what to keep in mind when folding them into your routine.
Be mindful of skin type. These are best suited for those with concerns most often associated with aging, such as sagging, fine lines, and dullness. Those with otherwise healthy skin can benefit from them long term, too. However, Johari says that those with moderate to severe acne and rosacea should avoid use (an occasional breakout or flare-up is fine; just be sure to avoid the areas when using your tool).
Use clean, high-quality, water-based formulas with it. Johari told mbg, "You want conductive gels that are clean and don't contain any ingredients that may have long-term negative implications. Additionally, microcurrent tools help ingredients penetrate further into the skin, so you want to make sure that the ingredients are non-irritating." A few ingredients we like: niacinamide, aloe vera, hyaluronic acid, and peptides.
Avoid retinols & exfoliants on the nights when using them. It's best practice to avoid potent exfoliants and actives prior to a facial, and at-home facial tools are no different. On the nights you use your device, keep your topical routine simple and gentle.
Don't use after Botox or fillers. Skin care professionals advise waiting at least two weeks after getting Botox or fillers before using microcurrent devices again.
As with most at-home skin care treatments, it's best to consult with a professional about your unique skin care needs before using.
How microcurrent facial devices help longevity
It's natural for the skin to age, but microcurrent devices are a helpful way to help improve its longevity and encourage healthy aging.
Again, weaker facial muscles can contribute to signs of aging—and these devices can strengthen the muscles in your face. Building this muscle strength can help with the overall health and longevity of your skin.
More skin care devices we love:
Our beauty team has tested a lot of skin care products and devices, with microcurrent being one of our favorite technologies. A few other tools we swear by are:
Gua sha tools: Rooted in Traditional Chinese Medicine (TCM), gua sha tools have become increasingly popular in recent years. The sculpting technique is meant to promote lymphatic drainage, increase blood circulation, and provide a natural "face-lift," all with a few gentle, upward strokes.
Face massagers: These come in all forms, each with its own benefits and design. At the crux of it, though, is the research-backed ability to increase blood flow to the face1, which experts say can minimize fine lines, help even your skin tone, and promote collagen production.
Frequently Asked Questions
How long till you see results from microcurrent facial devices?

Experts, like Johari and Darden, note that you can see improvements almost immediately, such as a more contoured and toned complexion. But for long-term benefits you'll need to use it consistently for about one month following the manufacturer's instructions (which could be anywhere from 3 to 5 times per week).

"Generally speaking, it's best to [use at-home devices] five times a week for the first several weeks, and then you can reduce the frequency after that to maintain," Darden says.
How often should you use a microcurrent facial device?

As with any tool, you should use your microcurrent device as directed by brand instructions. But generally speaking, microcurrent facial devices are safe to use three to five times a week for about 10-minute spans. Do not use your microcurrent on nights when you're exfoliating or using retinol.
What should you use microcurrent facial devices with?

You should use your microcurrent with a generous dose of conductive gel. Conductive gels are water-based formulas that allow the currents to penetrate the skin. Many brands include gels with the purchase, but if not, you can use most aqueous serums. Look for hydrating ingredients like aloe vera, peptides, and hyaluronic acid. Avoid serums with AHAs, BHAs, and retinol.
What are the differences between at-home and professional microcurrent facials?

Typically professional microcurrent facials use more powerful devices. In addition, facialists are expertly trained and more purposeful in their movements, which will likely result in better results. However, at-home tools are incredible investments for maintaining tone and lift between appointments.
The takeaway
If your budget allows, microcurrent facial tools are a worthy investment for their skin-boosting benefits. Just be sure to use as directed by the brand and with a clean serum that uses high-quality ingredients (since it drives the formula deeper into the skin).
And if you're in the market for more high-tech tools that complement your new microcurrent device, check out our favorite LED masks.
Meet The Experts
Alexandra Engler
is the beauty director at mindbodygreen and host of the beauty podcast Clean Beauty School. Previously, she's held beauty roles at Harper's Bazaar, Marie Claire, SELF, and Cosmopolitan; her byline has appeared in Esquire, Sports Illustrated, and Allure.com.
Ruth Jobarteh-Williams is a board-certified dermatologist.