Peptides For Skin: Benefits, Types & Skin Care Products
mbg Beauty Director
By Alexandra Engler
mbg Beauty Director
Alexandra Engler is the beauty director at mindbodygreen and host of the beauty podcast Clean Beauty School. Previously, she's held beauty roles at Harper's Bazaar, Marie Claire, SELF, and Cosmopolitan; her byline has appeared in Esquire, Sports Illustrated, and Allure.com.

Medical review by
Keira Barr, M.D.
Board-certified dermatologist
Keira Barr is a dual board-certified dermatologist and founder of the Resilient Health Institute.
March 29, 2022
Our editors have independently chosen the products listed on this page. If you purchase something mentioned in this article, we may
earn a small commission
.
There's no shortage of skin care ingredients to know and try. Depending on your needs, you may be met with a range of derm-touted suggestions from vitamin C (brightening), retinol (cell turnover), alpha-hydroxy acids (blemish control), and oh-so-many more. Peptides also fall under the expert-approved category yet don't always get the spotlight they so rightfully deserve.
This class of ingredients is most often found in two types of products: anti-aging creams (or healthy aging, as we like to call it) and barrier support. Once you dig into what they do, that'll make perfect sense. Here, our guide to peptides in topical skin care.
Advertisement
This ad is displayed using third party content and we do not control its accessibility features.
What are peptides?
Peptides are chains of amino acids linked together by peptide bonds, and amino acids are the building blocks of proteins. Proteins like collagen, elastin, and keratin exist in our skin, hair, and nails—and thus caring for them should be a top priority for a well-rounded beauty routine. Peptides are naturally present in the body, and there are many kinds that all have their own unique properties and functions.
When used topically, they act as messengers for the skin, says board-certified dermatologist Hadley King, M.D.: "Neuropeptides act as chemical messengers. In the skin they can be synthesized by keratinocytes or endothelial cells [which will, in turn, strengthen the epidermis, or skin barrier], or they can be released into the skin from nerve endings. They can act by modulating the release of neurotransmitters," she says.
Put simply, "When you apply it topically like in a serum or moisturizer you are telling your skin to create more collagen," says New York City–based esthetician Taylor Worden.
And as Nava Greenfield, M.D., board-certified dermatologist at Schweiger Dermatology Group in New York City, notes, their use so far is indeed promising—even if she acknowledges there's still more to learn.
"In the cosmeceutical space, we have little to work with in terms of products that can truly provide even minimal benefit in reversing some signs of aging, protection from collagen and elastin breakdown, and even encouraging collagen and elastin buildup," she says. "Ingredients developed small enough to penetrate the skin yet strong enough to be effective at skin rejuvenation are exciting, and peptides have demonstrated potential as a possible ingredient to help the skin in exactly that way!"
Advertisement
This ad is displayed using third party content and we do not control its accessibility features.
Types of peptides.
One concern that comes up often when discussing peptides in skin care is that there are many kinds of peptides (some better studied than others). Each is unique in its efficacy and function. So treating peptides as a monolith is a bit misleading for the consumer. To understand the nuances of peptide research, you need to get technical.
At the moment, these are the "most helpful" peptide ingredients on the skin care market says King:
Advertisement
This ad is displayed using third party content and we do not control its accessibility features.
Benefits of peptides for the skin.
As we've noted, many peptide-containing products are marketed as either "for mature skin" or "for barrier support." Once you see the benefits, this will make sense.
Additionally, the exact benefit you'll get from a peptide product depends on the types used.
Supporting collagen production. As we've noted, several types of peptides have been shown to enhance collagen production. They do this by acting as messengers in the skin, signaling your cells to produce more collagen, elastin, and keratin.
Improving skin texture. Thanks to their ability to enhance your skin's proteins, they have been shown to visibly improve the skin's texture—notably helping ease fine lines and wrinkles. Additionally, Argireline may ease the formation of wrinkles as it releases neurotransmitters that relax muscles in the face. (More research is needed to assess how dramatic this effect is.)
Strengthening the skin barrier. Peptides can support your skin's proteins. But certain types (oligopeptide) can also stimulate skin regeneration and the production of hyaluronic acid (which supports the skin's moisture barrier) and aids the skin in dealing with environmental stressors, like UV rays.
Calming irritation. Some peptides (notably, Palmitoyl Tetrapeptide-7) have evidence of easing inflammation in the skin.
Preventive aging. Given all of the above, they can help you at any stage of your healthy aging skin care journey. If you are interested in helping your skin act younger for longer, these are an excellent ingredient to fold into the arsenal.
Reduce breakdown. "In vitro studies as well as some clinical data suggest that certain peptides6 have properties of inhibiting aging-related enzymes in the connective tissues of our skin that break down the collagen, elastin, and hyaluronic acid, which can be very helpful in preventing and treating aging-related signs," says Greenfield.
Advertisement
This ad is displayed using third party content and we do not control its accessibility features.
However, as King notes, the research on these peptides in topical formulations is still relatively new. "In general, more independent, larger, well-structured studies are needed to definitively evaluate these claims," she says.
Cautions.
Generally, these are well tolerated by most individuals. (After all, your body makes its own peptides.) "If you have sensitive skin or have had an adverse reaction to peptide products in the past, use caution when trying a new one," says Greenfield. "Test it out on your outer cheek or forearm for a few weeks before applying it broadly."
Of course, check out the rest of the INCI list (aka the ingredient list) to make sure there aren't other ingredients that may trigger a reaction for your skin, and do a patch test prior to using. Again, this warning is especially true if you have sensitive skin, known skin irritants, or have an inflammatory skin condition.
Advertisement
This ad is displayed using third party content and we do not control its accessibility features.
Best peptide products.
Peptides can technically be formulated into anything, but they're best suited for leave-on serums, creams, and lotions—here, they'll be able to do their best work. Additionally, you can look for them in body and face products, where they'll exert their wide variety of benefits head to toe.
mindbodygreen postbiotic body lotion
The namesake postbiotic is an innovative, unique, and targeted postbiotic from Lactobacillales, the "educational" bacteria of the skin. (It's actually a strain of bacteria that populates our skin in our youth7 but declines as we age. In its role as educators, it teaches skin to act young, protect itself, and revitalize barrier function.) The postbiotics we used in this formula are oligopeptides, which have been shown to support the skin's barrier. Additionally, the formula contains antioxidants like coenzyme Q10 and a fruit complex. The base is a host of hydrating botanicals like aloe, shea butter, oat oil, and moringa seed oil. Seriously, applying this silky number is ahhh-inducing.
postbiotic body lotion, mindbodygreen ($30)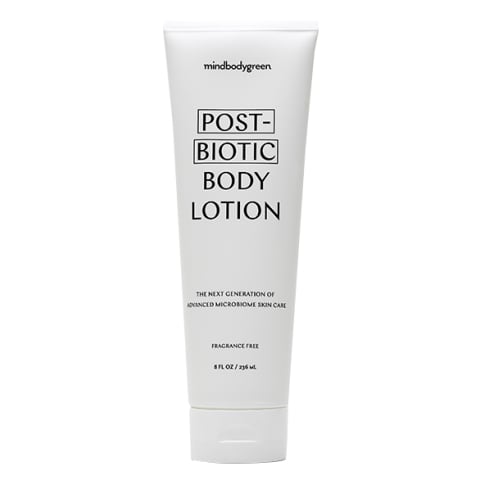 mindbodygreen
Celestine Hydra-Plumping Peptide Serum
This lush serum is made with the humectant hyaluronic acid, the soothing niacinamide, juicy aloe vera, and loads of antioxidants from a pomegranate extract. But it also contains peptides from a seaweed extract. These all work together to plump and smooth skin.
Hydra-Plumping Peptide Serum, Celestine ($45)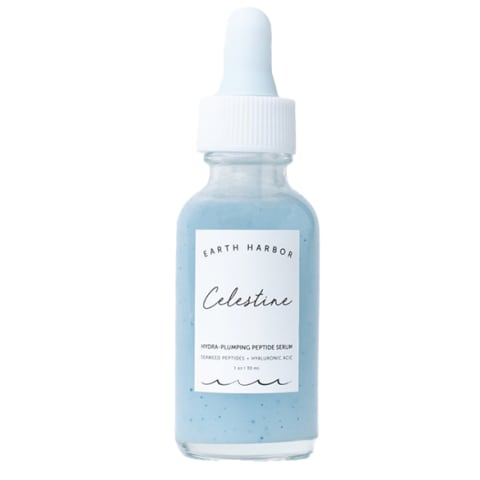 Celestine
SkinFix Barrier+ Triple Lipid-Peptide Cream
If your skin needs some extra love, reach for this rich face cream—the ingredients are all made to bolster your skin barrier. Of course there are the peptides, which can support the proteins in your epidermis. There's also a lipid complex (a signature from the brand) that feeds the skin's moisture barrier. Finally, a lily root extract helps water retention.
Barrier+ Triple Lipid-Peptide Cream, SkinFix ($52)
SkinFix Barrier+
Drunk Elephant Protini Polypeptide Cream
A cult-favorite product that blends together ​​signal peptides, water lily stem cell extract, and folic acid ferment extract. Let's zero in on those signal peptides, the stars of the show. These amino acids signal growth factors in the epidermis and bind water to the skin, which improves fine lines and texture.
Protini Polypeptide Cream, Drunk Elephant ($68)
Drunk Elephant
Kiehl's Micro-Dose Anti-Aging Retinol Serum with Ceramides and Peptide
This serum adds in retinol, so the two address collagen production in their own unique way. Retinol is famous for its ability to spur collagen formation in the skin, encourage cell renewal, and more. But it's often hard on the skin barrier and can lead to irritation. The soothing peptides can help buffer that—while also feeding the skin amino acids.
Micro-Dose Anti-Aging Retinol Serum with Ceramides and Peptide, Kiehl's ($62)
Kiehl's Micro-Dose
iNNBEAUTY PROJECT 10 + 10 More-Sturizer
A smart hydrator combines together a 10% vitamin C complex (it contains two different forms, both of which are oil-soluble and stable, to address dullness), ceramides, and squalane (to enhance the lipid layer of the skin), and of course the 10% peptide blend to feed your skin's proteins. Truly, what's not to love about this pretty little thing.
10 + 10 More-Sturizer, iNNBEAUTY PROJECT ($34)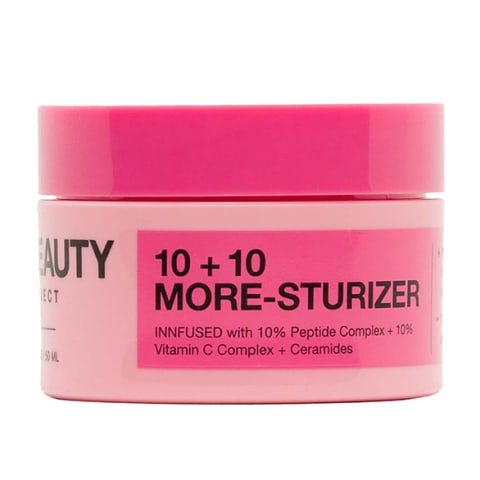 iNNBEAUTY PROJECT
What to use peptides with.
Peptides play nice with other ingredients and tend to be pretty stable. For that reason, they're generally OK to pair with other actives, such as antioxidants.
If you plan to layer your peptide product with something else, just follow the general skin care step guidelines, which are as follows: face wash, toner, serum, cream, oil, and SPF. Most peptide options are going to fall in the serum or cream slot, and if it's the latter, you may consider adding another active ingredient underneath in the form of a serum. For example, you may try an antioxidant serum topped with your peptide lotion. If so, just be careful to introduce the products one at a time so your skin has time to adjust to each new product.
Given peptides are used for their collagen-building benefits, one idea is to use them alongside other collagen-boosting ingredients. Vitamin C and E serums are some of our favorites as the antioxidants are a vital part of the collagen synthesis process. Not only is it necessary for stimulating internal collagen production, but it also helps stabilize existing collagen8 levels in the skin, essentially protecting all the hard work from the peptides.
However, another route to take is to find a product that contains peptides along with other actives, such as retinol, hyaluronic acid, or coenzyme Q10. (See some of the products above!) This way, the formula is made in such a way that the two ingredients work together—and you have less concern about the ingredients interacting negatively.
Collagen peptide supplements.
Peptides are also famously found in beauty supplements in the form of collagen peptides. In ingestible form, they work to support the skin and body from the inside out. (And in case you're curious, yes there's loads of evidence collagen supplementation works.) We have plenty of collagen supplement content, so if that's your primary interest, check out a few of our favorite guides:
The takeaway.
Peptides seem to be a highly effective way to support your skin barrier, promote collagen, and enhance skin texture as you age. While there is much to be learned about the different amino acid chains, the research so far is promising. Plus, they pair easily with most ingredients—such as retinol and vitamin C—so you can further optimize your skin longevity.
Alexandra Engler
mbg Beauty Director
Alexandra Engler is the beauty director at mindbodygreen and host of the beauty podcast Clean Beauty School. Previously, she's held beauty roles at Harper's Bazaar, Marie Claire, SELF, and Cosmopolitan; her byline has appeared in Esquire, Sports Illustrated, and Allure.com. In her current role, she covers all the latest trends in the clean and natural beauty space, as well as lifestyle topics, such as travel. She received her journalism degree from Marquette University, graduating first in the department. She lives in Brooklyn, New York.