The 9 Best Collagen Supplements For Skin, Joints & More*
mbg Beauty Director
By Alexandra Engler
mbg Beauty Director
Alexandra Engler is the beauty director at mindbodygreen and host of the beauty podcast Clean Beauty School. Previously, she's held beauty roles at Harper's Bazaar, Marie Claire, SELF, and Cosmopolitan; her byline has appeared in Esquire, Sports Illustrated, and Allure.com.

Expert review by
Ashley Jordan Ferira, Ph.D., RDN
mbg Vice President of Scientific Affairs
Ashley Jordan Ferira, Ph.D., RDN is Vice President of Scientific Affairs at mindbodygreen. She received her bachelor's degree in Biological Basis of Behavior from the University of Pennsylvania and Ph.D. in Foods and Nutrition from the University of Georgia.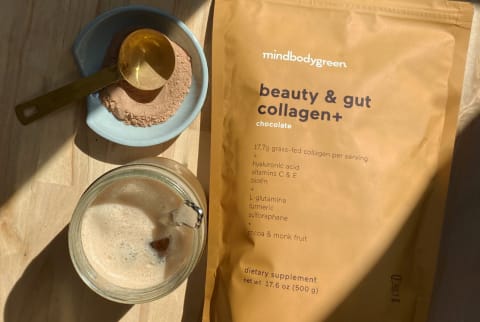 Last updated on August 2, 2022
Our editors have independently chosen the products listed on this page. If you purchase something mentioned in this article, we may
earn a small commission
.
Collagen supplements have become a popular treatment in the realm of skin health, and rightfully so.
Research shows that results are promising for the short and long-term use of oral collagen supplements for skin aging1 (think: skin hydration and elasticity), gut health, joint function2, and a variety of other full-body benefits.*
Thankfully, there is a flood of collagen supplements on the market.
And with so many options available, you may be struck with a bout of decision fatigue—or be tempted to grab whatever reasonable-looking jar you find at your local health shop.
But not so fast: There is actually a method for determining your best collagen fit, and it comes down to your goals and needs.
See, collagen formulas vary quite a bit—be it due to collagen type or additional ingredients—and these factors play a role in how effective it will be toward an intended outcome.
Read on for our best bets.
What is collagen?
Collagen
describes a family of proteins that comprise the most abundant proteins in the animal kingdom. In fact, there are at least 28 kinds of collagen that we know of that exist in vertebrates (yes, us included), but types I, II and III are the most common in the human body.
Meet the expert
Ashley Jordan Ferira, Ph.D., RDN is Vice President of Scientific Affairs at mindbodygreen.
Vincent Pedre, M.D., is a board-certified internist in private practice in New York City.
Nour Zibdeh, M.S., RDN, is a functional and integrative dietitian and nutritionist, author, and speaker.
mbg's picks for the best collagen supplements of 2022
What our reviewers say
"To my delight, since I began taking mindbodygreen's beauty & gut collagen+, I've noticed significant improvements in overall skin hydration.* What's more, I've actually been able to take this supplement every day and stay consistent—something I wasn't doing with collagen capsules."
—
Chelsea So
Benefits of collagen
Here, some of the top health areas you can expect high-quality collagen supplementation will help support:*
How to choose
While we've vetted the above products and can recommend them wholeheartedly, we also want to give you the tools to look for your own collagen supplements—or at least help you understand our process.
There is no official daily recommendation for collagen supplementation. For healthy adults, the recommendation for overall protein needs is about one gram of protein per kilogram of body weight per day.
If you're physically active, your needs may be higher. Collagen is a protein made of peptides, but it's not a complete protein—it doesn't have all nine of the essential amino acids (it's missing tryptophan and is on the lower side on a few others)—but can absolutely contribute to your overall daily protein goals and needs.*
For a collagen supplement, we recommend looking in the 10- to 20-gram range (per serving).
Look for brands that describe in detail where their collagen is sourced from (i.e., the animal, region, etc.), be it on the packaging or website.
Look for keywords like "grass-fed, pasture-raised bovine collagen from Brazilian cows," or "sustainably-sourced, wild-caught cod." Ideally, they'll note what collagen types are provided (e.g., types I, II, or III) as well.
Bonus points if they list the amino acid profile. If your diet allows, we prefer grass-fed bovine collagen, which you can learn more about here.
Powders are the best, as they are able to deliver the most potent amount of collagen.
Powders are also a convenient way to add a meaningful dose of collagen to your nutrition routine, whether blending into a sweet smoothie with colorful fruits or mixed into your morning coffee or latte.
If you prefer other delivery methods—drinks, tonics, capsules, gummies—that's fine; just know that you're not getting as much collagen in these products.
If there are additional, beneficial ingredients—such as vitamins and minerals or botanical bioactives—they can help create a more holistic product to achieve your desired effects (or if you want just collagen, that's great too!).*
Look for research backing up why the ingredients were added and thoughtful explanations of the overall formulas.
On the other end, make sure the formula is clean. Less is more here: Skip artificial colors, flavors, sweeteners, gluten, GMOs, soy, gluten, and known allergens. If your collagen product has flavors, look for natural varieties (such as organic cocoa, organic vanilla).
If there's a sweetener, we recommend natural plant-derived sources like organic monk fruit extract or organic coconut sugar.
This is less about decoding an ingredient label and more about finding brands that are open and honest about their product. It shouldn't be hard to find their Supplement Facts panel and other ingredient list.
The type and source of collagen should be apparent. If they make any benefit claims, there should be science to support them. They should be open about where the ingredients come from, and they should explain the packaging it comes in (i.e., is it environmentally friendly?).
RELATED: The 7 Best Collagen Powders + Dosage, Formats & More
How we select supplements
At mindbodygreen, our expert-vetted dietary supplement product selections and recommendations in the supplement space elevate quality, efficacy, innovation, and safety.
Our team ensures that each supplement product is thoughtfully formulated--from the active ingredients to those "Other ingredient" excipients too.
We are highly preferential towards clean formulas that are plant-centric (and oftentimes vegan or vegetarian) as well as free of GMOs, gluten, soy, dairy, major food allergens, high-fructose corn syrup, artificial sweeteners, synthetic dyes, and more.
Overall, we recommend products with clean ingredients at efficacious doses in bioactive forms. Whenever possible, we celebrate and elevate plant-origin (i.e., plant-sourced) ingredients from a variety of botanicals.
Ingredient source and innovation are top of mind for our critical reviews and selection of supplement products. We prioritize forward-thinking formulations and delivery formats that are genuinely helpful in transforming your health.
We included collagen supplement brands and products that prioritize quality. This includes robust manufacturing practices and comprehensive purity and potency testing.
You can learn more about mindbodygreen supplements+ manufacturing and quality testing practices here.
Frequently asked questions
Which form of collagen is most effective?

Collagen supplements can come in many forms: powder, liquid, capsules, and gummies. The most effectively dosed, versatile, and ubiquitous format is powders. Collagen powders are exactly as they sound: A powdered format of collagen peptides that can be added to foods, smoothies, coffee, or even water. Ease of use aside, powders are the best form because they can better deliver potent doses of the protein—whereas things like gummies and capsules usually contain smaller amounts. For more information, here's our guide to collagen powders.
What are the side effects of taking collagen?

Overall, collagen peptides are safe for consumption, and few side effects, complaints, or cautions are reported. They fall into the "benign" bucket. However, everyone is different, and everyone's body reacts to products in unique ways. This is why some side effects are reported anecdotally. Whether the experiences are directly tied to the collagen peptides is difficult to pinpoint, particularly considering collagen powders can contain other active ingredients and some "Other ingredients" too (depending on the brand and product). The most common reported were: Bad taste in the mouth and stomach upset. For more information on collagen side effects, check out our guide.
Who may not benefit from collagen?

Given that collagen is the most abundant protein in the human body, and collagen supplements support a wide range of areas in the body (think: skin, gut, joints, and more), most people can find some benefit that appeals to them.* However, collagen peptides are inherently not vegan—and thus may not align with someone who strictly follows that diet. This is because there is no plant source of collagen since the protein is absent in the plant kingdom. If you see a collagen product that says it's "vegan," please know that it does not contain collagen itself. Rather it contains various collagen supporting and boosting ingredients, such as certain amino acids or micronutrients like vitamins C and E.* Learn more about collagen sourcing here.
How long does it take for collagen supplements to work?

When you incorporate a new supplement into your routine, it's only natural to expect results. But how fast do those results show up? Well, to answer that you need to get specific about what benefit and area of the body you're expecting it to work on. See some areas (like the gut) experience improved function much quicker than others (like the bones) simply due to our physiology (gut cells turn over more often than bone does!)* Basically the answer to this question is "it's complicated"—but luckily we're very adept at breaking down complicated concepts into easy to understand guides. So see here for more information on how long it takes collagen to work.
What happens when you stop taking collagen supplements?

Collagen supplement benefits last as long and regularly as you continue to consume them. For skincare and healthy aging benefits, for example, without supplying your body with the peptides that stimulate fibroblast production, your body will simply revert back to its prior state.* That is why it's recommended to take collagen supplements consistently over time to experience the beneficial effects.
Why does my collagen powder include vitamin C and hyaluronic acid?

High-quality collagen powders will often add in additional active ingredients to bolster the overall product. This is especially true for skincare-focused collagen supplements, where you might see additional actives such as vitamin C, E, hyaluronic acid, biotin, and various plant-derived antioxidants. Vitamin C in particular plays an important supporting role in collagen supplements, as the antioxidant is vital in the collagen synthesis process.* Hyaluronic acid is a humectant naturally produced by the body that is the key compound involved in skin moisture (and thus can support skin hydration alongside the collagen peptides.)*
The takeaway
Finding your perfect collagen fit really boils down to figuring out what your goals and priorities are.
Once you narrow down the why, then you can start looking into the what. But we went ahead and made the latter part easy for you—these 16 options are the best out there.
RELATED: Does Collagen Work? How To Make Sure Your Supplement Does*
If you are pregnant, breastfeeding, or taking medications, consult with your doctor before starting a supplement routine. It is always optimal to consult with a health care provider when considering what supplements are right for you.
And do you want to turn your passion for wellbeing into a fulfilling career? Become a Certified Health Coach! Learn more here.
Alexandra Engler
mbg Beauty Director
Alexandra Engler is the beauty director at mindbodygreen and host of the beauty podcast Clean Beauty School. Previously, she's held beauty roles at Harper's Bazaar, Marie Claire, SELF, and Cosmopolitan; her byline has appeared in Esquire, Sports Illustrated, and Allure.com. In her current role, she covers all the latest trends in the clean and natural beauty space, as well as lifestyle topics, such as travel. She received her journalism degree from Marquette University, graduating first in the department. She lives in Brooklyn, New York.