The 9 Best Vitamin C Supplements For Immunity, Skin Health & More*

Author:
Expert reviewer:
Updated on January 15, 2023

mbg Supplement Editor
By Morgan Chamberlain
mbg Supplement Editor
Morgan Chamberlain is a supplement editor at mindbodygreen. She graduated from Syracuse University with a Bachelor of Science degree in magazine journalism and a minor in nutrition.

Expert review by
Ashley Jordan Ferira, Ph.D., RDN
mbg Vice President of Scientific Affairs
Ashley Jordan Ferira, Ph.D., RDN is Vice President of Scientific Affairs at mindbodygreen. She received her bachelor's degree in Biological Basis of Behavior from the University of Pennsylvania and Ph.D. in Foods and Nutrition from the University of Georgia.
Last updated on January 15, 2023
Our editors have independently chosen the products listed on this page. If you purchase something mentioned in this article, we may
earn a small commission
.
Thanks to its critical role in immunity, vitamin C has gotten a lot of attention over the past few years.* However, many don't realize that vitamin C is a potent antioxidant involved in a myriad of physiological functions that help your body run properly every single day—not just when you're feeling under the weather.*
Vitamin C is an essential nutrient, which means the human body can't make it on its own (and thus, must consume it). Additionally, it's a water-soluble vitamin, which means any C your body doesn't absorb each day will be excreted through your urine.
The 9 Best Vitamin C Supplements:
What to look for in a quality vitamin C supplement
We scoured the market for the best vitamin C supplements available and, using a few key criteria—including form, source, dose, and quality—narrowed it down to the carefully curated list of supplements you see today.
From vitamin C/lipid/citrus bioflavonoid trios and chewable tablets to gummies and liposomal powders and liquids—vitamin C supplements can take many different forms. The good news is that the delivery format doesn't matter too much (although, we recommend you reserve gummies for kids or adults that don't care to swallow other forms of vitamin C). Rather, it's what's inside the vitamin C supplement that really counts.
Whether you're trying to understand our selections better or doing research to find a vitamin C supplement on your own, here are the most important factors to evaluate, as determined and vetted by our vice president of scientific affairs, Ashley Jordan Ferira, Ph.D., RDN:
1.
Form and source of vitamin C
When selecting a high-quality vitamin C supplement, one of the most important factors is the form of vitamin C and how well it absorbs. Here are a few common forms and sources of vitamin C you will see in our list of selections and on other ingredient labels:
Vitamin C/lipid/citrus bioflavonoid trio. Especially designed for high-potency doses, the fatty acids (aka lipids) in this specialized trio help escort vitamin C through the body and aid cellular absorption, while citrus bioflavonoids help protect the C (but more on that in a moment).*
Ascorbic acid. This is a widely used and robust option for vitamin C, as it's well absorbed at lower doses and your body will excrete what it can't use via urine.
Liposomal vitamin C. Found in both powder and liquid form, the liposomes (aka phospholipids) in this form encapsulate vitamin C to help transport it through the GI tract and into cells, so it can be absorbed.*
Fruit. In some supplements, vitamin C is sourced from whole fruits, such as berries (acerola, amla, and rose hips being particularly famous ones). PSA: These whole-food sourced vitamin C options will provide lower amounts of vitamin C (i.e., not your 1,000-milligram doses) because these fruits do not contain 100% vitamin C, so achieving very high doses would be costly for both the manufacturer and consumer.
Citrus bioflavonoids. Although citrus bioflavonoids are a unique set of phytonutrients and not a form of vitamin C, you might see them in specialized vitamin C supplements because they are wonderful plant-origin accessory bioactives that complement vitamin C and buffer it from oxidation.*
The amount of vitamin C in your supplement is just as important as where it's coming from. The recommended dietary allowance (RDA) for vitamin C2 is 75 milligrams in female adults and 90 milligrams in male adults. That's a daily baseline level.
Of course, dosing of vitamin C in supplements depends on what the particular supplement is designed to achieve. "When considering a multi-ingredient product (e.g., an immune complex or multivitamin), look for 90 milligrams of vitamin C or more to cover both male and female needs," explains Ferira. "With stand-alone, high-potency vitamin C supplements for adults, look for higher doses (i.e., anything from 250 milligrams to 1,000 milligrams)."
3.
High-quality, clean ingredients
The supplement brands we recommend have a reputation for stellar quality. Whether they achieve this status through vigorous manufacturing and quality testing or additional, independent third-party testing, you can rest assured that each selection on this list is of the highest caliber.
Often, this commitment to quality is also reflected in a supplement's ingredient list. We look for active ingredients with clinical science backing and products that are free from artificial colors, flavors, sweeteners, dyes—and, whenever possible, free from gluten, soy, dairy, and GMOs as well. In terms of excipients (i.e., the inactive, additional ingredients included in a supplement formula), the shorter and cleaner the list, the better.
The benefits of taking a vitamin C supplement
Vitamin C is the body's primary water-soluble antioxidant—which means it's a true nutrient leader for its vast (and vital) antioxidant and anti-inflammatory actions across organ systems throughout the body.* In addition to being essential for immune and skin health, vitamin C directly supports our joints, cells, brains, and hearts (talk about true head-to-toe coverage).*
Here are a few of vitamin C's particularly noteworthy roles worth calling out:*
Our picks for the best vitamin C supplements of 2023
Best liposomal vitamin C: Pure Encapsulations Liposomal Vitamin C liquid
If you've done any research on unique delivery forms, you've likely already heard of liposomal vitamin C. This liquid format is the best design to achieve true vitamin-containing liposomes, thanks to the sheering force of shaking the liquid. This helps the active (vitamin C, of course) mix with the sunflower-derived phospholipids (so don't forget to shake). The addition of fat helps aid vitamin C's absorption. We love that this formula is GMO-free and vegan, but do note: It requires refrigeration and some amount of endurance (instruction: hold 1 teaspoonful in mouth for 30 seconds).*
Liposomal Vitamin C liquid, Pure Encapsulations ($37)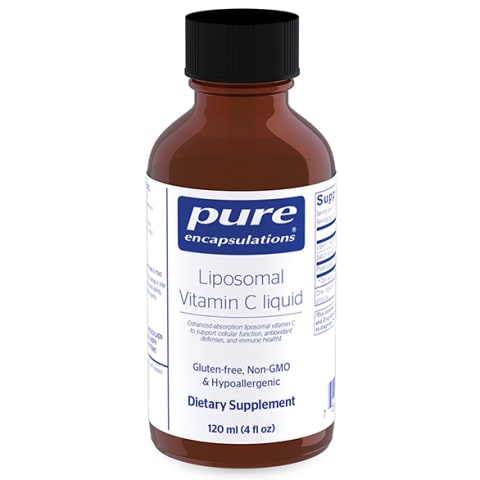 mbg Creative / Pure encapsulations
Best timed-release vitamin C: Solaray Timed Release Super Bio Vitamin C
If you haven't noticed yet, absorption is the top priority when it comes to vitamin C supplementation (or any supplement, for that matter). Timing is the absorption angle in Solaray's product, with a two-step timed-release design aimed to deliver the first half of its 1,000-milligram dose of vitamin C immediately, then release its second half gradually as the day progresses. With citrus pectin plus bioflavonoids from lemons, the formula provides some complementary phytonutrients to the MVP: vitamin C.*
Timed Release Super Bio Vitamin C, Solaray ($26.49)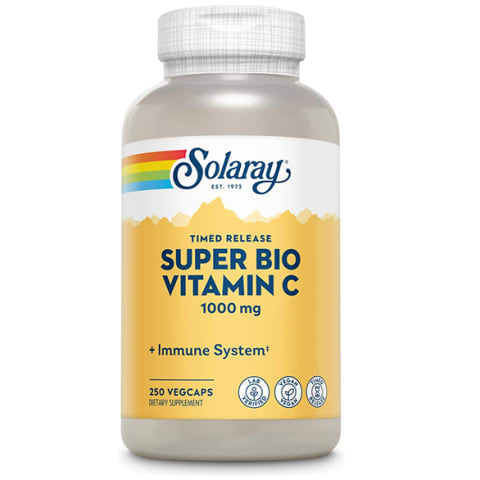 mbg Creative / Solaray
Best Ester-C: Solgar Ester-C Plus 500 mg Vitamin C Vegetable Capsules
Ester-C is a non-acidic form of vitamin C designed to be easier on the digestive system. It features calcium ascorbate—a mineral, "buffered" form of vitamin C and type of vitamin C metabolite that aids in white blood cell absorption and retention of vitamin C, according to Solgar. This midrange formula delivers 500 milligrams of vitamin C, plus a modest amount of citrus bioflavonoids to provide some "buddy" phytochemicals and antioxidant power.*
Ester-C Plus 500 mg Vitamin C Vegetable Capsules, Solgar ($26.88)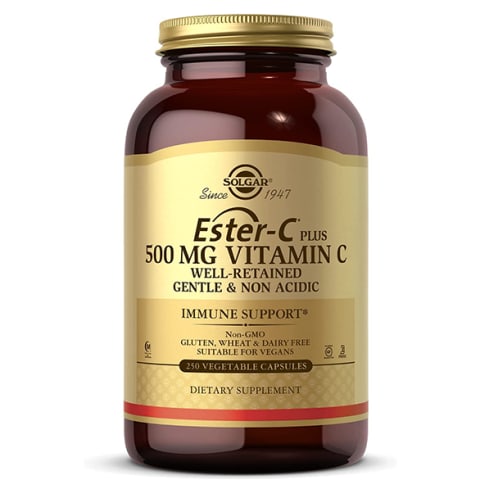 mbg Creative / Solgar
Best organic vitamin C: Pure Synergy Pure Radiance C
With a truly colorful lineup of non-GMO organic fruits and berries, Pure Radiance C offers a lower dose (120 milligrams) of vitamin C straight from nature. This organic vegan formula combines Camu camu and acerola cherry extracts with a blend of 10 additional berries and fruits to elevate antioxidant properties. If you're looking for a fruit-focused, modestly dosed vitamin C supplement that is also dairy-free, gluten-free, and vegan, this Pure Synergy offering is ready when you are.*
Pure Radiance C, Pure Synergy ($24)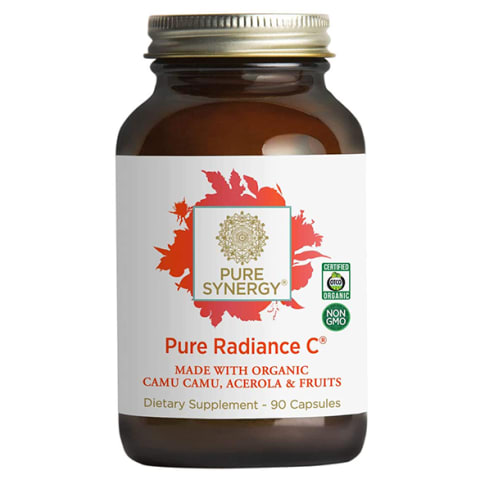 mbg Creative / Pure Synergy
Best vitamin C fruit blend: Garden of Life Living Vitamin C Antioxidant Blend
Another organic, fruit-focused, lower-dose vitamin C supplement, this Living Vitamin C Antioxidant Blend delivers a packed lineup of whole-food-derived ingredients. Acerola cherry leads the pack, providing the 250-milligram dose of vitamin C but also teams up with Camu camu plus two blends—whole citrus and antioxidant berry—that span a diverse array of organic botanicals (including mandarin orange, tart cherry and brown rice) in each two-caplet serving.*
Living Vitamin C Antioxidant Blend, Garden of Life ($18.39)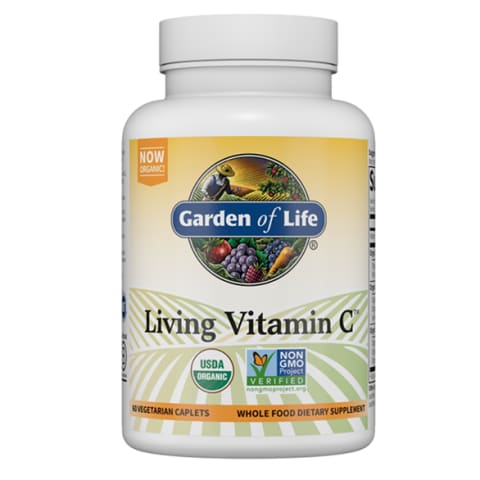 mbg Creative / Garden of Life
Best vitamin C with food + herb blend: MegaFood Ultra C-400 mg
When it comes to antioxidants, citrus fruits and berries shouldn't get all the credit. In addition to a mid-range 400-milligram dose of ascorbic acid paired with some organic orange, this MegaFood vitamin C supplement offers a compact amount of ingredients derived from fruits, vegetables, grains, and herbs. (You'll even find some brewer's yeast in the mix.) While some of the key players are well known for providing antioxidants (e.g., blueberry, carrot, orange, and cranberry), others (e.g., beetroot, broccoli, and parsley) may surprise you!*
Ultra C-400 mg, MegaFood ($29.82)
mbg Creative / MegaFood
Best chewable vitamin C: Emergen-C Chewable Vitamin C 1000 mg
For a quick blast of vitamin C, these chewables (2 tablets per serving) deliver a potent 1,000-milligram dose of vitamin C plus a few other vitamins and electrolyte minerals—including zinc to promote healthy immune function, vitamins B6 and biotin for energy support, and fat-soluble antioxidant vitamin E. It's important to note that while this is a great option if you're in the market for a potent chewable vitamin C, it does contain added sugars and fish gelatin—a noteworthy fact for vegetarians, vegans, and those with fish allergen concerns.*
Chewable Vitamin C 1,000 mg, Emergen-C ($10.88)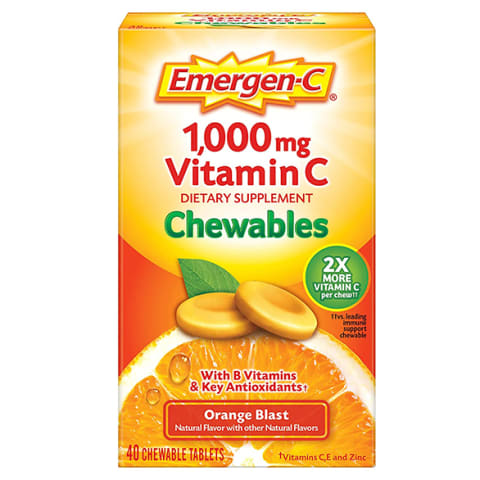 mbg Creative / emergen-c
Best powder vitamin C: LivOn Labs Lypo-Spheric® Vitamin C
As mentioned before, vitamin C liposomal supplements are designed to encapsulate C in a lipid sphere (aka liposome) to help with absorption in the digestive tract and cells in the body. Lypo-Spheric® Vitamin C offers a 1,000-milligram dose of vitamin C as sodium ascorbate, phospholipids (derived from soy lecithin, so individuals with soy considerations, be aware), and a good source of choline—a vital nutrient that supports liver and nervous system function. Each serving of this vitamin C is individually packaged so you can support your immune system and skin health, even if you're on the go.*
Lypo-Spheric® Vitamin C, LivOn Labs ($39.95)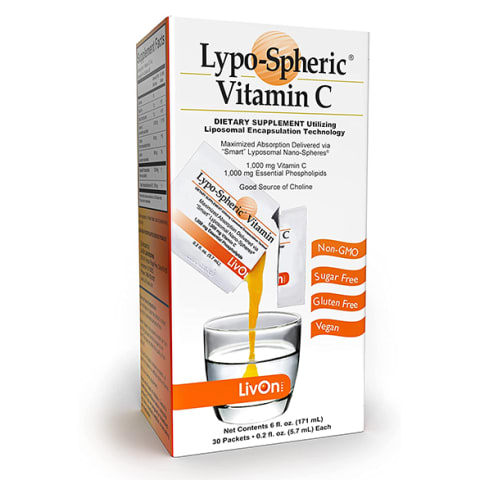 mbg Creative / LivOn Labs
Best vitamin C for kids: Nature Made Kids First® Vitamin C Gummies
As a parent, it can be tough (and at times, downright overwhelming) to ensure your little one is getting all the essential nutrients they need each day. Thanks to these yummy, naturally flavored orange or tangerine Nature Made gummies, your kids (ages 4 and up) will be begging to take their daily vitamin C. One USP-verified gummy delivers a high-potency but totally safe dose for kiddos (i.e., 125 milligrams of ascorbic acid) that's free from gluten, artificial flavors, synthetic dyes, high-fructose corn syrup, and artificial sweeteners. (And how adorable is that monster on the bottle?)*
Kids First® Vitamin C Gummies, Nature Made ($15.11/month)
mbg Creative / Nature Made
How we select supplements
At mindbodygreen, our expert-vetted dietary supplement product selections and recommendations in the supplement space elevate quality, efficacy, innovation, and safety.
Our team ensures that each supplement product is thoughtfully formulated--from the active ingredients to those "Other ingredient" excipients too. We are highly preferential towards clean formulas that are plant-centric (and oftentimes vegan or vegetarian) as well as free of GMOs, gluten, soy, dairy, major food allergens, high-fructose corn syrup, artificial sweeteners, synthetic dyes, and more.
Overall, we recommend products with clean ingredients at efficacious doses in bioactive forms. Whenever possible, we celebrate and elevate plant-origin (i.e., plant-sourced) ingredients from a variety of botanicals.
Ingredient source and innovation are top of mind for our critical reviews and selection of supplement products. We prioritize forward-thinking formulations and delivery formats that are genuinely helpful in transforming your health.
We include supplement brands and products that prioritize quality. This includes robust manufacturing practices and comprehensive purity and potency testing.
You can learn more about mindbodygreen supplements+ manufacturing and quality testing practices here.
What our reviewers say about mindbodygreen vitamin C potency+
"I've been taking 1 gram of vitamin C for years, but mindbodygreen's vitamin C potency+ has convinced me to switch brands. This supplement is the best of both worlds: vitamin C and citrus bioactives. Also, some high-dose vitamin C products make my tummy upset, but this one is totally gentle, probably because of the absorption technology mbg invested in here. Thank you!"
—
Jessica
Frequently Asked Questions
Why is vitamin C important for our immune system?

Vitamin C is required for optimal immune health and resilience, playing a critical role in both innate and adaptive immunity.* In addition to its essential role in immune cell development and function, the antioxidant neutralizes free radicals to help immune cells do their job properly day in and day out, so they can be ready for potential pathogens.* In addition to a targeted vitamin C supplement, you can also consume this essential micronutrient by eating a well-balanced, nutrient-dense diet. To up your intake of vitamin C-dense foods, focus on fruits and vegetables.
What does vitamin C do for your skin?

Vitamin C has earned a permanent spot in the skin care lineups and for very good reasons. Vitamin C's antioxidant properties work to limit free radical effects, thus playing a significant role in combating signs of skin aging triggered by UV rays.* Vitamin C is also a key cofactor in the synthesis of collagen and elastin, which helps give your skin that plump and youthful appearance.*
Can you take vitamin C while pregnant?

Yes. Per the National Academies, the recommended daily intake of vitamin C (i.e., your baseline daily needs) is 75 milligrams for women, with higher vitamin C requirements for pregnant and lactating women (85 and 120 milligrams, respectively). Higher vitamin C intake may be needed based on individual health needs. For adults, the tolerable upper safety limit for daily vitamin C intake is much higher, at 2,000 mg.
Can vitamin C hurt your kidneys?

Individuals with renal health concerns should talk to their health care provider before adding a vitamin C supplement to their regimen since ascorbic acid can break down into oxalate (too much of which can affect kidney function).
The takeaway
Vitamin C is an incredible essential nutrient that performs countless antioxidant and anti-inflammatory actions within the body to support everything from cardiovascular function to cellular resilience and immune response.*
Although vitamin C is needed daily to support these physiological functions, a large chunk of the U.S. adult population has insufficient vitamin C levels (42%, to be exact8) per their bloodwork.
A high-quality supplement can complement your diet to help bridge that nutrient gap, ensure sufficient vitamin C status, and allow your body to leverage this readily available C however it needs.*
When considering adding a new supplement (vitamin C or otherwise) to your routine, it's always a good idea to discuss your options with a health care provider.
Whether you're interested in one of the vitamin C supplements we've featured here or are using the criteria above to advance your hunt for a different supplement, we hope this guide helps you find the perfect vitamin C product to address your health needs.
† PureWay-C™ research has demonstrated superior cellular uptake & retention rates, serum response, and bioactivity compared to other forms of vitamin C (e.g., ascorbic acid, calcium ascorbate, Ester-C).
If you are pregnant, breastfeeding, or taking medications, consult with your doctor before starting a supplement routine. It is always optimal to consult with a health care provider when considering what supplements are right for you.

Morgan Chamberlain
mbg Supplement Editor
Morgan Chamberlain is a supplement editor at mindbodygreen. She graduated from Syracuse University with a Bachelor of Science degree in magazine journalism and a minor in nutrition. Chamberlain believes in taking small steps to improve your well-being—whether that means eating more plant-based foods, checking in with a therapist weekly, or spending quality time with your closest friends. When she isn't typing away furiously at her keyboard, you can find her cooking in the kitchen, hanging outside, or doing a vinyasa flow.