ZIIP Vs NuFace: What Is The Better Microcurrent Device? We Tried Them Both
mbg Beauty Director
By Alexandra Engler
mbg Beauty Director
Alexandra Engler is the beauty director at mindbodygreen and host of the beauty podcast Clean Beauty School. Previously, she's held beauty roles at Harper's Bazaar, Marie Claire, SELF, and Cosmopolitan; her byline has appeared in Esquire, Sports Illustrated, and Allure.com.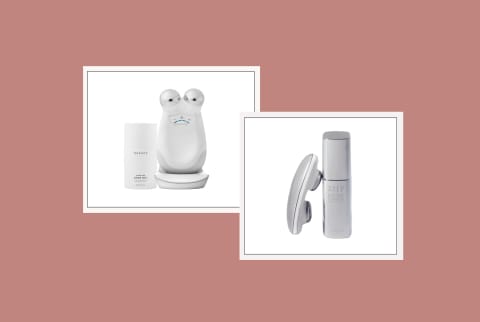 Image by mbg Creative / courtesy of brand
July 22, 2023
We carefully vet all products and services featured on mindbodygreen using our
commerce guidelines.
Our selections are never influenced by the commissions earned from our links.
So you're ready to wade into the waters of skin care devices, and have narrowed the search down to microcurrent tools. Or perhaps you're already well versed in facial tools and this is another one you're adding to the arsenal. Or maybe you're just curious, because it seems like everyone nowadays has a toning device they're blasting all over social media.
No matter how you found yourself here, microcurrent devices are certainly an investment (they come with a higher price point and time commitment). So it makes sense you'd want to do your due diligence to find the right tool for you.
What are microcurrent devices? 
First-things-first, let's quickly go over what microcurrent facials are (because it's always good to have a refresher, no?). Microcurrent devices work exactly as the name might suggest—they send small (micro) electrical currents into the skin and facial muscle.
These currents actually mimic the same ones your brain sends to your facial muscles, according to biomedical engineer and holistic skin care expert Pooja Johari, M.S..
"What that means is our brains use currents to communicate through our neurological pathways, where it's constantly sending signals. What we're doing with this technology is mimicking those currents and delivering them to our facial muscles," she says, noting that the muscles can't discern if the signals are coming from the brain or via external sources.
And in stimulating the muscles through these tiny currents, a few things happen. The first is that the muscles are engaged and strengthened. This is why microcurrent devices often get billed as "workouts for your face."
But it also stimulates adenosine triphosphate (ATP) production. ATP is a molecule that's naturally produced in the body, and plays a vital role in cellular energy. ATP is essentially the cell's energy currency—transferring and moving energy throughout the body. The skin and muscles use it as part of the natural regenerative process, creating more collagen, elastin, and so on.
ATP production declines with age—and so with it, a decline in overall cellular energy. More and more, beauty tools and topicals are being designed to up-regulate ATP production because of this. Including, yes, microcurrent devices.
Microcurrent tools are typically hand-held devices, but professional-grade ones can be much larger. They also must be used with water-based conductor gels.
Skin benefits of a microcurrent treatment:
With an understanding of how it works, we can better understand the reported skin care benefits that come with it.
Sculpts & tones. Aging isn't just about aesthetic changes to the epidermis—it's about what's happening underneath, too. Facial muscles weaken as we get older (as do all muscles), which can mean asymmetries and less defined features. By stimulating and strengthening the facial muscles, the tools can help tone and sculpt the appearance of the face.
Improves cellular energy. Given microcurrents improve ATP production, the driving force of energy at the cellular level, you'll see improved cellular energy and health1. ATP is used in the rejuvenation process, so skin will rejuvenate faster. Research even indicates that this can improve wound healing1.
Smoothes fine lines & tightens skin. Collagen and elastin are the skin's structural proteins, keeping the face firm and smooth. (With their natural decline, we see fine lines and sagging.) By improving the production process, microcurrent devices can help reduce the appearance of wrinkles and keep skin taut. One clinical study with 30 women under the age of 45 found that with 30 consecutive sessions (each session being 20 minutes), participants reported improved skin appearance and reduced wrinkle depth.
Enhances ingredient penetration. The products you use while using the microcurrent tool are very important, as the tool helps ingredients penetrate the epidermis deeper. This means products can be made more effective. It can also trigger side effects if the ingredients used are too potent, and it can irritate the skin. So be mindful of what you're using.
What is NuFace?
Arguably NuFace has the most name recognition across all microcurrent devices. The brand carries six different variations, several attachments (including an LED add-on and lip & eye dual wand), and endless sets to choose from. The device has an oval shape, with two spheres on top that hug the face (currents are emitted from two spheres).
They also make skin care products, such as a conductor gel, boosters, and wipes, which can be sold separately or come in the sets.
Here, a quick rundown of the offerings:
Whether you connect the device to the app (like with the Trinity+) or just access them through the website, the brand also offers esthetician-created routines that cover a wide range of concerns. You can opt for more in-depth full face tutorials, or quick fixes that target small areas. They also offer "house calls" and group tutorial masterclasses with education consultants should you want something more interactive.
What is ZIIP?
ZIIP's microcurrent tool may not have as much name recognition as NuFace, but it has earned a spot as a beauty editor favorite. The sleek hand-held comes in only one version, The Halo, which effortlessly cradles in your palms. It's gently curved, and the two spheres are on the inside. To use, it's gripped almost like a cell phone. Past versions of the device, which are no longer sold, are the GX and OX were slightly larger.
While ZIIP doesn't offer multiple versions or attachments, it does use both microcurrents and (even smaller) nanocurrents. This dual wave technology means that it's more effective at the cellular level. While microcurrents can improve ATP production, the main benefits are muscle toning. Whereas with nanocurrent, you're more effectively targeting the cellular changes. Nanocurrents are also usually better suited for those with sensitive skin.
The brand offers four different conduction gels. The base is an Electric Complex Gel, which is a very simple and gentle formula. It's just a conduit for the currents. However, they also offer more sophisticated offerings such as the Golden Gel, Silver Gel, and Crystal Gel.
Use the device with the Halo App. On the app you'll find six full facials, 6 targeted treatments, and 3 treatment plans. The device works with the app to guide you through these sessions guiding you with visual tutorial and haptic feedback from the tool itself.
This is the device that I personally use.
Comparing NuFace vs. ZIIP
These are two high-quality microcurrent device companies that share a lot of similarities—and a few notable differences.
Use-ability
Products and tools won't work if you don't commit to them. This is true of all skin care, but especially true of microcurrent devices. They only work (and you'll only see results) if you stick with the program. So use-ability is actually a huge consideration when buying a device.
The NuFace Trinity+ has an oval base (where you grip it), and the two spheres on top. If you get the attachments, you'd pop them over the spheres. When using you'll hold the device at the bottom and move it around your face. Given it's a round base, you can grip it anywhere—which helps you reach odd angles or hit different parts of the face with more ease. It's a bit bulky, however, but that's why NuFace makes the Minis—in case compact design is important to you.
As for regular usage, you'll probably have better commitment if you sync with the app. As Schneider wrote, "I highly suggest pairing your device with the brand's Smart App, as it literally takes you through the process step by step. I oscillated between the app's Cheek Pop (a four-minute treatment focusing on the cheekbones and jawline) and the longer Pro-Toning Facial (an 11-minute treatment for the neck, cheeks, and forehead) when I had a bit more time to spare."
The brand recommends you use it for about 5 minutes a day, 5 times a week. But this may be adjusted depending on your particular goals and needs.
The ZIIP HALO has a naturally smaller design that's just about the size of an average palm. It's curved, with the spheres on the inside, and you hold it much like you might a cell phone. It's very compact, and easy to travel with should you want to take it with you. The ergonomic and familiar design moves around the face very easily.
Again, this should be paired with the user-friendly app. When you pick your facial (there are 6 full face options and 6 targeted sessions), it'll work with the device and deliver sensory feedback so you know when to move onto a different area of the face. The app also has full treatment programs that last several months that you can follow, if you'd rather have long-term guidance on usage.
The brand recommends using it 3-5 times a week (no more than 6), and the baseline facial is about 4 minutes.
Cost
The NuFace Trinity+ is the most expensive offering from NuFace at $395 for the starter kit. If you want the complete set (it includes the works), it's $595. However, the brand has other options such as the Trinity+ Mini ($250), the Classic ($350), the Classic Mini ($220), and a much smaller facial toning pen called the FIX ($165). So all-in-all you should expect to pay anywhere from $165 to $595 when choosing something from NuFace. Attachments are $160 each. The skin care products are much more affordable, ranging from $12 to $65 per item.
Extras & conductive gels
NuFace wins out on extras and attachments. The base device has the two standard spheres, but you can purchase one of two extra attachments. The first is a LED panel that features red LED lights. Red and LED light therapy can help improve collagen production, soothe inflammation, and strengthen the skin barrier. (P.S., if LED is important to you I encourage you to check out our favorite LED masks and tools here.) They also have an Eye & Lip attachment, which changes the spheres into two target wands for more precise usage.
NuFace offers two conductive gels and three boosters (which you'll layer under the conductive gel). The conductive gels are soothing and hydrating, using high-quality ingredients such as hyaluronic acid, marine extracts, and botanical extracts. The both also feature a complex that uses glacial water and ions to help enhance the microcurrents. As for the boosters, there's a vitamin C concentrate, an antioxidant concentrate, and a peptide concentrate.
The ZIIP does not have any extras or attachments. The brand offers four different gels, a baseline gel (which is a very simple formula), as well as more high-end options. The Gold Gel is the most luxurious, and it uses 5 types of peptides and gold extract. But the Silver and Crystal are more reasonably priced, and use hyaluronic acid, aloe vera, and other botanical extracts.
Power, efficacy & results
Both the NuFace Trinity+ and ZIIP HALO are high-quality, effective microcurrent devices. I genuinely mean this when I say you cannot go wrong with either one.
The ZIIP HALO is a bit stronger, with the upper threshold of power being about 400 microamps. In addition, the HALO also uses nanocurrents alongside the microcurrent technology. Nanocurrents are even smaller electrical currents than microcurrents. Microcurrents primarily target the muscle, whereas nanocurrents work more effectively at the cellular level, stimulating ATP, collagen, and elastin production. This can help drive more long-term skin care-focused results, rather than just improving facial muscles and overall toning.
I've used ZIIP consistently for a while now (I don't follow a program, but do try to do it 1-2 times a week), and I count it as one of the reasons my face remains lifted and defined as I get older. I've been using it proactively and preventatively, so there was nothing to "reverse," but considering I often get mistaken for ages years younger than I am, I do think it's helping.
The Trinity+, being the most advanced version from the brand, carries just about the same amount of power with 340 microamps at its highest setting. It has three power modes, as well as a booster button, which increases the power 25% on areas where you might need it more.
As Schneider wrote about it, "After just two weeks of consistent use, I definitely notice a more lifted, contoured appearance. See, I'm someone who typically wakes up with super puffy eyes and a swollen jawline—both woes went away immediately after a couple rounds of microcurrent. Better yet, I was waking up less puffy to begin with, I suspect as my facial muscles started toning up. My partner also commented on how my cheeks looked more chiseled, and I promise it was unprovoked."
You'll also likely get more skin care benefits if you opt to include the LED attachment, as that works on the epidermis. With it, you can also expect to see a more even tone, reduced inflammation, and a brighter complexion—things that you won't see with microcurrent devices otherwise.
Our verdict: NuFace vs. ZIIP
I'd like to emphasize that you cannot go wrong with either of these brands or devices. They're two of the highest quality microcurrent makers on the market, and I back both of them wholeheartedly.
NuFace offers much more variety, lower price points, skin care options, and extra tech attachments—which makes the overall result more customizable to your needs. This is probably a better fit for a beginner who is still figuring out what exactly they're looking for in the world of skin care tools.
ZIIP, however, stands out with power and nanocurrent technology. For those who are serious about their microcurrent devices, this is a worthy fit.
NuFace Trinity+ vs. ZIIP HALO quick facts
NuFace Trinity+
Conductive gel included:
Yes
Included tutorials & treatment plans:
Yes
Baseline suggested usage::
5 minutes / 5 days per week
Option to pay in installments:
Yes
The newest and most sophisticated of the NuFace devices, the Trinity+ sets itself apart with 3 power settings (or "modes"), a "booster" setting that delivers 25% more microcurrent for areas where you want some extra toning power, and several additional attachments.
If you're not looking for the highest-tech tool (and the price tag that comes with it), they also have simpler and more compact options that are slightly more affordable ($165 - $350). In addition, NuFace carries a wide variety of skin care items and sets, should you be interested in bundling your device.
When paired with the app, you can utilize several tutorials, targeted quick fixes, facial instructions, and help tracking your progress.
ZIIP HALO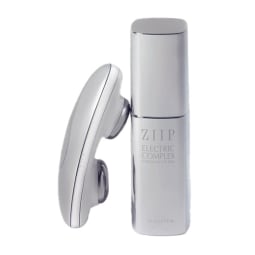 Conductive gel included:
Yes
Included tutorials & treatment plans:
Yes
Additional tech:
Nanocurrents
Baseline suggested usage::
minutes / 3-5 days per week
Option to pay in installments:
Yes
The ZIIP HALO combines microcurrent and nanocurrent technology to not only tone facial muscles, but to better target changes at the cellular level.
While the baseline conductive gel is fairly simple, you can opt for more luxurious gels which can help optimize results using various ingredients such as peptides, hyaluronic acid, niacinamide, and glutathione.
When paired with the app, you have access to facials, localized fixes, and long-term treatment plans. The tool works with the app, so you're not only guided by the visuals, but haptic feedback.
Advertisement
This ad is displayed using third party content and we do not control its accessibility features.
Pros & cons of NuFace
Pros:
Several tools to pick from (with a wider range of price points)
Can purchase extra attachments, like an LED head and an eye & lip wand
3 strength modes & an extra power option
The brand offers skin care products as well
Cons:
Bulky design makes it harder to travel with (however, the minis are more compact)
Pros & cons of ZIIP
Pros:
Includes both micro- and nanocurrent technology
High-end conductor gels available for purchase (but comes with a base gel)
Tutorials include both visual instructions and haptic feedback
Sleek design that travels well
Cons:
Only 1 option to pick from
No available attachments
Microcurrent cautions 
While microcurrent facial devices are generally considered safe for most, these are professional-grade products and should be treated with care. First and foremost, check with your practitioner about using them if you have epilepsy, heart conditions, or are pregnant, celebrity esthetician Shani Darden once warned us. You should also avoid it if you have a pacemaker.
In addition, they may cause increased flushing or redness in individuals who have rosacea. So proceed with caution, and avoid using it during flare ups or on areas prone to redness. They should also not be used on open wounds, acne liaisons, or areas experiencing a breakout. Finally, they won't be effective on areas where you have facial hair.
As we've noted above, microcurrents help enhance ingredient penetration. This is a good thing—except for when it's not. If you pair your microcurrent with too powerful or potentially irritating ingredients, it can trigger inflammation. Avoid AHAs, BHAs, retinols, as well as any ingredient you know to be personally irritating to you. (And on that note: always check the ingredient list of the conductive gel to see if there are any ingredients that you have sensitivities to.)
FAQ
What is the difference between nanocurrent and microcurrent?

Nanocurrents are even smaller electrical currents than microcurrents. Microcurrents primarily target the muscle, whereas nanocurrents work more effectively at the cellular level, stimulating ATP, collagen, and elastin production.
Does ZIIP and NuFace stimulate collagen?

Both the NuFace and ZIIP can stimulate collagen production thanks to their ability to enhance ATP production. However, ZIIP is likely more effective at it given the device utilizes nanocurrent technology.
How does ZIIP compare to NuFace?

Both are excellent microcurrent manufacturers, and worth of an investment. You can't go wrong with whatever one you pick! If variety is what you're looking for, NuFace might be the better selection as you can use additional attachments such as the LED panel. But with ZIIP, you'll reap the benefits of nanotechnology, which is better suited for targeting cellular health.
The takeaway 
Microcurrent devices are a worthy addition to your skin care routine—if you're willing to pay for it, and stick with it to see results. The ZIIP HALO and NuFace Trinity+ are two of the best options on the market and are highly effective.The NuFace Trinity+ outshines the ZIIP HALO thanks to it's booster mode and ability to purchase extra attachments, but the ZIIP's nanocurrent technology means you'll see results at the cellular level.
All in all, both are excellent. But if variety is what you're looking for, NuFace Trinity+ might be the better selection. However, I personally use the ZIIP HALO so I can reap the benefits of nano tech.
Meet The Experts
Alexandra Engler
is the beauty director at mindbodygreen and host of the beauty podcast Clean Beauty School. Previously, she's held beauty roles at Harper's Bazaar, Marie Claire, SELF, and Cosmopolitan; her byline has appeared in Esquire, Sports Illustrated, and Allure.com.