13 Best Face Massagers For An At-Home Facial & How To Choose A Tool

Beauty & Health Editor
By Jamie Schneider
Beauty & Health Editor
Jamie Schneider is the Beauty Editor at mindbodygreen. She has a B.A. in Organizational Studies and English from the University of Michigan, and her work has appeared in Coveteur, The Chill Times, and Wyld Skincare.
January 10, 2023
We carefully vet all products and services featured on mindbodygreen using our
commerce guidelines.
Our selections are never influenced by the commissions earned from our links.
With today's bounty of high-tech gadgets—as well as ancient healing stones that withstand the test of time—face massagers truly command the market.
Each massager has its own set of benefits (some lift and tone; others dial down inflammation), but they all impart some sort of glow: In fact, regular facial massage has been shown to increase blood flow to the face1 and deliver much-needed nutrients and oxygen to the skin cells—which, in turn, has been shown to help with fine lines, promote collagen synthesis, and even tone.
While you can totally go to town with your fingers (here's a luxe, nine-step routine, in case you're curious), these high-quality facial massagers put in the work for you: Our picks below come with textured edges to knead tension, vibrating pulses to buzz away puffiness, and slick gemstones to cool and soothe the skin with every swipe.
Jillian Dempsey Gold Bar
Formulated by celebrity makeup artist Jillian Dempsey, this 24K gold number not only tones and sculpts facial muscles, but the vibrating T-bar stimulates blood flow in the skin—you'll be glowing before the drop of highlighter.
Gold Bar, Jillian Dempsey ($195)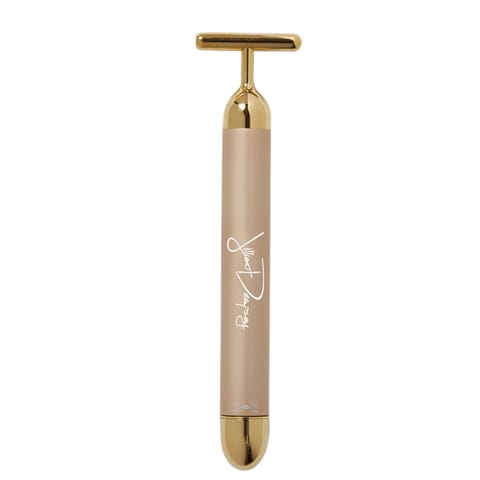 Jillian Dempsey
SkinOwl The Glow Stick
This double-sided stick contains a smooth, polished roller to de-puff swollen areas (like the under-eyes) and a textured stone-encrusted end to kick-start circulation—plus, it feels sublime on a tender jawline.
The Glow Stick, SkinOwl ($88)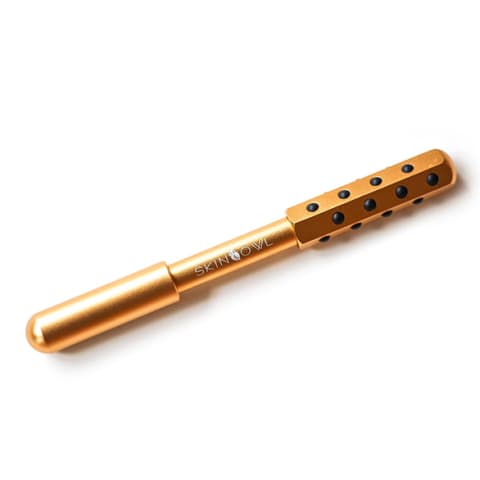 SkinOwl
Yang Face Massage Set
This massage set comes with all the essentials: a textured jade roller to stimulate blood flow, a facial cup for lift and tone, and two mushroom-shaped "pounder" tools to knead tension. Use the spiked tool to roll out your neck, chest, forehead, and cheekbones; use the pounders in circular upward and outward strokes on your jawline and cheeks, and find our full facial cupping guide here.
Massage Set, Yang Face ($145)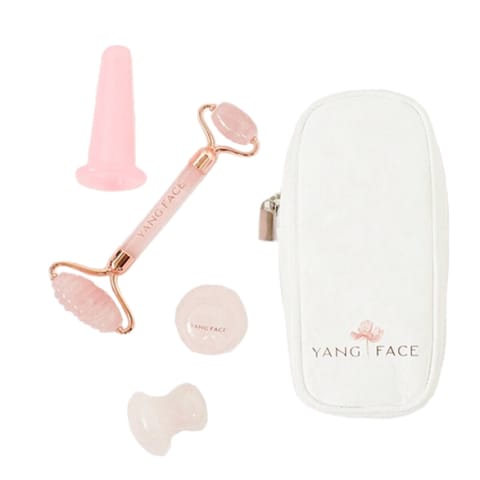 Yang Face
Skin Gym Face Sculptor
A dual-pronged roller that's fit for all the teeth clenchers out there. Rolling this tool up and down your jawline feels like heaven.
Face Sculptor, Skin Gym ($69)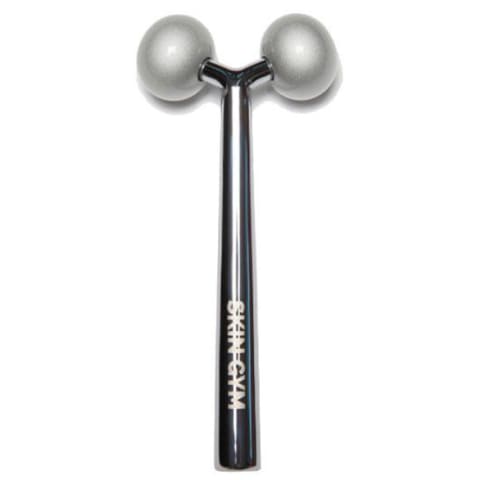 Skin Gym
Shani Darden Skin Care Facial Sculpting Wand
This sculpting wand rivals the rhythmic fingers of celebrity esthetician Shani Darden. The price point is a bit steep, but it contains a slew of attachment heads and speed settings, so it's like multiple face tools in one.
Facial Sculpting Wand, Shani Darden Skin Care ($399)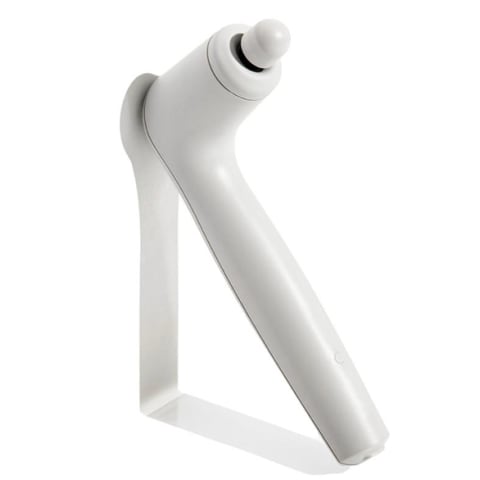 Shani Darden Skin Care
Mount Lai Jade Tension Melting Massager for Face & Neck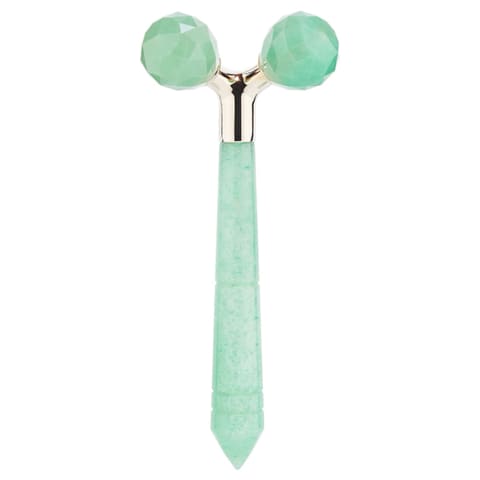 Mount Lai
Aceology The Original Blue Ice Globe Facial Massager
If you wake up to puffiness, there is nothing that feels as sensational as floating ice globes across your swollen skin in the morning. Bonus tip: If you have an inflamed, tender pimple, toss one of these in the freezer for a few minutes and press it onto the blemish; the cool temperature will constrict the blood vessels, which can tone down the redness.
The Original Blue Ice Globe Facial Massager, Aceology ($64)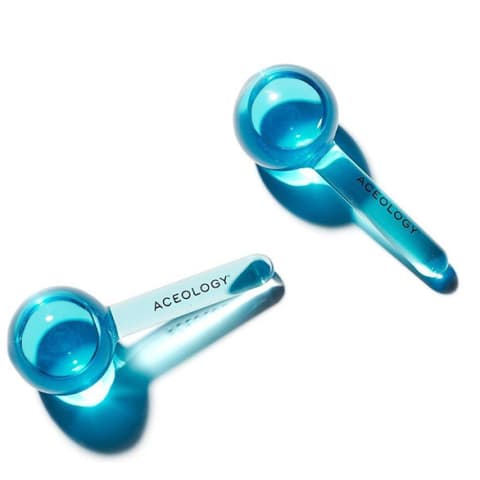 Aceology
Nurse Jamie NuVibe RX Amethyst Massaging Beauty Tool
Nurse Jamie
Nuface Mini Facial Toning Device
There's a reason this portable tool practically took the beauty world by storm: It's FDA-cleared for facial stimulation and mimics the gentle zings of a microcurrent facial (which can "work out" the muscles in your face).
Mini Facial Toning Device, Nuface ($339)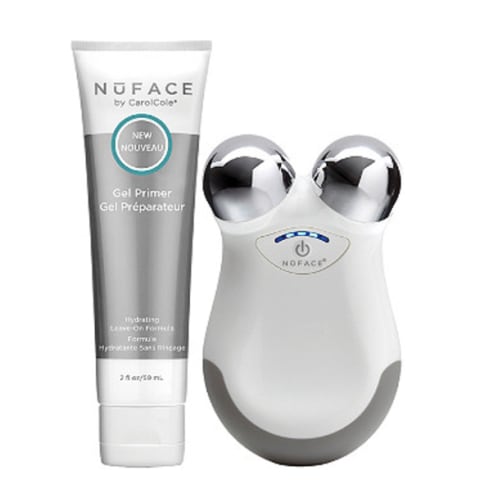 Nuface
Goodup Face Roller Massager
Not only is this budget-friendly tool dual-pronged (so it can latch onto the curves of your jawline and cheekbones), but it's dual-sided as well—so you can massage two sides of your face at once. Efficiency at its finest.
Face Roller Massager, Goodup ($6.90)
Goodup
Ranavat Kansa Wand Facial Massage Tool
This Ayurvedic tool is formulated with Kansa (a mix of copper and tin), a sacred metal that has been beloved for over 5,000 years due to its skin-healing abilities. Use the rounded tip to massage the tender points of your face—from your cheekbones to your jaw to your forehead.
Kansa Wand Facial Massage Tool, Ranavat ($70)
Ranavat
Teenitor Ice Face Roller Massager
You can never go wrong with a trusty ice roller. Stash it in the freezer, and roll in upward strokes when you're ready to lift and deflate puffiness. It feels incredible on a pounding headache, too.
Ice Face Roller Massager, Teenitor ($12.74)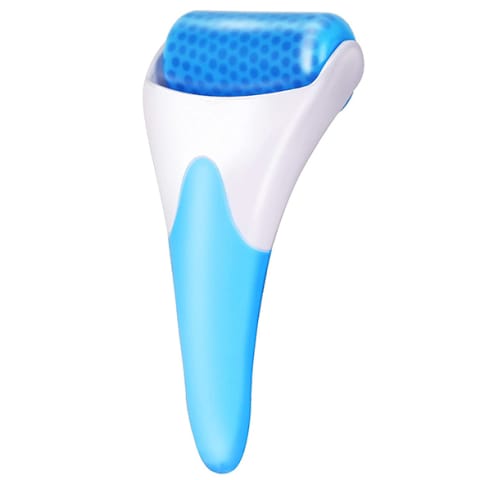 Teenitor
ZIIP GX Series
Truly a facial in a box, this microcurrent device gently nudges collagen production for a lifted and smooth complexion. As one reviewer notes, it's "literally the best, most professional home-use skin care tool I've ever used."
GX Series, ZIIP ($495)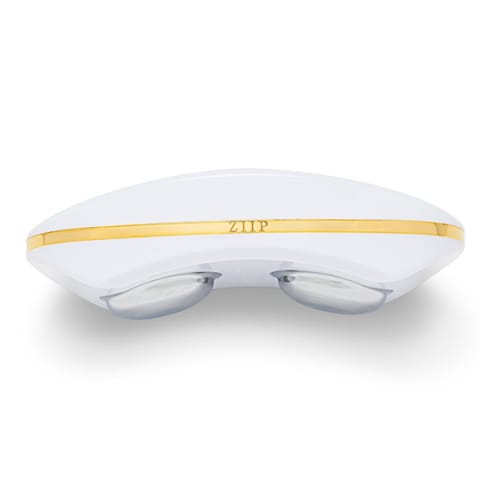 ZIIP
How to pick a face massager. 
With the abundance of high-quality options out there, how should you choose? We suggest narrowing it down to three buckets: material, result, and time commitment.
The material.
Some gadgets are incredibly high-tech, with vibrations or microcurrent zaps to stimulate blood flow in a snap. Others are created from gemstones with a plethora of centuries-old benefits—many of these materials are extra cooling for the under-eye area.
Ultimately, it's up to you to decide which route you want to take: See here for how to choose a facial stone.
The result.
Of course, rolling a face massager across your skin feels like a dream, but many do boast specific benefits.
Some sculptors do just that—they sculpt the facial muscles for a lifted appearance—while other tools soothe the skin and bring down puffiness (like the aforementioned ice rollers and globes).
Then you have the dual-pronged options—these hook onto your bone structure and are divine for melting away jaw tension.
Gua shas seem to do it all, as the boards smooth out fine lines, promote lymph flow to deflate puffiness, and tone the skin as you sweep. Microcurrent devices send gentle jolts of energy to stimulate your skin cells.
Choose a face massager based on its perks (or opt for a double-sided number, which includes multiple).
The commitment.
Technically, you can use each of these face massagers any time you like, but it does take a bit less effort to use a face roller on your jaw than to break out the microcurrent device (which typically includes a priming gel or serum to slather on beforehand). Just something to note before selecting your tool of choice.
The takeaway. 
To deliver a spalike experience in your bathroom, a face massager is arguably the best buy. They mimic the expert hands of a professional, and there's a barrel of quality options to choose from. And now, read up on how to use a face roller.
Want to turn your passion for wellbeing into a fulfilling career? Become a Certified Health Coach! Learn more here.

Jamie Schneider
Beauty & Health Editor
Jamie Schneider is the Beauty Editor at mindbodygreen. She has a B.A. in Organizational Studies and English from the University of Michigan, and her work has appeared in Coveteur, The Chill Times, and more. In her role at mbg, she reports on everything from the top beauty industry trends, to the gut-skin connection and the microbiome, to the latest expert makeup hacks. She currently lives in Brooklyn, New York.