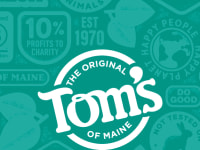 Tom's of Maine
Tom's of Maine started because of two parents' journey to care for the health of their children. A passion for helping others live a natural life still drives us today!
Tom and Kate Chappell moved to Maine from Philadelphia in 1968, looking for a healthier, simpler life for their growing family. They discovered the benefits of natural and unprocessed food, and started looking for the same qualities in personal care products. But all they found were labels listing artificial flavors, fragrances, sweeteners, colors and preservatives. So they decided to create their own.
In 1970, with the help of a $5000 loan from a friend, Tom's of Maine was born. Right from the start, our company was shaped by the Chappell's entrepreneurial spirit and values. By 1975, we'd introduced the first natural toothpaste on the U.S. market. And because Tom and Kate felt that businesses should give back, we soon found meaningful ways to care for the planet and our communities.
We became a part of the Colgate-Palmolive company in 2006. And we're proud to say that as we've grown through the years, our simple, direct approach has never changed. We continue to put our hearts into providing our customers with natural personal care products that work as well as they'd expect. And we are so committed to giving back that we donate 10% of our profits to nonprofit organizations, and we encourage our employees to use 5% of their paid time to the organization of their choice.
Connect With Tom's of Maine
Brought To You By Tom's of Maine