paid content
 for

This Program Is Awarding Five Emerging BIPOC Leaders $20,000 Each To Address Climate Change
Image by Bruce and Rebecca Meissner / Stocksy
October 6, 2022
Our planet is calling out for help, whether you can see it from your front porch or not. From oppressive heat waves to devastating storms, communities across the U.S. are facing the realities of climate change every day. And of those most affected, many are BIPOC communities. Yet rarely are BIPOC voices included within the environmental movement or engaged in finding solutions.
According to a 2021 Environmental Protection Agency analysis1 that quantifies six types of environmental impacts like air quality and extreme temperatures, Black and African American individuals are projected to face higher impacts of climate change, compared to all other demographic groups. In short, individuals most affected by climate change are inspired and motivated but need the support and resources to build environmental solutions that can make an impact. That's why Tom's of Maine is introducing its first-ever Incubator initiative.
Tom's of Maine is looking for the next generation of BIPOC environmental leaders.
Tom's of Maine is all about Doing Good, For Real. And in that spirit, they're launching the Tom's of Maine Incubator. This seven-month program is designed to resource the next generation of BIPOC leaders driving environmental solutions by providing funding, mentorship, exposure, and support to those who are most often left out of the climate movement. Through this program, five young individuals will be selected to receive $20,000 in funding to help support their work. They will also gain access to expert mentors and amplification from Tom's of Maine in spreading their message further.
The future of our planet depends on the empowerment of younger generations, and they know the importance of taking action. According to a Pew Research poll conducted in 2021, Gen Z is by far the most concerned about climate change, and 76% of them said that addressing climate change is at least one of several important concerns they have. One-third (37%) even said it was actually a "top concern to them personally." Now is a critical time to resource the ones who will be caring for and creating a more sustainable world tomorrow. Tom's of Maine believes that real change comes down to real action—not just talk—which is why they're on a mission to find the leaders who are ready to put their plans into action.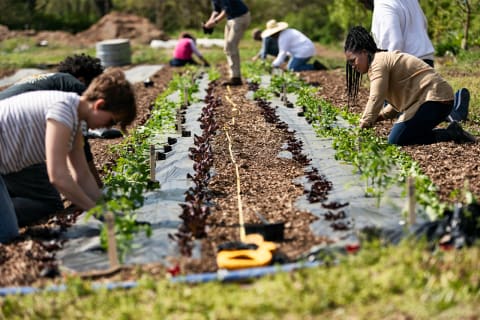 Image by Sean Locke / Stocksy
It starts with a dream.
A little bit of funding and a vision can go a long way—and nobody knows that like Tom's of Maine. Back in 1970, Tom and Kate Chappell started with a $5,000 loan and a dream to create natural personal care products that are as good for the consumer as they are for the planet. Fast-forward to today: Tom's of Maine is a Certified B Corporation, which means they are held to the highest social and environmental standards; and they continue to make naturally sourced and naturally derived oral care and personal care products that are safe and effective. Beyond the integrity at the heart of their brand, they also donate 10% of their profits to nonprofits promoting health, education, and environment. This brand lives and breathes positive impact for people, planet, and health.
Apply for the program! 
The online application for the Tom's of Maine Incubator will open on September 28, 2022, at 10 a.m. ET, and close October 19, 2022, at 11:59 p.m. ET. No purchase necessary. The application is open to legal residents of the 50 U.S. and D.C. (including DACA recipients). Applicants must be 18 to 30 at time of entry and identify as Black, Indigenous, or a person of color (BIPOC). For Official Rules, visit www.tomsofmaineincubator.com.
Five individuals selected will receive $20,000 in funding to support their mission. Then—in November 2022, the Incubator cohort will receive a trip to Maine for a kickoff summit, where they will meet with Tom's of Maine leadership and Incubator mentors. These mentors include several influential voices in sustainability and climate activism like the CEO and founder of Finch Lizzie Horvitz, Climate leader and co-founder of Green Job Boards Kristy Drutman, Isaias Fernandez, and CEO and founder of Rebundle Ciara Imani May. During the summit, the Incubator cohort will put their ideas on the table and kick off the seven-month partnership of collaboration, growth, and activism. Throughout the program, each recipient will have one-on-one access to their mentors as they realize their vision and bring their action plan to life.
Real action starts with you. 
So, what comes next? If you've got ideas about climate change; an alternative sustainable solution; if you're looking for an opportunity to share your voice and resource your dream—fill out an application! Or if someone you love fits the criteria, spread the word!
We know how easy it is to get caught up in life's everyday commitments and responsibilities. But no matter our story, there's one thing that our collective well-being hinges on, and that's the health of our communities and our planet. Mother Nature needs the next generation of leaders that will take real action to bring a more sustainable future into existence—why not you?
Devon Barrow
Branded Content Editor
Devon Barrow is a Branded Content Editor at mindbodygreen. She received her degree from the University of Colorado. When she's away from her desk, Devon is teaching yoga, writing poetry, meditating, and traveling the world. She's based in Boulder, Colorado.
Devon's first book, Earth Women, is coming soon. To learn more, join the mailing list, and receive updates, head to www.devonbarrowwriting.com.