Solawave Review: This Sleek Red Light Wand Gives Skin An Instant Glow

September 11, 2023
We carefully vet all products and services featured on mindbodygreen using our
commerce guidelines.
Our selections are never influenced by the commissions earned from our links.
I'll try almost anything once, but I've developed a certain skepticism around buzzy skin care products that make *big* claims. It takes a lot to convince me that a product is worth the investment.
Even though I knew the many benefits of red-light therapy facials—including smoother skin and improved collagen density—I wasn't sure the tiny handheld device could give me the same level of results.
Ultimately, my best friend got me on board. She was in pre-wedding skin-care mode and persuaded me to test out the Solawave to compare our results. Here's my Solawave review.
Note: Since we first published this article, Solawave has released a new device, the Radiant Renewal Skincare Wand, improving on the original design. We're sharing all the details on the updated device below.
The Solawave Wand at a glance
Cost: $149
Features: Red light therapy, microcurrent therapy, facial massage, therapeutic warmth
Benefits: Smooths fine lines, combats acne tones, decreases puffiness, enhances skin's glow, helps absorption of products, minimizes redness
Dimensions: .6" W x .4" H x 6" L
Red light wavelength: 660nm
Material: Aluminum alloy + PC
Battery life: 60 minutes
Net weight: ~1 oz (28g)
What I love: Easy to use, sleek design, noticeable benefits after just a few uses, saves money on facial treatments
What I'd change: Touch activation can be temperamental
What is the Solawave Wand?
The Solawave Wand is a lightweight, sleek, portable device that combines red light therapy, facial massage, microcurrent, and therapeutic warmth into a single treatment, all of which are automatically activated when the wand comes in contact with moisture.
"Red light therapy is a low wavelength red light that causes energy to be produced within a cell," explains board-certified dermatologist and skincare expert, Ramya Garlapati. "This increase in energy helps cells to work more efficiently to repair and rejuvenate the skin."
How the Solawave Wand works
Using 660-nanometer wavelength red light, the Solawave wand penetrates your skin's surface to ease discoloration and even out the tone, while its microcurrent energy stimulates deeper facial muscles, lifting and tightening from within.
The subtle massage works to relax your muscles to reduce puffiness, with the warmth helping to absorb your skin care products and brighten any dark under-eye circles.
So, what does this actually mean for your skin? Garlapati says, "Red light therapy can help to improve the appearance of your skin by stimulating collagen production, reducing inflammation, and increasing blood flow to the skin. It reduces the appearance of wrinkles, scarring, acne as well as other dermatologic medical conditions."
This means using the Solawave at least three times a week for five minutes per day on clean, moisturized skin. I've kept up with this regimen for the past five months.
And while it sounds somewhat intimidating, it's the results that keep me coming back for more. On the brand's website, you'll find easy-to-follow instructions, along with video and image tutorials. Not to mention, there are a whole lot of impressive before-and-after photos—yup, those always get me, too.
How is the new Solawave device different?
This device has all the benefits and functions of the original Solawave and then some. Here's what's been updated:
The OG Solawave was activated by touch, but the new wand has an on/off button which conserves battery and makes it easier to control
The Radiant Renewal Wand comes with a travel case for easier transport
The brand added two additional LED lights (7 in the new wand vs. 5 in the original)
The new wand uses Galvanic current (vs. microcurrent)
The new wand has 180-degree head rotation, whereas the original only rotated 90 degrees
Personally, I'm most excited about the 180-degree rotation and the on/off button—and the nomad in me loves the idea of a dedicated travel case, since my Solawave device currently floats freely in my makeup bag.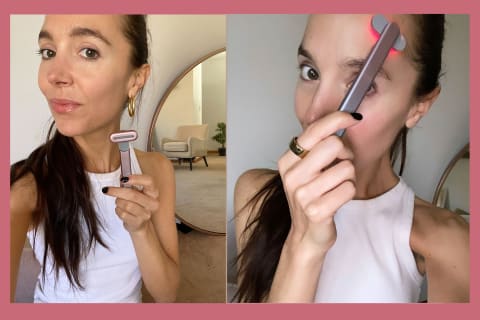 How I incorporate it into my routine
I'm no stranger to LED light therapy, but I had previously left these fancy tools to the facialists and kept my at-home rituals pretty minimal. When I decided to try the Solawave wand, I didn't expect it to fit so seamlessly into my skin care routine.
In fact, I keep the tool on my bedside table with the brand's Renew Complex Serum so they're ready to go for a little self-care moment at the beginning (or end) of the day.
When I'm ready to start my treatment, I apply a generous amount of the serum to clean skin. As someone with combination skin that leans toward dry this time of year, I've discovered that my skin drinks up the formula—so it's always better for me to go slightly heavy with my application. This ensures my skin is slick enough to pull the wand evenly across.
"The great thing about red light therapy is that it can be effective without being invasive," Garlapati confirms. "Since it is not an invasive procedure it does not damage the skin, which minimizes any unwanted side effects that are more commonly encountered with other light and energy-based devices." She adds that there is no downtime to red light therapy, which makes it even more desirable.
What the wand has *actually* done for me
My skin is prone to redness, particularly when I first wake up, but this device has significantly reduced it over the last few weeks. I'll sometimes do half my face, just so I can see the immediate impact on my skin. It always appears more lifted and toned with visibly less puffiness after just five minutes.
I'd probably use this tool for its spa-like warmth and massaging capabilities alone, which relax me immediately! That said, the red light is what really brings the results. Facialists have used LED light therapy for years to help clients smooth out fine lines, fade hyperpigmentation, and even combat acne (Solawave has a tool for that, too).
Master esthetician Sarah Akram previously told mindbodygreen, "A brighter and more radiant complexion is achieved just after one [LED light therapy] session. But completing multiple sessions will yield greater results over time."
I can definitely attest. I personally was shocked by the results the first morning after using my new device—and it's only gotten more impressive with time. After two weeks, other people also started to notice, complimenting my "glowy" skin.
With each use, it brightens up my dark under-eye circles and eases tension in my face, revealing a less puffy, more sculpted appearance. Over time, I've noticed an improvement in fine lines and a more even skin tone overall.
Needless to say, I won't be going for professional treatments quite as often anymore. The Solawave wand has allowed me to achieve similar results from home for way less money.
Update: I did see my facialist for the first time since purchasing the Solawave, and she immediately questioned what's changed in my skincare routine.
Frequently asked questions
How long does it take to see results from Solawave?

I saw results after just one use. I woke up the morning after using the Solawave and was shocked to see a more even skin tone and a brighter appearance overall. After two weeks, I began getting compliments on my "glowy" skin, with friends telling me how rested I looked. My under-eye circles were less noticeable and my face was less puffy. In the months since I started using the Solawave, I've seen continuous improvement in skin tone and redness and has a more sculpted appearance.
What are the pros and cons of red light therapy?

Our team has spend a lot of time researching the benefits of red light therapy and interviewing experts on the potential pros and cons. A few skin benefits of red light therapy are: increased collagen production, skin smoothness, improved complexion, and decreased wrinkles and fine lines.

Sarah Akram, master esthetician, previously told mindbodygreen, "[red light therapy goes] deep into the dermis layer and is great for healthy aging, targeting wrinkles and fine lines." In fact, one study found that receiving red light therapy twice a week led to improved skin complexion, skin tone, skin smoothness, and collagen density (as measured with an ultrasonographic test).

In terms of potential cons, more research still needs to be done to continue to back the claimed benefits of red light therapy. But, at the end of the day, it is a safe, non-invasive practice with very few downsides.
Is the Solawave worth it?

For me, the Solawave was worth the investment. In fact, it's saved me a ton of money on professional facials and spa treatments, and is significantly less expensive than other red light therapy devices I've tried. I saw results after just one use, and my skin has continued to improve throughout the months I've been using the Solawave. As long as you plan to use the Solawave wand consistently, you will likely see similar results.
The takeaway
Despite my hesitation, I firmly believe the Solawave wand is worth the hype. My previously mentioned bride-to-be friend and I regularly text each other about our "new" skin, and my only regret is that we didn't get our devices sooner.

Carleigh Ferrante
mbg Commerce Editor
Carleigh Ferrante is the Commerce Editor at mindbodygreen. She is a certified Health & Nutrition Coach and a born and raised New Yorker with a B.A. in Creative Writing and Psychology. Her work has appeared in Bustle, The Zoe Report, PureWow, The Everygirl, and more, covering topics such as fitness, travel, home, fashion, beauty, and dating, sex, and relationships. When she's not testing and reviewing products and services, you can find Carleigh training for her next World Major marathon, planning her next vacation, or interviewing experts on her dating podcast, Mostly Balanced.