Michelle Pfeiffer On Aging: Her Advice, Biggest Beauty Experiments & More

mbg Beauty & Wellness Editor
By Jamie Schneider
mbg Beauty & Wellness Editor
Jamie Schneider is the Beauty & Wellness Editor at mindbodygreen. She has a B.A. in Organizational Studies and English from the University of Michigan, and her work has appeared in Coveteur, The Chill Times, and Wyld Skincare.
Image by Olivia Malone / mbg Creative
April 12, 2023
Our editors have independently chosen the products listed on this page. If you purchase something mentioned in this article, we may
earn a small commission
.
Welcome to On Aging, a series that highlights industry icons' approach to beauty through the decades. They'll share what makes them feel most beautiful, their biggest beauty experiments, and, of course, all of their skin and hair care tips.
Advertisement
This ad is displayed using third party content and we do not control its accessibility features.
When discussing who would be the first face of our first On Aging feature, the mbg beauty team had zero hesitations: Michelle Pfeiffer. If I could have bolded, underlined, and highlighted her name on our mood board, trust me, I would have. Pfeiffer is not only a pioneer of clean beauty—her fragrance brand, Henry Rose, was the first EWG-verified luxury perfume collection—but she's also the perfect representation of how beauty philosophies can easily evolve over time. For a series that celebrates the exploration of beauty through the decades, I can think of no better icon to kick off the launch.
Known for extravagant Hollywood glamour in the '80s and '90s, the 64-year-old actress now has a more refined, less-is-more approach to beauty. Still glamorous, of course, in the way only Pfeiffer can effortlessly toe the line between edgy and elegant. (With cheekbones chiseled to the heavens, it's impossible to appear anything less than captivating.) But with each passing year, Pfeiffer isn't afraid to break new ground.
"I don't think I will ever stop learning," she says of her relationship with fragrance, though I think her words can also speak to her beauty ethos overall. In the world of perfumery, Pfeiffer will continue to pore over the science of safe synthetics and the latest ingredient innovations; she will also experiment with her own beauty looks—she debuted a sleek, blunt bob months before it became the trendiest style of the season—and champion transparency in the industry at large.
Pfeiffer isn't done evolving, not by a long shot. But here, she discusses everything she's learned so far.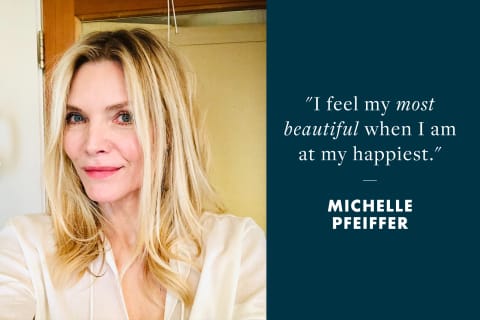 Image by Michelle Pfeiffer / mbg Creative
On her current beauty philosophy
"For me, beauty is more about a holistic approach to health and wellness than any specific products or trends. Beauty starts with a healthy mind and body, so I try to prioritize the basics like a healthy diet, sleep, exercise, and hydration.
"Beyond that, I've never been much of a beauty product junkie, whether it be skin care or makeup. I have sensitive skin, so when I find products that work, I tend to stick with them. But fragrance is something I've always loved for its ability to evoke memories and boost your mood.
"My small arsenal of go-to products has definitely evolved over the years as beauty brands become more transparent with their formulas and I simultaneously become more informed about ingredient safety. I used to have to choose between safety and efficacy: The products that worked really well were likely loaded with harmful ingredients, and the safer products just didn't perform. In an effort to find balance, I would use the effective but potentially harmful stuff on days when I was on camera or at an event and then use safer products on my days off.
"Fortunately, the beauty industry has progressed so much over the past decade, and consumers like myself are now able to find really effective products that are also safe and transparent with their ingredients, in addition to being more sustainable. I've always felt strongly that we shouldn't have to choose between quality and safety, and finally, we no longer have to."
Advertisement
This ad is displayed using third party content and we do not control its accessibility features.
On when she started prioritizing clean beauty
"I first woke up to the lack of transparency in the fragrance industry when I became a new mom. Like many new parents, safety becomes top of mind, and I started paying more attention to the products I was using and exposing myself and my family to. I stopped wearing fragrance and using any products that contained fragrance altogether, and this really limited my options.
"It's not that all fragrance is bad or dangerous, but we simply don't know what's in fragrances because companies aren't required to disclose the ingredients. 'Fragrance' can be used as a single catchall term on a product label yet can include up to 3,000 different ingredients, some of which are potentially harmful, like preservatives or stabilizers.
"I've always loved fragrance and missed wearing it, so I sought out safer alternatives—all-natural fragrances, essential oils—but nothing was able to match the quality of the fine fragrances I was used to wearing. That's what sparked the idea for Henry Rose.
On her evolving relationship with fragrance
"Now that Henry Rose exists, I love being able to wear and experiment with fragrance again! I really honed my nose during the formulation process, and my relationship with fragrance has gotten so much deeper as a result—for example, I'm able to pick up the subtle changes a fragrance goes through as it dries down.
"I used to stick with one fragrance for a long period of time and wear it daily, regardless of where I was going, but now I like to switch things up and wear different scents for different moods or occasions. I also like to experiment by layering different scents together to create unexpected and more complex combinations."
Advertisement
This ad is displayed using third party content and we do not control its accessibility features.
My naivety in my 20s is one of the reasons why I'm now so passionate about education and transparency.
On her most memorable beauty experiments
"My very first fragrance experiment was when I was very young, and I would roam the neighborhood and sneak into my neighbor's flower garden. They had the most beautiful rose bushes, and I remember sitting on the hot pavement and taking in the intoxicating smell.
"One day, I got up the courage to steal some roses and bring them home, where I crushed them up into a bowl. My first-ever failed attempt at perfumery, which went south quickly as they began to rot. But the smell of fresh flowers always brings me back to that memory, which was actually the inspiration behind Henry Rose's first true floral fragrance, Flora Carnivora.
"But without a doubt, my biggest and most memorable fragrance experiment has been the creation of Henry Rose. I initially assumed it would be a plant-based line of all-natural ingredients. However, when I began working with International Flavors & Fragrances (IFF) on formulation, I quickly learned that if I wanted to get the EWG stamp of approval for safety, we would need to use a combination of the safest natural and synthetic ingredients, as some plant-based materials can trigger allergic reactions, particularly in high concentrations.
"To make matters even more difficult, I also wanted our fragrances to meet the high standards of Cradle to Cradle (C2C), which assesses the safety, circularity, and responsibility of materials and products. Perfumers typically formulate from a palette of about 3,000 ingredients, but given the ingredient restrictions imposed by both the EWG and Cradle to Cradle, our perfumers were initially limited to working with a palette of about 300 ingredients. But scarcity breeds innovation, and IFF's willingness to tackle this challenge head-on resulted in not only an industry first, but we created a new category in the fragrance market, with a beautiful and alluring collection of fragrances.
"On a separate note, fragrance layering is something I'm passionate about and love experimenting with to create new combinations with even more nuanced depth. There are really no rules when it comes to layering. My newest layering obsession is Char and Windows Down.
On her future relationship with fragrance
"I've learned so much about fragrance since starting this journey to create Henry Rose. The learning curve was really steep at first, and the perfumers at IFF taught me so much, like how to develop my nose and speak their language so we could understand each other.
"While the curve has flattened a bit, what I love about fragrance is the seemingly endless possibilities of notes you can create through different ingredient combinations and concentrations, so I don't think I will ever stop learning. And there is always new innovation coming down the pike.
"I also learned a lot about safe synthetics and how plant-derived fragrance ingredients can have more allergens than synthetic molecules made in a lab, which can be engineered to be safer and more pure with less to no allergens. By using a safer synthetic molecule instead of a plant extract, we are able to reduce the risk of unknown allergens, protect biodiversity and reduce the risk of overusing the land to produce fragrance ingredients. The ability to create safer synthetic ingredients is intriguing, and I expect will play a large role in how the fragrance industry, and my relationship with fragrance, continue to evolve.
"Fragrance is in so many products that we come into contact with daily, from detergents and household cleaners to body lotions and soaps. It's not limited to fine fragrance and perfume. For Henry Rose, we will continue to grow our product line thoughtfully, including the addition of six more body cream scents that [launched recently]—Sheep's Clothing, Char, Windows Down, Torn, Flora Carnivora, and Dark Is Night. But there are so many applications for fragrance in the future, and I'm excited to see where this journey takes us."
Henry Rose Torn Body Cream
$ 65
A hydrating, silky body cream meets clean, luxurious fragrance. Perfume lasts way longer on hydrated skin, so by slathering on this nutrient-rich formula, you'll easily enhance your scent's longevity. I applied this Torn cream in the morning before work (along with a spritz of Torn eau de parfum for good measure). All day, I was left with a whisper of earthy, spicy fragrance.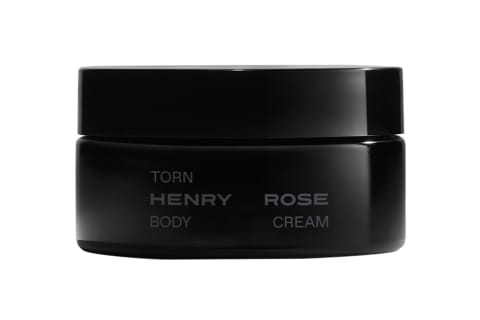 On what she would tell her 20-year-old self
"Like so many people, when I was younger, I thought I was invincible. I spent my 20s living off of cigarettes and Coca-Cola before I eventually realized that I needed to take my health more seriously. Having children was the turning point for me, and around the same time that I became a new mother, my father was diagnosed with cancer and died shortly thereafter at age 64. My best friend was also diagnosed with cancer and passed. It was a real wake-up call for me, and their deaths changed the way I look at health.
"My naiveté in my 20s is one of the reasons why I'm now so passionate about education and transparency. Knowledge really is power, and consumers, especially younger consumers, have the right to understand what they are exposing themselves to and the potential long-term implications.
"The beauty and personal care landscape was much different when I was younger; there wasn't nearly as much information available, so it was harder to educate myself. Even the risks of smoking weren't as widely communicated! I first discovered EWG when I was seeking out healthier products for myself and my family. It was really the only substantial source of information out there at the time and is still today one of the most comprehensive resources available for assessing the risk factors of ingredients.
"So my advice to my younger self—and to all younger people—is to educate yourself, because you're not invincible, and the decisions you make now can have longer-term consequences on your health and well-being. Fortunately, we now have so much information at our fingertips and are able to make more informed choices as a result."
Advertisement
This ad is displayed using third party content and we do not control its accessibility features.
On what makes her feel most beautiful 
"A good night's sleep. I am [also] my best self when I am painting; it is incredibly meditative. I love to spend time with family and friends—I'm lucky that my favorite person is my husband. Basically, I feel my most beautiful when I am at my happiest."
Advertisement
This ad is displayed using third party content and we do not control its accessibility features.