My Honest NuFACE Trinity+ Review: Before & After Results And Expert Tips

mbg Beauty & Wellness Editor
By Jamie Schneider
mbg Beauty & Wellness Editor
Jamie Schneider is the Beauty & Wellness Editor at mindbodygreen. She has a B.A. in Organizational Studies and English from the University of Michigan, and her work has appeared in Coveteur, The Chill Times, and Wyld Skincare.
April 20, 2023
Our editors have independently chosen the products listed on this page. If you purchase something mentioned in this article, we may
earn a small commission
.
Even the most recent recruits to the microcurrent game have probably heard of NuFACE. After all, the brand makes some of the most famous microcurrent facial tools on the market—ever seen someone glide a two-pronged device along their cheekbones and immediately reveal a lifted appearance? Yep, they're likely using NuFACE.
Countless beauty editors, estheticians, and derms swear by this non-invasive treatment for tighter, firmer skin, but one look at the steep price tag may leave you bug-eyed. Is this at-home tool really worth the hype (and the dollar sign?).
Advertisement
This ad is displayed using third party content and we do not control its accessibility features.
Wonder no more: Follow along as I walk you through my personal experience and explain everything (yes, truly everything) you need to know about the coveted device.
What does microcurrent do? 
Think of microcurrent as a strength training workout for your skin. "It stimulates the facial muscles underneath the skin, which will help to improve the facial contour, tone the skin, and reduce wrinkles," celebrity esthetician Shani Darden once told mbg about the technology.
During a microcurrent facial, an esthetician will use a handheld electromagnetic device that sends gentle jolts of energy to stimulate your skin cells—this, in turn, can "exercise" the facial muscles and make them appear more toned and lifted.
It all has to do with a molecule called adenosine triphosphate (ATP), which acts as your body's natural energy currency. "What we do with microcurrent is replenish and boost the ATP and therefore, the collagen and elastin," biomedical engineer and holistic skin care expert Pooja Johari, M.S., says in an episode of Clean Beauty School. You can read all about the science here, if you'd like a full deep dive.
And while we typically recommend leaving more intense skin treatments to the pros (extractions, microneedling, and the like), microcurrent is one of the few methods you can safely replicate at home; at-home tools won't be as strong as professional-grade microcurrent devices, but they can still yield amazing results. That is, assuming you use a high-quality, FDA-approved device, like the NuFACE.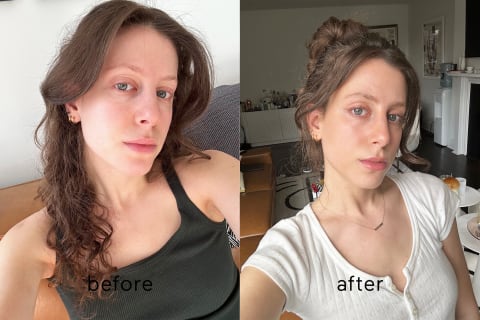 Image by Jamie Schneider / mbg Creative
Advertisement
This ad is displayed using third party content and we do not control its accessibility features.
Is it safe?
Microcurrent facial devices are generally considered safe for most, but you should avoid them if you are pregnant, have a history of seizures, or have any electronic implanted devices. "Additionally, individuals with certain skin conditions or sensitivities may want to consult with a dermatologist before using a microcurrent device," board-certified dermatologist Ife J. Rodney, M.D., founder of Eternal Dermatology, tells mbg.
Unfortunately, as at-home microcurrent tools become more popular, you can find a bunch of knock-offs. Again, we advise using reputable brands with FDA clearance—NuFACE does have those credentials, so you don't have anything to worry about here, but it's still important to note if you're shopping for alternative tools.
Now, many microcurrent companies—NuFACE included—recommend avoiding the thyroid and esophagus, which might make you immediately raise a brow. If the technology is generally safe, why should I avoid this sensitive area?
According to Rodney, "The thyroid gland is located in the neck, and electrical current can potentially affect its function. In my research, I could not, however, find clear data on this." Still, you might want to avoid the neck entirely if you do have a thyroid condition or consult a healthcare professional before trying it on your own.
NuFACE details 
I tested the NuFACE Trinity+, which is the brand's most updated device. In addition to the three intensity settings (just like the other versions), it also includes a "boost button" that amps up 25% more microcurrent for areas you want some extra toning power.
The device also has Bluetooth capability that pairs with the brand's Smart App, which offers professional step-by-step tutorials, a selfie tracker to see your progress, and custom reminders. Finally, it has a magnetic head that easily pops off so you can interchange your treatments, like the Wrinkle Reducer and Effective Lip & Eye attachments.
The Trinity+ starter kit retails for $395 (including a mini Aqua Gel Activator, mini Silk Crème Activator, and Clean Sweep Applicator Brush), but if you are going to make the microcurrent splurge, I highly suggest investing in this device so you get access to all of these updated features.
If you're not ready to make the steep purchase, you can also snag the petite Mini+ device at $245. It doesn't have the boost button or interchangeable attachments, but you do get Bluetooth capability and a microcurrent of 340 microamps (the same as Trinity+).
How do you use the NuFACE?
Let's be honest: Microcurrent tools can be…intimidating. When do you apply the gel? How do you hold the device? Where, oh where, are you supposed to glide?
I highly suggest pairing your device with the brand's Smart App, as it literally takes you through the process step by step. But to break down every single detail, I spoke to Janae Maue, global brand educator at NuFACE—here's what she recommends:
"Everything is broken down into threes in NuFACE: neck, cheek, and forehead," she notes. "And we always lift one side of the face before doing the other."
But before grabbing your device, you need to apply a generous dose of conductive gel, which allows the currents to penetrate the skin and activate the underlying muscles.
Sweep a thick layer of gel down the left side of your neck, starting at your jaw. "You don't want it to rub in, because you need the device to glide comfortably," Maue says.
Power on your device, choose the treatment level you want, then glide upwards in three positions on your neck. Repeat each position three times before powering off your device and moving onto the left cheek and side of the forehead.
After you're done with the left neck, cheek, and forehead, repeat each of these steps on the right side.
Advertisement
This ad is displayed using third party content and we do not control its accessibility features.
Should you use it in the morning or night?
"I always lift in the morning," Maue notes. It's completely personal depending on your schedule, but many people prefer to use their NuFACE in the morning for an immediate lift and tone. "I like to lift and then apply my makeup, but some people don't have time in the morning, so they lift in the evening. It's whatever is best for your routine."
But let's say you forgot to use your NuFACE one morning—can you use it at night and proceed as usual in the a.m.? According to Maue, that's totally fine.
When do you see results?
Great news: Results are pretty immediate. "The very first time you use it, you will see a lift in your skin," says Maue. But, alas, those results are only temporary—with microcurrent, consistency is key. "Microcurrent results are instant and accumulative," Maue adds, meaning they get better and better with time.
Think of it like going to the gym: If you want to see long-term muscle changes, you'll want to make it a regular part of your routine. Your facial muscles also have memory, which is why NuFACE recommends using the tool once a day for five times a week during the first 60 days.
After 60 days, your facial muscles will better "remember" those contours—and that's where you'll start to see more long-term results. At this point, you can dial it down to two to three times a week. It's still safe to use every day if you please, but "it goes more into maintenance mode than corrective," Maue notes. "It's like when you work out with a trainer and you get you to where you want to be, you just have to maintain it. You don't have to have that rigorous schedule."
Advertisement
This ad is displayed using third party content and we do not control its accessibility features.
My experience & review
I had used the NuFACE on and off before, but admittedly, I hadn't committed to an everyday routine until now. Yet after just two weeks of consistent use, I definitely notice a more lifted, contoured appearance. See, I'm someone who typically wakes up with super puffy eyes and a swollen jawline—both woes went away immediately after a couple rounds of microcurrent. Better yet, I was waking up less puffy to begin with, I suspect as my facial muscles started toning up.
I oscillated between the app's Cheek Pop (a four-minute treatment focusing on the cheekbones and jawline) and the longer Pro-Toning Facial (an 11-minute treatment for the neck, cheeks, and forehead) when I had a bit more time to spare. Occasionally I could feel my muscles "jumping" under the microcurrent, but it wasn't at all painful—more like a slight twitch on my jawline.
Before my chat with Maue, I thought those little zaps and zings meant the treatment was, well, working. I wasn't wrong, but "Technically that's the microcurrent scattering and bouncing," she tells me. When that happens, it's a sign that you need to either apply more activating gel or turn the device down a notch.
"Microcurrent, when used correctly, is supposed to be virtually subsensory," she explains. A tingle or two is A-OK—especially around the hairline, since baby hairs can act as a conductor, she says—but if it starts feeling strong, your skin likely needs more hydration. After a spritz of the Supercharged IonPlex Facial Mist, the zings instantly went away.
Overall, my before-and-after results might not appear too dramatic to the naked eye, especially compared to the transformation side-by-sides on the brand's website. But, hey, I've only been at it for a couple weeks! (I'll report back in two months—don't worry.)
I'm also in my mid 20s and don't struggle with too many aging concerns yet, so I knew my results would be on the subtler side. That's why I chose to sculpt my cheeks and jawline more than my forehead and neck, since I tend to get the most puffy in those areas. That said, I noticed the biggest difference in my cheeks: In the photo above, you can see my cheekbone looks way more defined. My partner also commented on how my cheeks looked more chiseled, and I promise it was unprovoked.
Are results permanent? 
Short answer? Nope, sadly those chiseled cheekbones will eventually drop with time. But it's not like your skin will sag after skipping a day or two. Again, it's just like going to the gym: "If you stopped working out, those results don't just go away tomorrow," Maue notes. Over time, though, you might notice a lack of gains.
"Day one, week one, or week two, you're not going to see a difference. But by week three and four, things might start shifting," Maue adds. That being said, you don't have to fret too much about going on vacation for 10 days without your device—you can just start back up again when you get home. "If you took a month off, you might have to get back into it a little bit and start retraining your muscles," Maue says.
FAQ
Does the NuFACE actually work?

After testing the NuFACE Trinity+ for two weeks (17 days, to be exact), I can totally see results. The immediate lift is reason enough to invest, IMO, but over time, your facial muscles will start to remember those positions and holds—as a result, you'll appear naturally snatched.
Who should not use NuFACE?

"You should avoid using microcurrent devices if you are pregnant, have a history of seizures, or have electronic implanted devices. Additionally, individuals with certain skin conditions or sensitivities may want to consult with a dermatologist before using a microcurrent device," says Rodney. Additionally, "it is important to follow the manufacturer's instructions carefully and use the device only as directed," she says.
Do dermatologists recommend microcurrent?

"Microcurrent devices may be effective in improving the appearance of fine lines and wrinkles, and enhancing skin firmness and elasticity," says Rodney. "Overall, I believe microcurrent devices can be a useful addition to a well-rounded skincare routine, or if you've already visited your dermatologist or esthetician for help with moderate to severe skin concerns. However, they should not be relied upon as a sole treatment for skin aging or skin tightening."
Is the NuFACE tool worth it?

Would I shell out $395 for the NuFACE Trinity+? I'd say so. It's certainly an investment, but the long-term results are worth the one-time purchase in my opinion. With microcurrent, you'll want to make sure you have a high-quality, FDA-approved device, and NuFACE is one of the most reputable brands out there.

If you'd like to save $100, you can opt for the Mini+ device instead. But if you can swing it, I'd recommend the Trinity+ with all its bells and whistles.
Advertisement
This ad is displayed using third party content and we do not control its accessibility features.
The takeaway
If you're interested in non-invasive treatments for tighter skin, microcurrent is a stellar option to try—and NuFACE is one of the most reputable brands on the market. While my results are subtle after two weeks, I can certainly notice more definition in my cheekbones and less puffiness overall. My only callouts are that it is quite the investment of both time and money; you only need five minutes per day, but you do need to keep up with it to actually see results.
Overall, I'd consider it a solid resource for skin health, but if you're not ready to take the plunge, don't worry: You can find some more affordable microcurrent devices here.