NuFACE vs. Solawave: Which Is Better For Lifted Skin? Our Investigation

Beauty & Health Editor
By Jamie Schneider
Beauty & Health Editor
Jamie Schneider is the Beauty Editor at mindbodygreen. She has a B.A. in Organizational Studies and English from the University of Michigan, and her work has appeared in Coveteur, The Chill Times, and Wyld Skincare.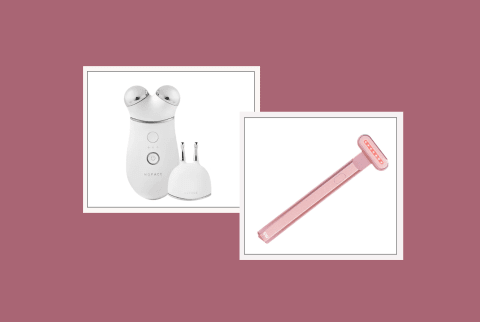 Image by NuFACE / Solawave / mbg Creative
July 29, 2023
We carefully vet all products and services featured on mindbodygreen using our
commerce guidelines.
Our selections are never influenced by the commissions earned from our links.
The at-home facial tools market is brimming with quality options (it's also chock-full of knock-offs, but it's relatively easy to sort through those with a little research). No matter your specific skin concern, there's a device ready to lift, tone, or massage your complexion woes away.
The answer: You compare your favorites side-by-side. If you've found yourself here, you're probably between two popular tools, the NuFACE and Solawave. Ahead, you can find our full evaluation for which to choose.
What is a microcurrent device? 
Think of microcurrent as a strength training workout for your skin. "It stimulates the facial muscles underneath the skin, which will help to improve the facial contour, tone the skin, and reduce wrinkles," celebrity esthetician Shani Darden once told mbg about the technology.
Essentially, the handheld electromagnetic device sends gentle jolts of energy to stimulate your skin cells—this, in turn, can "exercise" the facial muscles and make them appear more toned and lifted.
It all has to do with a molecule called adenosine triphosphate (ATP), which acts as your body's natural energy currency. "What we do with microcurrent is replenish and boost the ATP and therefore, the collagen and elastin," biomedical engineer and holistic skin care expert Pooja Johari, M.S., says in an episode of Clean Beauty School.
These non-invasive treatment tools are safe to use at home, assuming you snag an FDA-cleared, high-quality device (and use it correctly). We have a list of the best microcurrent devices on the market here, but NuFACE and Solawave are two of the most popular picks.
Why? They both double as red light therapy devices, too.
What is a red light therapy device? 
Red light therapy is often used to treat scars, improve the appearance of breakouts, and increase collagen production. "[It goes] deep into the dermis layer and is great for healthy aging, targeting wrinkles and fine lines," master esthetician Sarah Akram previously shared with mbg.
One study even found that patients receiving red light therapy on their face twice a week for 30 total sessions experienced improved skin complexion1, skin tone, skin smoothness, and collagen density (as measured with an ultrasonographic test).
It's a common addition to many types of facial services since the technology works quite well alongside a host of treatments (yes, including microcurrent!). Professional devices tend to be stronger than at-home tools, but that's not to say you can't find a quality handheld device—in fact, we did the legwork for you here.
But the best red light tools can get pretty expensive, so you want to find a device you love before making the splurge. Both Solawave and NuFACE can give you more bang for your buck, as they include microcurrent technology and red light therapy.
As for which tool to invest in—well, that's for you to decide. Hopefully this guide below helps inform your search.
What is NuFACE? 
NuFACE makes some of the most famous microcurrent facial tools on the market. The device has an oval shape, with two spheres on top that hug the face and release currents. The attachments are magnetic, so you can simply pull off and snap on whatever head you please.
NuFACE also offers skin care products, such as a conductor gel, boosters, and wipes, which can be sold separately or come in the sets.
Here's our quick rundown of NuFACE offerings:
This is the microcurrent device I currently use. I use the Trinity+ version, but I've also used the Classic and Mini in various professional facial treatments. You can read my full review of the Trinity+ here, with expert tips and before and after photos.
What is Solawave? 
Rather than offering different attachments, the Solawave wand combines red light therapy, facial massage, microcurrent, and therapeutic warmth into a single treatment. It has a sleek, portable design with a slim wand and 180-degree head rotation.
Like NuFACE, Solawave also offers skin care products, such as a conductor serum, gel cleanser, booster mist, and nourishing face cream.
Here's a breakdown of all the Solawave offerings:
Comparing NuFACE vs. Solawave
You can't go wrong with either of these high-quality purchases; however, a few differentiating factors may sway your decision.
Cost
NuFACE is significantly pricier than Solawave, at $395 for the NuFACE starter kit. If you want the complete set, which includes an LED and lip and eye attachments, it's $595. But if you want to save a few bucks, the brand does offer other options, such as the Trinity+ Mini ($250), the Classic ($350), the Classic Mini ($220), and the smaller FIX facial toning pen ($165). Attachments are $160 a pop, and the individual skin care products (conductor gel, booster mist, etc.), range from $12 to $65 per item.
Features
NuFACE certainly wins in terms of features. You can easily switch out the base device (which has the two-pronged spheres) with the red LED or Eye & Lip attachment, so you can use the target wants for more precise areas (like the eyes and lips). In addition to the three intensity settings, the Trinity+ version also includes a "boost button" that amps up 25% more microcurrent for areas you want some extra toning power.
The device also has Bluetooth capability that pairs with the brand's Smart App, which offers professional step-by-step tutorials, a selfie tracker to see your progress, and custom reminders.
Solawave prides itself on being a four-in-one device, so rather than partaking in LED, microcurrent, massage, or warming treatments separately, you reap all the benefits in one fell swoop. The wand itself doesn't come in different sizes, but the device is a bit smaller already, which makes it great for precise areas. As of now, Solawave does not offer an app to track treatments or real-time tutorials; however, you can find easy-to-follow instructions, along with video and image tutorials, on the brand's website.
It's all up to personal preference: If you'd rather not deal with all the NuFACE magnetic attachments, Solawave might be the better fit. If you want to really target each treatment separately, NuFACE may provide a more precise experience.
Activators & extras
Before using any microcurrent device, you need to apply a generous dose of conductive gel, which allows the currents to penetrate the skin and activate the underlying muscles.
NuFACE offers two activators: A lightweight, gel-based confection featuring star humectants glycerin, and a thicker, more luxurious cream with botanical extracts to brighten the skin. Both formulas feature a glacial water complex to balance the ionic environment on the skin's surface and help the microcurrents penetrate. The brand also offers "boosters" to layer under the activators; there's a vitamin C concentrate, an antioxidant concentrate, and a peptide concentrate.
Solawave offers a single, fragrance-free activating serum, featuring hyaluronic acid, aloe vera, and blue tansy to calm and hydrate the skin. The brand also offers skin care products you can use on their own, such as a plumping peptide serum, a gel cleanser, a refreshing face mist, and a nourishing face cream.
Experience & efficacy
Solawave is definitely more portable, considering you only need a conductive serum and the device itself. NuFACE, on the other hand, has a bit more bells and whistles (attachments, gels, boosters) that don't make it as travel-friendly. (Though the mini devices are better for on-the-go.)
In terms of power, NuFACE's Trinity+ (the most advanced version) delivers 340 microamps at its highest setting. It also has that handy booster button to increase the power by 25% on specific areas. The LED attachment has a total of 36 lights: a blend of amber (570 nm to 620 nm), red (620 nm and 700 nm), and infrared LED (700 and 1200 nm).
Solawave is pretty comparable in terms of power, especially for being a much smaller size. The Radiant Renewal Wand has around 300 microamps, with 7 LED lights at a 630 nm wavelength.
Results
I repeat: You can't go wrong with either device. Both are high-quality and deliver glowing results. While the NuFACE is a bit stronger, it's also bulkier and comes with a much higher price tag. Solawave might be more user-friendly, but it's not as targeted a treatment.
Still, when used consistently, both devices yield pretty dramatic results. "I personally was shocked by the results the first morning after using my new device—and it's only gotten more impressive with time," Ferrante says in her review. "After two weeks, other people also started to notice, complimenting my 'glowy' skin. With each use, it brightens up my dark under-eye circles and eases tension in my face, revealing a less puffy, more sculpted appearance. Over time, I've noticed an improvement in fine lines and a more even skin tone overall.
I also noted some immediate improvements with my NuFACE Trinity+. I'm someone who typically wakes up with super puffy eyes and a swollen jawline—both woes went away immediately after a couple rounds of microcurrent. Over time, I noticed the biggest difference in my cheeks; they appeared way more defined. My partner also commented on how my cheeks looked more chiseled, and I promise it was unprovoked. Check out my before-and-after photos here.
I will say, you need to use both devices regularly to see results. As with any skin care product or habit, consistency is key. You can't expect to sport snatched cheekbones without a bit of effort. Solawave recommends using the device at least three times a week for five minutes per day on clean, moisturized skin; NuFACE encourages using the device for five minutes a day, five days a week for the first six weeks to see optimal results, then two to three times per week to maintain the lift.
NuFACE vs. Solawave: Our verdict
It's difficult to deem one better than the other—they truly serve different needs!
NuFACE features separate tech attachments, which makes the treatment more customizable to your needs. It does have a higher price point, so it's best for those with a regular microcurrent routine looking to amp up their treatment.
Solawave is more of a Swiss army knife, with multiple treatments fused into one smart tool. If you're a beginner who's not sure which treatment will fit best in your routine (microcurrent, LED light, vibrating massage, etc.), this is probably a better investment.
NuFACE vs. Solawave: Quick facts
NuFACE Trinity+
Conductive gel included:
Yes
Included tutorials & treatment plans:
Yes
Baseline suggested usage:
5 minutes / 5 days per week
Option to pay in installments:
Yes
The NuFACE Trinity+ is the brand's most updated device. In addition to three intensity settings, it also includes a "boost button" that amps up 25% more microcurrent for areas you want some extra toning power.
The device also has Bluetooth capability that pairs with the brand's Smart App, which offers professional step-by-step tutorials, a selfie tracker to see your progress, and custom reminders. Finally, it has a magnetic head that easily pops off so you can interchange your treatments, like the Wrinkle Reducer and Effective Lip & Eye attachments.
For those who don't feel like dropping that much coin, you can also find more affordable devices at a range of $165 to $350. Just know that those options are simpler in terms of tech.
Solawave Radiant Renewal Skincare Wand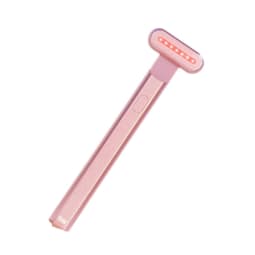 Conductive gel included:
No
Included tutorials & treatment plans:
Yes
Additional tech:
LED
Therapeutic warmth
Facial massage
Baseline suggested usage:
5 minutes / 3 days per week
Option to pay in installments:
No
The Solawave Radiant Renewal Skincare Wand is a four-in-one treatment that features LED light therapy, Galvanic current, therapeutic warmth, and facial massage. The red light penetrates your skin's surface to ease discoloration and even tone, while its microcurrent energy tones deeper facial muscles, lifting and tightening from within. The subtle vibrating massage relaxes your muscles and reduces puffiness, and finally, the warmth helps your skin care products penetrate deeper into the skin.
For those who prefer the original touch-activated version (which is also a touch more affordable), you can snag it on the brand's website for $149.
Advertisement
This ad is displayed using third party content and we do not control its accessibility features.
NuFACE pros & cons 
Pros
3 strength modes & an extra power button
More tools to choose from at a variety of price points
Extra attachments for precision, like the eye & lip wand
Bluetooth capability to connect to the brand's app
Cons
Expensive
Bulkier design can be hard to travel with (although there are compact mini options)
Solawave pros & cons
Pros
Brand also offers skin care products
More affordable
More portable
Offers 4 treatments in 1 tool
Cons
No available attachments
Cannot isolate treatments
FAQ
Which is better: red light therapy or microcurrent?

That's like comparing apples to oranges! Both have their own résumé of skin care benefits: Red light therapy is lauded for treating scars, improving the appearance of fine lines, and increasing collagen production; microcurrent, on the other hand, "exercises" the facial muscles and makes them appear more toned and lifted.

Both technologies play nice with other skin care treatments—you can even use them together.
Does Solawave really have microcurrent?

It sure does. Solawave delivers around 300 microamps to lift and tone the skin. While it might look different than some of the other microcurrent devices on the market, know that it does feature the same innovative technology.
Is Solawave strong enough?

She's small, but she's mighty! The Solawave offers around 300 microamps, compared to NuFACE's 340. So the NuFACE is a bit stronger, but not by much—don't underestimate Solawave's sleek, portable design.
Is Nuface better than Solawave?

One isn't necessarily better than the other; it's more about what type of treatment you're looking for. If you're a microcurrent regular and are looking for more precision, NuFACE might be the better investment. If you're a beginner craving an overall glow, you'll surely find success with Solawave's 4-in-1 treatment. NuFACE is also significantly pricier, which is an important factor to note.
The takeaway 
Research-backed, FDA-cleared skin care tools are certainly an investment, so you'll want to invest your time and energy to determine the best device for your lifestyle, budget, and overall skin care goals. Both NuFACE and Solawave are stellar options, and trust me when I say you really can't go wrong with either.
However, if variety is what you're looking for, I'd say invest in NuFACE. It's definitely the pricier option, but with multiple attachments and tools to choose from, I think you can get a tad more out of your microcurrent routine.
If you're just dipping your toes into the microcurrent waters, however, perhaps you should start with Solawave. There aren't as many tools and precise attachments to choose from (just one, actually), but the basic treatment may be all you need to see a difference. Plus, you can dabble in microcurrent and LED light therapy simultaneously.
Meet The Experts
Jamie Schneider
is the Beauty Editor at mindbodygreen. She has a B.A. in Organizational Studies and English from the University of Michigan, and her work has appeared in Coveteur, The Chill Times, and Wyld Skincare.