7 Yoga Poses For Better Digestion & Improved Gut Health
Registered Yoga Teacher
By Claire Grieve
Registered Yoga Teacher
Claire Grieve is an international yoga specialist, stretch therapist, plant-based health coach, and wellness writer based out of Beverly Hills.

Medical review by
Marvin Singh, M.D.
Integrative Gastroenterologist
Marvin Singh, M.D. is an integrative gastroenterologist in San Diego, California. He is trained and board certified in internal medicine and gastroenterology/hepatology.
If I deviate from my normal diet for even just one day, I run the risk of disrupting my digestion. If I head out to a birthday dinner or on vacation, it can become almost unbearable. Gastrointestinal issues can cause digestive discomfort, swelling, and more.
I was diagnosed with SIBO about 10 years ago, and since then, I've constantly struggled to maintain a balance. Yoga and meditation have been crucial practices for keeping my gut health in check over the years. Not only do these practices help to alleviate stress and anxiety, which can be a root cause of digestive issues, but they can also physically ease symptoms like gas, cramping, and bloating.
This is one of my favorite yoga flows for digestion. It is designed to calm the mind and stimulate your digestive organs, which may help them to function more effectively.
Child's Pose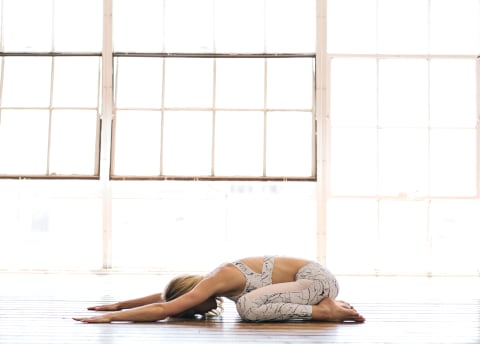 This is the ultimate restorative pose. It activates the parasympathetic nervous system, which is also referred to as the rest and digest system. You can do this pose at any time to calm your mind, nerves, and systems.
How to:
Sit on the floor with your knees wide and your toes touching.
Lower your belly between your thighs and rest your forehead on the floor.
Extend your arms with palms facing down.
Lengthen from your hips through your fingertips. Breathe gently and hold this pose for at least one minute.
Seated Twist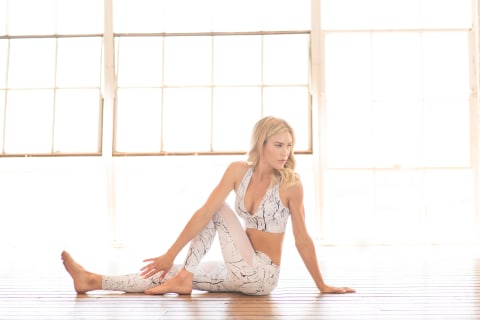 If you could only do one pose to help your digestion, this would be it. Twists are like a massage for your digestive organs, increasing blood flow to the area. Performing gentle twists can help relieve gas, bloating, and constipation.
How to:
Sit on the floor with legs stretched out in front of you.
Cross one leg over the other with your foot by the opposite knee.
Hook the other elbow around your knee and gently twist.
On every inhale, lengthen your spine.
On the exhale, twist to deepen further into the pose.
Repeat for 10 deep breaths.
Bow Pose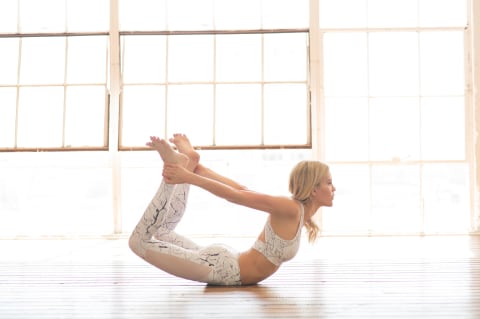 Bow pose can stimulate energy flow through your internal organs. It increases energy flow and can relieve gas buildup.
How to:
Bow pose can stimulate energy flow through your internal organs. It increases energy flow and can relieve gas buildup.
Lie flat on your stomach.
Grab the outsides of your ankle, and kick them away from your body.
The movement will inspire your chest to lift off the ground like the bow in a bow and arrow.
Camel Pose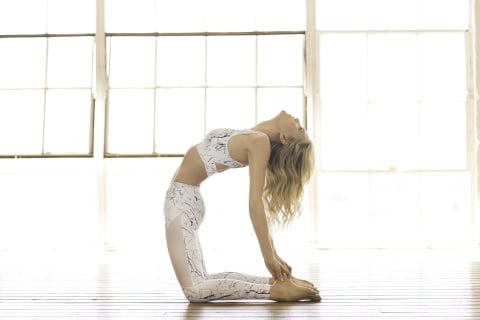 Camel Pose
Image by Sarah Orbanic
This pose increases blood circulation throughout your entire body, including to your digestion. This helps to get things moving through your entire system.
How to:
Starting on your knees, place your hands on your hips and extend your heart to the sky.
In the full expression, your hands will reach your heels.
Shoulder Stand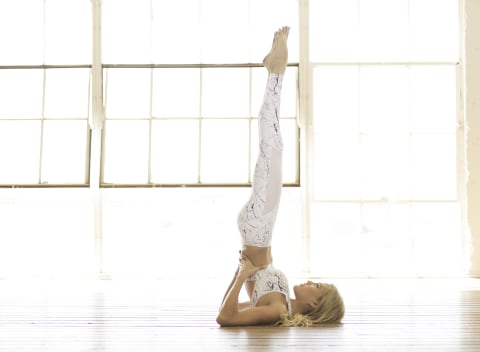 Shoulder Stand
Image by Claire Grieve
This mild inversion helps to loosen any blockages in your digestion by shifting the gravitational pull on your organs.
How to:
Lie down on your back.
Bend your knees and lift your legs off the ground.
Place your arms behind your torso; keep them bent and on the ground for support.
Elongate your legs and let your toes reach for the stars.
Be mindful to not place too much pressure on your neck.
Plow Pose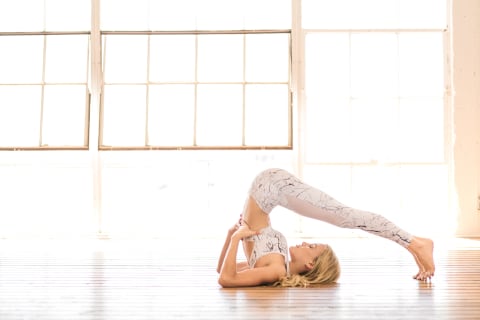 A calming pose that places light pressure on your abdomen, helping to gently relieve gas and discomfort.
How to:
Lie flat on the ground with your arms parallel to your body.
Keep your palms pressed against the ground.
Slowly lift your legs and torso upward using the support of your shoulders, back, and arms. Your toes should ultimately lie just above your head.
Savasana
This is a total body relaxing pose that will help calm your mind and nervous system (which may be causing your digestive issues). It can give your body a chance to rest and restore.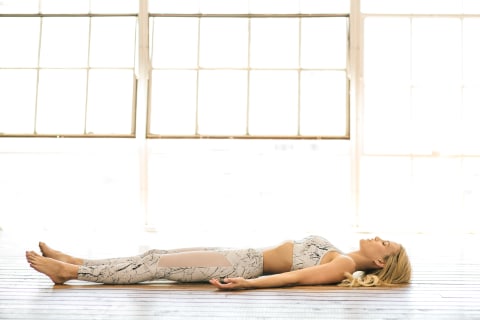 How to:
Lie on your back with your feet hip-width apart; relax your arms by your sides with your palms facing up.
Let your shoulders soften away from your ears.
Keep your neck long. Breathe deeply and let gravity do its work.
Want to turn your passion for wellbeing into a fulfilling career? Become a Certified Health Coach! Learn more here.
Claire Grieve
Registered Yoga Teacher
Claire Grieve is a highly sought after international yoga specialist, stretch therapist, plant-based health coach, and wellness writer. Claire underwent extensive yoga training with some of the world's top yogis, studied nutrition through the Institute for Integrative Nutrition, and received her bachelor's in education from the University of Melbourne. Grieve has dedicated almost a decade to teaching and is on a serious mission to make yoga enjoyable and accessible to everyone. Her deep and pure passion for helping people transform through yoga and wellness has led her to work with with a vast array of celebrities, professional athletes, fitness leaders and people of all genders, professions, shapes and sizes.
For more yoga flows and mindfulness tips, check out Claire's new ebook ENERGIZE!