The Sides Are The Best Part Of Thanksgiving: 26 Healthier Swaps For The Classics
mbg Nutrition & Health Writer
By Eliza Sullivan
mbg Nutrition & Health Writer
Eliza Sullivan is a food writer and SEO editor at mindbodygreen. She writes about food, recipes, and nutrition—among other things. She studied journalism at Boston University.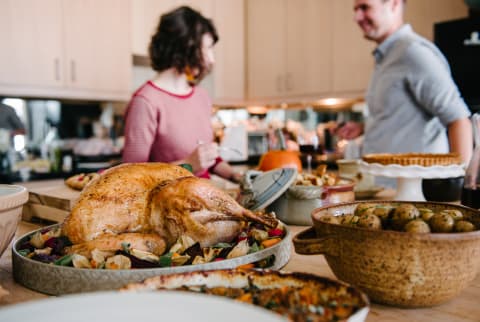 Image by CARA DOLAN / Stocksy
November 16, 2020
While I know that, theoretically, Thanksgiving is all about the turkey, I've always thought sides were the best part of the holiday. I grew up in a double-turkey kinda household—but even before I switched to a vegetarian lifestyle a decade ago, I always looked forward to the yams and stuffing more than the bird—and I don't think I'm alone in that.
This year, Thanksgiving (and the holiday season broadly) obviously looks different: Without big family gatherings, turkey might not even be happening for many people (after all, if you're only cooking for two, that's an awful lot of leftovers). So if you, like me, are opting for a sides-only celebration this year, I've got good news: It can still feel decidedly celebratory.
With some healthier alternatives to the classics and a few less conventional recipes, this list is a great place to start your menu planning. Just promise me you'll at least consider finishing things off with a healthy pumpkin pie, OK?
Instead of plain mashed potatoes, make...
...vegan mashed celery root.
Swapping your classic mashed potatoes for a celery root mash is a great way to add more fiber, vitamins, and antioxidants1 without sacrificing the satisfying creaminess that comes from a good mashed spud. And even though this dish is vegan, a combination of oat milk, turmeric, and nutritional yeast serves up further health benefits and a rich cheesy flavor.
...loaded smashed cauliflower.
If a cheesy mash isn't enough, go for this loaded version featuring our favorite multipurpose veggie: cauliflower. This keto-friendly dish is packed with flavor thanks to bone broth, garlic, and rosemary. The final addition of sour cream, cheddar cheese, and scallions makes for a creamy, but healthier, version of a mash.
Instead of sugary sweet potatoes, make...
...maple-chipotle smashed sweet potatoes.
...an immune-supporting vegan sweet potato soup.
The key to this luscious vegan soup is coconut milk. The simple yet delicious recipe calls for only eight ingredients, many of which you likely have in your pantry. Selective spices, namely ginger and turmeric, accent both the flavor and the vivid color of this soup, which will definitely make a statement on your Thanksgiving table.
...a dish that pairs the sweet potato with an iconic superfood.
What's better than a nutritious dish of sweet potatoes? One that also includes our favorite leafy green: kale. This dish also adds spiced flavors with a blend of sesame seeds, sumac, thyme, and garlic. Toasting the spices first ensures they reach their full potential.
...a sweet potato hummus for starters and sides.
If you ask me, a nice spread of snackable starters is just as important as a set of sides, and this hummus works for both. The combo of sweet potato and peanuts might sound odd, but the spicy peanuts pair well with the natural sweetness of the potatoes. It makes for a final product with a great vibrant color, too.
Instead of a classic stuffing, make...
...a keto-friendly alternative.
Classic stuffing usually includes decidedly non-ketogenic bread cubes. Instead of that, this recipe uses a variety of olives—black olives, kalamata olives, green olives—plus button mushrooms to create a super-flavorful stuffing, elevated by the flavors of coriander and cumin. We promise; you won't miss the bread.
...a vegan stuffing with quinoa.
The key to a good vegan stuffing is the same as any other stuffing: lots of fresh flavors. This version uses Ezekiel bread instead of white bread for extra nutrients, as well as some red quinoa. For flavor, it includes fennel, onions, apple, and spinach, plus a very classic Thanksgiving flavor: sage.
Instead of boring Brussels sprouts, make...
...spicy garlic Brussels sprouts.
These spicy sprouts would work as a side dish or as part of a spread for starters: they're that snackable. From Whole30 founder Melissa Urban, this recipe features sprouts tossed in garlic and your choice of spice. Once again, you'll likely have the core ingredients in your pantry (garlic, chili powder, EVOO, salt, and pepper are essential kitchen items, if you ask me).
...bacon-y shredded sprouts.
Adding bacon to Brussels sprouts for bonus saltiness is a popular Thanksgiving combination, but this recipe has a different spin with shredded sprouts. The benefit of boiling and then shredding these veggies is that cooking Brussels sprouts in hot water cuts their intrinsic bitterness. Plus, they can cook on the stovetop, freeing up the oven for other dishes.
...a sprout-based slaw.
Sometimes the Thanksgiving table is in dire need of a fresh component, and slaw is the perfect option for a make-ahead dish. This recipe uses a mix of Brussels sprouts with peppery watercress and features an umami packed miso-lime dressing. Top it all off with peanuts for a dish that satisfies on flavor and texture.
...a sprout salad with a double dose of Thanksgiving flavors.
One quintessential Thanksgiving item is cranberries, and we love finding original ways to incorporate them into other dishes instead of just having the classic sauce. This shredded Brussels sprout and cranberry salad includes a dose of antioxidants and only eight ingredients.
Instead of old-school green bean casserole, make...
...a healthier version that skips the cans.
Traditionally this dish starts with a can of cream of mushroom soup, but this recipe opts for making your own mushroom sauce—packed with essential base flavors like onions, garlic, and chicken stock. Topped with a crispy almond flour mixture, it's still got all the flavors of a classic green bean casserole but with a more health-conscious (and keto-friendly) spin.
...a totally different treatment for your green beans.
This may seem a bit odd, but hear me out: While Thanksgiving tables are full of lovely rich foods, and even if you add a salad to the mix, a bit of pickled flavor might be just the ticket for a really well-rounded meal. These dilly beans are based on a cooking treatment popular in New England, where green (or yellow) beans are pickled with dill and other spices.
Instead of sad store-bought rolls, make...
...these gluten-free (and dairy-free) popovers.
Fluffy homemade popovers are a great alternative to rolls or biscuits on the Thanksgiving table. Their chewy texture usually comes from gluten, but this recipe instead uses a gluten-free flour blend of brown rice flour, tapioca starch, and potato starch, which provides their signature texture. Best part? They take only 20 minutes to make.
...these super-simple three-ingredient (vegan) flatbreads.
Flatbreads may not be what comes to mind for your spread, but these vegan ones make a great option for a super-quick addition. Plus, they can be made in small batches, which is great for this year. All you need is self-raising flour (which you can DIY if you don't have it readily available), plant-based yogurt, and a bit of oil to make these fluffy vegan breads. Bonus points if you pair them with the aforementioned sweet potato hummus.
... a sourdough loaf using your (possibly neglected) starter.
Plenty of people jumped on the sourdough train during early lockdowns, but whether you're someone who's since let your starter go dormant or who makes a loaf each week, Thanksgiving is a great time for sourdough to make an appearance. Regardless of whether you're a pro or a rookie, this beginner-friendly recipe is perfect for a day when you have enough else going on in the kitchen.
Add some extra veggies to the spread with...
...this versatile roasted winter squash.
I have two favorite things about fall farmers markets: The cool weather means they're less crowded, and nearly every vegetable in season is perfectly roast-able. Simple dishes are a perfect addition to Thanksgiving because, honestly? There's enough going on in the kitchen already. For this recipe, simply use whatever type of winter squash you find available.
....these glazed mushroom kebabs.
If you're craving more umami on the table, these glazed mushrooms are just what you need. The perfect balance of sweet, salt, and depth of flavor in the glaze results in a rich flavor that will make a great centerpiece, or side, on a plant-based table.
...any of these three cauliflower-focused options.
As we've already said, there's something truly wonderful about how versatile cauliflower is. This quick collection of recipes, with a focus on farm-to-table cooking, will give you an option whether you're looking for a soup, salad, or side—I'm partial to the curried cauliflower with lentils for a bit of protein.
...this waste-reducing curried cauliflower soup.
You've got to stop tossing cauliflower stems: They're the key to this creamy spiced soup from a former MasterChef semifinalist. For a bit of spice on your table that's also comforting and good as leftovers, you can't go wrong with something like this—especially if you're buying the head of cauliflower to roast florets anyway.
...this simple and adaptable "scrap soup."
Maybe you don't plan on cauliflower being on the menu at all, but we're sure there are other veggies that will be leaving behind scraps. Instead of tossing them in the compost, try out this "scrap soup" from a former Great British Baking Show winner—it works with whatever veggie ends you have, plus a mix of pantry staple spices and stock.
...a classically flavored butternut squash.
Sage is a quintessential fall herb, one this dish takes full advantage of. The buttery-soft roasted squash is offset by crunchy walnuts, which also add some serious health benefits for such a humble ingredient—they've been linked to helping fight inflammation and more. Butternut squash2 is also a superfood of its own variety: It provides a good dose of vitamin C and fiber.
...this creamy baked feta with kale and chickpeas.
There's no such thing as too much kale on the table, and with this baked dish, you'll also be adding a good source of vegetarian-friendly protein to the spread. The pairing of briny feta with earthy kale and chickpeas is further offset with a rich, lemony dressing made with tahini.
Make a celebrity-endorsed salad that's sure to impress...
...like Ina Garten's perfect kale caesar.
There's almost no one I trust more for a perfect recipe than the Barefoot Contessa herself. This kale and broccoli salad calls for all things homemade, from the dressing to the croutons. Honestly, I'm surprised she doesn't call for making the Parmesan yourself too—but the work is worth it for this truly amazing salad.
...or Chrissy Teigen's ultimate fall salad.
Roasted butternut squash, pomegranate seeds, goat cheese, pumpkin seeds, and arugula are the building blocks of this ultimate salad. Tossed with a dressing of apple cider vinegar, mustard, and honey, the salad's sweet, savory, and tart is so well balanced it almost feels like a meal in itself.
So whether you're cooking up a meal for your quarantine pod or downsizing your favorite dishes for just yourself, this Thanksgiving feels like one where connecting the holiday with your favorite healthy foods is exactly the ticket to a celebratory day, even in this unprecedented year.
Want to turn your passion for wellbeing into a fulfilling career? Become a Certified Health Coach! Learn more here.
Eliza Sullivan
mbg Nutrition & Health Writer
Eliza Sullivan is an SEO Editor at mindbodygreen, where she writes about food, recipes, and nutrition—among other things. She received a B.S. in journalism and B.A. in english literature with honors from Boston University, and she has previously written for Boston Magazine, TheTaste.ie, and SUITCASE magazine.