This Detoxifying (Vegan!) Thanksgiving Side Dish Takes Just 10 Minutes To Make
Contributing Food Editor
By Liz Moody
Contributing Food Editor
Liz Moody is a food editor, recipe developer and green smoothie enthusiast. She received her creative writing and psychology degree from The University of California, Berkeley. Moody is the author of two cookbooks: Healthier Together and Glow Pops and the host of the Healthier Together podcast.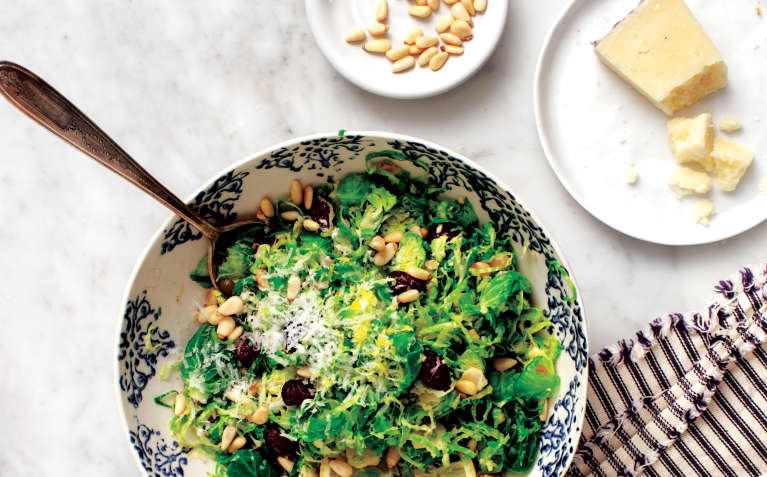 Our editors have independently chosen the products listed on this page. If you purchase something mentioned in this article, we may
earn a small commission
.
Thanksgiving might be the ultimate You. We. All. holiday, with an emphasis on giving back, gratitude, and community—and, of course, plenty of delicious food. While a typical Thanksgiving table might be enough to induce a stomachache based on sight alone, we think of the holiday as an opportunity to nourish your body, in addition to your soul. With that in mind, we reached out to some of the year's biggest food stars to share their favorite healthy Thanksgiving recipe and some tips, tricks, and traditions that help them get through the holiday with a smile on their face (and bellyache free!).
Today, we're sharing a recipe from Jeanine Donofrio from the mega-popular, award-winning food blog, Love & Lemons, and the gorgeously produce-rich The Love and Lemons Cookbook: An Apple-to-Zucchini Celebration of Impromptu Cooking. Jeanine's recipes will wow people who love vegetables already but are also crave-worthy enough to woo even the most fervent vegetable hater (we all have that relative). Her insanely simple Brussels Sprout and Cranberry Salad is done in 15 minutes, leaving you more time to enjoy with your family and friends.
mbg: What are your favorite Thanksgiving traditions/rituals?
JD: No two Thanksgivings have really been the same for me in years. Sometimes my husband Jack and I celebrate with family, sometimes we celebrate with friends, and other times it's just been the two of us. Ultimately, I think it's best to be grateful to be with the ones you're with.
Also bringing vegetarian sides. People always ask me to make vegetarian sides.
mbg: What are your best tips for making Thanksgiving dinner a bit healthier (but just as delicious)?
JD: Get some colorful vegetables on the table! Thanksgiving can be all about brown foods (not to mention boxed and canned foods), but there's a plethora of amazing produce that's in season this time of year: Brussels sprouts, all types of squashes, dark leafy greens, and herbs like sage and rosemary (just to name a few). Incorporate gorgeous seasonal produce, and the meal will automatically be healthier and more flavorful.
mbg: When you're feeling super full and gross post-Thanksgiving, what do you do to feel better?
JD: It took me a long time to learn this, but I mainly just try to hold back from allowing myself to feel guilty about it. It's OK to eat a lot on Thanksgiving—it's one day and I can get back on track the next day. However, when I beat myself up about it, I end up eating and feeling bad for much longer.
Shredded Brussels Sprout and Cranberry Salad
This is my favorite dish to bring to any holiday dinner. I love to show people that salads don't always have to include lettuce. Brussels sprouts are packed with vitamins and fiber, while cranberries have some wonderful antioxidant properties. It's a great way to get a little green food onto the table during the holidays.
Serves 4 as a side
Ingredients
4 cups (1 L) Brussels sprouts
¼ cup (60 mL) extra-virgin olive oil, plus extra for drizzling
¼ cup (60 mL) fresh lemon juice
½ cup (125 mL) pine nuts, toasted
⅓ cup (75 mL) dried cranberries
⅓ cup (75 mL) grated pecorino cheese (optional)
⅓ cup (75 mL) chopped chives
Sea salt and freshly ground black pepper
Thinly slice the Brussels sprouts using a mandoline if you have one. Place them into a medium bowl and toss with the olive oil, lemon juice, pine nuts, cranberries, pecorino cheese, chives, and pinches of salt and pepper.
Let the salad sit at room temperature for 15 minutes, then taste and adjust the seasonings. Finish with an additional drizzle of olive oil if you like.