Craving Comfort Food? This Creamy Vegan Sweet Potato Soup Is Hearty & Healthy
Founder and CEO of Haven's Kitchen
By Alison Cayne
Founder and CEO of Haven's Kitchen
Alison Cayne is the founder and CEO of Haven's Kitchen, an NYC-based recreational cooking school, café, and event space known for creating the first line of refrigerated, globally-inspired fresh sauces. She is is also the author of the critically-praised cookbook, Haven's Kitchen Cooking School, the host of "In the Sauce," a podcast about building consumer brands on Heritage Radio Network, and an adjunct professor of Food Studies at NYU.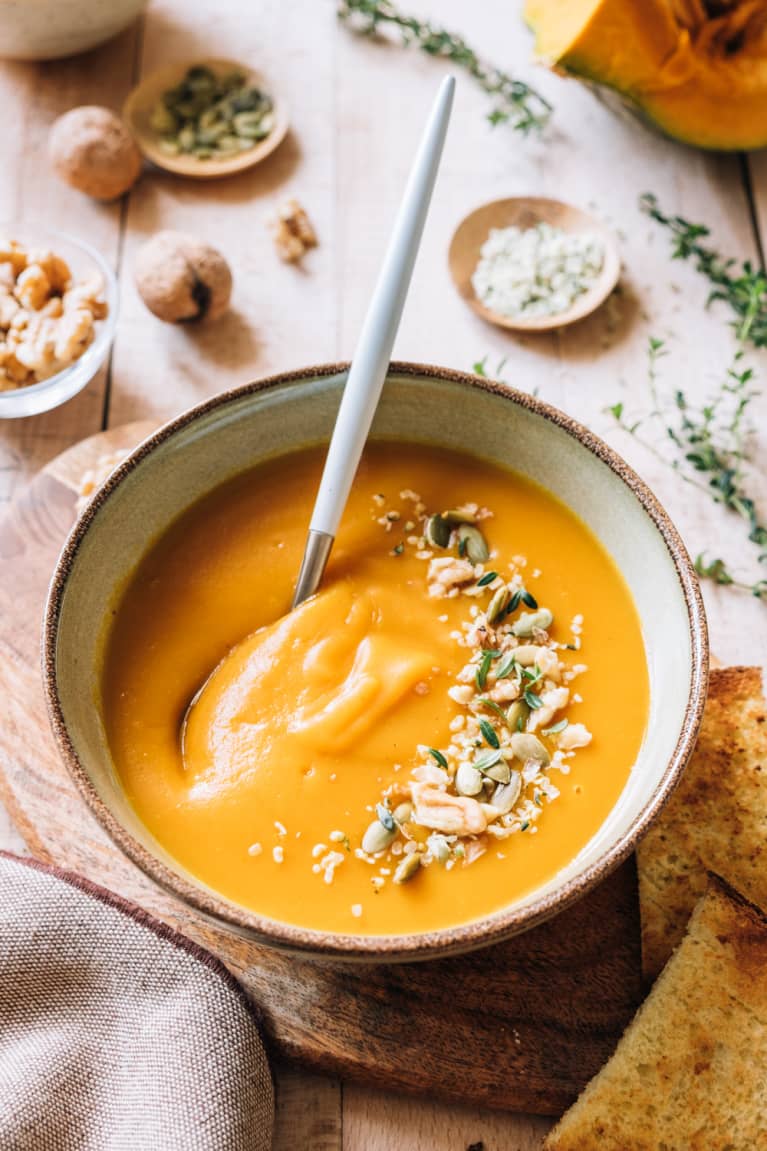 I love this soup because it balances earthy sweet potatoes with luscious coconut milk and immune-supporting turmeric and ginger. It's comfort food but especially nutrient-dense and healthful.
This soup utilizes some pantry staples, but if you don't have sweet potatoes, you can certainly swap in cauliflower or carrots. You can also build depth of flavor by roasting the vegetables before pureeing them with liquid. You can create that creamy, rich texture without any dairy by adding a shot of good olive oil at the end of the blending process.
This recipe makes a lot, so feel free to heat it up for a few days. You can also freeze it by cooling it down then filling to-go bags and lying them flat in your freezer. They defrost much quicker that way and take up less space.
Creamy Vegan Sweet Potato Soup
3 super-large or 5 average-sized sweet potatoes
2 to 3 tbsp. olive oil
1 tbsp. ginger powder
1 tbsp. turmeric powder
Salt
1 shallot, quartered
4 cups of vegan broth or water
2 cans of coconut milk
Preheat oven to 425°F.
Line a baking sheet with parchment.
Cut the sweet potatoes into even pieces, about 2 inches.
Toss the sweet potatoes with olive oil, a big pinch of salt, ginger, and turmeric powder.
Spread them out on the baking sheet, giving them space in an even layer.
Roast for 20 to 25 minutes till the edges start to brown.
Remove from oven.
Then, in a Dutch oven, heat 1 tablespoon to coat the bottom of the pot and add shallot and sweet potatoes.
Add the broth and the coconut milk.
Bring up to a simmer for about 20 minutes, till sweet potatoes easily mush between your fingers.
Working in batches, blend, then add a 1 to 2 tbsp. of olive oil with the blender on for a creamy, silky texture.
For gluten-free everything croutons:
Stale gluten-free bread
Olive oil
Everything seasoning
In a bowl, combine bread, ripped into even pieces with a 2 tbsp. of olive oil and coat the bread.
Sprinkle in everything seasoning to coat.
Spread bread out on a baking sheet and bake at 350°F until crunchy.