This Brussels Sprouts Slaw Has A Delicious Gut-Healing Ingredient
mbg Contributor
By Caroline Muggia
mbg Contributor
Caroline Muggia is a writer, environmental advocate, and registered yoga teacher (E-RYT) with a B.A. in Environmental Studies & Psychology from Middlebury College.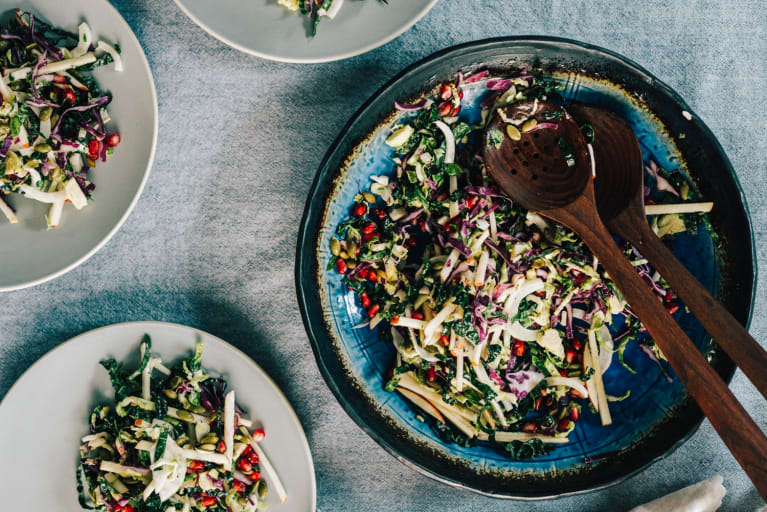 Our editors have independently chosen the products listed on this page. If you purchase something mentioned in this article, we may
earn a small commission
.
We're always excited to try a new take on a classic dish. With coleslaw on the side of just about everything, this Brussels sprouts coleslaw from Tasting Table Cooking With Friends by Geoff Bartakovics, CEO and co-founder of Tasting Table, and Todd Coleman, an award-winning food writer, is a welcome surprise. It features the refreshing crunch of raw Brussels sprouts balanced with the grounding, earthy flavors of miso and the refreshing tang of a lime-infused dressing.
Instead of the usual mayonnaise, sour cream, and sugar, this recipe includes light, healthy ingredients, including white miso paste, which is seriously gut-healing. Miso is made from cooked soybeans, water, and koji, a fungus used to ferment soybeans. The fermentation process of miso brings out the fifth flavor, or umami, or a savory taste, which adds a grounding element to the dish. During the fermentation process, the miso produces lactobacillus bacteria, a natural probiotic found in fermented foods. These probiotics in the miso paste can help populate the gut with healthy bacteria, support easeful digestion, and boost the immune system.
Beyond these benefits, this slaw also includes raw Brussels sprouts, high in protein and fiber, watercress, known for its anti-aging benefits, and ginger, which helps balance blood sugar, among other things. This dish is nothing like your typical slaw and bound to add some unexpected flavors to your table.
Brussels Sprouts Slaw With Miso-Lime Dressing, Watercress & Peanuts
2 tablespoons white miso paste
2 tablespoons rice vinegar
Zest of ½ lime
1 tablespoon fresh lime juice
1½ teaspoons honey
2 teaspoons grated fresh ginger (from one 2-inch piece)
2 teaspoons sesame oil
3 tablespoons olive oil
Kosher salt
Freshly ground black pepper
¾ pound Brussels sprouts, trimmed and thinly sliced lengthwise on a mandoline (3 cups shaved)
1 bunch watercress (about 4 ounces), ends trimmed
3 tablespoons chopped toasted peanuts
In a large bowl, combine the miso, 1 tablespoon of the rice vinegar, the lime zest and juice, honey, ginger, sesame oil, and 2 tablespoons of the olive oil. Whisk until smooth and season to taste with salt and pepper. Add the Brussels sprouts, toss to combine, and transfer to the refrigerator. Let sit for at least 30 minutes or up to 4 hours.
Whisk the remaining 1 tablespoon olive oil and 1 tablespoon rice vinegar in a small bowl. Season with salt and pepper. Place the watercress on a serving platter, drizzle with the vinaigrette, and season with salt and pepper. Toss gently with your hands to combine. Top with the Brussels sprouts and peanuts and serve.