5 Festive Ways To Celebrate If You're Spending The Holidays Alone This Year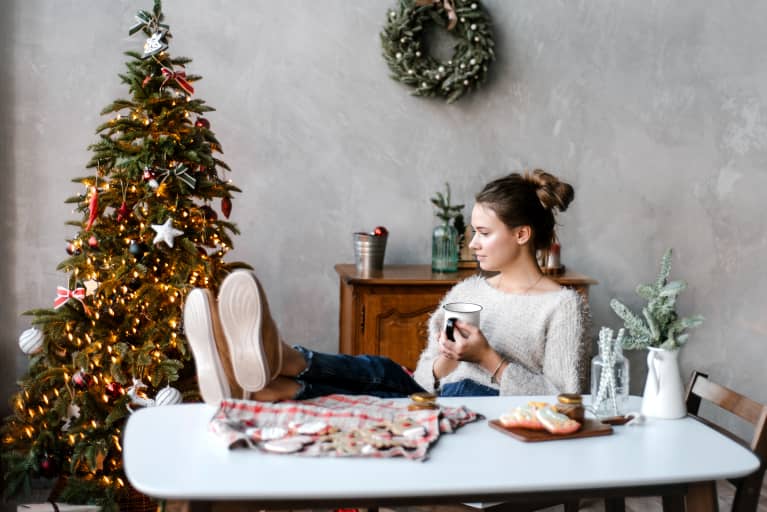 While it may be an overstated sentiment, this year has been unprecedented, and the holiday season will be no exception. To avoid large gatherings and travel, many people will be spending the holidays alone for the first time. While it can be hard to come to terms with at first, there are still plenty of joyful and festive ways to celebrate solo:
More often than not, people assume spending a holiday alone means forgoing the usual holiday feast. But that doesn't have to be the case. Sure, the portions will be smaller, but that doesn't mean you can't make yourself a delectable spread.
If you'd rather avoid the stress of holiday cooking, choose your favorite Thanksgiving side dish and dedicate your time to perfecting that recipe. Either order the rest of the meal from a local restaurant, or eat the side on its own—yes, mashed potatoes can qualify as dinner on the holidays.
If you're feeling lonely this holiday season, consider curating holiday care packages to mail to friends, family, neighbors, or nearby homeless shelters. Not only will it give you something to focus your energy on, but research shows giving back and showing kindness can actually boost your mood and help you live longer. Win-win, right?
Not sure what to add? Homemade chocolate desserts, a holiday card, festive candles, and a knitted beanie or scarf are just a few places to start. The latter has bonus meditative benefits, according to neuroscientist Sarah McKay, MSc, Ph.D. "The rhythmic and repetitive nature of knitting is calming, comforting, and contemplative," McKay previously told mbg.
3.
Plan a gratitude video chat.
Practicing gratitude is a common Thanksgiving ritual for many families. Instead of missing out on the tradition, organize a family video chat. Keep it simple and ask everyone to share something or someone they're grateful for. If you want to go deeper, engage in a gratitude meditation with the family.
Whatever the method, spending time (even virtually) with loved ones and recounting everything you're grateful for can be grounding.
Likewise, you can create similar virtual versions of any holiday ritual you usually do with loved ones, from opening presents together (or a post-unwrapping show-and-tell?) to lighting candles and saying prayers over Zoom.
4.
Deliver food to your neighbors.
Find yourself stress-baking pies leading up to the holidays? Well, that's the perfect opportunity to spread the holiday joy. Just place the pies in pastry boxes, wrap them in bows, and deliver them to your neighbors, your building's super, or anyone else who may be spending the holidays alone.
To take it one step further, offer to do the holiday grocery shopping for a neighbor who's older or immunocompromised.
5.
Visit a pumpkin patch or Christmas tree farm.
Depending on the holiday, time of year, and what safety measures are necessary in your city, plan a solo excursion to a pumpkin patch, Christmas tree farm, or other outdoor festive activity. Take plenty of pictures to share with family members who would normally accompany you, and let them know you're thinking of them this year.
Even when you're spending a holiday alone, you can still find ways to celebrate and involve your family and community members to get to the heart of what the holidays are all about.