Close Banner
Advertisement
This ad is displayed using third party content and we do not control its accessibility features.
5 Simple Chocolaty No-Bake Treats That Pack In Nutrients
mbg Nutrition & Health Writer
By Eliza Sullivan
mbg Nutrition & Health Writer
Eliza Sullivan is a food writer and SEO editor at mindbodygreen. She writes about food, recipes, and nutrition—among other things. She studied journalism at Boston University.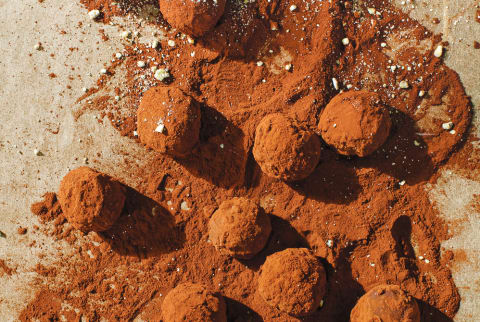 Image by Sara Remington / Stocksy
If you're asking us, the best gifts are homemade—and often edible, too! With Valentine's Day coming up next week, we got to thinking about how to upgrade the traditional (and sometimes tacky and sugar-filled) box of chocolates, and what sprang to mind immediately is just making chocolate treats for your valentine yourself.
These simple treats fit the bill for Valentine's Day perfectly since they're full of chocolate, but they're also worth bookmarking for yourself because they're chocolate treats with bonus benefits. With less processed sugar and more superfood benefits, they're sure to become favorite recipes for any celebratory day—or even just a random Monday afternoon.
Beyond chocolate, these recipes are packed with nut butters, seeds, and more—providing plenty of reasons to make them beyond just how tasty they are. Our advice? Bookmark this for inspiration whenever you need a little bit of chocolate, and get to picking one to make for your valentine (or pal-entine) stat.
Chocolate crunch bars
If you're looking for something that looks a little more like the candy bars of your childhood, these vegan crunch bars will be the perfect project. Filled with a crunchy mix of puffed rice and chia seeds and cloaked in the vegan chocolate of your choice (if you ask us, the darker the better!), they look like a slightly grown-up take on the sort of sweets you had as a kid.
No-bake hazelnut fudge brownies
Though brownies aren't typically found in a box of chocolates, we'll broaden our definition of Valentine's chocolate for these Nutella-flavored no-bake brownies. They skip traditional sweeteners in favor of keto-friendly powdered sugar and sugar-free honey and include a mix of walnuts, hazelnuts, and macadamia nuts. Topped with luscious ganache, you'll want to cut them into bite-size slices—they're wonderfully rich.
Vegan chocolate almond butter bars
For the nut-butter-cup lover in your life, these vegan no-bake bars are for you. The almond butter layer requires only five ingredients, and then you'll just need a bit of chocolate for the topping. These are, in particular, for people who think your everyday nut-butter cup just doesn't have enough, well, nut butter—the ratio here is significantly more butter than chocolate. (Surprise, we're totally those kind of people.)
Seeded chocolate tahini bark
This tahini bark is the perfect thing for someone who loves the idea of nut butter cups but has a nut allergy. The ingredients were carefully selected to keep the recipe gut-friendly: Chia seeds, flaxseeds, hemp seeds, and pumpkin seeds top and fill this crunchy salty-sweet dessert. Simply pour the layers onto a sheet tray and pop it into the freezer before breaking it into bite-size pieces for a tasty treat. (Honestly, I've already made this one a few times this year.)
Dark chocolate truffles
The classic chocolate box treat! The key to these rich truffles is the use of shaved 100% dark chocolate, giving chocolate purists exactly what they're looking for: that unadulterated chocolate flavor. Sweetened with a bit of natural fruit syrup and packing in nutrients thanks to the leafy greens and sea veggies in mindbodygreen's organic veggies+, the flavor of that pure chocolate is set off by the addition of fresh vanilla bean.
Eliza Sullivan
mbg Nutrition & Health Writer
Eliza Sullivan is an SEO Editor at mindbodygreen, where she writes about food, recipes, and nutrition—among other things. She received a B.S. in journalism and B.A. in english literature with honors from Boston University, and she has previously written for Boston Magazine, TheTaste.ie, and SUITCASE magazine.