The 7 Best CBD Gummies For Sleep That Promote A Relaxed State Without Melatonin*

By Julia Guerra
mbg Contributor
Julia Guerra is a health and wellness writer reporting for mindbodygreen, Elite Daily, and INSIDER.

Expert review by
Ashley Jordan Ferira, Ph.D., RDN
mbg Vice President of Scientific Affairs
Ashley Jordan Ferira, Ph.D., RDN is Vice President of Scientific Affairs at mindbodygreen. She received her bachelor's degree in Biological Basis of Behavior from the University of Pennsylvania and Ph.D. in Foods and Nutrition from the University of Georgia.
Last updated on February 3, 2023
Our editors have independently chosen the products listed on this page. If you purchase something mentioned in this article, we may
earn a small commission
.
The best CBD gummies for sleep:
The best CBD gummies for sleep:
Show More
The nights when you're tired but can't fall asleep are the worst. You try to lull your sleepy eyes shut with self-soothing tactics, like reading your favorite bedtime story or sipping a warm cup of sleep-promoting tea, but various factors keep them popping open again and again and again.
You can't fall asleep, let alone catch the quality zzz's that are crucial for your well-being. You're frustrated, you're exhausted—but there's one option that you may not have considered yet to promote a peaceful night of rest: the best CBD gummies for sleep.*
The benefits of CBD.
Although plenty of hemp CBD brands formulate special sleep supplement formulas, there are limitations to how much hemp oil can benefit your sleep.* Although hemp oil and hemp extract contains phytocannabinoids similar to those found in other forms of cannabis, by law hemp can only have trace levels (0.3% or less of THC by dry weight) of THC—a psychoactive compound. Unlike THC, it's thought that other cannabinoids like CBD don't bind directly to the brain and make you feel tired, California-based physician Bonni Goldstein, M.D., previously told mbg.
Instead, these phytocannabinoids are thought to interact with cannabinoid receptors in unique ways to help promote a steadier mood and better stress management.* As a result, many people think CBD helps you fall asleep—but it's often just a side effect of your body's more relaxed state from introducing balancing and calm-promoting phytocannabinoids into the endocannabinoid system.*
That being said, according to a large case series study1 published in the Permanente Journal, taking CBD (in the range of 25 to 75 milligrams per day) can promote mental and physical relaxation and therefore help busy minds and bodies give in to rest more easily.* This can hopefully lead to falling asleep faster, as well as staying asleep through the night.
As a result, it's important to find formulas that don't solely rely on hemp CBD to put you to sleep. Other botanical ingredients that promote calm—such as chamomile2, lavender3, L-theanine4, lemon balm5, and magnesium6—should also be incorporated into the formula to ensure your pick can actually help you snooze.*
Although many brands make hemp CBD gummies for sleep with melatonin, we recommend avoiding these options for daily consumption, as they may throw off your body's natural production of the hormone.
How we picked
Like any other supplement, it's important to be cognizant of what exactly you're consuming when ingesting a hemp CBD gummy. We checked the labels of each product to ensure ingredients were organic and clean and that the supplements were made without synthetic dyes or artificial flavorings.
The brands featured here are transparent with customers, making information available to the public regarding sourcing, CBD dose per serving, certifications, third-party testing policies, lab results, and complete active and excipient ingredient lists.
Is the brand beloved by loyal customers that keep coming back for more? If the answer is yes, then it's one worth looking into. We determined these trustworthy brands by opting for companies with no false onsite health claims or issues reported to the Better Business Bureau (BBB)—as well as rave reviews from customers.
Commercial production of industrial hemp in the U.S. has only been legal since 2018, and government regulations surrounding pesticide residues (i.e., safe amounts) are not clearly defined. Unfortunately, the hemp crop attracts plenty of pests—so chemical pesticide and herbicides are common, which can be toxic when ingested in certain amounts over time. Organic crops, or those sourced from the European Union, were essential for this reason.
All products included in our list have less than 3g of sugar per gummy. We also aimed to find brands using inventive ways to sweeten their sleep aids with either natural fruit juices or cane sugar.
When possible, our team sampled gummies to determine how appetizing the formulas were. Our testers took note of any product that tasted strongly of hemp, as well as the texture of the gummy.
The best CBD gummies for sleep without melatonin of 2023:
Advertisement
This ad is displayed using third party content and we do not control its accessibility features.
Advertisement
This ad is displayed using third party content and we do not control its accessibility features.
Advertisement
This ad is displayed using third party content and we do not control its accessibility features.
What to look for in a CBD gummy for sleep.
When shopping for the best CBD gummies for sleep, experts say there are a few key factors to consider:
Ingredient List
Arguably the most important is the product's ingredients list. When it comes to hemp, founder and lead formulator of JBK Wellness Labs Jenelle Kim, DACM, L.Ac., says you want to look for organically grown hemp that has ideally been third-party tested by an independent lab not affiliated with the brand. A COA, or certificate of analysis, should be readily available on the site to confirm quality and safety.
Potency
The product's potency is vital, too. Potency refers to the dose of phytocannabinoids (with the star being CBD, of course) in each gummy serving. For calming relaxation and sleep support, according to herbalist, chemist, and trained CBD expert Heather Beach, Ph.D., you should "look for 20 milligrams of CBD or more" in a hemp CBD gummy.* But since every person's biology is unique, a more gentle dose may be viable. Botanical extracts and their health impact are quite personalized in that way.
Transparency
As for red flags to keep an eye out for, Kim warns against brands that have more marketing information, sales, and promotions cluttering their websites than they do information about the actual product and its ingredients (the active ingredients and other ones, too). If the brand isn't transparent about where its hemp is sourced from (region is nice, but specific state or country is ideal), lab test results for purity and potency, etc., be wary.
What's more, when shopping for broad- and full-spectrum formulas, Beach notes that combinations of different cannabinoids can affect an individual's experience with a product. "If you find that you are not falling asleep faster, staying asleep longer, or are having adverse reactions," Beach says, "it is best to stop the CBD gummy and search for other sources of relief."
CBD vs. Melatonin
Melatonin is a popular sleep aid, but it's also a hormone. Your body natural releases melatonin, but factors like like stress7, excess light8 from screens, and caffeine9 can impact its production.
While many people take melatonin to help with sleep on a nightly basis, no research has been done on the impact of taking melatonin longterm. What's more, many supplements opt for high doses of melatonin—sometimes upwards of 20 milligrams—when the research points to just .05mg to 5mg10 for resetting your circadian rhythm (or internal clock). Per a previous interview with Ferira, this modest dose "mimics physiological melatonin levels."
As a result, we don't recommend taking melatonin on a nightly basis. However there are rare instances where it might be beneficial for some, such as those traveling or starting a new work schedule who need to reset their internal clocks. If you do want a CBD gummy with melatonin, you can find our top pick below.
The best CBD gummies for sleep with melatonin:
Best for travel: Medterra CBD & Melatonin Sleep Tight Gummies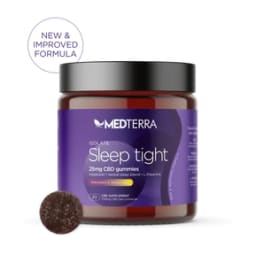 Pros:
Natural strawberry flavor
Innovative, multi-ingredient formula
Cons:
Formulated with melatonin (a hormone)
No organic ingredients
Strength:
Strong
50mg CBD per serving
Medterra Sleep Tight CBD Gummies are made of citrus and pectin and boast 50 mg of CBD isolate. The strawberry-flavored poppable is also formulated with a slew of sleep-inducing ingredients to help lull you to snoozeville, including calming lemon balm, cozy chamomile, L-theanine, passionflower, and 5-HTP, which is best known for boosting serotonin in your brain.* Just beware that the supplement also contains 3 mg of melatonin, which makes this pick best for adjusting to a new sleep pattern when traveling or starting a new job (but not for the long term).*
The gummies have over 1,200 rave customer reviews on the brand's website and average a 4.5 out of 5-star rating. In a survey administered to 114 customers by the brand, just over 98% of respondents reported "experiencing better sleep," while just under 87% reported "falling asleep faster."*
Sustainability & Packaging: Per its FAQ page, the brand's CBD is grown under the Kentucky Hemp Pilot Program, which is 100% compliant with Section 7606 of the 2014 Farm Bill and 100% legal at the federal level. Gummies also come packaged in a certified PCR recyclable bag. Gummies also come packaged in a certified PCR recyclable bag.
Transparency: Medterra products are also third-party lab tested and you can view the results of the sleep gummies assessment here.
What kind of CBD should I take?
There are three main types of hemp CBD sources: CBD isolate, broad-spectrum hemp, and full-spectrum hemp.
CBD isolate is CBD void of any other ingredients or cannabinoids other than cannabidiol, while broad-spectrum hemp formulas include the additional compounds found within the cannabis plant but intentionally minus THC. Registered RDN and certified holistic cannabis practitioner Emily Kyle, M.S., tells mbg these may include "cannabinoids and naturally occurring terpenes" but never THC.
Full-spectrum hemp, on the other hand, does have trace levels of THC, as well as all of the native botanical compounds (i.e., other phytocannabinoids plus terpenes, flavonoids, and fatty acids) you would find in a broad-spectrum CBD (hence the name "full"). However, in order to be considered federally legal under the 2018 Farm Bill, full-spectrum hemp in the U.S. cannot have more than 0.3% THC by dry weight. (In the European Union, it's even more strict at less than 0.2% THC by dry weight.)
According to Kyle, when determining what kind of CBD gummies are best for sleep, full-spectrum hemp is widely considered the best option, as the full array of cannabinoids and terpenes present contribute to the "entourage effect."
Broad-spectrum hemp and CBD isolates, on the other hand, are better suited for those who do not want any trace of THC in their systems. Ergo, what kind of CBD you should take will ultimately depend on your personal needs and preferences. Remember to always discuss with your health care provider before starting any supplement.
How to use CBD gummies for sleep:
When to take CBD gummies before bed.
Always follow the specific hemp gummy product's instructions, but in general, anywhere between 30 and 60 minutes before bed is an ideal time to take CBD gummies for sleep. Since it's a confection, you'll want to brush your teeth afterward. However, because different products include unique formulas and ingredients, Kim advises referencing the product label for specific instructions: "Your body digests different food at different rates, so the type of gummy and what ingredients it is made of play a factor."
How many CBD gummies for sleep should you take?
The golden rule experts advise following when figuring out how many CBD gummies you should take for sleep is to always start with a small dose and to increase the dosage in increments (if needed).
"Because CBD does not create a 'high' feeling like THC does, it can be hard to tell which dose is right for you at first," Kyle tells mbg. However, because the dosage of CBD gummies is measured in increments, it's easy to control and adjust your dosage until you figure out how much CBD is good for sleep at night. "My best advice is to be patient and willing to experiment for a week or two so you can have enough time to assess how you feel as you increase the dosage," Kyle says, adding that it might be beneficial to keep a journal and jot down your experiences with each dosage. (This is why partnering with your health care provider before starting is essential.)
How to store CBD gummies:
To optimize your product's freshness and safety, you'll want to store hemp CBD gummies at room temperature away from light and nearby sources of heat and humidity. Keep the container tightly sealed for longevity of the product (and because gummies can harden) and to reduce external things like microbial contamination.
FAQ
Are there side effects of hemp CBD gummies for sleep?

Kyle notes that while potential side effects of hemp CBD products tend to be mild, "dry mouth, fatigue, and some digestive issues such as loose stools" can occur. Of course, the potential side effect of tiredness is viewed as a benefit for others seeking a good night's rest.* That said, the side effects you experience from taking hemp gummies might not be a result of ingesting the CBD cannabinoid itself but rather due to the other ingredients included in the supplement, "such as MCT oil," per Kyle. MCT oil is often sourced from coconuts, which people with tree nut sensitivities will want to avoid.
What happens if you eat expired hemp CBD gummies?

Expired hemp CBD gummies will likely be quite hard and not very palatable, so you won't enjoy them. Safety is, of course, the other major consideration. Since gummies are made up of ingredients like sugar, syrup, and oiI, you would ideally avoid consuming those past their lifetime. What's more, Kyle explains that taking expired hemp CBD gummies probably won't offer the same or significant benefits, since the active ingredients (CBD and other active ingredients) do have shelf lives and can lose potency. Bottom line: Always check a product's best-buy date before consumption.
Will hemp CBD gummies make me tired the next day?

It's possible that hemp CBD gummies will make some people feel tired and groggy the next day, depending on the dosage you take and any other cannabinoid, botanical extract, or other bioactive compounds present in the formulation. If melatonin is in the formula, this hormone can induce grogginess. As a precaution, Kyle recommends first trying hemp CBD gummies on either a weekend night or when you don't have anything to do the next day. This allows time to properly assess how your body reacts and to adjust your dosage accordingly (if needed).
What we've updated since publishing:
12/24: Our team added original photography, along with tester quotes and takeaways, to better help readers find the right formula for their individual needs. We also added information pertaining to the total sugar in each gummy, and updated our pick for best CBD gummies with melatonin to reflect a product reformulation and repackaging by Medterra.
1/17: We added additional information about melatonin to help readers decide whether or not they want a CBD gummy formulated with the hormone.
2/3: Brand images were replaced with photos taken by testers.
The takeaway.
There are myriad methods for lulling yourself into a deep sleep, but sometimes even the most tried-and-true strategies fall flat. Taking CBD gummies for sleep is an option for those struggling to fall and stay asleep throughout the night. These hemp delights taste like candy and promote a good night's rest, making them the game-changer you might just need to wake up feeling refreshed and ready to take on the day.*
*These statements have not been evaluated by the Food and Drug Administration. These products are not intended to diagnose, treat, cure, or prevent any disease.
If you are pregnant, breastfeeding, or taking medications, consult with your doctor before starting a supplement routine. It is always optimal to consult with a health care provider when considering what supplements are right for you.
Meet The Experts
Julia Guerra
is a health and wellness writer reporting for mindbodygreen, Elite Daily, and INSIDER.
Ashley Jordan Ferira, Ph.D., RDN
is Vice President of Scientific Affairs at mindbodygreen. She received her bachelor's degree in Biological Basis of Behavior from the University of Pennsylvania and Ph.D. in Foods and Nutrition from the University of Georgia.