I Ditched Melatonin For CBD Gummies & I Finally Wake Up Feeling Refreshed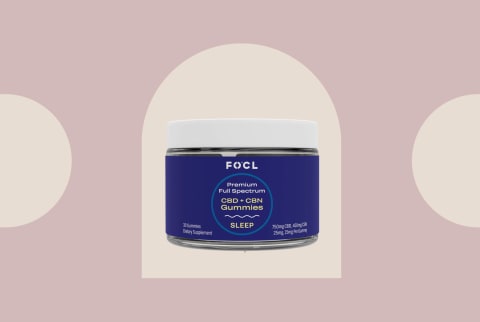 March 17, 2023
Our editors have independently chosen the products listed on this page. If you purchase something mentioned in this article, we may
earn a small commission
.
Disclaimer: Our website includes general information and instruction relating to health and wellness topics. This content is not a substitute for medical advice from your health care provider. All treatment decisions should be determined in partnership with a health care practitioner. Hemp CBD products are derived from U.S. industrial hemp (less than 0.3% THC) and European hemp (less than 0.2% THC). While products derived from the hemp plant (Cannabis sativa) are legal on a federal level in the U.S., some states have specific laws, so you'll want to check your state's laws to be sure
I've been taking hemp CBD for years, but I only recently discovered how game-changing the supplement can be for sleep. My prior experience with CBD was centered around recovery from difficult workouts, improving my mood, and calming my nerves before a big meeting or a first date. In the vein of sleep, my issue has never been with falling asleep but rather staying asleep through the night. I'm a light sleeper, and I'd begun to believe multiple nightly wake-ups was simply my norm.
Advertisement
This ad is displayed using third party content and we do not control its accessibility features.
I'm the first to admit that if I don't get a night of good sleep, I'm not my best self. Unfortunately, the only sleep aid that's helped me sleep through the night was melatonin—and, truthfully, it just wasn't worth the next-day grogginess. Eager to achieve a deep sleep that's actually restorative, I set out to test any CBD sleep gummies I could get my hands on. Spoiler alert: After months of testing, I found a CBD product that helps me not only stay asleep but wake up feeling rested and rejuvenated.*
Below, learn more about my experience with FOCL's Premium Full Spectrum CBD + CBN Sleep Gummies.
How I tested the gummies.
In the process of testing the best CBD gummies for sleep, I received a sample of the FOCL Premium Full Spectrum CBD + CBN Sleep Gummies. To distinguish between the brands I tried, I took each one for one full week, with one week of no CBD in between.
I'm a bit of a sleep nerd and take my sleep tracking very seriously, so I did use my Oura ring to measure how each gummy affected my sleep. Most importantly, though, I took note of how I felt—because who cares about a high sleep score if you don't feel well rested?
Advertisement
This ad is displayed using third party content and we do not control its accessibility features.
Why FOCL became a staple in my sleep arsenal.
I immediately preferred the taste of the FOCL sleep gummies over many other brands I tested. Gummies are inherently sweet, but FOCL's land on the lower end of the sugar spectrum. Each serving (one gummy) contains 2.5 grams of sugar, compared to a few others I tested which contained up to 4 grams per serving. Yes, they're coated in sugar, but it's not an overwhelming amount, and the gummy itself has a mellow taste (Read: no earthy hemp flavor notes). What's more, the texture is soft and fresh, whereas others were a bit too hard and chewy for my liking. I genuinely looked forward to the gummy each night and didn't feel like I was loading up on sugar.
OK, so the taste was there, but did the product actually work? My sleep score said yes. The amount of time it took me to fall asleep remained the same (again, it's typically pretty instant, CBD or not), but what really changed was my deep sleep and movement.*
On a standard night, I'll have spurts of movement throughout the night, with short periods of time spent awake. While I'm not always mindful of this, it certainly impacts how restorative my sleep is and how I feel the next day. With the FOCL gummy, my Oura ring detected longer periods of deep sleep, significantly less movement, and no middle-of-the-night wake-ups.* On paper, a major win.
In the past when I'd achieve deep sleep from sleep aids, my morning wake-up was less than ideal. I would drag myself out of bed, longing to stay in that sleepy state. FOCL's sleep gummy gave me that same juicy deep sleep, but I didn't dread the morning wake-up. Instead, I felt rejuvenated and ready for my morning workout—and I didn't hit an afternoon slump, either!*
What's in the gummies?
FOCL's sleep gummies contain 100% vegan, non-GMO, gluten-free ingredients, such as organic tapioca, cane sugar, pectin, natural flavors, natural colors (from fruit!), and organic coconut oil. Each gummy delivers 25 milligrams of full-spectrum hemp CBD and 15 milligrams of CBN. Both are unique phytocannabinoids from the hemp plant, bioactives thought to promote sleepiness1.
What's more, every gummy also has 25 mg of passion flower extract—a botanical known for easing feelings of stress—and 50 mg of L-theanine, an amino acid also found in green tea, with relaxing benefits.* I've found this combo of ingredients to be the perfect way to ease my body (and mind) into a state of relaxation.*
Advertisement
This ad is displayed using third party content and we do not control its accessibility features.
Why I love FOCL products.
FOCL grows its hemp on a farm in New Mexico and uses a nontoxic (and environmentally safe) supercritical CO2 extraction process to produce high-quality hemp extracts. The brand's CBD products are all third-party lab tested, with results for each assessment visible here.
If you're curious about CBD but don't want to ingest even trace amounts of THC, FOCL is a great brand to start with. It not only offers a ton of full-spectrum hemp products—which offers the full range of beneficial native hemp compounds, like an array of cannabinoids (including up to 0.03% THC by dry weight), terpenes, flavonoids, and fatty acids—but the brand also carries quite a few broad-spectrum hemp formulas.
This alternative removes any trace of THC, which is a great pick for those worried about tiny amounts of THC. Luckily, these gummies actually come in both full-spectrum and broad-spectrum hemp options (though I've only tested the former).
How I'm using the gummies.
Like I said, I found FOCL's sleep gummies when I was in the process of testing a number of CBD gummies for sleep. When my week of testing came to an end, and it was time to move on to the next brand, I found myself wanting to commit to FOCL and forget all the other options (high praise from someone who really likes her options).
Even so, I carried on with my testing, and I truly did enjoy many of the other gummies I tried—but as soon as I made it through the rest, I returned immediately to FOCL.
Here's how I'm using the gummies in my nighttime routine:
As much as I enjoy the taste, the deep sleep, and the way I feel after nights with my FOCL gummies, I am not taking them nightly. First, because I want to savor them as much as I can, and second because I enjoy letting my body do its thing naturally, too.
On average, currently I take a FOCL gummy one to two nights per week. Having done so much research on sleep and learning more about my body, I can typically tell when I'm going to need a little extra support.
I reach for my FOCL gummies at the end of particularly hectic days when I know my mind will be racing through the night, nights that I'm getting into bed a bit later than I'd prefer, and when I have something important the next day that I want to be on my A-game for.
Recently, I took a few FOCL gummies with me on vacation. I popped one in right before an overnight flight, and I can tell you I've never had a more enjoyable night on a plane. I wouldn't say my sleep score was good, but I certainly felt more rested than I would have without it.*
The takeaway.
As an active person who prioritizes recovery, quality sleep is essential. In other words: You don't want to get between me and my sleep. I've been a fan of hemp and its superstar cannabinoid CBD for years, but even I was a bit skeptical that a delicious gummy would give me a sleep worth raving about. Luckily, I can admit when I'm wrong.
The FOCL sleep gummies have a permanent home on my nightstand and are the first thing I reach for when I need a little extra sleep support. Want a deep sleep that actually leaves you rested? Give these gummies a try, or find your own perfect CBD sleep gummy match.* Just be sure to add code MBG20 to save 20% on your order.
*These statements have not been evaluated by the Food and Drug Administration. These products are not intended to diagnose, treat, cure, or prevent any disease.
If you are pregnant, breastfeeding, or taking medications, consult with your doctor before starting a supplement routine. It is always optimal to consult with a health care provider when considering what supplements are right for you.
Advertisement
This ad is displayed using third party content and we do not control its accessibility features.

Carleigh Ferrante
mbg Commerce Editor
Carleigh Ferrante is the Commerce Editor at mindbodygreen. She is a born and raised New Yorker, a certified Health Coach, and has a B.A in Creative Writing and Psychology from Hunter College. Her work has appeared in Bustle, The Zoe Report, PureWow, The Everygirl, and more. After years of working in advertising at NBC, FOX, and TikTok, her passion for finding, testing, and writing about the best (and healthiest) products led her to mindbodygreen. In her current role, Carleigh reports on the best products to help the mindbodygreen community live a healthier, more enjoyable life.