The Best CBN For Sleep: How Slumber's CBN & CBD Products Transformed My Sleep

Author:
Expert reviewer:
Updated on September 18, 2023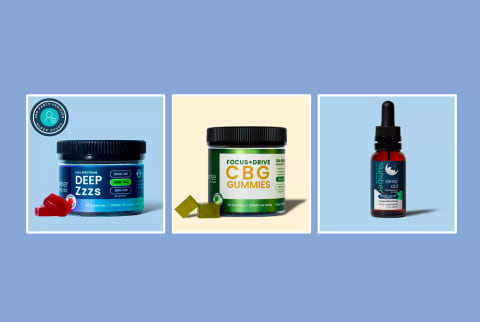 September 18, 2023
We carefully vet all products and services featured on mindbodygreen using our
commerce guidelines.
Our selections are never influenced by the commissions earned from our links.
Over the years, I've made countless adjustments to my sleep routine on the hunt for the highest quality sleep. This search led me to natural sleep aids and unlocked the world of cannabinoids.
But while many people know about CBD, far fewer are aware of the power of the many other minor cannabinoids within the hemp plant—including cannabinol or CBN.
This lesser-known (and admittedly lesser-studied) cannabinoid is touted for promoting a better snooze, which is why many people are turning to the best CBN products for sleep.*
As someone that's tested countless hemp-derived products to help me fall asleep and stay there, I was eager to give CBN a go. Luckily, I was given the chance to test out Slumber's CBD and CBN sleep products—and they arrived on my doorstep (i.e. in my package room) at just the right time.
What is Slumber
Slumber takes sleep as seriously as I do—it's in the name, after all. The brand's mission is to help its customers achieve a safe, deep sleep using an array of cannabinoids—but the star ingredient across the brand's lineup is CBN.
As mentioned, CBN is a non-intoxicating minor cannabinoid derived from the hemp plant. While a few hemp brands incorporate CBN into their CBD products, Slumber is one of the few brands willing to make the cannabinoid the star of the show.
These minor cannabinoids tend to star in the brand's daytime line, which is appropriately named Sunrise by slumber. These offerings expand beyond a focus on the sleep cycle to support daily wellness, enhance exercise recovery, and minimize everyday stress.*
Of course, Slumber doesn't leave out CBD.
The brand combines the cannabinoid with CBN in quite a few of its sleep products, which allows them to work together synergistically in something called the entourage effect. This means the cannabinoids work better together than when used independently.
Is Slumber legit
Slumber checks all the right boxes in terms of sourcing, sustainability, and quality. The brand sources hemp is from farms in Colorado that use environmentally friendly and sustainable growing practices.
The company also opts for a C02 extraction method, which is believed to be the most efficient and environmentally friendly.
Each of Slumber's products is sent to a third party lab for testing prior to hitting the market. Certificates of analysis (COAs) are viewable right on the brand's site, so you can ensure that your products are safe and high-quality.
What is CBN?
CBN is a cannabinoid derived from the hemp plant. While CBD and CBN are both hemp-derived, and both interact with the body's endocannabinoid system, there are a few differences between the two.
Most importantly, CBN is not actually a separate compound from tetrahydrocannabinol or THC. It's formed when THC breaks down, whether from higher temperatures or exposure to oxygen. But unlike THC, CBN doesn't have any psychoactive effects.
Similar to CBD, CBN has limited research3 to understand the full array of its potential benefits. What we do know about CBN mostly comes from studies in the 80s where participants reported feeling drowsy when taking CBN in combination with THC.
However most current evidence of CBN's ability to promote sleep comes from brand's supported research or anecdotal evidence—like my own experience with Slumber CBN products.
How I tested Slumber's CBN for sleep
My sleep journey is more of a saga than you may have time for, so I'll sum it up. I used to experience frequent wake-ups, and sleeping in was impossible even when my schedule allowed.
Even if I did wake up feeling rested, my afternoon slump would be proof that my sleep wasn't as restful or restorative as it should have been.
Now, sleep is extremely subjective—ergo, what works for one person may not work for another. Personally, what I've learned is that my body responds much better to high-quality sleep supplements and CBD with minimal added ingredients. In other words, no melatonin please.
When I got my hands on Slumber's sleep products, I tried them with an open and hopeful, yet slightly critical, mind. I'd tried a few CBN products, but didn't know much about CBN for sleep. Here's what I learned.
Slumber's CBN products for sleep
3:1 CBD & CBN Tincture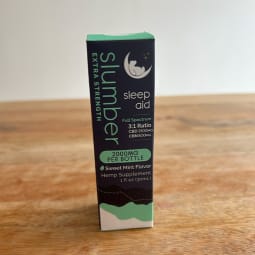 Potency per container:
500mg, 1,000mg, 2,000mg
Potency per serving:
33mg or 66mg of CBD & CBN
When I tried the brand's 3:1 CBD & CBN Tincture For Sleep, I thought the results were a fluke. The proprietary blend of organic MCT oil, CBN, CBD, and beta-caryophyllene lulled me into a deep sleep, without my standard middle-of-the-night interruptions.*
In the morning, I woke up refreshed—not groggy like I do with some other sleep supplements (cough, melatonin). I tested the tincture four more times, and to my delight I experienced the same restorative sleep every time.* Needless to say, this product earned a permanent place on my nightstand.
Depending on your preferred potency, you can choose from 500, 1000, or 2000mg per container. My favorite part? The oil has a slightly sweet vanilla and mint flavoring, which masks the natural hemp taste of the both cannabinoids.
Deep Zzzs CBD Sleep Gummies With THC + CBN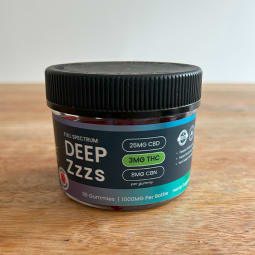 Potency per container:
1000mg
Potency per serving:
3mg THC; 25mg CBD; 8mg CBN
One of Slumber's top-selling products, these sleep gummies combine CBD, CBN, and THC to promote a deeper sleep.* Based on a third party study, 82% of people say these helped them stay asleep through the night, 80% said it was easier to fall back asleep if they did wake up, and 70% said these gummies performed better than any other sleep aid they'd tried.*
While these did help me fall asleep extremely quickly, I definitely felt the effects of THC (even though these meet the guidelines of the 2018 Farm Bill, which requires all hemp products to have less than 0.3% THC by dry weight).
If you don't mind a sleep aid with THC, you'll definitely feel the benefits of these gummies. After all, the combo of THC and CBN is proven to promote drowsiness—which is ideal when you're trying to fall asleep.*
Like all of Slumber's products, these gummies are made with a lean list of ingredients that's mostly organic. And while some CBD gummies can have upwards of 4g of sugar per serving, these only have 2g (ideal for those who don't want to eat a ton of sugar right before bed).
Advertisement
This ad is displayed using third party content and we do not control its accessibility features.
Slumbers CBD & CBG products
Extra Strength Focus + Drive CBG Gummies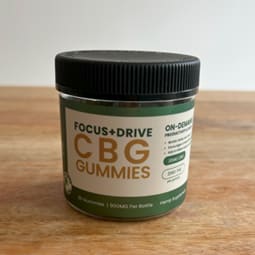 Potency per container:
900mg
Potency per serving:
30mg CBG
Taking a brief detour from the world of sleep, these CBD gummies from the sunrise line are designed to boost your brain function, improve your mood, and promote your body's inflammatory response. On the days I tested these, I noticed an increased feeling of alertness and focus.*
You can take them in the morning or midday, depending on when you typically have trouble concentrating. For me, the afternoons tend to be when my mind wanders—and I love being able to grab a gummy or two to get my brain back on track. In terms of ingredients, they're also made with a lower sugar content (2g per serving) than most gummies on the market.
Bonus: The green apple flavor is delicious. I personally didn't notice too strong of a hemp aftertaste, which does tend to be a pet peeve of mine with other CBD gummies.
Afternoon Delight CBD + THC Gummies
Potency per container:
1500mg
Potency per serving:
30mg CBD; 5mg THC; 10mg CBG
Another gummy that leverages the entourage effect, these Afternoon Delight have a slightly higher THC content than Slumber's sleep gummies with 5mg per serving. (Don't worry! Like the rest of the brand's line, it's still legal based on the 2018 Farm Bill. Just keep in mind the highest doses if you're undergoing drug testing.)
If you're looking for a subtle midday or end of day buzz, these gummes are it.* They're vegan, non-gmo, and made with organically sourced hemp grown on the brand's farm in Colorado. Of course, the brand still leverages more than one cannabinoid in the formula, also featuring 30mg of CBD and 10mg of CBG.
While these gummies do have a higher sugar content than the rest of the brand's line up with 4g per serving, the taste is not overly sweet.
Advertisement
This ad is displayed using third party content and we do not control its accessibility features.
Comparing Slumber's products
CBN vs. CBD
Despite the increasing popularity of the cannabinoid, we're still in the early stage of understanding the full benefits of CBD. Luckily, we know that CBD harnesses unique powers both when ingested as a gummy or oil and when applied topically as a balm or lotion.
CBN is not nearly as mainstream as CBD, and it does not have the same level of research behind its benefits just yet. As mentioned, most of the research done on CBN focuses on the combo of CBN with CBD.
Most importantly: Neither cannabinoid will get you high. However CBN is more likely to show up on a drug test due to its origin from THC.
The benefits of CBN
Given its potential sedative properties first noted in the 80s, CBN is most often marketed as a sleep aid. Again there is far less research supporting the benefits of CBN than those of CBD—but that's mostly due to the lack of research4 rather than poor results.
Most research surrounding CBN focuses less on everyday benefits and more on targeted needs. For example, a 2022 study on rats found that CBN promotes neuroprotection5 when researching the cannabinoid as a treatment for glaucoma.*
Ultimately, I found the lore around the benefits of CBN for sleep to be true: I slept better than I had in weeks.
How to choose the right Slumber product for you
Slumber has products for CBD and CBN lovers and newbies alike. To decide which Slumber product is right for you, first consider which compounds you're comfortable with taking. If THC isn't for you, you'll want to avoid the Deep Zzzs CBD Sleep Gummies and the Afternoon Delight CBD + THC Gummies. But if you don't mind THC (and want to get in on the aforementioned entourage effect), both are great picks for a deeper relaxation or a slight buzz.*
While Slumber is great about labeling cannabinoids directly on the product, you can also determine whether a product has THC based on whether it's full-spectrum or broad-spectrum. Not sure the difference? We've got you:
Full-spectrum: "Full-spectrum" hemp products are those that contain the cannabidiol along with other compounds, which includes 0.3% or less THC by dry weight. While this is within the federal limit, it could show up on drug tests.
Broad-spectrum: "Broad-spectrum" hemp is the best choice for people who want to experience the benefits of CBD but avoid THC, as it's filtered to contain 0.0% THC. This is my personal preference
From there, you'll want to consider your intention: Are you hoping to achieve a better sleep? Perhaps you're looking for a way to relax and unwind at the end of a long day? Or do you need a bit of assistance in staying focused during work hours? Slumber has a product for every one of the above intentions.
If you're new to the world of CBD and CBN for sleep, you may be interested in one of the lower-potency options. Of course, avid CBD-users may like Slumber's products that pack a bit more of a punch. We've noted potency in each of the product descriptions above.
Frequently asked questions
What is the best amount of CBN for sleep?

CBN dosage tends to be much lower than CBD dosage. Similar to CBD, you should start low and slow. Slumber recommends taking 5mg of CBN your first time before increasing in 5mg increments.
How effective is CBN for sleep?

Unfortunately there's limited research on the benefits of CBN for sleep, so we mostly have to rely on anecdotal evidence. That being said, 82% of participants said Slumber's Deep Zzzs CBD Sleep Gummies helped them stay asleep in a third-party study paid for by the brand.
The takeaway
Having seen firsthand the positive impacts of CBD and CBN for sleep and recovery, I'm always curious to test new brands and products—and let's just say Slumber's CBN for sleep did not disappoint.
I enjoyed each product I tried, but the CBN & CBD Tincture For Sleep was the star of the show. I'll be reaching for this handy dropper anytime I see my sleep score start to decline.
Meet The Experts
Eloise Theisen is a board-certified Adult Geriatric Nurse Practitioner who specializes in cannabis therapy.