paid content
 for

Seriously, No More Groggy Mornings — 3 Key Reasons To Use CBN & CBD For Sleep
Image by Danil Nevsky / Stocksy
March 10, 2023
We all know what it's like to wake up on the groggy side, to drag ourselves through the day in hopes that tonight's shut-eye will be different. But sleep is way too important to be settling for mornings spent dazed and confused.
Waking up exhausted may be a result of compromised sleep the night before. It could also be a case of sleep inertia, the drowsy and disoriented feelings that sometimes linger upon waking (and happen more commonly during the weekends). Either way, groggy mornings are a surefire sign that it's time to renovate your sleep routine. And Spruce Rest, a hemp oil that combines CBD and CBN for sleep, is the perfect place to start.*
CBN vs. CBD for sleep… How about both?
We're believers in hot baths, red light therapy, essential oils—whatever sleep hygiene routine it takes to heavy those eyelids. But we also need sleep support that works from the inside out. Spruce's CBN Oil is formulated with 5 mg of CBN and 40 mg of CBD per serving (1-mL dropper). Not only is this full-spectrum oil potent, but it also comes from a 200-year-old strain of hemp. Since arriving in North America in the War of 1812, this heirloom strain has stood the test of time.
By now we've all heard of or even dabbled in CBD for sleep—but it's not the only cannabinoid that can support our best rest.* Using CBD and CBN together might be your next best step for a brighter morning—and here's why:
1. Supporting our endocannabinoid system means supporting our sleep.
Both CBD and CBN are cannabinoids, compounds found in the Cannabis plant. Cannabinoids interface within our larger endocannabinoid system, aka "the master regulatory system," which touches on virtually all aspects of being a healthy human. Through this system, cannabinoids interact with receptors and trigger a range of effects on our well-being, including supporting sleep.* Ongoing studies indicate that our endocannabinoid system plays a role in sleep modulation, particularly our sleep-wake cycles and circadian rhythms. So how do we support it?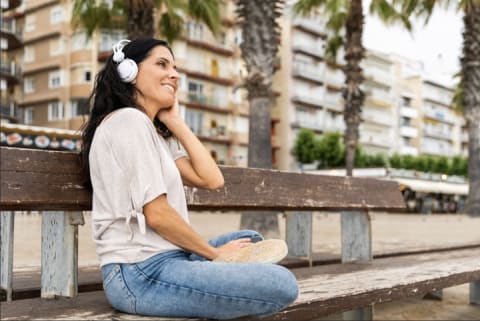 Image by Alba Vitta / Stocksy
2. CBN and sleep: What you need to know.
From tinctures to creams to infused-beverages, CBD has spent a lot of time in the limelight, but it's not the only promising cannabinoid out there. CBN, formally known as cannabinol, is another hemp plant compound with potential for our sleep routine.* Uniquely formed through the oxidation and breakdown of THC1, a cannabinoid already abuzz for sleep support, it's no surprise that CBN is what's next. Not only does Spruce Rest feature a high concentration of CBN, but it also comes from hemp that's USA-grown, extracted, and lab tested. Only the best for your bedtime routine!
3. A dynamic duo: CBD and CBN for sleep.
With Spruce Rest, you get both of these natural cannabinoids. But because it's full-spectrum, it's also full of essential oils, a unique terpene profile, and flavonoids. What happens when all these factors interact? The "entourage effect," and that means good things for your sleep.*
Good morning and good night.
Like most things in life—the more we show up for our sleep, the more it will show up for us. And adding Spruce Rest to your evening routine is a simple way to support your sleep with high-quality, high-concentration CBD and CBN.* We all want to wake up bright-eyed and ready to win the day. But a good morning truly starts with a good routine the night before—one dropper at a time.
*These statements have not been evaluated by the Food and Drug Administration. This product is not intended to diagnose, treat, cure, or prevent any disease.
Devon Barrow
Branded Content Editor
Devon Barrow is a Branded Content Editor at mindbodygreen. She received her degree from the University of Colorado. When she's away from her desk, Devon is teaching yoga, writing poetry, meditating, and traveling the world. She's based in Boulder, Colorado.
Devon's first book, Earth Women, is coming soon. To learn more, join the mailing list, and receive updates, head to www.devonbarrowwriting.com.