The Entourage Effect: What It Is & How To Get It
Contributing writer
By Jamey Powell
Contributing writer
Jamey Powell is a writer and editor living in Brooklyn, NY. Previously the senior market editor at Healthline.com, she has years of experience scouring endless product reviews and testing out the latest and greatest products in the sleep, fitness, and nutrition markets.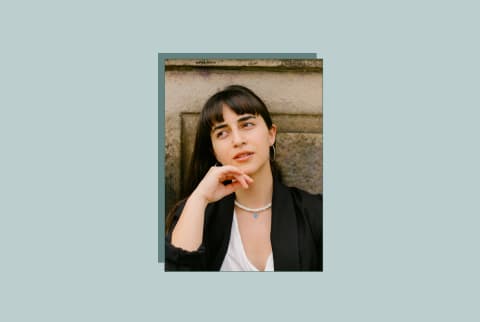 May 16, 2023
We carefully vet all products and services featured on mindbodygreen using our
commerce guidelines.
Our selections are never influenced by the commissions earned from our links.
If you've researched CBD and its benefits, you've likely come across the term "entourage effect." This hypothesis suggests that the benefits of a hemp-derived CBD or cannabis product are greater if the product includes all compounds found in the cannabis plant. To better understand the entourage effect, let's dive into the research and hear what medical cannabis experts have to say.
What is the CBD entourage effect?
The term "entourage" refers to a group of people surrounding an important person. In the case of CBD, the VIP is cannabidiol1, a cannabinoid found in the cannabis plant. Cannabidiol has soared in popularity for its potential mood-regulating and anti-inflammatory effects on the brain and body.*
"The entourage effect is the theory that using a variety of compounds in the cannabis plant is more effective than using any single compound by itself," explains medical cannabis expert and double-board certified doctor Dave Gordon, M.D.
"The different compounds (like CBD and THC) balance each other out and provide positive benefits through different mechanisms, helping to optimize results. We see evidence of this in a wide range of lab studies but also in the experiences of consumers."
Think of it this way: Is a sports team as likely to win using their star player alone? The cannabis plant includes over 400 compounds, including terpenes, flavonoids, and over 120 cannabinoids. Two of these starring cannabinoids are THC and CBD. And, much like a sports team, each compound brings something special to the table.
"There are also so many more compounds that are valuable beyond CBD and THC including other cannabinoids like CBG, CBC, CBDA, and THCA as well as the terpenes and flavonoids in the plant," Gordon explains. "Deciding on the best combination [of compounds] requires having an intention of what you're trying to achieve and speaking with a cannabis-trained health professional."
What does the research say?
To date, the entourage effect is still a theory. But existing research suggests that the theory has legs.
Relevant research on the entourage effect:
How our bodies respond to CBD
To understand how the entourage effect can benefit us, let's first recap how our bodies respond to hemp CBD products.
Hemp-derived CBD and its many compounds interact with our endocannabinoid system (or ECS). The ECS is a cellular-level network responsible for maintaining homeostasis across our bodies.
As Mignon Walker, M.D., director of SLIP Emotional Resistance Building explains, the compounds in CBD bind to receptors4 in our ECS and create varied responses in each organ system. In order to bind to CB1 receptors, CBD needs to have THC. It is thought that CBD is influencing other, non-cannabinoid receptors.
"Plant-based cannabinoids are similar in structure to the cannabinoids made in our bodies and interact with the same receptors, resulting in the beneficial effects people experience after taking them," Walker says. "These receptors regulate our immune system, appetite, metabolism, sleep, and reduce inflammation-related conditions in multiple organ systems—that's why CBD can positively affect so many different conditions without being considered a snake oil."
How does the entourage effect work?
As we mentioned, the star players of the CBD team are the cannabinoids. CBD and THC are the most notable (and most researched). However, research on cannabinol (CBN) and cannabigerol5 (CBG) is promising. Studies suggest that these substances have anti-stress and anti-inflammatory properties.
Keep in mind, THC is the only cannabinoid in the plant with psychoactive properties. Many CBD products stay within the federal legal limit of 0.3%, which will not make you feel high. Products with a higher potency can, however, cause psychoactive effects.
The entourage effect is defined by the interaction of cannabinoids, flavonoids, fatty acids, and terpenes working in conjunction. Because of this, Walker says those added compounds can increase the overall effect of a particular strain of CBD.
So, what therapeutic benefits do these other compounds have to offer?
Terpenes6 form the essential oils found in plants. They offer antiviral and anti-inflammatory benefits. In addition to cannabis (which has about 200 terpenes), they're commonly found in tea, citrus fruits, sage, and thyme.
Flavonoids7 are what give plants their color and smell. They have antioxidative and anti-inflammatory properties. In addition to cannabis (which has about 20 flavonoids), they're found in numerous natural sources like tea, flowers, fruits, vegetables, grains, and bark.
Fatty acids8 like omega-3 and omega-6, which play an important role in maintaining our cellular and heart health, are also present in hemp plants.
What CBD products provide the entourage effect?
Not all CBD products offer the same combination of compounds. As our experts shared, the key to the entourage effect is, well, the entourage! Here's what you should know about the three common types of CBD on the market.
CBD isolate: This is the most basic form of CBD as it's been filtered to exclude all compounds except cannabinol. If you've been paying attention, you're right to assume CBD isolate products do not provide an entourage effect.
Broad-spectrum CBD: This type of CBD is filtered to exclude THC but hangs on to many of the other cannabinoids, terpenes, and flavonoids. Broad-spectrum CBD products may be a preferable pick for anyone looking to avoid THC but still benefit from the entourage effect.*
Full-spectrum CBD: Often referred to as the "holy grail" of CBD (and Gordon's preferred type). Full-spectrum CBD products include all compounds of the plant, including up to 0.3% THC. Again, that's within the federal legal limit and won't get you high. Because the gang's all here, this is your best bet when it comes to the entourage effect.
According to Walker, research suggests that the composition of a CBD product makes a difference in its performance. "Isolates contain only CBD and do not produce clinical responses," she says. "Only full- and broad-spectrum CBD produce clinical responses, most likely due to the entourage effect."
Our picks for the best CBD products for the entourage effect:
Best CBD oil for the entourage effect: Joy Organics Full-Spectrum CBD Oil Tincture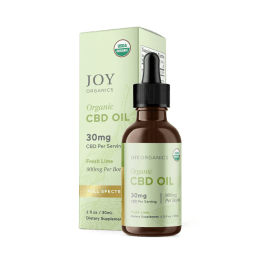 Pros:
Multiple flavor options
USDA Organic-certified
Carbon neutral shipping
Cons:
Not for those with coconut allergy
Potency:
30 mg per serving
This tincture uses only USDA Organic-certified hemp and organic MCT oil (which is derived from coconuts) and their extraction process removes any solvents, pesticides, fats, or waxes from their hemp oil during manufacturing for a super clean formula. You can find their full-spectrum tincture in several different potencies and fun, flavored options as well.
Sustainability & packaging: In addition to boasting a USDA Organic certification, Joy Organics offsets all of the carbon emissions generated through their shipping process by partnering with Carbon Fund. Their packaging is also curbside recyclable.
Transparency: Joy Organics' COAs are available on their website, as well as instructions on how to find your lot number on your product at home.
Best CBD gummies for the entourage effect: Cornbread Hemp Full Spectrum CBD Gummies
Pros:
No artificial colorings or sweeteners
2 strengths & 3 flavor options
Another USDA Organic certified option, Cornbread Hemp's full-spectrum CBD gummies are available in two potencies: 20 mg (moderate) or 50 mg (strong) of CBD per serving. The vegan formula comes in two flavor options and uses organic blue agave and organic cane sugar for sweetness (although you should note that each gummy contains 4g of sugar).
Sustainability & packaging: Cornbread Hemp is a Kentucky-based company that sources organic hemp from local farms. The gummies come in a curbside-recyclable glass bottle with a recyclable plastic cap.
Transparency: You can access the COA for these gummies via the third-party lab results database on the product page or by scanning the QR code on your product. You can also find out more about the brand's farming and extraction process on their website.
Advertisement
This ad is displayed using third party content and we do not control its accessibility features.
Best CBD capsules for the entourage effect: Populum Full-Spectrum Hemp CBD Capsules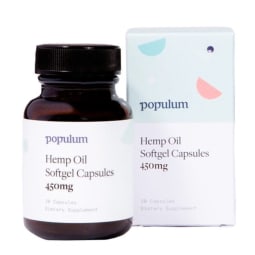 Pros:
Flavorless softgels
Vegan & gluten-free
Cons:
Not for those with a coconut allergy
Potency:
31 mg per serving
With 31 mg of full-spectrum hemp CBD per serving (moderate), Populum's organic capsules are a great alternative for anyone who doesn't like the taste of tinctures or gummies. The formula is gluten-free and vegan and includes MCT oil, modified starch, and water. Another perk to CBD capsules is that they take the guesswork out of dosing, which is especially helpful if you're new to CBD.
Sustainability & packaging: Populum says they source their hemp from organic, non-GMO farms in Colorado and their packaging is curbside recyclable.
Transparency: Populum uses a 3-step lab testing process and shares all of their products' lab results clearly on the product page.
FAQ:
What does the entourage effect feel like?

People experience the effects of CBD differently, so there's no one way to "feel" the entourage effect. Research suggests that CBD products with the full range of compounds from the cannabis plant will be more likely to provide therapeutic benefits than a single compound on its own.
Has the entourage effect been proven?

As with most cannabis-related research, studies around CBD and the entourage effect still have a long way to go. Still, early research and anecdotal evidence from practitioners and CBD users suggests it's a theory worthy of further research.
Is CBD still beneficial without THC?

If you're interested in trying CBD but want to avoid THC, broad-spectrum is your best bet. These products are filtered to remove THC but keep the other beneficial cannabinoids, as well as compounds like flavonoids and terpenes.
The takeaway
More research needs to be done to fully understand the ins and outs of CBD and the entourage effect. Still, existing studies and support from medical cannabis experts suggest the theory has a lot of potential. If you're interested in trying a CBD oil or gummy that offers the full entourage of compounds, be sure to choose a high-quality product from a brand that clearly displays their third-party testing results online. Luckily, we've done the legwork for you and have plenty of suggestions for high-quality hemp CBD products.
Meet The Experts
Jamey Powell
is a writer and editor living in Brooklyn, NY. Previously the senior market editor at Healthline.com, she has years of experience scouring endless product reviews and testing out the latest and greatest products in the sleep, fitness, and nutrition markets.
Eloise Theisen is a board-certified Adult Geriatric Nurse Practitioner who specializes in cannabis therapy.