What's The Deal With CBD For Pain Management? Here's Everything We Know Right Now

Commerce writer
By Lizzy Sherman
Commerce writer
Lizzy Sherman is an award-winning digital content writer and editor with previous bylines in Healthline, Cnet, Chowhound, and more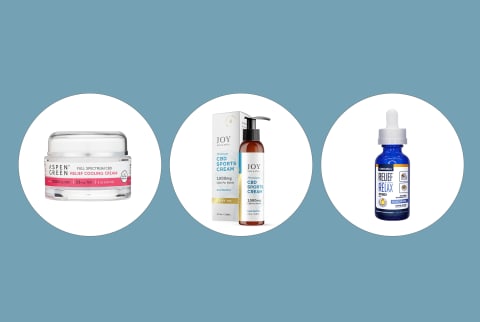 June 10, 2023
We carefully vet all products and services featured on mindbodygreen using our
commerce guidelines.
Our selections are never influenced by the commissions earned from our links.
Disclaimer: Our website includes general information and instruction relating to health and wellness topics. This content is not a substitute for medical advice from your health care provider. All treatment decisions should be determined in partnership with a health care practitioner. Hemp CBD products are derived from U.S. industrial hemp (less than 0.3% THC) and European hemp (less than 0.2% THC). While products derived from the hemp plant (Cannabis sativa) are legal on a federal level in the U.S., some states have specific laws.
The best CBD for pain management:
As CBD continues to gain popularity, many experts believe it will play a huge role in the future of pain relief. More research than ever is being dedicated to studying how hemp CBD may help with pain management—and scientists are trying to better understand how the cannabinoid interacts with your body to prevent discomfort.*
If you're hoping to use hemp CBD to help with pain, here's everything you need before making a purchase, including information on whether oral or topical CBD is better for pain.
What is CBD?
CBD or cannabidiol is one of the compounds found in the Cannabis sativa plant. The cannabinoid has been linked to a range of potential benefits, such as promoting a more even mood or better sleep.*
When purchasing a hemp CBD product, you'll have the choice between broad-spectrum hemp, full-spectrum hemp, and CBD isolate. Here's what that means:
Full-spectrum hemp: Full-spectrum hemp has the "full spectrum" or array of the hemp plant's cannabinoids—including CBD—as well as other beneficial native compounds, like terpenes, flavonoids, and fatty acids. This full array of intrinsic botanical bioactives is thought to facilitate the "entourage effect." By law, full-spectrum hemp extracts in the U.S. can have up to 0.3% THC by dry weight (i.e., trace levels).
Broad-spectrum hemp: Broad-spectrum hemp retains many of the beneficial compounds found in full-spectrum hemp but filters out any THC. These extracts are sometimes referred to as "THC-free" products.
CBD isolate: CBD isolate products have a single cannabinoid: CBD. As a result, they won't provide the "entourage effect" from the full array of hemp bioactives.
Can CBD help with pain management?
The best way to understand CBD's impact on your body is through knowing the basics of your body's endocannabinoid system or ECS. Discovered in the 90s, the ECS is a cellular-level communication network. It's responsible for maintaining homeostasis across all the body's organs and physiological functions, including stress resilience, mood, sleep, appetite, inflammatory balance, and pain modulation.
The ECS is made up of cannabinoids, cannabinoid receptors, and specific enzymes. Cannabinoids can either be produced by the body (called endocannabinoids) or introduced from plants. The latter are called phytocannabinoids. CBD is just one of the more than 100 cannabinoids found in the cannabis plant.
Each cannabinoid interacts with the body differently; THC is thought to bind directly to your cannabinoid receptors, which is why it may have psychoactive effects.
Researchers are still working to understand how CBD interacts with cannabinoid receptors. Current theories1 suggest that CBD suppresses the breakdown of the body's naturally occurring cannabinoids.
Outside factors like nutritional deficiencies, stress, and environmental toxins can all cause low cannabinoid levels. For example, stress causes the body to create an enzyme that breaks down cannabinoids.
Introducing phytocannabinoids is a helpful way to support your body's natural cannabinoid levels so it continues to perform as its best—which means supporting your body's inflammatory response.
Of course, we're still in the early stages of truly understanding how CBD helps with pain management, and the science (and theories) are sure to evolve as research continues.
The research on CBD for pain
While the research is limited, here's what we do know from animal studies. A 2017 study2 found that a localized injection of hemp CBD could help with joint comfort in rats.* Another preclinical animal study using topical application of hemp CBD3 had similar findings, showing it could help reduce joint swelling and discomfort.
This research is also backed by anecdotal evidence: 59% of participants in a 2021 study survey 4found that CBD helped relieve their pain.
Types of CBD products for pain
The two main CBD products formulated for pain management include topical products or ingestible formulas, like oils, gummies, and capsules. When it comes to choosing between the two types of CBD, you should consider your type of pain and personal preferences, according to Mandy Bliss, APRN, FNP-BC, PMHNP-BC, the lead clinician at Serenity Health in Louisville, Kentucky.
"Some people appear to benefit more from the oral preparations," says Bliss. Unlike topical applications of CBD, oral ingestion will allow the hemp to enter your bloodstream. As a result, it can encourage a more even mood along with promoting pain relief.*
If you have neuropathic pain or localized joint pain, Bliss says you're more likely to benefit from topical applications. Both are more targeted types of pain that are felt just under the skin. As a result, a more pinpointed tactic should offer relief faster. (Uncover more CBD products for nerve pain here.)
Our picks for the best CBD for pain management:
Advertisement
This ad is displayed using third party content and we do not control its accessibility features.
Advertisement
This ad is displayed using third party content and we do not control its accessibility features.
Advertisement
This ad is displayed using third party content and we do not control its accessibility features.
How we picked:
Testing
Products should be tested by a reputable third party. The CBD product certificate of analysis (COA) should show that the specific batch for the product meets the advertised amounts of CBD and falls under limits for heavy metals, mold, and microbes.
Potency
We included options for gentle, moderate, and strong potency oils and topicals to accommodate a variety of preferences.
Ingredients
We looked at the phytocannabinoids from hemp extract used in the product to find a range of options for a variety of needs. We also looked at what ingredients were used for flavorings, added for additional benefits, and whether the brand used USDA organic ingredients.
Value
We calculated the cost per mg of CBD for each option to help compare the overall value of each pick.
Your cheat sheet to CBD dosage:
Gentle: Less than 20 mg of hemp CBD per serving
Moderate: 20 to 39 mg of hemp CBD per serving
Strong: 40+ mg of hemp CBD per serving
What other ingredients should you look for in pain management?
When it comes to topical products, some added ingredients may provide additional comforting effects. Often these are botanical ingredients linked to specific benefits.
For instance, popular cooling ingredients include menthol and camphor for pain relief. Some brands also add ingredients expected to support your body's inflammatory response, like turmeric and arnica. Generally, you can also look to topical hemp CBD products to hydrate your skin with additions like aloe and eucalyptus.
Similarly to topical products, other botanicals may be added to oral tinctures for additional benefits. For instance, a tincture that is designed to support better sleep may include ingredients linked to calming effects, such as lemon balm, valerian root, or chamomile.*
With oral tinctures, you should also look at what is used for flavoring. Many brands add artificial additions, including sweeteners. We recommend searching for the simplest formulas possible and avoiding unnecessary excipients.
Are there any side effects of CBD oil?
As registered RDN and certified holistic cannabis practitioner Emily Kyle, M.S. previously told mindbodygreen, the potential side effects of CBD are mild. These include dry mouth, fatigue, and some some digestive issues like loose stools.
However, some of these side effects might not be a result of ingesting the CBD but rather due to the other ingredients included in the supplement, "such as MCT oil," per Kyle.
FAQ:
Can CBD be used as a pain killer?

According to Harvard Health, CBD may be able to play a role in reducing pain due to "pain-relieving effects through its various interactions and modulation of the endocannabinoid, inflammatory, and nociceptive (pain sensing) systems."
Which is the best CBD for pain relief?

The best CBD for pain relief will vary by individual and the type of pain you are experiencing. Options include topical CBD products and oral CBD tinctures. Consult with your medical care provider to help determine the best options for your needs.
What are the cons of CBD for pain?

CBD for pain is still an ongoing area of research and more studies are needed to determine the full range of benefits and potential risks of taking CBD for pain. CBD affects people in different ways. What works for one person may not work for another.
Do CBD gummies work for pain?

CBD gummies may provide benefits that help offer relief. Anecdotally, some reviewers of CBD products have self-reported that gummies help with pain.
The takeaway
While CBD is still a relatively new market category, it appears to provide a diverse range of potential benefits, including pain relief. Research is ongoing, but many individuals are optimistic about the role CBD could play in the future of pain management.*
*These statements have not been evaluated by the Food and Drug Administration. These products are not intended to diagnose, treat, cure, or prevent any disease.
If you are pregnant, breastfeeding, or taking medications, consult with your doctor before starting a supplement routine. It is always optimal to consult with a health care provider when considering what supplements are right for you.
Meet The Experts
Lizzy Sherman
is an award-winning digital content writer and editor with previous bylines in Healthline, Cnet, Chowhound, and more
Eloise Theisen is a board-certified Adult Geriatric Nurse Practitioner who specializes in cannabis therapy.