Close Banner
Advertisement
This ad is displayed using third party content and we do not control its accessibility features.
We Found The Strongest CBD Gummies You Can Buy Online

Commerce writer
By Lizzy Sherman
Commerce writer
Lizzy Sherman is an award-winning digital content writer and editor with previous bylines in Healthline, Cnet, Chowhound, and more

Expert review by
Ashley Jordan Ferira, Ph.D., RDN
mbg Vice President of Scientific Affairs
Ashley Jordan Ferira, Ph.D., RDN is Vice President of Scientific Affairs at mindbodygreen. She received her bachelor's degree in Biological Basis of Behavior from the University of Pennsylvania and Ph.D. in Foods and Nutrition from the University of Georgia.
We carefully vet all products and services featured on mindbodygreen using our
commerce guidelines.
Our selections are never influenced by the commissions earned from our links.
Disclaimer: Our website includes general information and instruction relating to health and wellness topics. This content is not a substitute for medical advice from your health care provider.
Every time you take CBD, you're supporting your endocannabinoid system (ECS) and unlocking the benefits of CBD, including mood support and pain relief.* But what do you do when you're no longer feeling the impact of your go-to dose?
Upgrading your dosage to a stronger option—which we consider anything above 40mg of CBD per serving—is a great place to start. These potent picks pack a bigger punch when it comes to relaxation, stress relief, and sleep support1.*
Unfortunately, not many brands create CBD gummies with more than 25mg of CBD per serving, which makes finding the strongest CBD gummmies a true scavenger hunt. With expert insight, research, and a lot of testing, we've curated a collection of the strongest CBD gummies you can buy online right now with up to 200mg of CBD per serving.
The strongest CBD gummies:
Is CBD Legal?

Hemp CBD products are derived from U.S. industrial hemp (less than 0.3% THC) and European hemp (less than 0.2% THC). While hemp CBD is legal on a national basis, some states have specific laws on cannabinoids, strength, and types of hemp (isolate vs. full-spectrum vs. broad-spectrum).
The strongest CBD gummies
Best overall
Cornbread Hemp Organic CBD Gummies
scroll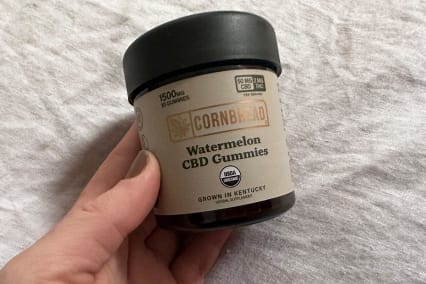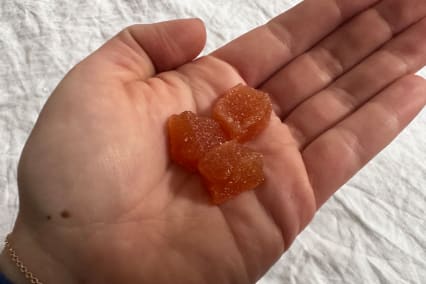 Potency
50 mg CBD per serving (1 gummy)
Cornbread Hemp's CBD gummies are USDA certified organic with a clean and innovative vegan formula that's bound to impress. Available in two strengths, including a 50 mg of CBD per gummy, it's one of the strongest options on the market.
The full-spectrum gummy features a Flower-Only™ formula, which means that the CBD comes from the particular aerial part of the hemp plant that has the cannabinoids.
Pros

USDA-certified organic
Incredibly "clean" formula
Suitable for vegans
Cons

Trace levels of THC (if that's not your thing)
Where the hemp grows

Cornbread Hemp sources its organic hemp from local farms in Kentucky, and its full supply chain is conducted in less than 100 miles.
What our tester thinks

The brand uses organic blue agave and organic tapioca syrup for a sweeter flavor, which does land on the higher end for sugar content (4g per serving), but these rank at the top of our list in terms of texture. They're soft and chewy and always taste fresh.

We've tested the berry and the peach and both do a great job masking the hemp flavor. Just keep the sugar content in mind when planning how often and when to take these gummies. Some of our testers found them too sweet to take before bed—and others enjoyed that they taste like dessert.

We've tested these gummies for sleep and did notice a huge difference in sleep quality, but do love taking them during the day for mild relaxation.*

Just note this product does have up to 2 mg of THC (within federal limits) due to this brand's particular full-spectrum hemp extract. For those seeking a lighter strength, the gummies are also available with 20 mg of CBD per serving.
What a registered dietitian & nutrition PhD says

Regardless of flavor, mindbodygreen's vice president of scientific affairs, Ashley Jordan Ferira, Ph.D., RDN, is a fan of this formula, previously calling it one of her "current favs" on the market. She says, "This vegan gummy's excipient profile—you know, the 'other ingredients'—are incredibly clean, organic, and innovative."
Best with CBG
Batch Gold Reserve Gummies
Potency
50 mg CBD per serving (1 gummy)
Batch's most potent formula yet combines 50 mg of CBD with 25 mg of CBG a.k.a. cannabigerol. Another phytocannabinoid, it's thought to support mood and is currently being studied for its potential to help with other health concerns.* The duo is packaged together in a flavorful tangerine chew with a noticeable hemp flavor.
The brand suggests starting slow with a dosage as low as half a gummy, with options to take up to two cubes depending on your tolerance.
Pros

Made from hemp grown in USA
Gluten-free
Diary-free
Soy-free
Cons

Not for those with tree nut allergies (coconut)
Strong hemp taste
Where the hemp grows

Batch hemp is organically grown on a multi-generational family farm in Neillsville, Wisconsin, which then undergoes ultra-cold ethanol extraction.
What our testers think

We love that this vegan gummy uses organic ingredients, including organic tapioca, organic cane sugar, and organic coconut oil.

The tangerine flavor does an okay job masking the hemp flavor, but our testers did notice a stronger aftertaste over time.

A few mindbodygreen testers prefer to keep these gummies for nighttime use, because they can make you a bit drowsy (depending on your tolerance).*
Best with THC
Aspen Green Organic Bliss Gummies
Potency
Strong, 50 mg of CBD per serving
If you're seeking a CBD gummy with THC, this USDA certified organic pick is an excellent option. The cleaner formula is free of refined sugar, and instead uses organic agave and lucuma for sweetness.
Keep in mind, while the gummy meets the requirement of less than 0.3% THC by dry weight set by the 2018 Farm Bill, there is enough that it could show up on a drug test—and you'll likely feel a more noticeable effect than with a THC-free gummy.*
Pros

USDA-certified organic
Uses agave as a sweetener (no refined sugar)
Soft, gooey texture
Cons

Has THC (if that's not your thing)
Stronger hemp aftertaste
Where the hemp grows

Aspen Green sources its USDA certified organic, full-spectrum hemp CBD from farms in Colorado.
What our testers think

The hemp aftertaste is stronger than other CBD gummies we tested, but the texture is soft and gooey. We love that these gummies have no refined sugar, and our testers definitely felt a blissful sense of calm.*

Best broad-spectrum

cbdMD Tropical Gummies

Potency

200 mg CBD per serving (2 gummies)

Experienced CBD users seeking out an extra-strength option will love these vegan gummies. They boast 200 mg of CBD per serving, making them one of the most potent picks on the market.

The vegan formula is also gluten-free and skips artificial sweeteners and dyes in favor of natural alternatives; corn syrup is replaced by organic tapioca syrup and cane sugar, artificial dyes are replaced with organic fruit and veggie juices. Leveraging natural flavors, each 60-count bottle incorporates a mix of flavors: strawberry, orange, raspberry, and tropical fruit.
Pros

Extra-strength formulas
Organic fruit & vegetable juices replace dye
Cons

Not for CBD beginners
Plastic bottle
Where the hemp grows

CbdMD does not give much information about where exactly the hemp comes from, but it is all sourced from farms across the United States.
What our testers think

When testing these CBD gummies, many of us chose to stick with just one gummy rather than the full serving, given their higher potency.

We love the fact that (even without artificial flavoring) these actually taste good. There's a slight hemp flavor, but it goes away quickly.
How we picked
Transparency: Products should be tested by a reputable third party with the certificate of analysis (COA) available on site. These tests should prove that products match the advertised levels of hemp CBD (and THC) and have trace levels of pesticides, heavy metals, molds, microbials, and residual solvents.
Potency: We looked at how much hemp CBD was included per serving and how many servings were included per container. Per our internal guidelines, strong CBD products should have at least 40 mg of hemp CBD per serving.
Ingredients: We checked the labels of each product to ensure ingredients were clean and organic whenever possible, and that the supplements were made without synthetic dyes or artificial flavorings. All gummies also have less than 4g of sugar per serving (the higher sugar content reflects the higher CBD dosage).
Testing: When testing the strongest CBD gummies, we evaluated every product for strength, taste, texture, and the impact it actually had. Each CBD gummy on this list was tested and reviewed by our team.
How to choose the strongest CBD gummy
CBD affects everyone differently, so if you are new to CBD you may want to start with a gentle to moderate dosage. Parodneck and many hemp experts recommend "starting low and going slow" to find your ideal strength.
If you think you may need extra-strength CBD gummies, you may want to consult with your doctor to determine the best options for your needs.
Keep in mind, when it comes to gummies that many CBD brands consider "extra strength," the formulas start at 25 mg per gummy (compared to most options which feature between 5 to 15 mg of CBD per gummy).
These general guidelines for strength will help you determine dosage and whether you should take one or two gummies:
The strongest CBD gummies on our list have around 100 mg CBD per gummy. While some brands recommend achieving 50 mg CBD doses by taking two 25 mg CBD gummies, we kept our list to only those that have 50 mg and above per gummy.
Who can benefit from a stronger gummy?
"Every individual is unique and so is their response to CBD," says Michael Lewis M.D., MPH, FACPM, FACN, a +PlusCBD medical advisor. "If someone is getting a little response from a particular dose of CBD but wants a stronger or better response, the best approach is to gradually increase the amount of CBD until the individual gets the response they are seeking."
This sentiment is echoed by other CBD experts, including Lynn Parodneck, M.D., a medical board advisor at TribeTokes. She calls 22 mg of CBD per serving the "standard dose" for most people but knows the benefits of a higher potency.
"A stronger dose of CBD can be helpful for sleep,"* says Parodneck. However, she warns about increasing your consumption too quickly. "If the dose is too much, they can get sleepy or experience stomach issues," she adds.
CBD Glossary

Endocannabinoid system (ECS): A cellular-level communication network involving cannabinoids, cannabinoid receptors, and specific enzymes. This unique, whole-body system is responsible for maintaining homeostasis across all the body's organs and physiological functions, including but not limited to stress resilience, mood, sleep, appetite, inflammatory balance, and pain modulation. Learn more here about the "master regulatory system" here.
Cannabinoids: Unique bioactive compounds that interact with your body's endocannabinoid receptors. Your body creates cannabinoids (called endocannabinoids, like anandamide and 2-AG) and you can also ingest them (called phytocannabinoids, like CBD) from certain plants like Cannabis sativa, aka hemp.
Cannabidiol: The formal name for CBD, a unique phytocannabinoid compound found in the hemp plant (Cannabis sativa).
Full-spectrum hemp: Full-spectrum hemp has the "full spectrum" or array of the hemp plant's cannabinoids—including CBD—as well as other beneficial native compounds, like terpenes, flavonoids, and fatty acids. This full array of intrinsic botanical bioactives is thought to facilitate the "entourage effect." By law, full-spectrum hemp extracts in the U.S. can have up to 0.3% THC by dry weight (i.e., trace levels), while European hemp limits THC to 0.2% by dry weight.
Broad-spectrum hemp: Broad-spectrum hemp retains many of the beneficial compounds found in full-spectrum hemp but filters out any THC. These extracts are sometimes referred to as "THC-free" products.
CBD isolate: CBD isolate products have a single cannabinoid: CBD. As a result, they won't provide the "entourage effect" from the full array of hemp bioactives.
Terpenes: Unique aromatic bioactive phytonutrient compounds that give many plants their unique aroma, flavor, and beneficial biological properties. Also found in citrus, lavender, and many other botanicals, terpenes are not unique to Cannabis sativa but are responsible for the hemp plant's distinct scent.
Flavonoids: A large family of polyphenolic phytonutrients found in many plants (including hemp) that give particular flavors, colors, and health properties. Some plants are higher in flavonoids, including fruits, vegetables, tea, and wine.
FAQs
What form of CBD lasts the longest?

Lewis anecdotally reports that while effects last longer with gummies, onset can be a little slower.

"Sometimes when a person wants both immediate and longer term relief, using a tincture and gummy at the same time is an effective approach to get a more rapid response from the tincture with the longer acting help from the gummy," she says.

"A higher dose of cannabinoids per serving is thought to yield a longer-lasting impact, however, dosing depends on personal biology and intended health support goals," explains nutrition scientist Ashley Jordan Ferira, Ph.D., RDN.
What is considered a high level of CBD?

Typically more than 40 mg of CBD per serving is considered a strong dosage. However, most gummies are not available with this potency.

Some brands consider gummies with 25 mg of CBD to be their "extra strength" product and recommend taking two gummies to increase dosage.

"Since 'start low and go slow' is the recommended approach for most hemp-derived CBD products, it's not only useful, but important, to have these moderate dosing options available," shares Ferira.
Which is stronger CBD oil or gummies?

While you may experience the effects of CBD from a tincture (oil), the strength of the product depends on the dosage. CBD oil options with over 40 mg CBD per serving are more readily available than CBD gummies of that strength.

You would most likely need to take more than one gummy serving (consider sugars, calories, etc.) to achieve over 50 mg CBD (unless you shop this list).
The takeaway
The strongest CBD gummies typically have between 25 mg CBD and 50 mg CBD per serving. We tested many CBD gummies, and the selections on our list rank well across the board in terms of taste, texture, potency, and impact.
Experts say it's a good idea to start low and increase your dosage slowly, but if you prefer a higher dose of CBD, you can increase your serving to two or more gummies.
Consult with your doctor to determine what options might be right for you.
*These statements have not been evaluated by the Food and Drug Administration. These products are not intended to diagnose, treat, cure, or prevent any disease

Lizzy Sherman
Commerce writer
Lizzy Sherman is an award-winning digital content writer and editor with previous bylines in Healthline, Cnet, Chowhound, and more. She's also been a featured guest speaker at Cal State University Northridge, Digital LA, and The National Association of Audience Marketing Professionals. When she's not writing, Lizzy enjoys yoga and playing guitar.