CBDfx Review: We Put 5 Products To The Test & These Are Our Top Picks
Contributing writer
By Jamey Powell
Contributing writer
Jamey Powell is a writer and editor living in Brooklyn, NY. Previously the senior market editor at Healthline.com, she has years of experience scouring endless product reviews and testing out the latest and greatest products in the sleep, fitness, and nutrition markets.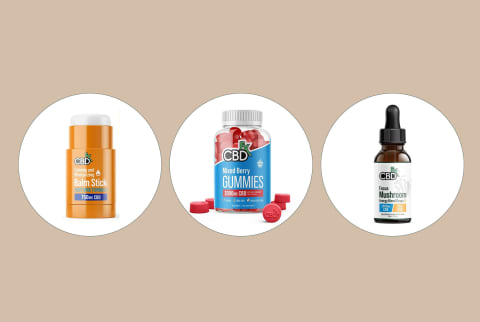 May 17, 2023
Our editors have independently chosen the products listed on this page. If you purchase something mentioned in this article, we may
earn a small commission
.
If you've ever fallen down an endless internet rabbit hole looking for a hemp-derived CBD product, you're not alone. There are seemingly endless brands selling CBD (or cannabidiol) products online, and they all claim to be the best. Because the world of CBD is still unregulated, it can be tough to tell whether a brand lives up to the self-proclaimed hype or not. The good news? Some brands do put in the extra legwork to meet high standards and produce top-quality, trustworthy products—and we've tested a lot of them. Read our CBDfx review to find out if the brand is worth trying.
What is CBDfx?
CBDfx is a brand that sells a wide variety of hemp-derived CBD products. The company began in 2014 and is based in California still today. It uses U.S.-grown hemp in all products and ensures that everything is third-party tested for contaminants (like heavy metals or pesticides) and potency accuracy.
CBDfx products
CBDfx offers an extensive range of CBD-infused products, including capsules, gummies, face masks, and bath bombes. The brand even has a handful of pet-specific tinctures and treats—yep, pets can take CBD too! Just be sure to do your research first.
While we couldn't test everything ourselves, we did get to try five of CBDfx's top-selling products firsthand.
How we tested CBDfx
I don't claim to be a CBD expert, but I have tried dozens of tinctures, gummies, and topicals. I tested these five CBDfx products over the span of one month. I stuck with some more regularly than others (more on that below), but I gave each one a fair trial of at least five consecutive uses. The topicals even got put to the test on my sore muscles and joints after running a half marathon. Spoiler: They were my favorite, and I'll continue to use them beyond this review.
Every CBDfx product we tested:
Advertisement
This ad is displayed using third party content and we do not control its accessibility features.
Advertisement
This ad is displayed using third party content and we do not control its accessibility features.
Quality & transparency
Testing: CBDfx third-party tests its products at ISO-accredited SC Labs in Santa Cruz, California. The brand clearly displays a link to each product's certificate of analysis (COA) on the product page and have a database where you can search for your specific product. Each product's packaging also includes a QR code you can scan with your phone to go directly to the test results for that specific batch.
CBDfx also uses a team of medical advisers to review all of the product information on each product page. We appreciate you can view the full ingredient label for every iteration of each product on the website.
Ingredients: The CBDfx website uses the term "organic" a lot. But beyond a mention of a U.S. farming partner, it's not entirely clear where and how the hemp is grown and harvested. Especially when compared to some other brands we've reviewed (like Cornbread Hemp, Joy Organics, and Lazarus Naturals who boast USDA Organic certifications), the CBDfx farming process is considerably more vague.
Production: CBDfx operates out of a facility that adheres to Current Good Manufacturing Process (CGMP)1 standards for quality and safety. The brand uses an energy-efficient CO2 extraction process to draw out CBD, which is a win.
Brand reputation
As far as a rep goes, CBDfx has no shortage of fans. Each of the products has a significant amount of reviews, most of which are very positive—however, it's worth noting that you can't filter reviews to find negative comments, which is always a little fishy.
Still, several reviewers mention a quick turnaround for customer-service-related issues and returns. CBDfx also offers a 60-day guarantee for unopened or minimally used products. However, products have to be in the original packaging to be returned for a refund, which means that despite the 60-day window, you'll need to make a decision quickly.
How to choose the right CBDfx product for you
As we've mentioned, CBDfx offers an extremely wide variety of products. The right CBD product for you will depend on a few factors:
Product type: If you're hoping to relieve aches and pains in a localized area, a topical product like a balm or cream may be the right move for you. If you're hoping to take a more whole-body approach, an ingestible oil tincture or gummy may be a better pick.
Potency: If you're just getting started with CBD, the general guidance for potency and dosing is to start "slow and low." You may want to begin with a more gentle dose, such as 15 to 20 mg, to see how your body reacts. If you're a seasoned CBD pro, CBDfx has plenty of high- and ultra-high-potency products for you to explore—just be prepared to pay a higher price tag.
CBD type: While all of the products we tried contain broad-spectrum hemp CBD, CBDfx also offers many full-spectrum products. Here's the difference:
Full-spectrum: The term "full-spectrum" means the product contains cannabidiol and other compounds, including 0.3% or less tetrahydrocannabinol (THC). That trace amount is within the federal limit and won't get you high. CBD researchers2 believe that full-spectrum CBD benefits from the "entourage effect," a theory that suggests that the combination of compounds makes it a more powerful product.
Broad-spectrum: While this type of CBD still contains other compounds like terpenes and flavonoids, it is filtered to contain 0.0% THC.
FAQ:
Is CBDfx good for anxiety?

Some preliminary research suggests CBD may be beneficial for reducing feelings of anxiety.* Just remember, everyone experiences the effects of CBD differently. Dosing takes a bit of exploration to find what works for you.
How long does it take for CBDfx to work?

The speed at which you feel the effects of CBD will vary from person to person and depends on the type of product you choose. People typically feel the effects of an oil tincture anywhere from 10 to 60 minutes after use. You may experience the effects of topicals within 15 to 30 minutes.
Who are CBDfx competitors?

There are countless CBD brands on the market today, and we've reviewed a fair share of them. Competitors include Cornbread Hemp, cbdMD, CBDistillery, Joy Organics, and Charlotte's Web.
Is CBDfx FDA approved?

No. The FDA does not regulate CBD products (yet). This is why it's important to make sure the products you use have a readily available certificate of analysis (COA) for third-party testing.
The takeaway
In the world of CBD, CBDfx is a quality brand that does a solid job of ensuring its products are held to a high standard. With a variety of CBD products at a wide range of potencies, there's something out there for just about anyone. Still, there's room for improvement in the sustainability and transparency departments. We'd love the brand to share more information around its farming practices on the website. If you're interested in exploring more CBD gummies, capsules, and oil tinctures, we've got you covered.
Meet The Experts
Jamey Powell
is a writer and editor living in Brooklyn, NY. Previously the senior market editor at Healthline.com, she has years of experience scouring endless product reviews and testing out the latest and greatest products in the sleep, fitness, and nutrition markets.
Eloise Theisen is a board-certified Adult Geriatric Nurse Practitioner who specializes in cannabis therapy.