We Researched & Tested The Best Cold Plunge Tubs — Here Are Our Top Picks
mbg Deputy Commerce Editor
By Braelyn Wood
mbg Deputy Commerce Editor
Braelyn Wood is the Deputy Commerce Editor at mindbodygreen. She has a B.S. in journalism from Northwestern University, along with a certificate in marketing.

Medical review by
Bindiya Gandhi, M.D.
Physician
Dr. Bindiya Gandhi is an American Board Family Medicine–certified physician who completed her family medicine training at Georgia Regents University/Medical College of Georgia.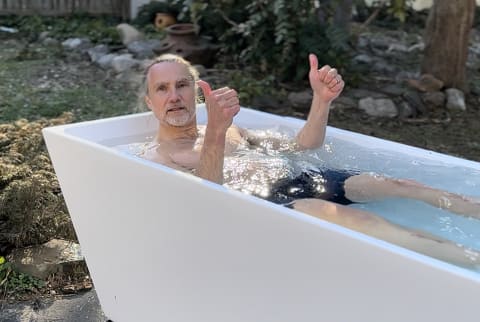 September 25, 2023
We carefully vet all products and services featured on mindbodygreen using our
commerce guidelines.
Our selections are never influenced by the commissions earned from our links.
The best cold plunge tubs & ice baths:
Cold water therapy has been a popular among athletes and the biohacker community for years (we're looking at you Huberman). But as more and more people become aware of the health benefits of cold water exposure, the longevity practice is quickly becoming mainstream.
As predicted in our 2023 wellness trends, the best cold plunge tubs and ice baths have made their way into spas, fitness studios, and now homes—making it easier than ever to access benefits like improved stress resilience, muscle recovery, and mood.
But how can you know what cold plunge tubs are worth the investment? We've watched over the last year as new products launched and existing designs received much-needed upgrades, such as longer tubs for talker folks or better filtration systems for cleaner water.
Now we're sharing our absolute favorite cold plunge tubs and ice baths on the market to channel your inner Wim Hoff for the ultimate at-home polar plunge.
Why you should trust us
We started researching the best cold plunge tubs more than a year ago (when you only had a few options to shop). Our team is up to date on the latest cold plunge tub launches, and is constantly reevaluating our recommendations (and testing them) to ensure they're the very best picks.
Before you shop
We recommend looking at a cold plunge tub as an investment into your well-being.
While you can always opt for free ways to explore cold water therapy—like a cold shower or dip in a lake—these tubs offer a few perks:
Control the water temperature to ensure it's cold enough
Keep water flowing to prevent a thermal barrier between your body and water
Make plunging more accessible for daily practice
How much do cold plunge tubs & ice baths cost?
Prices for an ice bath start at $180 and increase up to $6,900 for a luxury build.
Prices for a cold plunge tub start at $3,790 and increase up to $30,000 for some models, like BlueCube. Our most expensive selection is just under $13,000. (But you do not need to spend that much!)
| | |
| --- | --- |
| $ | $500 or less |
| $$ | $500-$1000 |
| $$$ | $1000-$4000 |
| $$$$ | $4000-$7500 |
| $$$$$ | $7500+ |
A sneak peek at our top picks
Best overall cold plunge tub: The Plunge
Fast facts
Coldest temperature: 39°F
Dimensions: 67" L x 24" H x 42" D or 73" L x 27" H x 47" D
Price: $$$$
Financing: From $129/month
Shipping: Free in continental U.S.
Warranty: 1 year
Lead time: 5 weeks
Setup: Permanent, 110V outlet
Refresh water: Every 6 months
Water maintenance cost: $32 per month
Indoor or Outdoor: Both
| | | | | |
| --- | --- | --- | --- | --- |
| Pros | Circular filtration | Ozone sanitizer | XL sizes & heating element available | 6 months of use before water refill |
| Cons | Must be near an outlet | Requires monthly maintenance to keep water clean | Some accessories feel less luxurious | Only one color option |
Why we picked the Plunge
You can thank the Plunge for leading the charge in creating cold plunge tubs with a price point under $5,000. First seen on Shark Tank, the Plunge initially offered a single model but has since expanded their lineup, including a soon-to-be launched infrared sauna.
Our favorite part of Plunge is that it comes with a wide range of add-ons and features, yet the price point never gets above $8,000. You can opt for a regular or XL size, along with an optional optional heating element or a pro cooling system (which is ideal for those who live in warm environments).
And while yes, the sleek design does resemble a bathtub in look and size—albeit a super modern one—we think the brand's attention to detail shines through, from the durable reinforced metal base to the included accessories: a phone tablet, skimmer net, and insulated topper.
Setup: Anyone can do it
One of our tester's favorite perks of the Plunge was the free in-home delivery. Instead of ditching a crate at your door, the delivery team puts your tub exactly where you want it. Our tester chose their backyard, as their home didn't have a good space to support the 1000-pound weight of the filled tub.
They tackled the rest of set up on their own and dubbed it a "breeze", as it only required connecting the hoses between the tub and external chiller, filling with water, and plugging into a 110v outlet.
The external chiller then cooled water to their desired temperature. Pro tip: The chiller only drops the water temperature by 1 to 2 degrees per hour. If that feels too slow, we suggest upgrading to the pro chiller, which is at least three times faster.
Maintenance: You might need to call an expert
Although the Plunge has ozone sanitation to break down contaminants and a 20 micron filter to trap debris, it still requires about the same level of maintenance as a hot tub.
Upkeep will cost about $190 for six months (or about $32 per month), but that includes a monthly filter replacement and chemicals required to monitor pH, alkalinity, and sanitation levels.
Who will fit: Depends on what you order
We suggest upgrading to the XL if you're taller than 6 foot to ensure you can fully submerge in the water.
Our 5'11" tester was comfortable, but they felt anyone taller might have consider the regular Plunge a tight squeeze when fully horizontal.
Durability: Own it forever
The Plunge is made from a combination of acrylic and fiberglas with a reinforced metal base for added durability. We felt the materials were sturdy enough for regular outdoor use—even on hot sunny days or much chillier temperatures (like when our tester received the Plunge).
Save $150 off your first order with code MBG150
Best portable cold plunge tub: Inergize Health Cold Tub
Fast facts
Coldest temperature: 37°F
Setup: Inflatable, 110V outlet
Refresh water: Every 3-6 months
Water maintenance cost: $15.25 per month
Dimensions: 12" H x 30" D x 51" W
Indoor or Outdoor: Outdoors or indoors
Lead time: 2 weeks
Price: $$$$
Financing: From $173/ month
Shipping: Free
Warranty: 1 year
| | | | |
| --- | --- | --- | --- |
| Pros | Fits into duffle bag for portability | 15-minute inflatable set-up | Water stays fresh up to 6 months |
| Cons | Must be on a flat surface | Cannot be used in countries where 120V/60 HZ is not supported | Purchase new sanitizers & filters separately |
Why we picked the Inergize Cold Plunge Tub
Experts recommend spending at least 20 minutes outdoors to reap the the health benefits of nature—and what better way to do it than a dip in your cold plunge tub?
Inergize's ultra portable design packs down into a duffel that's similar in size to about a 105L hiking pack. Once you get to your preferred location, it only takes 15 minutes to fully install the tub.
Despite an ultra versatile design, the Inergize cools water from 65° to 37° Fahrenheit in less than 5 hours; this cooling power or HP is actually higher than the Plunge—which explains the price point.
Setup: Prepare to pump
Every Inergize tub ships free and comes with quick connect hoses, a hand debris net, a micron filter, and two covers (a fabric and inflatable one).
When deflated, the 25-pound tub fits into an oversized duffle that you can take on the trail for a quick refresh, as long as you have electricity access and a reliable water supply.
Although you'll only need one person to complete the installation, expect to put in a little legwork—or should we say armwork—to inflate the tub with the included hand pump.
Maintenance: You might need to call an expert
If you want your water to last the designated three to six months, then you'll need to replace the micron filter every month and sanitize the water weekly.
Unlike other brands, Inergize does not offer a curated kit of filter replacements and water sanitization solutions. However the brand's maintenance guide includes links to preferred products with clear instructions.
Who can fit: Body types up to 6'4" and 250 pounds
The tub's modular design is developed for portability, and it's about 30 inches deep.
Inergize reviews show those up to 250 pounds and 6-foot-4-inches tall can fit (though submersion may be harder).
Durability: Depends on your set up
Expect your tub to last longer if you're keeping it one place; the wear-and-tear of moving around constantly puts natural stress on the materials and external chiller.
Best hot tub cold plunge combo: Polar Monkeys Brainpod 2.0
Fast facts
Coldest temperature: 39°F
Setup: Permanent, 110V outlet
Water maintenance cost: $28.16 per month
Refresh water: Every 3 months
Dimensions: 67" L x 31.5" W x 25.8" H
Indoor or Outdoor: Both
Lead time: 5 to 6 weeks
Price: $$$
Financing: From $89/ month
Shipping: Free in U.S. (international available)
Warranty: 1 year
| | | |
| --- | --- | --- |
| Pros | Heats up to 102°F for no additional cost | International delivery |
| Cons | Insulated tub cover not included | No built-in water filter |
Why we picked the Polar Monkeys Brainpod 2.0
The next-big-thing in the cold plunge world isn't actually cooling water down; it's heating H2O up for hydrotherapy. But where most brands will charge you up to $1,000 to add a heating component, Polar Monkeys includes it for free.
The rest of the Brainpod's design is relatively basic; hoses connect a powerful 0.6 HP heating and cooling chiller to adjust water temperature between 39° to 102° Fahrenheit.
It's a basic yet aesthetic design that offers great value at less than $3,800.
Setup: All hands on deck
Unlike Plunge, Polar Monkeys does not offer free set up for your tub.
You'll need to handle getting the 140-pound to your desired location from the delivery crate.
Maintenance: Prepare to be your own pool guy
Each tub of water can be safely treated and reused for up to three months following the brand's in-depth instructions on a regular maintenance routine (about $28 per month).
There's no built-in filter to help keep the water clean between use, so it's essential to understand how to sanitize water using chemicals.
Who can fit: Body types up to 6'0"
The Brainpod is the same length as the original Plunge, which is ideal for those who are 6 foot and under.
Save $100 with code MBG100
Still deciding between the Plunge and Polar Monkeys? Check out this full brand comparison of Plunge vs Polar Monkeys.
Best ice bath: Ice Barrel
Fast facts
Coldest temperature: N/A
Setup: Permanent, Must fill with ice
Water maintenance cost: $10.60 per month (for water stabilizer)
Refresh water: Every 45 days (with water stabilizer)
Dimensions: 42" H x 31" W (opening is 25" W)
Indoor or Outdoor: Outdoor only
Lead time: Ships in 7 to 10 days
Price: $$$
Financing: N/A
Shipping: Varies by location (international shipping available)
Warranty: 1 year
| | | | | |
| --- | --- | --- | --- | --- |
| Pros | Weighs just 55 pounds for easy storage | Made from recycled materials | Keeps water cool for up to 3 days | Fast arrival |
| Cons | Must fill with water | Cannot control temperature | No size options | Water not sanitized between uses |
Why we picked the Ice Barrel
The Ice Barrel is the ultimate cold plunge tub for someone who wants to elevate their ice bath experience from a regular bathtub, but who doesn't want to commit to the maintenance of a glorified mini pool.
You simply fill the container with ice and water—that's all! The upright position is ideal for a quick dunk without laying horizontal, and the sturdy, non-toxic materials never feel cheap per our tester.
Plus, it comes with a tiny step stool to let you enter as gracefully as possible (well as smooth as someone entering an ice bath can really be).
Setup: Anyone can do it
The barrel only weigh 55 pounds when not filled with water, so rolling your bath in place should be a an easy process, per our tester.
Simply use the base to pick you ideal spot, add your barrel, and fill with ice water. The insulated cover will help keep water cool for up to three days before you'll either need to add more ice or dump it out.
Technically the Ice Barrel can be set used both indoors and outdoors—though we think the high water level makes it best suited for outdoor use.
Our tester loved that the Ice Barrel was small enough to tuck into the corner of the garage. Pro tip: Add epsom salts for even more ice bath benefits.
The biggest downside of this (or any) ice bath? You're going to have to pay at least $10 for ice with every refill.
Maintenance: Should be easy
The brand offers a $130 maintenance kit for the Ice Barrel, which includes a few essential accessories, including an 8-ounce bottle of water stabilizer.
Best used in fresh water, the stabilizer helps keep water sanitized for up to 45 days.
Who will fit: Body types up to 6'6" & 300 pounds
If you're on the taller side, stick with the Ice Barrel 400, which has a longer design that's best for taller folks (and can hold those up to 300 pounds).
Durability: Built to last
A streamlined design comes with major perks; you won't need to replace the Ice Barrel anytime soon.
As long as you use the included UV and water-resistant cover, you can expect the recycled plastic to stick around for a lifetime.
Save $175 on your order with code MBG175
Best energy efficient cold plunge tub: Renu Therapy Cold Stoic 2.0
Coldest temperature: 36°F
Setup: Permanent, 110V outlet
Refresh water: Every 6 months
Water maitenance cost: $40
Dimensions: 70" L x 33" H x 35" D
Indoor or Outdoor: Both
Lead time: 6 to 10 weeks
Price: $$$$$
Financing: N/A
Shipping: Free in contiguous U.S.
Warranty: 5 year
| | | | |
| --- | --- | --- | --- |
| Pros | Programmable thermostat | Indoor or outdoor use | Multiple color and wood options |
| Cons | Doesn't come with a cover | Luxury price point | Long order lead time |
Why we picked the Renu Therapy Cold Plunge Tub
Renu's lineup of stylish cold plunge tubs is a luxury investment for those who care about aesthetics. Available in a range of minimalist base and deck colors, the sleek tub is handcrafted in California with a mission to be "always cold and clean."
Powerful enough to cool water to 36° Fahrenheit, the Cold Stoic 2.0 is fitted with a thermostat to easily control the temperature of your water.
What's more, the energy-efficient tub also has a super insulated design that can keep water temperatures below 60° Fahrenheit for up to 24 hours once the tub is turned off.
Setup: Call the movers
Although the brand offers free curb-side delivery, you'll need some help to get the 350 pound crate to its final location. Prepare to call a Task Rabbit (or a moving company).
Luckily, the chiller is already contained and attached, so you'll just need to plug into a standard 110V outlet to get started.
Maintenance: Easier than most
Features like the filtration system and ozone water purification system ensure the water stays fresh between uses (and keeps water maintenance relatively lowkey).
You'll need to replace the filter every month and test the water to ensure it's up to par. Thankfully, an enclosed lid and active purification means maintenance is relatively simple.
Who can fit: Body types up to 6'7" and 275 pounds
Renu upgraded its cold plunge tub design to have a larger water tank, so it could fit a wider array of body sizes. In fact, it's one of the longest tanks on our list.
Durability: Designed to last
If the 5-year warranty didn't tip you off, this luxury cold water tank is meant to be around for awhile.
Crafted for indoor and outdoor use, Renu tubs are constructed with quality materials, all selected for their ability to withstand harsh conditions and UV rays.
Best cold plunge tub for outdoors: Odin Ice Bath
Coldest temperature: 32°F
Setup: Permanet, qualified electrician must connect to RCD safety plug
Refresh water: Every 2 to 3 months
Water maintenance: Depends
Dimensions: From 47.3"L x 31.5"W × 24.0"H
Indoor or Outdoor: Both
Lead time: 8 weeks
Price: $$$$
Financing: Inquire with brand
Shipping: Free (including Hawaii); Customs fee expected
Warranty: 5 year
Pros
Cold enough to make ice
Automated filtration and sanitization
Cons
Must be near an outlet
Requires refrigeration expert for set-up
Extra cost for shipping outside Austrailia
Why we picked the Odin Ice Bath
Cold plunge tubs can't go any cooler than 39° Fahrenheit because the water needs to stay in liquid form for the external chiller.
Odin's Ice Bath uses copper coils wrapped around the tub to cool the water down using a refrigerator compressor—so water can actually turn into ice without breaking the chiller.
While the brand also makes a traditional cold plunge design for $1500 cheaper—which won't require a refrigeration expert to install—we think this specialty ice bath design is worth the extra investment for those who want the water to get as cold as possible.
Just note: Only the Plunge pool comes with an optional heating element (up to 107°F), an upgrade that's currently free.
Setup: Call the experts
Odin's free shipping delivers the ice bath to your front door—but no further. Although the bath is small enough to fit through a standard doorway, it still weighs about 178 pounds—so make sure you have help at the ready.
We suggest calling the movers and refrigeration experts at the same time to streamline the process.
Maintenance: Should be easy
This tub has all the bells and whistles; it's not only constructed with beautiful cedar wood and stainless steel, but the bath comes with a fully automated filtration and sanitation system that requires minimal upkeep.
You can even add a UV sanitizer for $750 for even less maintenance.
Who can fit: It depends
Those over 6-foot can opt for the XL model for extra legroom, while couples hoping to share the tub can upgrade to a dual size.
If you're purchasing for a commercial space—like a spa or gym—we suggest investing in the pro model for another $2,000, which increases the power of the chiller to ensure it's up to the strain of consistent use throughout the day.
Durability: Built to last
With proper care—including cedar wood staining every six months—you should expect your Odin to be around for the long haul.
Best cold plunge tub for biohackers: The Morozko Forge Ice Bath
Coldest temperature: 33°F
Setup: Permanent, 110V oulet
Dimensions: 32" W x 82" L or 32" W x 94" L
Indoor or Outdoor: Both
Lead time: Ships within 6 to 8 weeks
Price: $$$$$
Financing: From $446/month
Shipping: $1600
Warranty: 3 year
Pros
Built-in water circulation/ micro-filtration / ozone disinfection; Comes with lid & remote control
Cons
Must be near an outlet
Luxury price point
Why we picked the Morozko Ice Bath
One huge benefit of the Morozko Ice Bath is that it can chill water as cool as 33 degrees Fahrenheit, yet it still promotes water circulation to mimic the feel of a natural body of water.
If you've learned anything to so far, this combination of high flow rate and ultra low temps is a rare technological feat for cold plunge tubs.
Setup: You won't lift a finger
The brand charges a $1600 White Glove Delivery, so you can expect to sit back and relax as they set up your new investment.
The hardest part will be picking a spot with a 110V outlet; luckily it can be indoors or outside.
Maintenance: Should be easy
The Morozko Force is self-cleaning with micro-filtration and ozone disinfection to keep the water fresh.
Just expect to clean and replace your filter, depending on how heavily you use the tub.
Who fits: It depends
The Morozko Cold Plunge tub comes in three sizes available with either a 60-inch, 66-inch, or 72-inch length.
The 72-inch is similar to the Renu Therapy option, which fits those up to 6 foot 7 inches tall.
Durability: Designed to last
Another investment option, the Morozko Force is meant to to last. It's constructed with a durable cedar frame with ground fault circuit interrupt (GFCI) protection for improved safety.
Best ice bath for small spaces: The Pod Company Ice Pod Pro Bundle
Coldest temperature: N/A
Setup: Inflatable
Dimensions: 32" H x 29 " W
Indoor or Outdoor: Both
Lead time: Ready to ship
Refresh water: As needed
Water maintenance cost: $15.25 per month
Price: $
Financing: From $17/ month
Shipping: Free
Warranty: 1 year
Pros
Pump included to keep water flow
Comes with floating thermometer
Insulated lid keeps cool
Cons
Must fill with ice water
May be hard for some to get into
Why we picked the Ice Pod Pro
The Ice Pod Pro is a newer launch—and the affordable design fills a gap in the market for those who still want a high quality product but don't want to spend a fortune on a luxurious tub.
The portable pod is similar to many budget options, with a plastic legs around the tub and an inflated rim. However the actual materials differ from many affordable options thanks to a focus on quality.
The inner lining is made from a BPA-free waterproof lining, the insulation layer has sub-zero cooling technology, and the durable exterior is UV resistant.
Other differentiators for the Ice Pod Pro include a water flow pump—which circulates water to prevent your body heat from warming the water or the ice from freezing solid—and a floating thermometer to monitor the temperature to reach the perfect 50 to 59 degree Fahrenheit range.
Setup: Like a mini tent
If you've ever found yourself frustrated while pitching a tent, this one might be a bit complicated. It requires you to build a skeleton to hold up the plastic bath.
Otherwise setup is simple: add water and ice to get to your desired temperature.
Those who struggle to follow instructions should go with the Pro model; it comes with an insulated lid that keeps water cool between uses for fewer setups.
Maintenance: Depends on you
Those who don't mind dumping and refilling the water regularly won't have to worry too much about maintenance.
But if water bills are expensive and you plan to plunge often, we'd recommend that you do some independent research on how to keep the water fresh (you'll find great inspo above).
Who can fit: Body types up to 6′7 foot and 300 pounds
Per the brand, this portable tub should fit a wide range of bodies. While it looks small in photos, it holds a whopping 79 gallons of water (despite the frame weighing less than 7 pounds).
Durability: You get what you pay for
As mentioned, this design is way sturdier than anything you'd find on Amazon. However it still costs less than $200—so you shouldn't expect this purchase to last forever.
Comparing the best cold plunge tubs & ice baths
| Model | Price | Size | Coldest temperature | Location | Set-Up |
| --- | --- | --- | --- | --- | --- |
| The Plunge | $4990 | 67" L x 24" H x 42" D | 39°F | Indoor & outdoor | Self-cooling |
| Polar Monkeys Inflatable | $3390 | 53.5" L x 31.5" W x 24" H | 36°F | Indoor & outdoor | Self-cooling |
| Ice Barrel | $1200 | 42" H x 31" W (opening is 25" W) | N/A | Outdoor | Must fill with ice water |
| Renu Therapy Cold Stoic | $9700 | 64" L x 34" H x 33" D | 39°F | Indoor & outdoor | Self-cooling |
| Odin | $6900 | 51" L × 49" W × 28" H | 32°F | Indoor & outdoor | Self-cooling |
| Morozko Forge Ice Bath | $12600 | 32" W x 82" L | 33°F | Indoor & outdoor | Self-cooling |
| The Ice Pod | $199 | 32" H x 29 " W | N/A | Indoor & outdoor | Must fill with ice water |
What cold plunge tubs do biohackers & athletes recommend?
What is a cold plunge tub?
You might think ice baths and cold plunge tubs are the same—but there are small nuances that make each different. An ice bath is exactly as it sounds; a bath of ice water. Cold plunge tubs use an external chiller to cool water down to 39°F, no ice necessary.
The benefit of the latter is that you can often determine the exact temperature of the water, which should be less than 10°C," per cold therapy expert Mark Harper, M.D., Ph.D. (Note: 10°C is 50°F.)
Summary
A cold plunge tub cools water with an external chiller down to 39°. The best designs have rapid water circulation to bypass the body's thermal barrier.
How do cold plunge tubs work?
Cold plunge tubs are designed to support cooler temperatures that put your body into a temporary state of stress. While the cooling process varies by tub, most send water to an external chiller where it's cooled and pumped back into the tub.
If you want a more affordable option, you'll likely have to settle for an ice bath, which uses still (rather than flowing) water . Many baths require you to fill with ice and water with insulated constructions that can keep the water cool up—sometimes up to 3 days.
The benefits of circulating water
By sending water to external chillers, cold plunge tubs create a natural water circulation.
When water is constantly moving, your body can't warm it up as effectively. As a result, you won't get the same thermal barrier protection in a cold plunge tub as you would in an ice bath of still water.
While our list has both ice baths and cold plunge tubs—as the former tends to be more affordable—those hoping to maximize their cold plunge experience should focus on options with a higher water flow rate.
Benefits of a cold plunge tub
If you're skeptical about subjecting your body to freezing temperatures in the name of wellness, know there's actually some compelling evidence in its favor. "In simple terms, regular use will reduce inflammation and the body's reaction to stress. Putting your face—it doesn't even have to be the whole head—in will have an almost immediate effect," explains Harper.
Here's why you might want to add a cold plunge tub to your routine:
Promotes stress resilience & supports metabolism
On the topic of stress, intentional cold exposure (as in a plunge pool) is a form of hormetic stressor. In layman's terms, this is the good kind of stress that actually helps your body to adapt and stay fit and healthy.
When you spend a short burst of time each day with an acute stressor like cold water, your body is taken out of homeostasis and your cells are activated to promote stress resilience, repair cellular damage (through processes like autophagy), repair DNA, reduce inflammation, and more.
Additionally, shocking your body with a switch between hot and cold extremes can also improve your health, as longevity expert and Harvard geneticist David Sinclair, Ph.D., explains on the mbg podcast. "Sauna protects you against heart disease if you do it regularly, and cold plunges are increasingly thought to be helpful. What [they do] is activate the production of brown fat, which exists mostly in your back. Brown fat puts out signals that increase your metabolism," he explains.
Improve mental strength
As for the mental benefits, Jono James, cold-water immersion expert and CEO of Odin Ice Baths shared that voluntarily placing yourself in uncomfortably cold temperatures can help build fortitude.
"You're purposely putting yourself in quite a bit of pain because the ice bath is not a pleasant experience, but because you're choosing to do it, it gives you a sense of empowerment. Since it's a choice, it also means you're more resilient to things that are out of your control because you're choosing to put yourself in this uncomfortable position," he shares.
A quick summary of potential cold plunge tub benefits
Promotes stress resilience
Repair cellular damage & DNA
Reduce inflammation
Slow aging
Do cold plunge tubs burn fat?
The are many proven benefits of an ice bath—and a few potential benefits of taking a cold plunge that still need to be explored further. Weight loss falls into the latter category.
As functional medicine expert, Laura DeCesaris previously told mindbodygreen, "More data needs to be seen as to possible long-term metabolic impacts of cold immersion over time." She says sporadic sessions are unlikely to improve results—and it's important to remember that an increased metabolism won't lead to weight loss if appetite and calorie consumption also increases.
Who shouldn't take a cold plunge or ice baths?
Experts previously told mindbodygreen that people with high blood pressure should skip cryotherapy. Cold water causes your blood vessels to constrict, which increases heart rate, blood pressure, and respiratory rate. Typically the body can compensate for this constriction, per longevity expert Seema Bonney, M.D., but it may be harder for those with high blood pressure or cardiovascular disease.
FAQ
Is there any risk associated with cold plunge tubs?

Of course you should be aware that cold temperatures can be jarring to the body, but on the whole if you're listening to your body and being smart about how long you're staying in the tub, experts say it should not pose a risk to your health.

"It's important to get the body used to the temperature (a minute or two) before putting your face in," suggests Harper. "And there is nothing to be gained and all to be lost by staying in so long as to become hypothermic. This is dependent on temperature: under 10°C, three minutes is sufficient. But even at 20°C, no more than 10 minutes is necessary."
Who could benefit from a cold plunge tub?

Even if you're not an intense athlete, anyone could benefit from the use of a cold plunge tub. That said, they are a great means of physical recovery after working out. "The reduction in inflammation and the attenuation of the stress response are universally positive," says Harper.
Who should not do cold plunge?

As with all new health practices, it's recommended to check in with your doctor before adding a cold plunge to your routine, especially if you have an existing medical condition.
Is a cold plunge worth it?

Adding a cold plunge to your routine has many physical and mental health benefits. Cold plunging can promote stress resilience, repair cellular damage (through processes like autophagy), repair DNA, reduce inflammation, and more. As our expert explained, you don't have to dive right in. Start slow and as you begin to acclimate to the practice and experience the benefits, you'll see that cold plunges are worth it.
What's the easiest cold plunge tub to take care of?

A cold plunge tub with a built-in sanitation will be the easiest to take care of. The Plunge, Renu Therapy Cold Stoic, and Odin Ice Bath all come with built-in water filters and ozone sanitation systems. These system replace chemicals with powerful oxidizers that break down unwanted contaminants, like mold and bacteria, to keep your water fresh between plunges.
Are ice baths good for you?

Sure, putting your body through stress may sound counterintuitive—but this is actually a good kind of stress. Whether you're investing in a cold plunge tub for your home, or you're making your own ice bath, you're not going to solve every health problem you've ever had. That said, when performed regularly and correctly, the practice has a slew of health benefits, explained in-depth below. If you're not sure if ice baths are a good idea for you, check with your doctor before adding the practice to your routine.
The takeaway
For metabolic, energy, and mental health benefits, regularly soaking in a cold plunge tub can be an excellent way to invigorate the system and support overall well-being. A cold plunge can help with inflammation and act as a great start to the day or help you recover from a particularly strenuous workout. If you're in the market to invest in your health, consider taking home the Plunge for a top-of-the-line pick or try the slightly more affordable Polar Monkeys Inflatable.
What we've updated since publishing
3/1/23: We added additional FAQ, including who should not cold plunge and is a cold plunge worth it. We also included more information about the benefits of hot and cold therapy, along with resources to explore the best infrared saunas and sauna blankets.
3/6/23: After continued research on the best cold plunge tubs, our team added another affordable, foldable option to the list.
3/8/23: We added more information on how cold plunge tubs work and answered the common question, are ice baths good for you?
4/19/23: We checked the availability of each of these tubs, added the dimensions, and specified whether they were fit for indoor or outdoor use.
5/5/23: Our team added a new option to the buy guide that offers the best value for small spaces.
5/8/23: We added original photos and tester commentary for a handful of plunge tubs used by testers.
Additional reporting by Merrell Readman.
Braelyn Wood
mbg Deputy Commerce Editor
Braelyn Wood is the Deputy Commerce Editor at mindbodygreen. She has a B.S. in journalism from Northwestern University, along with a certificate in marketing. After interning at Bustle Digital Group and Cosmopolitan, her love of products (and a good deal) led her to the commerce space, and she joined Meredith Corporation as its first health and wellness-focused shopping writer. During this time, her byline appeared in Health, Shape, InStyle, People, and Travel Leisure, as she covered topics like workout gear, home goods, and coronavirus essentials to help shoppers lead healthier lives. In her current role, she helps readers find the best deals, uncover the latest launches, and understand which items are worth the splurge (or not) from her home in Brooklyn, New York.