Close Banner
Advertisement
This ad is displayed using third party content and we do not control its accessibility features.
We Tested The Best Infrared Sauna Blankets To Work Up A Sweat
Contributing writer
By Jamey Powell
Contributing writer
Jamey Powell is a writer and editor living in Brooklyn, NY. Previously the senior market editor at Healthline.com, she has years of experience scouring endless product reviews and testing out the latest and greatest products in the sleep, fitness, and nutrition markets.

Medical review by
Scott Nass, M.D., MPA, FAAFP, AAHIVS
Board-certified Family Physician
Scott Nass, M.D., MPA, FAAFP, AAHIVS is a family physician and HIV specialist in California. He takes a holistic approach to healthcare, incorporating principles of functional medicine and using food as medicine when working with patients.
We carefully vet all products and services featured on mindbodygreen using our
commerce guidelines.
Our selections are never influenced by the commissions earned from our links.
These blankets mimic far-infrared light saunas (or FIRS), which use thermal light to heat your core temperatures from the inside out. But instead of devoting a massive space to a sauna, these portable picks put infrared lights into a sleeping bag-like design that traps heat. And yes, we promise you'll actually sweat.
We'll also be the first to say that not all infrared sauna blankets are the same. After spending almost a year researching and testing different designs, we've seen firsthand how quality and performance can vary by model. Fun fact: Many competitors actually whitelist the exact same product under different names.
If you want to make sure you're only using infrared sauna blankets that actually optimize your wellness routine, you can trust our vetted selection of blankets to deliver every single time—no fancy spa membership required.
The best infrared sauna blankets:
Why you should trust us
Our team spent over a year researching infrared sauna blankets and spoke to product designers to better understand how different models compare to one another. What's more, we've actually used every single product included in our guide (sometimes even with multiple testers).
Are infrared sauna blankets safe?
Quality infrared sauna blankets are generally safe for regular use, but there are a few things to consider before making a purchase:
Saunas blanket should not be used by those who are actively trying to conceive or are pregnant, as well as those with preexisting conditions.
Exposure to low EMFs isn't universally deemed as dangerous, there's still more research needed to understand the effects of EMFs on humans, and the National Cancer Institute suggests keeping tabs on your exposure whenever possible.
For the safest sweat, always wear light clothing or a towel to create a barrier between the blanket and your skin, and follow the manufacturer's recommendations when it comes to temperature and duration of time spent in the blanket.
Best rated infrared sauna blanket
HigherDose Infrared Sauna Blanket
Image by Colleen Wachob / mbg creative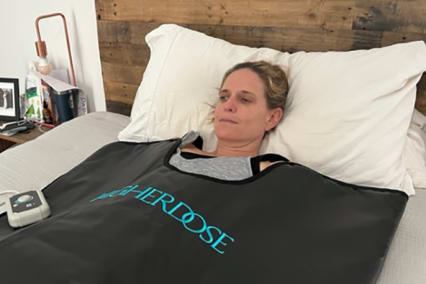 Image by Colleen Wachob / mbg creative
Materials
Waterproof Polyurethane (PU), fireproof cotton
New York–based company HigherDose not only operates two infrared sauna locations, but it also sells a lineup of infrared products. The brand's bestseller is the Infrared Sauna Blanket, which uses a combination of charcoal, clay, and magnets to balance heat levels and increase circulation.
Along with an automatic 60-minute shutoff, the blanket boasts a layer of healing amethyst and tourmaline crystals—if that's your thing.
When you're ready to use, simply set your desired temperature and slide into the blanket for a 30- to 40-minute session. You'll rest easy knowing the polyurethane cotton material is waterproof and the design itself is low-EMF. Plus, the brand sells an optional Sauna Blanket Towel Insert, which we highly recommend for a faster clean-up after your sweat session.
Pros & cons

Pros

Highly rated
Low EMF emissions
Added layers of crystal

Cons

Pricey
Some reviewers feel it's not hot enough
What our testers says

mindbodygreen co-founder Colleen Wachob tested the infrared blanket while watching TV when her kids were asleep, and was quickly impressed by how easy it was to get started. "I don't like complicated set-ups," she explains. "This was one of the easiest that I have ever encountered. You literally plug-in the blanket and it's ready to go. The blanket also warms up really quickly—I started on the heat setting 6, which was perfect for me."
Best low EMF infrared sauna blanket
Sun Home Saunas
Image by Danielle Vogle / mbg creative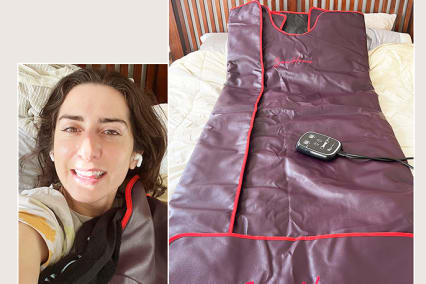 Image by Danielle Vogle / mbg creative
Materials
Polyurethane leather exterior, waterproof inside, & non-toxic fabrics
Lower heat tolerance? This low-EMF pick offers an adjustable thermostat that allows you to find the right settings to induce a sweat without feeling like you're scorching. The durable design features industrial-grade velcro to better lock in heat and comes in a handful of fun colorways.
When you're ready to use, simply set the timer for up to 60 minutes (the brand suggests starting small and working your way up). The portable pick is easy to wipe down post-use and easily fold for speedy storage.
Pros & cons

Pros

Adjustable temperature
Low EMF emissions

Cons

Shorter controller cord
Velcro closure is so strong, it can be hard to open
Temperature control in Celsius instead of Fahrenheit
What our tester says

Creative director Danielle Vogl says this relaxing blanket is a "great way to wind down after work." She uses it first thing in the morning to warm up before a cup of coffee–and says the 10-minute heat-up time is impressive. She also calls out the luxe, leathery exterior and compares the device to a super fancy sleeping bag that makes you sweat.

The only changes Vogl would make to the design would be a slightly longer cord for the controller and a control unit that used Fahrenheit instead of Celsius. Otherwise she sums it up, "I've wanted a sauna blanket for a while now, but I wasn't sure if it was worth the investment. Turns out I know myself pretty well because I love this thing and I'm never going back."
Warmest temperature infrared sauna blanket
Bon Charge Infrared Sauna Blanket
Materials
PU Leather, cotton, waterproof PVC
This sauna blanket is made from a durable PU leather, cotton, and waterproof PVC. The quality is clear from the moment you open the package. Our commerce editor is a huge fan of this product, noting that the blanket heats up much quicker than others she's tested.
The temperature can be adjusted using the attached remote control, which also includes timer settings from five to 60 minutes. With the highest maximum temperature on our list (tied with a few others) of 176 degrees Fahrenheit, this blanket heats up quickly and works up an undeniable sweat.
The blanket is on the heavier side, but comes with a carrying case that makes it easy to transport and store. When you're ready to use it, simply lay the blanket out, plug it into the wall, and slide on in before setting the temperature and timer to your preferences.
Pros & cons

Pros

Heats up quickly
Storage bag for easy transport
High maximum temperature (176 degrees Fahrenheit)
What our tester says

mindbodygreen commerce editor, Carleigh Ferrante, tested this blanket twice a week for two months. "As someone who doesn't sweat easily, I'm impressed by the amount that drips out of me when I use this blanket," she says. "Where others left much to be desired, this one always leaves me feeling like I've released a ton of toxins."
Best infrared sauna blanket sans EMF
Heat Healer Infrared Sauna Blanket
Image by Braelyn Wood / mbg creative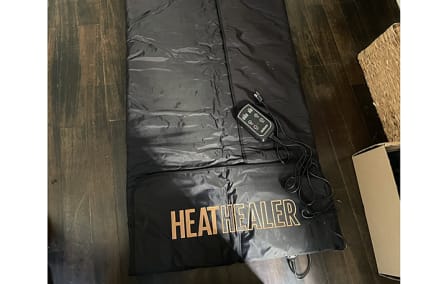 Image by Braelyn Wood / mbg creative
If you're concerned about the potential adverse effects of electromagnetic fields3, Heat Healer's Infrared Sauna Blanket should be your top pick. It incorporates a layer of EMF blocking fabric that eliminates any risk of exposure. The design also skips PU in favor of a premium heat-resistant amide fabric (used in astronauts' spacesuits and firefighters' uniforms), which is tested by a third party to ensure the materials don't contain toxins.
Other standout elements include a built-in timer, adjustable heat settings, and a waterproof head pillow that won't absorb sweat. There's also a special layer of 96 smooth jade and tourmaline stones added to help more evenly disperse heat across the body.
Best of all, it comes with a sleek carrying case to take your treatment on the go—a low-risk venture between the three-year warranty and lifetime trade-in program (which gives you a new blanket 50% off when you trade one in).
Pros & cons

Pros

Zero EMF exposure
Third-party tested, non-toxic materials
Includes pillow & carrying case

Cons

Heavier weight
Higher price
What our tester says

Deputy commerce editor Braelyn Wood gave this infrared sauna blanket a go after it was featured in our longevity gift guide: "As someone that overheats easily, I've always struggled with saunas. I know the benefits, but I dislike feeling like I'm struggling to breathe in a hot room.

An infrared sauna blanket was my perfect solution; the slip-in design covers my body but allows my face to skip the treatment. While the heat offered by the blanket isn't smothering, it will make you sweat, especially if you're prone to extra perspiration like me. I found it was equivalent to a Barry's workout but less sweat than a hot yoga class."

Overall, she was impressed with the blanket and loved how easy it was to set up a treatment. The only improvements she could imagine would be a zip-up closure, which would feel more luxe. She also would've loved a way for her arms to stay free during the treatment, like some other designs—but she knows that's a reflection of her need to always go-go-go, rather than the design itself."
Comparing the best infrared sauna blankets
How we picked
Quality: We focused on brands that were transparent about their product's materials and certifications—although some brands shine brighter in this department than others on our list.
Low EMF: Exposure to Electromagnetic Fields (EMF) from infrared light has been flagged by some consumer groups, so we opted for brands using low-EMF tech when possible.
Testing: After reading hundreds of reviews to find the most-loved products, we secured samples for testing. Our testing team's feedback was used to finalize our picks and inform pros and cons.
Price: Many at-home infrared devices are on the pricey side—and these are no exception. We included selected high-tech options, as well as more affordable picks to work for every budget.
How to choose an infrared sauna blanket
Size
Most infrared sauna blankets are built to accommodate an array of body shapes and sizes.
Portability
If you're hoping to take your blanket on the go, you'll want to consider how foldable and portable it is. A few options on our list come with carrying cases for easy storage and transport. Just note that higher-quality blankets also tend to be heavier.
Budget
FIRS blankets cost anywhere between $130 and $600; higher-tech options tend to cost over $300, which might feel steep—however, if you're hoping to use your blanket for a long time and want to be assured that you'll have access to customer service or a reliable warranty, spending the extra cash is worth it.
Design
Decide what features are most important to you: Do you want a blanket that zips close or velcros? How easy is it to clean before storing it away? Do you care about added features like stones, crystals, or towels? And what about certifications or nontoxic materials? Determining your must-haves will help narrow your choices.
What are the benefits of an infrared sauna blanket?
Reduced pain
Increased collagen production
Improved cardiovascular health
Lower stress levels
Clearing toxins from the body
Infrared sauna blankets elevate your internal temperatures, which briefly puts your body into a state of stress. While typically stress is considered bad for the body, certain types of strategic stressors could prove beneficial in a concept known as hormesis. This brief stint of stress triggers a cellular response that may improve how you manage stress and slow down aging.
As functional medicine doctor Amy Shah, M.D., previously told mbg, "When we stress our hormones out a little bit, we get great results in the long term. It's a concept written extensively in medicine."
When it comes to FIRS specifically, the research is more limited. Studies have found far-infrared to be beneficial for reducing pain4 and improving cardiovascular health, as well as helping your body produce collagen5 (although expert opinions are mixed on whether infrared light is actually good for our skin). However, most research was completed in small and short-term trials, and further research is still needed to understand the full effects.
Infrared saunas vs blankets
Infrared sauna blankets and the best infrared saunas have similar benefits, but the right choice depends on factors like your budget, use-case, and (most importantly) space.
Fully-immersive infrared saunas don't allow heat to scape as easily, and you'll likely be more comfortable, as you can change positions throughout your session and use your arms.
Infrared sauna blankets can stowed away when not in use and tend to be significantly less expensive. The options on our list (especially the Bon Charge sauna blanket) reach temperatures high enough to prompt the same deep sweat you'll feel in an enclosed sauna—but your head will be exposed.
Jamey Powell
Contributing writer
Jamey Powell is a writer and editor living in Brooklyn, NY. Previously the senior market editor at Healthline.com, she has years of experience scouring endless product reviews and testing out the latest and greatest products in the sleep, fitness, and nutrition markets. Her past gigs include copywriting for Daily Burn, teaching cycle classes at Swerve, and covering fitness for Greatist. She's obsessed with running, movies, and her dog, Bonnie.