I Tested The HigherDose Infrared Sauna Blanket & It's Worth The Hype (+ Save $100)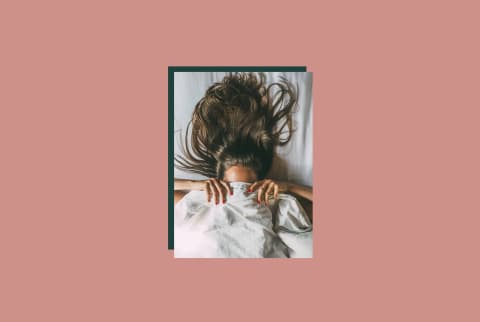 August 31, 2023
We carefully vet all products and services featured on mindbodygreen using our
commerce guidelines.
Our selections are never influenced by the commissions earned from our links.
As critical as it is for our health, self-care is often the first thing to take the back burner. But what if you found an at-home practice that showed tangible benefits (e.g., glowy skin, deep relaxation, soothed muscles, and better sleep) with virtually zero effort?
Wellness enthusiasts, celebrities, influencers, and even longevity gurus such as Will Cole, D.C., IFMCP, and Dave Asprey have touted this sauna blanket as the ultimate self-care item.
Always curious about the hottest (pun intended) wellness product, I put the HigherDose Infrared Sauna Blanket to the test for the past two weeks—and I regret to inform you that it is worth the $600 price tag.
What is the HigherDose Sauna Blanket?
There are few things better than a true endorphin-boosting sweat session. You know, that dripping wet deep sweat that leaves you with a relaxed yet revitalized glow. This feeling alone is what led to my first sauna session and ultimately to my sauna blanket rabbit hole.
Even if you're new to the sauna blanket scene, you're likely familiar with HigherDose. The brand aims to make ancient modalities, such as hot therapy, more accessible by offering a lineup of at-home products, like this low-EMF Infrared Sauna Blanket.
The sleek sleeping-bag-like design contains a combination of charcoal, magnets, clay, and amethyst and tourmaline stones to balance heat levels and increase circulation.
The brand says the blanket is meant to elevate the body's thermal energy, promote relaxation, boost circulation, and reveal glowing skin—all of which I've experienced (among other benefits).
HigherDose Infrared Sauna Blanket Specs:
Heat source: Infrared
Max temperature: 158 degrees Fahrenheit
Warranty: 1 year
Return policy: 30 days
Materials: Waterproof Polyurethane (PU), fireproof cotton
Unfolded length: 71 inches
Potential benefits of infrared saunas
While research is still limited, experts, scientists, and researchers have linked infrared technology with a number of potential benefits—and people have been using saunas for thousands of years:
Lower stress levels
Detoxification
How much does the HigherDose Sauna Blanket cost?
On its own, the blanket costs $699. You can also choose to purchase the blanket with one insert for $788 or three inserts for $912.
The insert is essentially a super-luxurious towel that serves two purposes: to keep you comfortable during your session and to make cleanup even easier. It's made from 100% GOTS-certified organic cotton and can be thrown directly into the washing machine.
I personally wish I got an insert with my blanket (and I'll likely purchase one on its own for $89). Regular cleanup isn't tough, but I'd much rather toss the insert in the wash than have to sop up my sweat after each use.
How to use the HigherDose Infrared Sauna Blanket
The blanket arrives in a fairly compact box, considering its size. When unboxing, you'll first want to take it out of the plastic and roll it out. Make sure you're setting the blanket up on a surface that's heat-resistant and, of course, not flammable.
Operating the blanket is simple, with an attached remote control that allows you to turn the device on and off and choose from eight temperatures.
It's recommended to wear comfortable, loose-fitting clothing in a sauna blanket. If you prefer to go fully nude (my method of choice), you'll want to add the towel insert to your cart for maximum comfort and protection or use a towel of your own.
Once set up and plugged into the wall, turn the blanket on using the remote control. Set your preferred temperature and let it preheat for 10 minutes.
Next, just slide in, zip it up, and enjoy your session. Experts suggest starting with 10 minutes and working up to a maximum of 30 to 45 minutes at a time. The blanket will automatically turn off after one hour.
Casey Kelley, M.D., founder and medical director at Case Integrative Health in Chicago, previously told mindbodygreen it's important to hydrate before and after each sauna session—and this goes for sauna blankets, too. "I like to add extra electrolytes and trace minerals to my water bottle when in the sauna as well to replace the good parts that can get lost in sweat," she suggested.
You'll also want to remove any jewelry before each use to avoid it heating up and burning your skin.
How to clean the HigherDose Infrared Sauna Blanket
The brand recommends using a nontoxic disinfectant spray or wipe after each use. Just make sure the blanket is fully cooled down before folding it back up, which I've found takes about 30 minutes.
If you have the insert, there won't be nearly as much sweat to sop up—so cleanup will be even easier.
How I tested the HigherDose Infrared Sauna Blanket
I received the HigherDose sauna blanket two weeks ago and have used it just about every other day, with the same routine each time.
I tend to crave my self-care time in the evening, once my workout is complete and I've finished the workday. Instead of opting for couch time, this is when I slid into my HigherDose blanket.
This is not my first sauna blanket rodeo, so beginners might want a lower temperature or shorter session. The blanket heats up incredibly quickly, which I loved! I've tried others that left me waiting for the heat, which never really cranked up.
While testing the HigherDose blanket, I used my sauna sessions as a chance to wind down. I'd either pop in my earbuds for a meditation, listen to a podcast, or let myself enjoy the silence after a hectic day.
After committing to this every other night, it didn't take long for me to truly see the value of carving out time for self-care—especially with a product that actually works.
What I love about the HigherDose Infrared Sauna Blanket
I've tested three of the best infrared sauna blankets over the past year, and off the bat, I could tell this one is incredibly high-quality. The materials feel durable, but the blanket itself is actually quite a bit lighter than others I've tried, which I appreciate for storage, setup, and transportation. Most are in the 20-pound range, while this one is just 15 pounds.
While the maximum temperature is a bit lower than some (158 degrees Fahrenheit compared to another blanket I own that heats up to 176), I still found myself in a deep sweat each time.
I don't know if it's the act of getting still and quiet or the infrared technology, but I feel incredibly calm when I'm in the blanket—and that's saying a lot since my mind tends to race at the end of the day.
What's more, my Oura ring showed data-backed proof that these sessions improved my sleep (pictured below). I spent more time in a deep sleep and felt refreshed in the morning. Even my readiness scores were higher on the days after I used the sauna blanket.
I'm a runner, currently in the peak weeks of training for my next marathon, and I've tried just about every recovery tool under the sun. I know which are worth the hype, and this is one of them.
The relaxation I feel when using this blanket is both mental and physical. My muscles feel less tight, and my body is at ease.
As someone who has used sauna blankets for some time now, I know the long-term benefits are even better—but I'd be remiss not to mention the instant dewiness my skin shows after each session. Seriously, it's reason enough to try the blanket for yourself.
What I'd change about the HigherDose Infrared Sauna Blanket
While noticeably lighter than others, storage is limited in my New York City apartment, and the blanket would be much easier to stow away if I had something to zip it up in.
Is the HigherDose Infrared Sauna Blanket worth it?
Yes, the blanket comes at a fairly high cost—but, when compared to the amount of money I'd alternatively spend booking sauna appointments at a local spa or wellness center, my blanket will quickly pay for itself.
When you consider the slew of mental and physical health benefits, how easy it is to use, and the long-lasting quality, the HigherDose Infrared Sauna Blanket is worth it.
Sauna blankets are an excellent way to reap these benefits, especially if you don't have the space for a full at-home infrared sauna.
The takeaway
Self-care should be easy, but the options can be overwhelming. The HigherDose Infrared Sauna Blanket is one at-home tool that lives up to its claims. With our exclusive 15% discount code, there's never been a better time to make this investment in your health and longevity. Use code MBG15 at checkout.

Carleigh Ferrante
mbg Commerce Editor
Carleigh Ferrante is the Commerce Editor at mindbodygreen. She is a certified Health & Nutrition Coach and a born and raised New Yorker with a B.A. in Creative Writing and Psychology. Her work has appeared in Bustle, The Zoe Report, PureWow, The Everygirl, and more, covering topics such as fitness, travel, home, fashion, beauty, and dating, sex, and relationships. When she's not testing and reviewing products and services, you can find Carleigh training for her next World Major marathon, planning her next vacation, or interviewing experts on her dating podcast, Mostly Balanced.