Close Banner
Advertisement
This ad is displayed using third party content and we do not control its accessibility features.
I Tried This Infrared Sauna Blanket For 6 Months — Here's My Honest Review (+ Save 15%)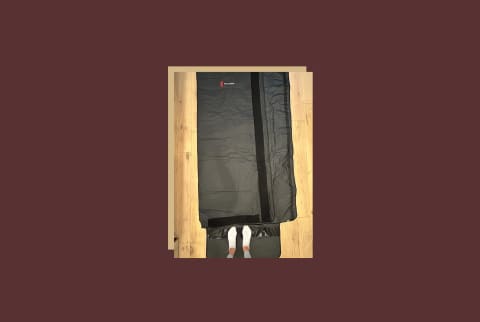 Image by Carleigh Ferrante / mbg creative
We carefully vet all products and services featured on mindbodygreen using our
commerce guidelines.
Our selections are never influenced by the commissions earned from our links.
Oftentimes all I want at the end of a long workday is an hour on the couch with my favorite show. But while I fully believe mindless television is a form of self-care, I found a new daily habit that's doing a bit more for my well-being: the Bon Charge Infrared Sauna Blanket.
Turns out, this sleeping bag-like device is exactly what my tired body and mind were craving. Keep reading to learn why I love the this sauna blanket, how it's impacted my health, and what sets it apart from other infrared sauna blankets I've tested.
Want to try it for yourself? Use code MINDBODYGREEN for an exclusive 15% discount.
Fast facts: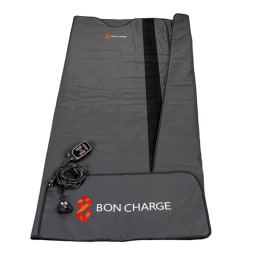 Pros:
Heats up quickly
Bag included for easier storage
Speeds up muscle recovery
Improves sleep scores & HRV
Materials:
PU Leather, cotton, waterproof PVC
Unfolded length:
71 inches
Max temperature:
176 degrees Fahrenheit
Why I tested the Bon Charge Sauna Blanket
To say I live an active life would be an understatement. When I'm not training for my next marathon, I'm typically out for a walk exploring Brooklyn neighborhoods or getting steps in at my desk.
And my mind stays active throughout the day, too, juggling deadlines, to-do lists, and so on.
Still, I'm just as obsessed with recovery as I am with movement. I geek out on my Oura sleep scores, and I make an effort to carve out time for self-care each day. But a few months ago, I found myself in desperate need of a post-dinner wind-down activity.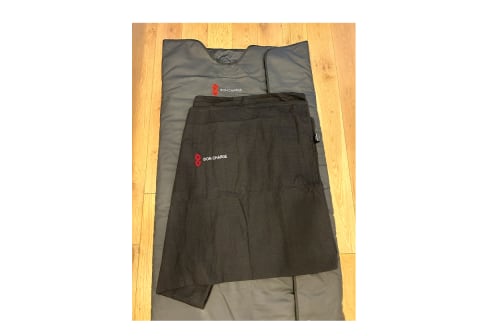 Image by Carleigh Ferrante / mbg creative
What I love about the Bon Charge Sauna Blanket
After testing a few of the best infrared sauna blankets, I landed on Bon Charge. Over the past six months, it's become an integral part of my self-care regimen. Three to five days per week, I set aside 45 minutes to relax inside the sleeping-bag-style design.
Here's why this blanket has become such an integral part of my routine:
It heats up quickly
Even compared to a similar brand with the same 176-degree Fahrenheit maximum temperature, this blanket feels noticeably warmer.
I don't sweat easily, but I wind up drenched each time I use it (trigger warning for the sweat photo below). I swear I can feel the toxins leaving my body every time.
The materials are safe & durable
Speaking of toxins, I love knowing this blanket is free of them. It's made from a premium, nontoxic PU leather with a durable Velcro closure that allows me to customize the fit to my body (which is part of how it stays so warm and toasty).
I'm less stressed than I used to be
Since integrating this into my recovery routine, I've noticed a significant decrease in stress. As I mentioned, I'm a bit obsessed with my Oura ring, and the first time I used my Bon Charge Sauna Blanket I was floored to see a monumental spike in my heart rate variability (HRV).
Ergo, it's not just in my head: This sauna blanket truly is decreasing my stress levels.
I'm sleeping better
HRV isn't the only metric I've seen improve since using this sauna blanket. On the nights when I opt for sauna time over TV time, my sleep scores skyrocket.
I attribute this to the relaxed state it puts my body in. When I get out of my sauna blanket, I'm able to wind down much more quickly—and I tend to fall into a deeper, more restorative sleep.
It speeds up my recovery
The marathon runner in me would be remiss not to mention muscle recovery. My body feels more at ease immediately after sessions in my Bon Charge Sauna Blanket.
I feel healthier
I actually feel healthier on the days I use my sauna blanket. Maybe it's because the practice forces me to pause, step away from my electronic devices, and put my mind at rest—or, maybe it's the improved sleep and HRV. Whatever the reason, I now crave this health boost.
How to use the Bon Charge Infrared Sauna Blanket
Of course, you don't have to go up to the maximum heat; once you unroll the blanket and place it on a firm, dry surface, simply set your desired temperature using the remote control.
I choose to keep my arms inside the blanket to really elevate my body temperature (and take a break from screens), but others prefer to multitask on the phone or read a book while lying inside.
Experts recommend starting slow with 10 to 15 minutes per day, rehydrating with water and electrolytes, and giving yourself more time to relax even after the session.
How to clean the Bon Charge Infrared Sauna Blanket
Cleaning the blanket is easy, too. When I'm done with my session, I simply wipe down the inside with a damp towel and let it cool and dry before packing the blanket away in the incredibly convenient carrying case.
On the flipside, you can always get the Infrared Sauna Blanket insert. It cuts down cleaning time by creating a barrier between your skin and the blanket. If you're even slightly grossed out by too much sweat, I'd invest in the accessory.
What I'd change about the Bon Charge Infrared Sauna Blanket
Needless to say, I truly value time spent in my sauna blanket. This particular model warms up quickly, keeps the heat trapped in, and has resulted in some pretty significant, data-backed benefits.
My one qualm is that, at nearly 20 pounds, the blanket is fairly heavy. So, while the carrying case is convenient, the blanket still isn't very easy to transport.
I'm sure this is a product of high-quality materials and heating technology, but I would love it to be a bit more lightweight.
The takeaway
My sleep scores don't lie: The Bon Charge Infrared Sauna Blanket helps my muscles recover faster and keeps my mind and body at ease. Of course, some nights I still plop down in front of the TV—but I feel significantly better when I opt for a sauna session instead. And I swear my skin is glowing, too.