The Best Keto Crustless Pumpkin Pie & Whipped Cream Recipe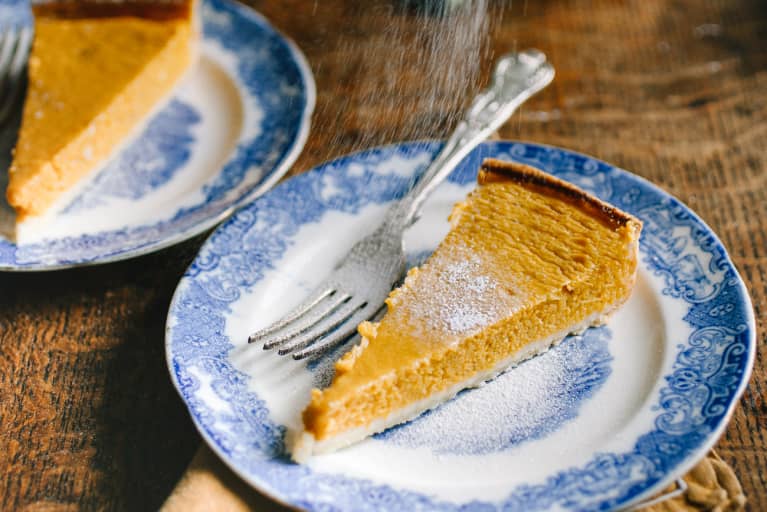 As a functional medicine practitioner, people often ask me how to enjoy the holidays without feeling bloated and inflamed after indulging in yummy treats. For those people who are tapping into the benefits of a clean ketogenic diet (i.e., high fat, moderate protein, low carbohydrate, with a focus on quality whole-food ingredients): Fear not. I'm well-versed in making healthy stuff not only realistic but delicious.
And dessert, arguably, is one of the easiest things to modify on a keto diet. With various options for sweeteners, you can still have a pumpkin-filled dessert that is also high-fat when you choose the right ingredients. My favorite recipe this holiday season is this crustless pumpkin pie—it's the perfect end to the meal without the need for a carb-loaded crust.
1 can organic pumpkin
2 cage-free eggs
½ cup monk fruit
1 tablespoon pumpkin pie spice
1 teaspoon cinnamon
¼ teaspoon sea salt
1 cup full-fat coconut milk, unsweetened
Preheat oven to 350°F.
In a large bowl, mix together all ingredients until fully combined.
Pour mixture into a pan, lightly greased with coconut oil.
Bake for 60 minutes or until toothpick comes out clean. Serve with keto-friendly whipped cream.
1 can full-fat coconut cream
1 teaspoon vanilla extract
1 tablespoon sweetener of choice: stevia, monk fruit, erythritol
Chill coconut cream in refrigerator for 24 hours along with the beaters and bowl of your mixer.
Spoon out the top layer of the coconut cream into the mixing bowl. Add in the sweetener and vanilla extract and mix with mixer until whipped to desired consistency. Store in a sealed container in the refrigerator.
If you're not a fan of pie but are looking for your pumpkin fix this holiday season, another option is to make these Pumpkin Spice Fat Bombs. These keto-friendly bites help curb my sweet tooth and keep me both satisfied and away from the high-carb snacks before dinner.
4 tablespoons almonds, finely chopped
1 tablespoon coconut flour
3 tablespoons coconut oil
2 tablespoons organic pumpkin puree
1½ tablespoons sweetener of choice: monk fruit, stevia, or erythritol
½ teaspoon vanilla
¼ teaspoon pumpkin pie spice
In a bowl, mix together all ingredients until fully combined. Place mixture in freezer for 20 minutes to let harden.
Remove mixture and roll into firmly packed bite-size balls.
Place fat bombs on a parchment-paper-lined baking sheet and place in the freezer again for 30 minutes to let set.
Store in a sealed airtight container in the fridge for up to 3 days.