Why Gratitude Is Crucial During COVID-19 + A Gratitude Meditation From Light Watkins

mbg Founder & Co-CEO
By Jason Wachob
mbg Founder & Co-CEO
Jason Wachob is the Founder and Co-CEO of mindbodygreen and the author of Wellth.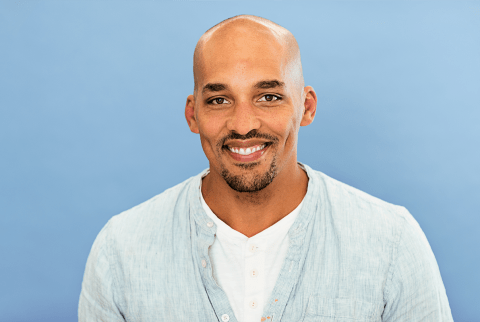 March 23, 2020
When it comes to meditation, there can be quite the spectrum—some swear by a daily practice, while others can be a little confused about how to get started.
According to internationally renowned meditation teacher and bestselling author Light Watkins, people are looking toward meditation to help cope with uncertainty surrounding the coronavirus—no matter where on the spectrum they might fall.
"It's now needed more than ever before," he tells me on this episode of the mindbodygreen podcast. "I'm seeing so many people talking about meditation in a very direct way, and it's exciting to be part of that conversation."
One way of thinking about meditation, Watkins explains, is through a gratitude practice. While a gratitude meditation might not be your typical "close your eyes and breathe" sort of practice, it can have those similar profound effects on your mental health. It's especially great for people who might feel intimidated by meditation or are new to the practice.
Here, Watkins explains how to practice a gratitude meditation and why it's so crucial to focus on gratitude during this time.
Why gratitude is so important. 
According to Watkins, gratitude is the most important thing to keep in mind as we face the uncertainty surrounding the coronavirus. "Operating from a space of gratitude helps you move beyond the victim mentality. It's so easy to slip into that, especially if you're personally affected by the virus," he says.
What gratitude does, he continues, is keep us in the present—a key factor in helping alleviate our anxiety. Rather than trying to control the situation (which, as we have previously discussed, can do more harm than good), tapping into what you are grateful for in that moment can help you remain grounded and calm.
Take it from Watkins: "Anxiety feeds off future fear and speculating," he says. "When we stay in the present, we tend to worry less and experience less anxiety."
Think of it as a cycle of sorts—gratitude can lead to staying present, and staying in the present moment can help reduce feelings of anxiety.
Gratitude is also crucial, according to Watkins, because it can allow us to make better decisions that benefit society rather than focusing on individualistic gains. "The more we can stay connected to the moment by living through a space of gratitude, the more intelligent decisions we'll be able to make individually and collectively," he says.
That said, Watkins offers an easy gratitude meditation you can use on your own or with family and friends. With all the extra time we now have as we work from home, why not use it mindfully and discuss what you're grateful for?
A gratitude meditation you can practice (even with kids!). 
Yes, you can even practice this gratitude meditation with young kids. It's actually one of the best meditations to do with kids, because "they don't have to sit with their eyes closed and their backs straight," says Watkins, which (as many parents can tell you) can lead to jitters and/or tantrums.
For this specific meditation, all you have to do is congregate together in a room with no TV, news, or any sort of distractions and spend five to 10 minutes talking about something you are grateful for.
And Watkins doesn't mean just listing off items: "Talk about why you're grateful for that thing, and be specific about what that is."
Then take turns, moving on to the next person, and repeat the order three or four times until everyone has said about five things they are grateful for. By the end of the meditation, you'll have cultivated a space of positivity and presence, perhaps feeling a little less anxious about the world as a result.
No matter if you're a meditation novice or seasoned pro, focusing on gratitude is a great way to stay grounded during this global pandemic and spark positivity. "It's a good way to lift people's spirits," says Watkins. "It can be easy to forget that there are also good things happening in the world right now."