Solo Travel: 17 Tips To Explore Safely, Mindfully & Efficiently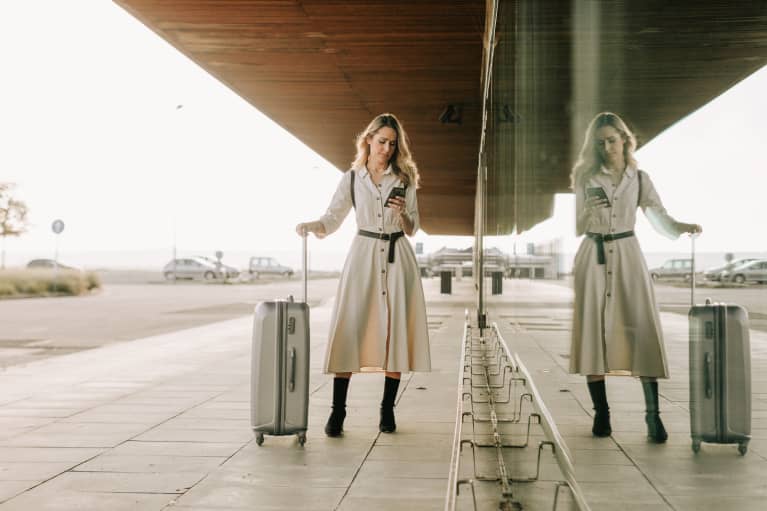 Our editors have independently chosen the products listed on this page. If you purchase something mentioned in this article, we may
earn a small commission
.
Every year it seems there's a fresh batch of articles that espouse the benefits and joys of solo travel—and why it's a must for everyone at some point in their lives. For full disclosure: I totally agree! I have found that traveling alone is one of the most empowering, fun, and enriching experiences for me. It's something I try to regularly do, be it a day trip somewhere near or a long weekend somewhere new. But not everyone is up for it, be it from fear, family, finances, or any number of roadblocks (which are all valid). Even if you can, you may have some apprehension about going forward with a solo trip—as there's a certain comfort in traveling with a partner or group.
Luckily, for those wishing to go their own way, modern technology has made it increasingly easier with apps that connect you with gourmet meals and safety tools to keep you feeling comforted far from home. Also: Some good ole common sense tips help too. So, if you are considering—and have the time and means—here's what you need to know.
1. Really think about what you want out of the trip.
Because solo travel is usually a larger undertaking, you want to make sure the outcome will be worth it. Plus: It's all up to you. When traveling with family or friends, there are other needs and wants to consider. Here, it's all about your goals and purpose.
"You need to think about what you want out of a trip," says Sheryl Ott, avid traveler and founder of Dare To Detour. "Know what you want, first, and go to where you can breathe it in the air." What does this mean in practice? Different locations inherently offer different experiences: You're going to have a wildly different experience from a city tour than you would the rugged American West or a small beach town. So think about your goals—whether it be culture, quiet, or a challenge—and really try to tailor your location and experiences around them.
Sure, this means the basic stuff—from simple geography to turns of phrase—but it also means the cultural aspect: "Always do your research on cultural norms and what you should know about the place you are going," says mbg Collective member and energy healer Kelsey J. Patel. "Don't just assume that just because you are tourist people will cater to you. This is especially true if you're on your own, since if you need anything, you'll have to interact with someone you likely don't know."
How to spend responsibly:
One of the benefits of group travel is you can end up splitting costs in a lot of areas: hotel, food, supplies, and the like. When you're on your own, you're the sole financier. Of course, you can adhere to the basics of cheaper travel—scout flight deals, travel in the offseason, and the like—but there are other ways to be more responsible. Here's how to bring the cost down if you're on your own:
1. Start small and build up.
You don't need to go full Eat, Pray, Love for your solo travel. If you're not there financially yet, or perhaps just not ready for an around-the-world trip, keep it close to home. A staycation or near-cation is nothing new, but hotel apps can help you take it to the next level: Book a last-minute room for yourself with hotel booking sites, like Hotels Tonight, where you can find luxe rooms marked way down from their asking price.
2. Bring your reusable goods around with you.
3. Stock up at the local store.
"Just pick one meal a day that is going to be your experience, and spend the money there," says Patel. "The other meals can just be for fuel." As registered dietitian and nutritionist Maya Feller, R.D., says: Stop at the local store and pick up basics, like whole fruits and vegetables, that can serve as cheap and healthy snacks or breakfast.
For some group tours, outings, or retreats, going it alone might cost you: It's called the single supplement fee. So before you book anything, just pay attention to the fine print.
6. Split meals with strangers!
Eating out alone is incredibly rewarding and empowering—but can add up quickly if you need to do it for every meal. Plus: A benefit of eating with a group of people is you can often share many plates, sampling a variety of dishes. And that's harder to do on your own. Enter: apps like EatWith or Meal Sharing. You can find (again, safe and verified) group meals with locals or other travelers, cooking classes, or food tours—with prices that can accommodate any budget.
Be mindful of safety measures.
No matter what, taking care of yourself is the first priority. Of course, one huge part of solo travel is putting yourself in new environments, which inherently comes with some risks, but you can always be smart about it. "Challenging yourself looks different for everyone; just know your limits," says Ott.
As author and mbg class instructor, Shannon Kaiser, an avid solo traveler, tells us, "It's key to trust yourself. There are times I have ignored people who approached me in a way that didn't feel right. I often tell people I am from Canada (not America), or my boyfriend is on his way to meet me (no boyfriend), or my friend is in the hotel room on her way to meet me later. These little fibs can protect you if you feel uneasy."
2. Be mindful when you're eating alone at a restaurant or a bar.
"You know when you walk into a bar or restaurant if it's a place that you are going to be OK and not be bothered by questionable people; you can read a situation," says Ott. If it's a place that you feel someone might approach you, and you rather they didn't, always ask for a table by yourself. But if it's a place that you feel safe in—and that you can trust the staff if needed—consider sitting at the bar, where you can more easily have conversations with locals.
Other great advice from Kaiser: "A benefit of being alone is that a solo traveler can blend in more easily than a group—and not drawing attention to yourself as a tourist is one way to stay secure. Don't wear flashy jewelry or clothes, pay attention to local customs. Finally: Act and walk with a purpose." The latter being great advice. Stumbling, wandering people are the easiest to identify as tourists.
4. Find well-populated running or walking paths.
We've talked about this walking, running, and biking app before, but it really does come in handy: Strava Local is a data-powered and athlete-curated guide that will show you the best routes in hundreds of domestic and international cities. Essentially it tracks and curates a city's most popular tracks, so you can trust that your journey will be well populated and scenic. It also shows you the best coffee shops and spots for a break in case you need a quick refuel—and the best places to snap a photo.
5. Share your location or download a safety app.
"If you are timid about a location, you might want to consider sharing your location with a friend or family member. I don't do this for every trip, but I will if I feel unsafe and I want someone to be able to know where I am instantly," says Patel. Or, a few other safety apps to consider: RedZone keeps you up to date on everything from traffic to incidents in your area, and MayDay will instantly share your location with select individuals when activated.
6. Find someone to check in with—every day.
"My daughter travels alone frequently, and the No. 1 thing she does is she checks in," says Ott. "Even if she's out camping, in the morning she'll make it to a rest stop to get coffee where she has reception or she can use their phone to let me know she's OK." Something that I personally do when traveling alone: Before heading out at night, for dinner or a nighttime adventure, I ask the doorman or receptionist at my hotel to take my number and let them know what time I plan to be back, so someone local has an idea of my whereabouts.
7. Be aware of how much you're "scrolling."
Not only is it good to limit mindless phone scrolling for the obvious reasons—um, missing out on your vacation being one—it takes you out of your surroundings so you're not aware of potential dangers. No, you don't need to be on high alert every moment of your trip, but it helps to be present. "It's not just a mindfulness thing; it has real practical uses," says Ott.
8. Always know your exit route.
"When I get to a new city, I check out if they have the bike shares, scooters, or anything like that," says Ott. "It can help you in a pinch. You know, Uber isn't always available!" In that same vein, Patel suggests snagging a business card from your hotel when you leave for the day: "Then, if you're lost or your phone dies, you can give it to a cabdriver to get you back."
Finally, retreats are always a great option.
There are a few retreat-focused booking agencies that have popped up recently, largely due to the increased interest. They can help you book an excursion or connect you with a retreat. "Even if you're going on a retreat, if you're going by yourself originally, it lets you open up in a way that you might not if you had someone you knew around," says Ott.
Not to mention, retreats are a great option for those looking for something between solo and group travel: "It gives you the freedom and experience of solo travel, but you have the comfort and safety of a group—plus they are so popular right now that there are tons of good options," says Patel.
Here, some places to start: