Fitting In A Workout While On-The-Go: Every Excuse, Solved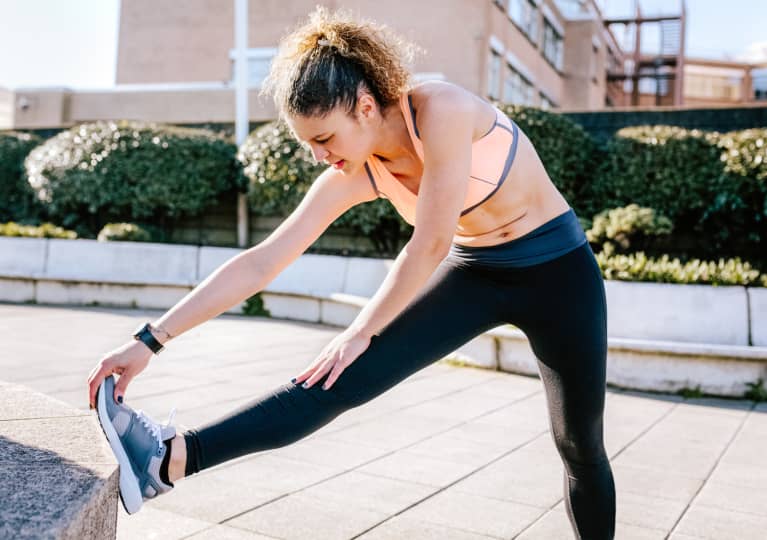 If working out and moving your body are major priorities of yours, it's likely you won't make extensive excuses to skip an exercise session, even while on holiday. But every once-in-a-while the temptation to break your good habits might come creeping in, whatever the reason. Here, all the answers to those excuses—solved with the help of some of our trusted experts.
Excuse: I don't want to pack sneakers.
We've all be there: Your weekender or tote is packed to the brim before you realize you've forgotten an essential item: your workout sneaks. Or, even worse, you're already en route to your getaway before you realize you left them at home.
Well, says Todd McCullough, trainer and founder of TMAC FITNESS, you don't need to pack them at all: "You can do a yoga flow in your hotel room. No shoes needed."
Krista Stryker, trainer and founder of 12-Minute Athlete, agrees: "It's good for your foot to get that little workout without shoes." And you don't even need to stick to yoga, she says, and can even get some weight work or moderate HIIT moves in there: "You can absolutely do body-weight or HIIT movements barefoot. If you're not used to it, just avoid jumping too much, but you can do everything else comfortably, like squats, burpees, or planks."
Excuse: Hotel rooms are tiny!
"Either do a simple yoga flow in your hotel room—or leverage what's around you and do a makeshift routine: Do dips on the chair, throw your feet on the bed, and do crunches," says McCullough. And as Stryker notes, "You don't need that much space. Think about it: The max amount of space you are going to need to get in a killer workout is the space it takes to do a pushup or plank."
And if you are looking to get your heart rate up, Stryker's advice: "Squats—do 20, 30, or 40 of them. You'll get in a real good workout with no room at all."
Excuse: I'm too tired when I travel.
Perhaps you're jet-lagged; perhaps you've just had a long journey with a few mishaps along the way; perhaps the new environment has left you feeling just a little depleted. "Build a habit of moving first thing when you check into your hotel room," says McCullough. "It won't be long before this will be routine."
And if you really need help with your energy levels, Stryker says, "The No. 1 thing I would recommend is getting some fresh air: Just go on a 20- to 30-minute walk. That's a great start." But another problem that might be affecting your energy levels for a workout is tight muscles, which is especially prevalent if you've been sitting on a plane for a few hours: "Light stretching will make your body feel better in general; you might just need to get it a little loose," she says.
Excuse: I'm traveling for work, and my schedule is packed.
Work travel is a different beast to tackle than leisurely travel. When you're on your own terms, it's easy to prioritize a workout. But when you are in another city on the clock, your time isn't necessarily under your control—and likely packed. If this is your situation, the first thing to remember is that working out can make you more centered, focused, and energized. So even if your travel schedule is pushing your limits, taking a break to move your body should be a priority.
"In little as seven minutes of moving, your body will improve your energy level and mindset," says McCullough. He's not wrong: One study found that short workouts can give you the same cardiovascular benefits as a moderate one.
"But what I always say is something is better than nothing," says Stryker. "If you only have 10 minutes before you have to shower and go your first meeting, just do a quick circuit of burpees, squats, and planks: Do three rounds a minute apiece, and it's only nine minutes, but you'll get your heart rate up and feel better."
Excuse: I don't want to get lost in a new city while on a run.
Getting out in a new location and environment is decidedly intimidating. Not only is there the risk of getting lost, but you likely don't know the best running paths that will keep you safe, in good conditions, or motivated. Enter: Strava Local, says Stryker, a data-powered and athlete-curated guide that will show you the best routes for both running and biking. The handy app tracks and curates a city's most popular tracks, so you can trust that your journey will be well populated and scenic. It also shows you the best coffee shops and spots for a break in case you need a quick refuel—and the best places to snap a photo.