Baked Feta Just Hits Different: How To Make This Soft, Creamy (And Trendy) Dish Healthy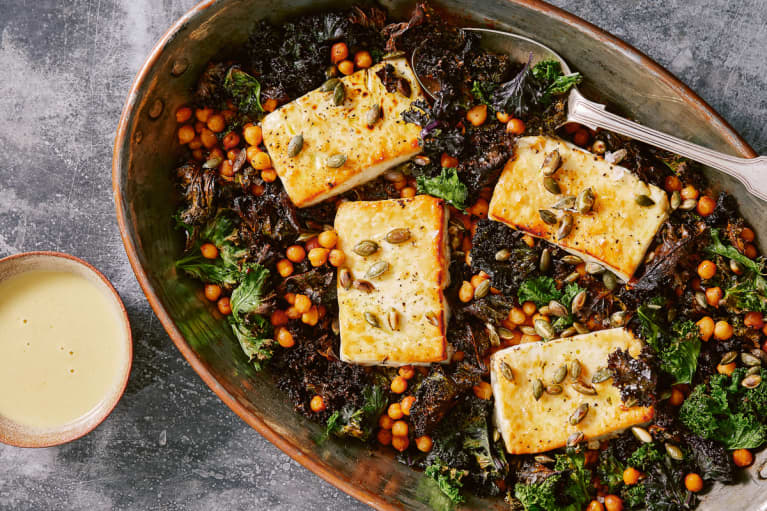 Our editors have independently chosen the products listed on this page. If you purchase something mentioned in this article, we may
earn a small commission
.
Last updated on February 4, 2021
There aren't many times when I think that feta can get better than it is in its natural state. It already adds a tangy creaminess to dishes, so it almost feels selfish to ask more of it. And yet, when you bake it, it transforms into something different–not better but just as good. It becomes softer, both in texture and taste, and feels like a more gentle way to eat feta, if that makes sense. Plus, the leftovers are solid.
Baked Feta With Greens & Lemon-Tahini Dressing
1 x 15-oz tin chickpeas (garbanzo beans), drained and rinsed
10½ oz (about 3 packed cups) red, curly or lacinato kale, leaves removed from stems, cut or hand torn into 2 inch pieces
3 tablespoons olive oil, plus more for drizzling
Salt and freshly ground black pepper
1 teaspoon smoked paprika
¼ teaspoon cayenne pepper
2 x 8-oz blocks feta, preferably Bulgarian, halved horizontally to make 1 inch thick pieces
¼ cup pumpkin seeds
1 tablespoon tahini
Juice of 3 lemons
3 tablespoons extra virgin olive oil
Preheat the oven to 400ºF with a sheet pan inside.
When the oven is ready, remove the baking tray and carefully add the chickpeas and kale, then toss with the oil, salt, pepper, and spices, using a wooden spoon or your hands, making sure not to burn yourself. Spread the ingredients evenly, then create little pockets to nestle the feta into, making sure they have direct contact with the baking tray. Drizzle the feta with olive oil and pepper.
Return to the oven and bake until feta has softened, the kale has browned in spots, and the chickpeas become crisp with a darker brown hue—around 15 to 20 minutes. Mix the kale and chickpeas around with a wooden spoon halfway through and leave the feta as it is, but do keep an eye on it toward the end of cooking time so it doesn't go from nice and crisp to burned. Add the pumpkin seeds during the last 5 minutes of cooking, when the kale has just started to crisp and become an intense green-brown.
Meanwhile, in a small serving bowl, whisk together the tahini, extra-virgin olive oil, juice of 2 lemons, and salt and pepper, adjusting the seasoning to taste. Remove the tray and squeeze the rest of the lemon juice on the greens and chickpeas. Divide between plates and serve with the dressing on the side.
The next day, mix leftovers with scrambled eggs or use on top of cooked grains with the dressing.
Note: If you are not into feta (we can talk about this later), try halloumi and cut it into small cubes. Halloumi is a brined cheese with a high melting point, which makes it easy to grill, fry, or bake without it falling apart. The only downside is that if you let it cool too long, it gets rubbery in texture.
Recipe excerpted with permission from Keeping It Simple by Yasmin Fahr, published by Hardie Grant Books February 2020, RRP $24.99, Flexibound.
And do you want to turn your passion for wellbeing into a fulfilling career? Become a Certified Health Coach! Learn more here.