How To Turn Anything Into A Meal In Just Four Steps (Using A Sheet Pan)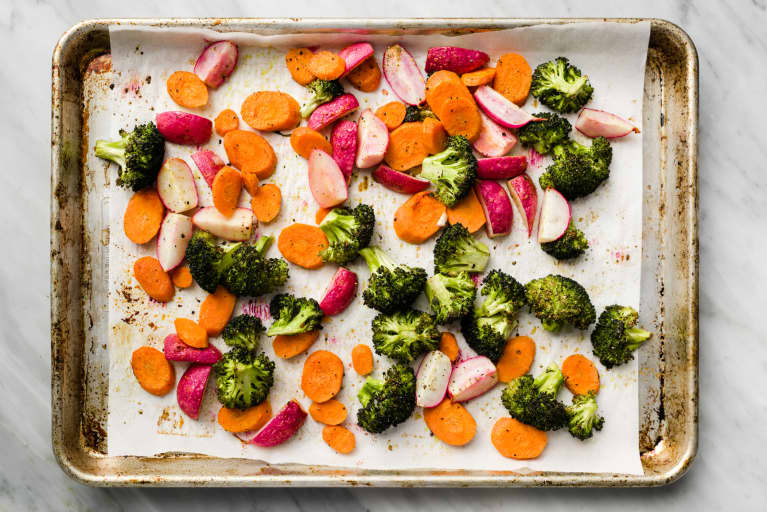 Some people have taken advantage of increased time at home to try more complex kitchen endeavors, while others return to basics while they're at home with their entire families. No matter which side of the coin you fall on (or somewhere in the middle), chances are a bit of simplicity might be appealing. And that's where the sheet pan dinner comes in.
The hero of quick prep and cleanup, this method of cooking is perfect for when you're burnt out on trying new recipes and just want to cook. Grab your favorite ingredients and spices from the pantry, toss them with oil, and toss it in the oven: It's as simple as that.
4 steps to dinner, using a single sheet pan.
One of my favorite things about sheet pan cooking is how simple it is. Once you get the method down, it's the perfect thing for using up the produce and other ingredients in your fridge—and therefore, limiting your food waste. While each individual version will be slightly different, this basic procedure is a great place to start:
1.
Pick (and prep) your ingredients and spices.
This simple dinner really starts with what you choose to cook, and that starts with two key components: a protein and a vegetable (or two, or three...it's up to you!). Once you know what you're going to be cooking, you'll want to consider the cook times they require and maybe consider how that's going to affect how you break them down.
For example, if you're planning a sheet pan with, say, chickpeas and sweet potatoes, you'll want to either cut the sweet potatoes into small enough pieces that they'll cook at the same time as the chickpeas, or you'll want to give the sweet potatoes a head start before you toss the chickpeas on too. You'll also want to settle on flavors to toss your components with
2.
Grab your sheet pan, your favorite cooking oil, and your ingredients.
Almost as important as prepping your ingredients is prepping your pan: You'll want to coat it in a thin layer of oil so nothing sticks and to help the cooking process along. Picking the right oil is important, too: You want something healthy, that also won't burn on the tray. You probably want to stay away from these vegetable oils, but things like avocado oil and coconut oil can work well.
Once you've got the pan itself oiled, it's time to add the ingredients and flavorings. If you don't mind the extra dish, you may want to toss your components together with a tiny bit more oil before laying them on the pan, to evenly coat them in the flavors.
Deciding specifically what temperature to cook at depends on what ingredients you're using, but the window between 350°F and 400°F is probably a good starting point. But be mindful of overcooking—or even letting the dish cross over to "overdone"—since those (admittedly, sometimes tasty) charred bits might not be the best for you. Instead, instill the flavor in the seasoning process.
Once the tray is in the oven, we recommend checking in with it every 10 to 15 minutes. Depending on what you're cooking, that first 15 minutes may be enough, or you may need to stretch the cooking time upward to nearly an hour. It all depends on what you're making.
If you're really trying to make the whole "only one dish to wash" thing happen, you could probably just eat your dinner right off the pan. But we think that pairing your freshly roasted veggies and protein with some fresh components makes for a really great dinner.
Try adding a base of bitter greens and your favorite dressing for an easy salad, or pair the ingredients you roasted with an ancient grain and some hummus for an ideal grain bowl.
5 sheet pan dinner recipes (if you want a little more direction).
If the prospect of improvising dinner isn't you're cup of tea, there are some great sheet pan dinner recipes you can start with. These five recipes include options for vegans and carnivores alike and are even family-friendly.
Want to turn your passion for wellbeing into a fulfilling career? Become a Certified Health Coach! Learn more here.