The Easy, Healthy Dinner TV Star & Cookbook Author Daphne Oz Makes Her Kids When She Just Can't Even

Contributing Food Editor
By Liz Moody
Contributing Food Editor
Liz Moody is a food editor, recipe developer and green smoothie enthusiast. She received her creative writing and psychology degree from The University of California, Berkeley. Moody is the author of two cookbooks: Healthier Together and Glow Pops and the host of the Healthier Together podcast.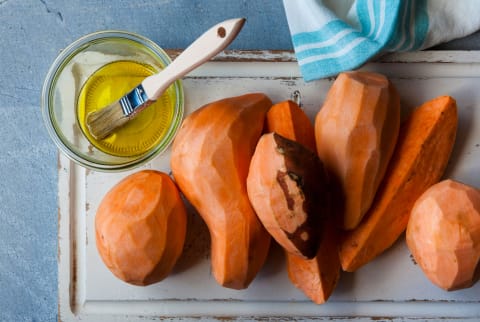 June 11, 2018
Daphne Oz is one busy woman. The former host of The Chew is also a New York Times best-selling cookbook author and, more recently, the chief innovation officer of Pure Spoon, a line of healthy baby foods that uses high-pressure processing instead of the typical pasteurization to retain more nutrients. Oh yeah—and she's the mother of three children, all under 5 years old. Suffice it to say, she's mastered the healthy, easy dinner thing out of sheer necessity. This is one of her staples, a Caribbean Jerk Chicken One-Pan Dinner.
"I love this recipe because it's a one-pan roasted dinner that gets main and sides done in one," Daphne told mbg. "It's healthy but super flavorful and makes for an amazing Caribbean-inspired jerk chicken salad with leftovers. My kids LOVE sweet potato (so do I), and it is only more delicious when cooked in chicken fat. I make the kids' chicken a little sweeter with a side of BBQ sauce for them to dip into, and my husband and I make ours a bit spicier with hot sauce."
Advertisement
This ad is displayed using third party content and we do not control its accessibility features.
The spices add a ton of flavor but also are a rich source of polyphenols, which are incredibly anti-inflammatory. "Jerk seasoning is heavy with flavors you'd typically find in pumpkin spice—allspice, cinnamon, nutmeg, ginger, and brown sugar—but tempered with cumin, thyme, and garlic," Daphne explained. "You can take the spiciness up or down a notch depending on what you love."
The best part? "Any leftovers make for a delicious salad if you're going light, or stuffed into incredible empanadas if you want to fry up a golden delight as a party appetizer or just to treat yourself!"
One-Pan Jerk Chicken Dinner
2 tablespoons plus 1 teaspoon grapeseed oil
2 large sweet potatoes, halved lengthwise, each half quartered into 4 wedges
8 scallions, ends trimmed but whole
3 teaspoons kosher salt
1 tablespoon coconut sugar
1 teaspoon dried thyme
½ teaspoon ground cumin
½ teaspoon sweet paprika
½ teaspoon garlic powder
¼ teaspoon cayenne (optional)
8 chicken pieces (drumsticks and thighs, separated)
Flaky sea salt (like Maldon), for topping
Advertisement
This ad is displayed using third party content and we do not control its accessibility features.
Preheat the oven to 400°F. Lightly coat a rimmed baking sheet with 1 teaspoon of the oil.
In a large bowl, combine the sweet potatoes and scallions. Drizzle with 1 tablespoon of the oil and sprinkle with 1 teaspoon of the salt. Toss to combine, then turn the mixture out onto the baking sheet, leaving room on one side for the chicken.
In the same bowl, combine the sugar, allspice, cinnamon, thyme, cumin, ginger, paprika, garlic powder, nutmeg, cayenne, and the remaining 1 tablespoon oil and 2 teaspoons salt. Stir to combine, then add the chicken and toss to coat well.
Arrange the chicken skin side up on the baking sheet with the veggies. Roast for 20 minutes. Reduce the oven temperature to 375°F and continue to roast for about 20 minutes longer, until the thickest part of the chicken thigh reads 160°F on an instant-read thermometer and the sweet potatoes are tender.
Transfer everything to a platter for serving. Sprinkle with flaky sea salt and serve.
Want to turn your passion for wellbeing into a fulfilling career? Become a Certified Health Coach! Learn more here.
Advertisement
This ad is displayed using third party content and we do not control its accessibility features.