These Sheet-Pan Provençale Vegetables Have A Plant-Based Protein Punch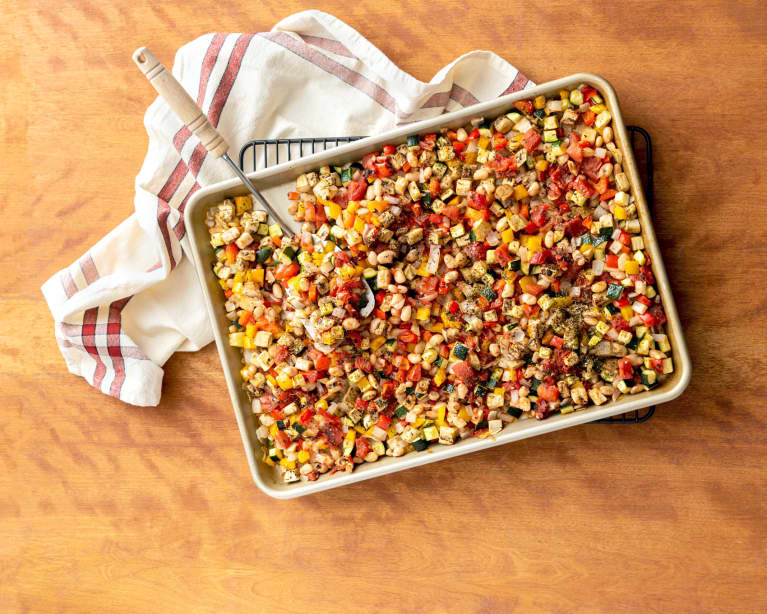 Traveling to the French countryside may not be an option right now, but that doesn't mean you can't taste the flavors of France.
Ratatouille is traditionally more of a wintry vegetable stew, but this sheet pan supper update from The Plant Protein Revolution Cookbook by vegan cook Robin Robertson makes it a quick dinner you can throw together any weeknight.
The addition of white beans gives it some solid plant-based protein, which you can up by serving with a protein-packed grain, or, if you're feeling it, opt for a healthy pasta pairing.
Sheet Pan Provençale Vegetables
1 yellow onion, diced
1 eggplant, peeled and diced
2 or 3 zucchini, diced
1 large red bell pepper, seeded and diced
1 large yellow bell pepper, seeded and diced
3 garlic cloves, coarsely chopped
1 14.5-oz. can fire-roasted diced tomatoes with its juice
1½ cups cooked cannellini or other white beans, or 1 15-oz. can, drained and rinsed
½ teaspoon sea salt, plus more if needed
¼ teaspoon freshly ground black pepper
1 teaspoon dried marjoram
1 teaspoon dried thyme
Cooked pasta or your favorite grain, to serve
2 tablespoons minced fresh parsley
Preheat the oven to 425°F (220°C). Line two rimmed baking sheets with parchment paper or coat with cooking spray.
Spread the onion, eggplant, zucchini, bell peppers, and garlic in a single layer on the pans. Coat the vegetables lightly with cooking spray and season with salt and pepper.
Roast the vegetables for 15 minutes. Remove from the oven and stir the tomatoes and white beans into the vegetables.
Sprinkle with the marjoram and thyme, and add more salt and pepper, if needed.
Return the pans to the oven and roast until the vegetables are tender, 10 to 15 minutes longer.
Stir in the parsley. Taste and adjust the seasonings, if necessary.
Serve immediately over cooked pasta or your favorite grain, and sprinkle with fresh parsley.
Nutrition analysis per serving (not including pasta or grain): 200 calories, 11 g protein, 1 g total fat, 40 g carbohydrate, 11 g sugar, 12 g fiber
Want to turn your passion for wellbeing into a fulfilling career? Become a Certified Health Coach! Learn more here.