Ayesha Curry's Recipe For A Simple Family-Friendly Weeknight Dinner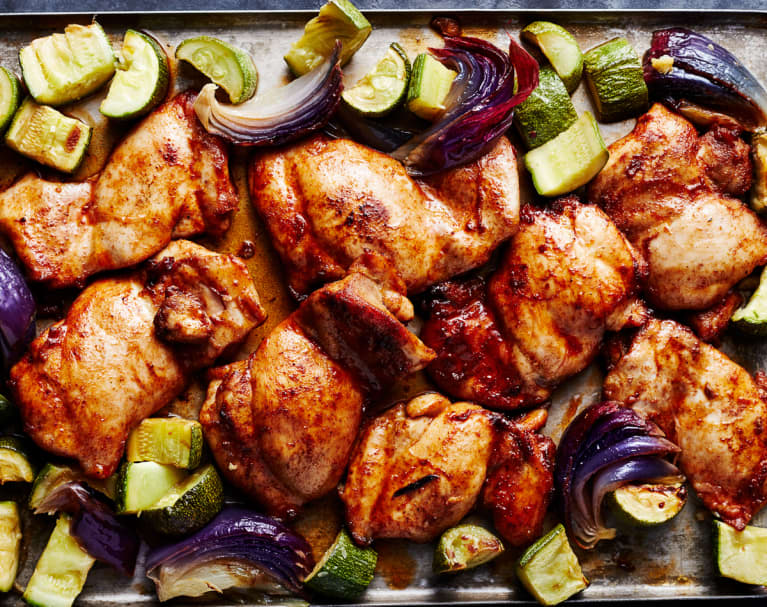 Our editors have independently chosen the products listed on this page. If you purchase something mentioned in this article, we may
earn a small commission
.
In her latest cookbook,
The Full Plate
, Ayesha Curry shares "easy recipes for families with no time and a lot to do," perfect for those busy weeknights of the back-to-school season. This is one of a few sheet pan recipes that offer the added bonus of cutting down on cleanup.
I love boneless, skinless chicken thighs. The dark meat is more flavorful than breast meat, they cook quickly (but don't get dry), and chicken is (always) a blank canvas for spices of all kinds.
For this sheet pan supper, I spice thighs with sweet paprika, coriander, and allspice and pair them with zucchini and onions. To avoid mushy squash, choose zucchini that are medium to small (avoid the seedy, baseball-bat-size ones at all costs) and roast 1-inch pieces at a high temperature so they caramelize and brown alongside the onions.
Sheet Pan Paprika Chicken
3 medium zucchini, cut into 1-inch cubes
1 large red onion, peeled and cut into 8 wedges
2 garlic cloves, minced
4 tablespoons extra-virgin olive oil
Kosher salt and freshly ground black pepper, to taste
2 tablespoons sweet paprika
1 teaspoon coriander
½ teaspoon ground allspice
1½ teaspoons brown sugar
8 boneless, skinless chicken thighs (about 2 pounds)
Preheat the oven to 450°F.
In a large bowl, combine the zucchini, onion, and garlic. Add 2 tablespoons of the olive oil, season with salt and pepper, and toss to coat.
In a large bowl, combine the remaining 2 tablespoons olive oil, the paprika, brown sugar, coriander, and allspice and stir to form a paste. Season each chicken thigh with salt and pepper on both sides. Add the chicken to the spice paste and rub the paste into each piece to coat on all sides.
Place the chicken on a rimmed baking sheet and nestle the zucchini and onion under the pieces. Bake for 30 to 35 minutes, until the vegetables are tender and the chicken is cooked through. Transfer to a serving platter and serve hot.