Natural, Organic, Biodynamic: Decoding Labels When Shopping For Wine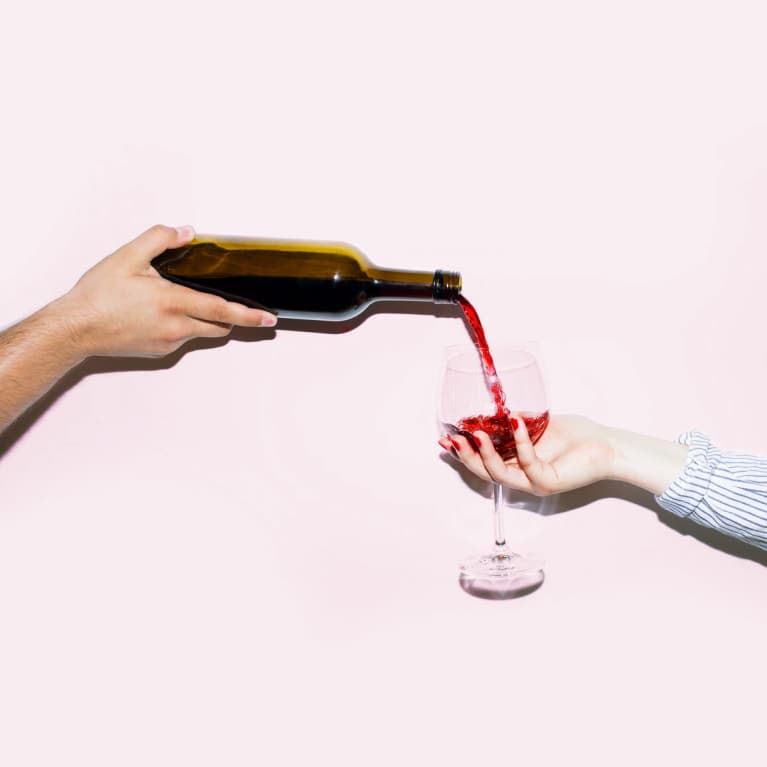 Our editors have independently chosen the products listed on this page. If you purchase something mentioned in this article, we may
earn a small commission
.
Shopping for wine can be...a lot. And in recent years, as the world of natural wines has taken over wine shops and social media feeds (unless that's just me?) you may be wondering what the terms that get tossed around really mean.
For answers, we turned to wine expert Daniela DaSuta, DipWSET, an advisor at VIVANT, who gave us the lowdown on what labels to look out for at your local wine shop—even if that wine shop is just your local Trader Joe's.
What is the deal with natural wine?
Let's start with the big question: What even is natural wine? Similar to many other industries, the word "natural" has been used pretty broadly—but these days, there are clear rules for what qualifies a natural wine.
"The term 'natural wine' used to be extremely loose and ambiguous because it wasn't legally defined," explains DaSuta. "As recently as 2020, it was given a concrete definition: a wine made from organic grapes that does not undergo much, if any, human intervention."
What's important to know here is that grape juice, when left alone in the right conditions, will just become wine of its own accord. "The grape juice, free of synthetic chemicals or pesticides," she explains further, "must undergo spontaneous fermentation and cannot have any additives, including sulfites."
Sulfites, if you're not super familiar, are added to many conventional wines and can be the culprit for some people's slight allergies to wine (for a deeper explainer on sulfites, check out this simple guide). Sulfites aren't only an additive, however: They can occur naturally, too.
According to DaSuta, "The term 'organic wine' simply refers to wines that are made from grapes that have no synthetic pesticides, herbicides, or fungicides added to them."
Similar to natural wines, they can have a very limited amount of added sulfites—in fact, DaSuta tells mbg that in the United States, the allowance is literally zero parts per million, while in Europe it's 100 ppm.
What does biodynamic mean?
If you've spent any amount of time reading about wine or listening to people talk about it, another term you may have heard kicked around is "biodynamic"—and it does seem to particularly crop up in conversations about natural wines. DaSuta explains that it has to do with viticulture, or the way grapes for wine are cultivated, protected, and harvested.
"Biodynamic," she says, "seems to be more of a philosophy rather than just a farming practice." She explains that the practice of biodynamic viticulture involves "not simply eliminating pesticides or anything synthetic; it is also taking into account the surrounding farmland (spaces between rows, etc.) to ensure that the vineyards and their soils, flora, and fauna are healthy," she tells mindbodygreen. "There is also a mystical, planetary element to biodynamics, wherein farmers plant, harvest, and do other necessary farming practices according to the solar, lunar, planetary, and stellar cycles or rhythms."
So what should you be looking out for on a label?
Unfortunately, "It's actually pretty difficult to isolate and identify a natural wine if it's not in a natural wine section," DaSuta says.
If your local shop doesn't have that section, though, there are some things you can look out for. "I would look for label terms like 'minimal intervention' or 'unfined/unfiltered,'" she suggests, "although these don't necessarily mean that a wine is definitely natural."
If it's organic wine you're after, that's a bit simpler—just keep an eye out for an organic certified logo—in the United States, it's usually a circular seal that says "USDA Organic."
If you're hoping for a little more guidance on your shop, chef Ryan Hardy gave some advice on his favorite wines and we've got an M.D.-approved recipe for mulled wine that's perfect for the holidays.
Want to turn your passion for wellbeing into a fulfilling career? Become a Certified Health Coach! Learn more here.