8 Simple Recipes With 6 Ingredients Or Less To Simplify Mealtime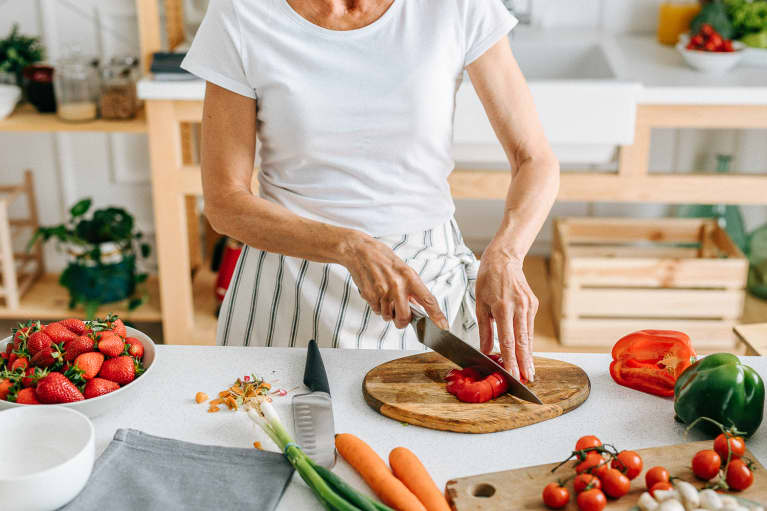 Our editors have independently chosen the products listed on this page. If you purchase something mentioned in this article, we may
earn a small commission
.
Simplicity in the kitchen is always appreciated. Occasionally we like to indulge in the complexities of cooking an all-out, gourmet meal... But after a busy day, you'll find us in the kitchen whipping up a simple recipe, and keeping it lighter with a little Smirnoff Zero Sugar Infusions Vodka and soda. We believe that one key to a more intentional lifestyle is having convenient, go-to recipes on hand, so we rounded up eight of our favorite meals that require just six ingredients or less. Let's get started with some three-ingredient pancakes!
1.
3-Ingredient Protein Pancakes
Who doesn't love a hot stack of pancakes for breakfast? The traditional variety isn't the healthiest breakfast out there, but with these three-ingredient protein pancakes, you can get the best of both worlds. All you need are bananas, eggs, a little baking powder, and voilà! You've got rich banana pancakes you can top with anything you'd like. (We'd recommend fresh or frozen fruit, or a drizzle of maple syrup.)
2.
Frozen Broccoli Miso Scramble
This frozen broccoli miso scramble is a delicious (and scrappy) spin on your classic egg scramble. Plus, broccoli adds an always welcome anti-inflammatory boost. Requiring just frozen broccoli, two eggs, miso, and tamari, you can whip this up for breakfast (or lunch or dinner, for that matter) in no time at all.
3.
Spiced Chicken Soup With Cashews & Coconut
There's nothing like a classic chicken soup (especially right now). This spiced chicken soup with cashews and coconuts gives this recipe a creamy twist while still being dairy-free! You can add pasta to make the soup heartier, for a little chicken noodle action. Or serve it with your favorite bread and a green salad. Nut allergy? No problem! Substitute the cashews with sunflower seeds, or even potato, to achieve a thicker texture.
This elf leaf salad is one of our favorite ways to eat our Brussels sprouts. Part of the cruciferous family, Brussels sprouts are loaded with vitamins, help regulate blood pressure, and even support gut health, and the addition of Parmesan, almonds, and raisins kicks it up a notch. Made by actor Misha Collins and his wife, Vicki, the salad technically has five ingredients, and the salad dressing has four, but you can use any salad dressing that you like!
5.
Savory Pumpkin Rosemary Oatmeal
If you've never jumped on the savory oatmeal train, now's a great time to do so! This delicious, savory pumpkin rosemary oatmeal can be eaten for breakfast, lunch, or dinner, for a warm and nourishing meal. Pumpkin (and pumpkin puree) typically gets its annual spotlight come autumn, but there's no reason you can't enjoy this oatmeal anytime—especially if you happen to be stocked up on canned goods.
This three-ingredient tomato soup from Sarah Adler's Simply Real Eating requires just tomatoes, leeks, and chicken stock, along with spices and olive oil. You can dress it up with more fixings if you like, or keep it as is for an incredibly simple and classic tomato soup.
7.
Easiest Black Bean Burger
Black beans are one of those versatile pantry staples that are always great to have on hand. And this black bean burger recipe is a great way to use some of those cans you've surely stocked up on. All you need is black beans, ground flaxseed, and whatever spices you fancy! (Though this particular recipe goes for a smoky, barbecue flavor with paprika, chili, and onion powder.)
And lastly, for a delicious chop salads, this antipasto chop salad is a perfect lunchtime solution, whether you're working from home or just want to throw something together quickly! This vegan twist on the classic uses olives, artichokes, and seitan to add the flavors of the Mediterranean rather than your usual meat and cheese. And while the recipe calls for a homemade dressing, your favorite Greek or Italian dressing would pair just as nicely!
Sometimes, the mood to whip up a beautiful multi-course meal may strike. And other times, we really can't be bothered. When those moments come, these 8 options have got you covered.