The Easiest Black Bean Burger You'll Ever Make
By Talia Pollock
mbg Contributor
Talia Pollock is the author of "Party in Your Plants." She's also a speaker, storyteller, plant-based chef, TV personality, and health and empowerment coach.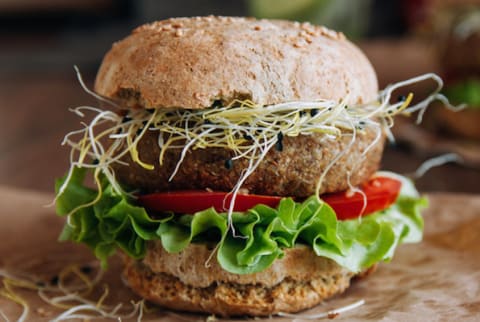 April 21, 2015
Veggie burgers don't always get the best reputation. Store-bought versions (though not all of them) are usually tiny (causing you to need to grill multiple), full of random ingredients (like processed protein from soy or gluten) and not the best tasting things on earth.
This easy, homemade black bean veggie burger is a great solution. Check out the recipe below plus 13 different ways to eat it.
Easiest Black Bean Burger
Ingredients
1/2 cup black beans (cooked or canned), mashed with a fork
1/4 cup ground flaxseed
1/2 teaspoon black pepper
1/2 teaspoon chili powder or paprika
1/2 teaspoon onion and/or garlic powder
a pinch or two or three of sea salt
a pinch of cayenne
any additional chopped fresh herbs or spices that tickle your fancy
Method
Combine the mashed beans with the flaxseeds, herbs and spices.
Using your hands, form the mixture into one big patty. (Add a teaspoon or so of water if it's having a hard time sticking together.)
Cook on a grill or skillet that's been sprayed with coconut oil for about 5 minutes on each side.
13 Serving Ideas
The traditional burger + bun + condiment + serve route.
Tucked into tacos. With some guac, salsa, lettuce and cashew cheese, of course.
Chopped into quinoa. Plus some veggies and pesto.
Formed into "meatballs" (pre-cooking) and thrown into spaghetti with tomato sauce and fresh basil.
On a plate with some hummus, lettuce and tomato. Eaten with a knife as you would…grilled chicken?
Wrapped into a wrap. With some mustard, sprouts, tomatoes and carrots.
Cut up and placed on top of homemade toaster-oven english muffin pizza.
Rolled into a collard green, accompanied by tahini, peppers and cucumbers.
Stuffed into a sweet potato, with some kale or spinach and some tomato, avocado and pumpkin seeds joining the party.
Crumbled onto homemade nachos — on top of a bed of baked corn chips, guacamole, cashew cheese, a homemade sour cream and some salsa.
Diced into a salad. With your favorite dressing and veggies.
In a pressed panini — warmly squished between some lightly oiled healthy bread, arugula, pesto or balsamic vinegar and a cheese (dairy-free if you don't eat dairy).
In a scramble — alongside eggs or tofu, veggies and of course — hot sauce.
Talia Pollock
Talia Pollock is the author of Party in Your Plants: 100 Plant-Based Recipes and Problem-Solving Strategies to Help You Eat Healthier Without Hating your Life. She's also a speaker, storyteller, plant-based chef, TV personality, and health and empowerment coach.
Through her popular Party in My Plants Podcast, humorous videos, and newsletter, Talia helps real, busy, everyday people skyrocket their energy so they can boldly show up in their world as their best. Her uniquely spunky lifestyle advice has been celebrated regularly on the Dr. Oz Show, Good Morning America, The Doctors, Forbes, Buzzfeed, Bustle, Success Magazine and in a 4-page spread in her small childhood town's newspaper. She lives in New York with her husband and her goldendoodle, both of whom love kale and one of whom eats it off the floor. She really wants to email you so get on her list here.